News & Tours
Bryson, DJ, Phil among top Americans in Saudi Invitational field, but PGA Tour still hasn't given players releases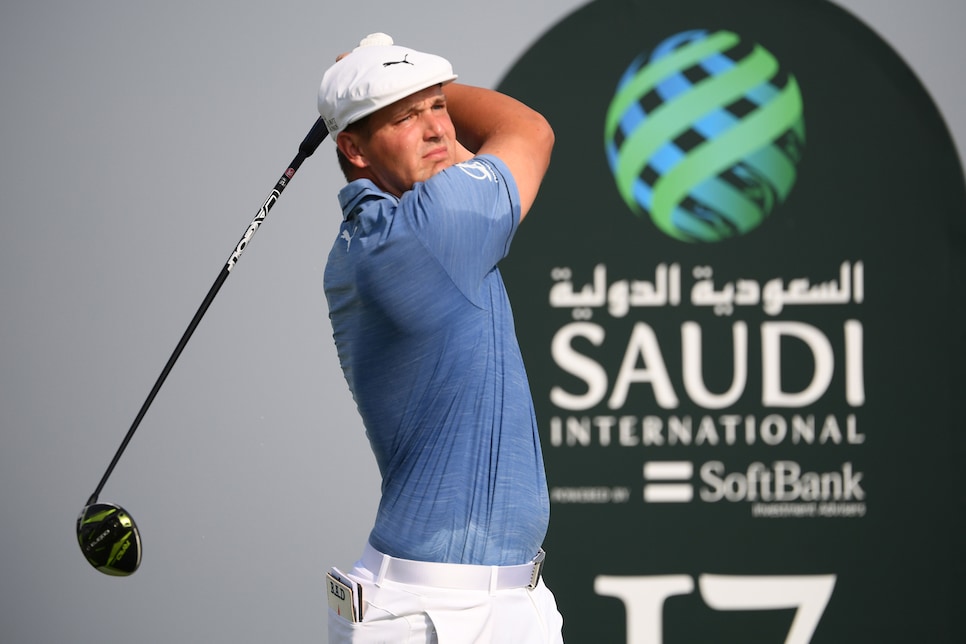 Bryson DeChambeau plays his tee shot on the 17th hole during the first round of the Saudi Invitational in 2021.
Ross Kinnaird
The question of who will blink first regarding a looming standoff between players wishing to compete in next February's Saudi International and officials with the PGA Tour and DP World Tour trying to keep them from playing grew more interesting—and intense—on Monday. That's when Golf Saudi officials sent out a press release trumpeting a list of 25 top American and European players—including 11 major champions—who they say have committed to playing at Royal Greens Golf Club near Jeddah.
The list includes several players who had previously competed or won the event (Dustin Johnson was the champ in 2019 and 2021, Graeme McDowell in 2020), which was on the DP World Tour (formerly European Tour) schedule from its inception in 2019 until 2021. But when Golf Saudi began making overtures toward starting its own golf series and trying to recruit high-profile players to be the main attractions, tour officials in Europe and the United States distanced themselves from the event. Reportedly, they told players that they would no longer be given releases to compete in the Saudi Invitational and would be disciplined if they were to play in the event anyway.
The players announced as committed to playing the Saudi International in 2022 are:
When the European Tour dropped the Saudi event from its schedule earlier this year, the tournament was absorbed by the Asian Tour after Golf Saudi purchased a significant interest in the tour. It is being billed as the tour's flagship event and is offering a purse of $5 million.
It does not appear that any of the players listed as committed to the Saudi event have been given releases from their respective tours to play in the competition. A spokesperson for the DP World Tour, when reached by Golf Digest, had no comment about the status of the waivers. A spokesperson from the PGA Tour noted: "We have not granted any conflicting event releases for the Saudi International tournament. Per PGA Tour regulations, a decision on conflicting event releases can be made up until 30 days before the event's first round."
Should the tours not provide waivers and the golfers choose to compete anyway in the event, it will be a test of the PGA Tour and DP World Tour's resolve regarding whether they would follow through with any sanctions against the players. And that would then raise the legal questions of can the tours restrict players schedules and access to non-PGA Tour and DP World Tour events.
Potentially, this event could prove a test for Golf Saudi to see whether the threats of disciplinary action would be acted on at all. If those threats prove to be less of a deterrent than originally believed, it could push Golf Saudi, through its newly formed LIV Golf Investments company, to sign several of these players to contracts that would commit them to play in a new Asian Tour affiliated series of events unveiled last month when Greg Norman was named CEO.
Several of the committed players had been previously associated with having interest/discussions with the Premier Golf League and Super Golf League ventures. A few, however, were not, notably Xander Schauffele, Joaquin Niemann, Bubba Watson and Harold Varner III.