No Thanks
Greg Norman involvement in Saudi-backed golf disruptor has only 'hardened' Rory McIlroy's disapproval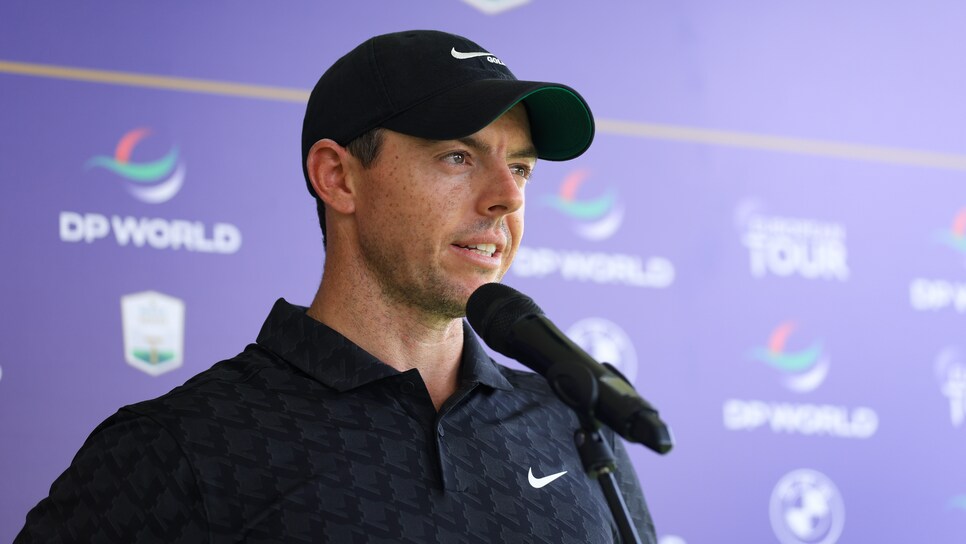 DUBAI, U.A.E. — Seven years have passed since Rory McIlroy was first contacted by shadowy forces outside golf's traditional establishment asking for his thoughts on a possible breakaway golf tour funded by Saudi Arabian money. And it is safe to assume his vehement response wasn't quite what the questioners wanted to hear. Back then, the Northern Irishman dismissed the notion as a "money grab," saying he was "very much against it" and that he "didn't see why anyone would be for it."
News flash: Nothing has changed since 2014 other than the depth of feeling lurking behind McIlroy's rhetoric. Asked about recent developments driven by Greg Norman's involvement with LIV Golf Investments—the Australian is the recently announced CEO of the Saudi-owned company—and the purchase of the Asian Tour, the four-time major champion got straight to the point.
"That has only hardened my view," he said in Dubai, where later this week he will compete in the DP World Tour Championship, the last event to be played under the moniker of the "European Tour" with the circuit being rebranded the DP World Tour in 2022. "There's been a select few individuals who have come on board with the other people and that also hardened my view even more."
All of which should come as no surprise to anyone familiar with McIlroy's previous statements on this ongoing matter. As far back as December 2019, he was quick to state his opposition to playing in the Saudi Arabia Invitational, an event then on the European Tour schedule but starting next year will be part of the Asian Tour.
"It's just not something that would excite me," said McIlroy then. "You could say that about so many countries, not just Saudi Arabia. In a lot of countries where we play in there's a reason not to go. But for me, I just don't want to go. One hundred percent, there's a morality to it as well. I think the atmosphere looks better at the events on the west coast [USA] and I'd much rather play in front of big golf fans and play in a tournament that really excites me."
He also didn't hold back when the proposals for an alternative circuit came to light.
"You go back to what happened in Europe with the European Super League in football [soccer]," McIlroy said. "People can see it for what it is, a money grab, which is fine if what you're playing golf for is to make as much money as possible. Totally fine, then go and do that if that's what makes you happy. I'm just speaking about my own beliefs; I'm playing this game to try to cement my place in history and my legacy and to win major championships and to win the biggest tournaments in the world. I honestly don't think there's a better structure in place and I don't think there will be."