DP World Tour
The one golfer who could take some solace in the trying circumstances surrounding the Joburg Open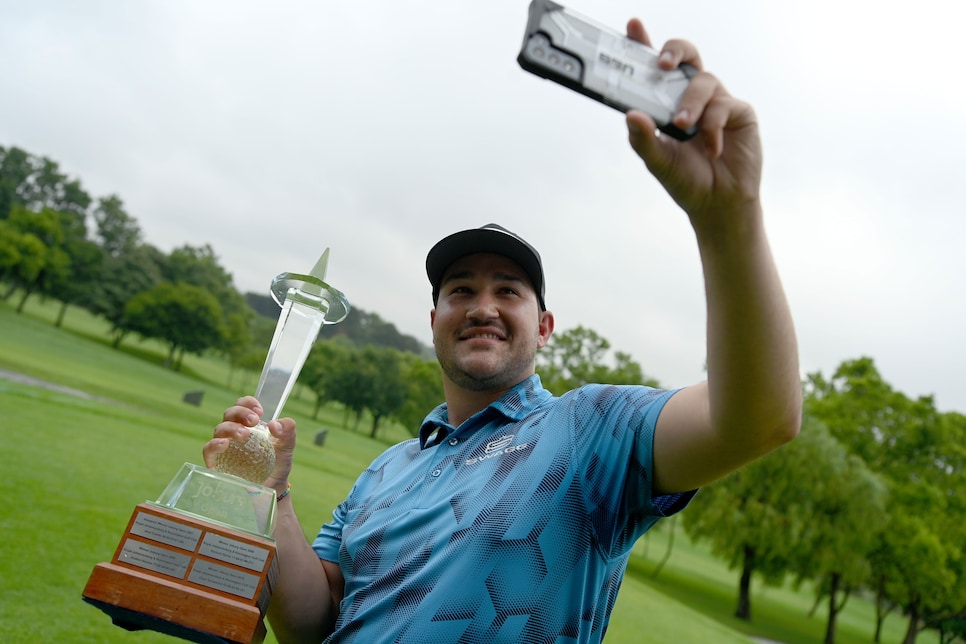 Thriston Lawrence celebrates with the trophy following victory at the Joburg Open.
Stuart Franklin
This week's debut event on the rebranded DP World Tour (formerly European Tour) was troubled by two uncontrollable factors, one serious, one just unlucky, that forced the tournament to be called after 36 holes. Tour officials at the Joburg Open scrambled to address the issue of getting non-South African golfers in the field home before travel restrictions locked down the country in the wake of the new Omicron COVID variant, reducing the tournament to 54 holes on Friday. And when bad weather arrived Saturday during the new final round, the tour knew there was no time to wait things out, lopping off another 18 holes and declaring a winner.
That winner, South Africa's Thriston Lawrence, was among the few involved with the tournament who could say he was in the right place at the right time. The 24-year-old member of the Sunshine Tour (which was co-sanctioning the tournament at Randpark Golf Club) had played in 21 DP World events in his career, his best finish a T-17 in 2019. He was coming off a sixth-place showing in his last start last month in South Africa, but prior to that had missed the cut in his four previous starts dating back to August, falling as low as 555th in the World Ranking.
A pair of seven-under 65s in this opening two rounds, however, gave Lawrence a four-stroke lead over countryman Xander Lombard that eventually secured the title. And said title, with its full membership on the tour and a spot into the 2022 Open Championship, quickly had an emotional impact on Lawrence.
"This changes everything. It's life changing," he said afterward. "This is the first stepping stone to get to my bigger dreams. From a young age I've always wanted to win on the DP World Tour. And now this gives me an opportunity to get to the PGA Tour quicker. I wasn't sure where I was going to play this year, and I really wanted to move onto the next step."
There is some irony in how COVID influenced the outcome of this tournament and how it had been an issue in Lawrence's development the previous two years. Playing smaller tours with no qualifying schools being held and little ability to move up in the pecking order in pro golf had made for trying times for players like Lawrence.
"The last two years with COVID-19 have been tough, and you see your dreams fade," he said. "For it to change this week is unbelievable."
Lawrence lamented briefly that the win came as it did, over just 36 holes and with unusual circumstances. Yet he was encouraged by the level of his play and the belief that he could have sustained it two more rounds if need be.
"I played unbelievable golf over the past two days," he said. "I would've liked to have finished with a winning putt on 18, but it was out of my control. I went out there with a mentality to finish the tournament, but it turned out nicely for me and I'm just so happy."
The additional spoil of having wrapped up a place in the field at St. Andrews next July for the 150th Open Championship was another reason for Lawrence to rejoice.
"It's a lifelong dream that's come true," he said. "To play your first ever major on the Old Course is an unbelievable dream come true. I'm so excited. As a kid you always want to play in the Majors. Everybody wants to break Jack Nicklaus's record, and now it's my first major and an opportunity in that direction. I'm ecstatic."