Live Blog
British Open 2022 live updates: Tour rookie leads McIlroy by two, Tiger struggles with 78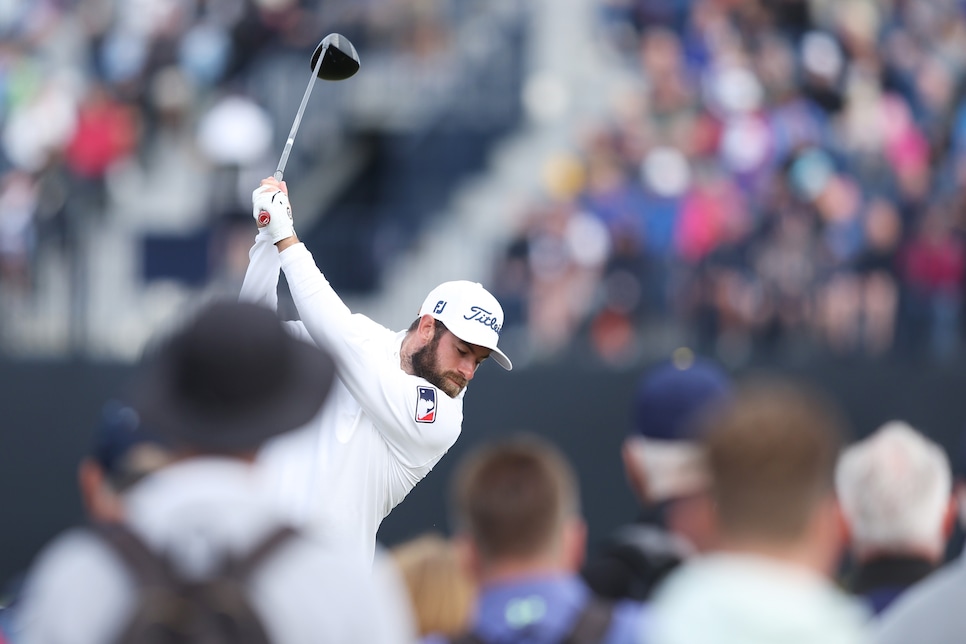 Cameron Young tees off on the third hole during the first round of The Open.
Richard Heathcote
The broadcast crew for the 150th Open Championship on Thursday produced an interesting early stat during the first round. In the last six majors played on the Old Course at St. Andrews, the eventual champion was three shots or closer to the lead after Day 1.
(Scroll down for the latest updates)
If that trend holds true, 152 players are already out of the running. We half-joke, of course, because that just doesn't seem possible for this edition. But PGA Tour rookie and New York native Cameron Young created that rather odd possibility when he took advantage of benign early conditions to shoot eight-under-par 64 and take a two-shot lead over Rory McIlroy. Cam Smith and Scottish journeyman Robert Dinwiddie got in with 67s, and that's it. Four guys at five under or better.
In what could be his last appearance in the Open at St. Andrews, Tiger Woods suffered two double bogeys on his front nine, steadied himself a bit, but ended up shooting 78 to give himself the difficult task of tying to make the cut.
British Open 2022 live updates:
4:32 p.m.: Jon Rahm feigned as if he was going to break his putter over his knee. Glad he didn't, but the sentiment was understandable. Rahm needed 36 putts—36!!!—in shooting one-over 73. He three-putted three times on the back. He couldn't even make birdie on the 18th, the easiest hole, while playing partners Jordan Spieth and Harold Varner made 3s. Spieth got into red numbers in shooting 71. Varner salvaged a one-over round.
4:18 p.m.: As noted by Golf Digest's Dan Rapaport, the Tiger group played the round in 6 hours, 9 minutes. Who among us would have the patience to not be steaming during that? Brutal.
4:15 p.m.: Tiger's first round is over, and it will be a real battle on Friday for him to make the cut. With a disappointed par at 18, he shot six-over 78 and is tied for 146th place. It's his highest score in an Open at St. Andrews. One fan said to him, "Go shoot 62 tomorrow Tiger!" HIghly unlikely, and he'd probably need something close to that to play on the weekend. The round got off to an awful start when Woods drove into a divot on No. 1 and made double. He doubled No. 7, too, but after that steadied himself by playing the last 11 in even. And we have to say that the limp was not nearly as noticeable at the end today as it's been in the previous majors this year. A good sign that he's getting stronger?
4:00 p.m.: Oh man, Tiger came up about two feet short of rolling up his tee shot onto the 18th green. Down in the Valley of Sin but the chance to finish with a birdie.
3:55 p.m.: After a bogey at 15 to drop to six over, Tiger makes a routine par at the Road Hole. Surprising stat: He still has never birdied 17. It's a beast, to be sure, but Tiger won two Opens here. Shows you just how hard it is.
3:33 p.m.: Jon Rahm is digging himself into a bad start as deep as Hell Hole bunker. Just made his second bogey in three holes with another three-putt and is at one over through 15.
3:20 p.m.: We're thinking a few fans are having the same meltdown that our Alex Myers is over the switch from USA to streamer Peacock for the end of Tiger's round.
3 p.m.: How about a 412-yard drive for Tiger?! Wind-aided, we should note. But the longest tee shot of the day at the par-5 14th. He had only 188 left, and though he missed the green, he got up and down for his third birdie of the day.
2:55 p.m.: Robert Dinwiddie is shaping into a fine first-round story. The 39-year-old Scotsman has four birdies through the first 11 holes. Hicks reported that Dinwiddie, current ranked at No. 1,779 in the world, was doing some golf instruction and then, during the COVID shutdowns, worked in the construction business. Dinwiddie's only three pro wins have come on Europe's Challenge Tour, and this is only the fifth major he's played. The only time he made the cut was in the 2008 U.S. Open at Torrey Pines.
2:38 p.m.: With a 68 to be placed at T-4 as the opening round continues, World No. 1 Scheffler remains easily the best major player of late. As noted by Dan Hiicks, Scheffler figures to be in the top 10 after the round—making it the 15th time in the last 18 major rounds that he's been in the top 10.
2:24 p.m.: Strong opening round by Dustin Johnson. He birdies 18 to shoot 68. Six birdies tota. It's the same score Johnson shot in the opening round last year at Royal St. George's. He scored 65 on Friday, but faded on Saturday with a 73 and ended up T-8.
2:20 p.m.: On the 13th hole that has a green with more square footage than a small mansion, Tiger had more than 100 feet to traverse on his first putt and he left it at least 20 feet short. Missed that roll to the left and made bogey. He's six over and eighth from the bottom of the board.
2:08 p.m.: Spieth makes birdie at 12 to get to two under, but Rahm can't covert about a six-footer.
1:56 p.m.: A few missed putts in one television sequence from Woods and Mito Pereira. Still waiting on the trio of Spieth, Rahm and Varner II try their luck and this confounding 12th hole.
Fantastic touch from Spieth to give himself a "genius" opportunity for birdie after nearly finding himself in the gorse once again. Rahm will follow that up with a long putt that is on line but a little short of the hole.
1:49 p.m.: Nice touch from U.S. Open champ Matthew Fitzpatrick who is still one-over par and trying to find some momentum to finish out his Thursday. Jon Rahm will drive the difficult 12th hole and despite how soft it lands, it still ends up in the back of the green. Jordan Spieth will do the same as Rahm and barely miss another swing featuring a bush.
1:38 p.m.: In terms of players still playing at the moment, Scottie Scheffler is the only one in the top ten. Scheffler, at four under through 14, is one of the few afternoon golfers really shining. At the time of writing this, Woods, Homa and Fitzpatrick all rocket their respective shots past the green on the 12th hole.
1:26 p.m.: And that'll be a bogey from Tiger on the 11th, missing a very good chance for par. After a few strong holes, Woods will jump back up to five over. Max Homa misses a birdie opportunity and sticks to a par, three-putt bogey from Fitzpatrick joining Woods.
Bogey for Jordan Spieth by the way after all of that hullabaloo. Still at one under. Onto the next one; maybe stay away from the bushes.
1:13 p.m.: In a featured group as well (behind Tiger's), Jordan Spieth is having a strong but quiet start to his Open Championship. Spieth is at two under through the front nine without a bogey.
Oh, okay. Whoops. This one's on us. Apologies for the jinx. Spieth is on top of a bush on the 10th hole. A near impossible shot and ... he'll take the unplayable instead of trying to swing it out of the gorse. Spieth will wind up landing it on the green with an okay chance to par, although admittedly very difficult.
12:59 p.m.: Perfect shot from Tiger there. Is he back? It looks like he's back. Hopefully, that's not a jinx. Woods has a great chance for birdie here on the par-4 10th hole after a wedge shot to dart it within five feet. Got a small club twirl too.
Yes, we have back-to-back birdies. Back nine has been good to Tiger Woods so far.
12:47 p.m.: Although not as dire as Niemann's putt, Hatton will make a strong one of his own birdieing the par-4 13th, just the second birdie of the day on this brutal hole. Hatton's now at even par after a disappointing bogey on the preceding 12th hole.
A birdie from Tiger on the ninth hole will be a breath of fresh air as he starts the back nine. Now at five over, Woods will need to keep those good vibes going to have a realistic chance to make the weekend.
12:39 p.m.: Some technical difficulties on our end but we'll power through it just like that stunning slice from Tyrrell Hatton. That'll then be followed by a tremendous par-saving putt from Joaquin Niemann. His first putt was from around 140 feet and then he knocked in the second from about 30 feet. That'll keep him at two under through 13.
12:15 p.m.: And that'll unfortunately be another double bogey from Tiger, this time on the par-4 7th hole. At six over through seven holes, things look ... not great for Woods. Tiger is beating only six players right now; his two partners—Homa and Fitzpatrick—are both at one over.
12:04 p.m.: With three birdies in his last four holes (Nos. 9-12), Dustin Johnson is T-10 and still has plenty of time to continue to climb the leaderboard. DJ's now at three under through 12 and in a good place early on. There are 13 players at the T-10 spot currently including Bryson DeChambeau, Ian Poulter and Xander Schauffele.
Noon: It's noon in the east coast the last group on the course is on the fourth hole, meaning they'll still have about four hours left in their round. That'll put them walking up the 18th hole somewhere in the neighborhood of 9 p.m. local time.
11:54 a.m.: A little bit of a lull here in the mid-afternoon in Scotland. Scores were much lower in the morning, the conditions now are the most difficult that they've been all day and Justin Leonard just said on the broadcast that he has never seen some of these pins tucked in positions that they're in now. They are, in fairness, the R&A's only defense for the Old Course.
11:36 a.m.: Nice of Justin Thomas to weigh in with post-round comments from his play on the 18th hole.
11:18 a.m.: Imagine that, the World No. 1 is playing well. Scottie Scheffler did tie for eighth place last year in his first Open appearance and he has clearly been better than everyone else this year, but it still feels like he was a little overlooked coming into St. Andrews with more focus on the likes of Rory McIlroy, Jordan Spieth and Xander Schauffele, among others. Scheffler just went out in four-under 32 with birdies on Nos. 3, 4, 5 and 9.
11:11 a.m.: And Tiger Woods is now four over after four holes. He just three-putted the fourth for bogey. Ouch.
10:57 a.m.: Justin Thomas just put the finishing touches on a high-disappointing even par round of 72. Shockingly, he has not had much success in The Open, and that trend continued Thursday at the Old Course. He only made two birdies on a day where there were plenty being made, and he made a double bogey on the par-4 17th Road Hole. To close things out JT hit an awful drive on the 18th, wasn't able to get a wedge close and two-putted for par. He's eight shots behind tournament leader Cameron Young. Rory McIlroy shot 66.
10:48 a.m.: Let's take a moment to catch up on the action with updates on where some of the bigger names stand here during Round 1. Rory McIlroy (66), Bryson DeChambeau (69), Xander Schauffele (69), Scottie Scheffler (three under after 7), Jordan Spieth (one under after 2), Phil Mickelson (72), Collin Morikawa (72), Dustin Johnson (even after 8), Matt Fitzpatrick (even after 2), Jon Rahm (even after 2), Brooks Koepka (73), Will Zalatoris (one over after 16), Tony Finau (one over after 16), Tiger Woods (three over after 3).
10:40 a.m.: And Rory McIlroy putts that 70 footer up to a foot and taps in for birdie on the 18th to shoot six-under 66. A terrific start for the man who everyone expects to contend come Sunday. He's two shots behind leader Cameron Young.
10:33 a.m.: No big deal, just Rory McIlroy hitting iron off the 18th tee and finding the left side of the green. From 350 yards. Again, nothing to see here. Carry on.
10:25 a.m.: From the only-at-the-Old-Course department. Xander Schauffele just putted the ball from off the road on the par-4 17th Road Hole. So he putted it from the road, over the cart path, up the hill and to within only about 10 feet. But the bogey just slides by the hole and he makes bogey. It drops him back to three under par with just the home hole remaining.
10:16 a.m.: Good news, bad news. Good news: Tiger Woods is off to play his first round in the 150th Open Championship at a place where he's won twice. Bad news: his opening drive found a divot, his approach campe up well short and found the burn just in front of the green. He did, however, chip it to about three feet. But HE MISSED IT. HE MISSED the shorty for bogey. It's an opening double bogey for Tiger.
9:58 a.m.: Though the course is firming up and playing a lot tougher for the afternoon wave, there are some low scores out there. Paul Casey—who we haven't seen in awhile after nursing an injury—just made his third birdie in his first six holes for a really hot start.
Ernie Els just three-putted on the home hole for a disappointing par. He bunted a hybrid up onto the putting surface but missed about an eight-footer for his birdie. A nice start to his day but a disappointing three-over finish in his last four holes.
9:41 a.m.: Ernie Els had the one of the best rounds of the day, sitting five under with just four holes to go. But a bogey at the 16th ... and then a disastrous tee shot at the 17th hole has brought him back to life a bit. Ernie went OB at 17, fanning his tee shot right onto the grounds of the hotel. The result is a double bogey, bringing him back to two-under headed to the home hole.
9:28 a.m.: Wow, Rory McIlroy just hit a massive drive nearly 400 yards at the 14th hole. But he was in the fescue and couldn't stop it on the firmed up double green ... so he'll now be pitching from the rough behind the hole.
And the four-time major champion plays a nifty chip that settles just over a foot from the hole. That'll be a nice birdie to get back to five-under before he plays his final four holes.
In the same group, Xander Schauffele has a heckuva steady round going ... four under also through 14 holes, keeping up his unbelievably hot stretch after the wins at the Scottish Open and the Travelers.
9:13 a.m.: We saw some low scores early in the day, but it seems like the golf course is firming up and reducing the number of good numbers. We're still seeing guys reach the 18th hole easily ... with former Alfred Dunhill Links champion Danny Willett nailing a long eagle putt to card a three-under 69.
There's also reports of some heavy rain popping up in the forecast this afternoon. That might make things mighty difficult for players like Tiger Woods teeing off in the afternoon wave.
9:04 a.m.: There's Rory McIlroy's first dropped shot of the day at the ultra-difficult 13th hole. His drive found the rough to the right, and he got lucky to avoid the pot bunker in front of the green ... rolling out and around the hazard. But Rory skulled his third about 50 feet, then did well to two-putt from there. Rory's still four under and just four back of Cameron Young's mark headed to the par-5 14th hole.
8:59 a.m.: Speaking of lip-outs, that was a tough one for Justin Thomas at the 12th hole. On the surface with his tee shot, JT's birdie putt from about 6 feet rims out for a disappointing par to stay at two under.
8:42 a.m.: Rory McIlroy JUST lips out his eagle bid at the 12th hole and settles for his fifth birdie of the day, getting to five under. Sheesh, meanwhile in the group behind, Viktor Hovland found the devilish bunker in front of the green and after assessing his options has decided to take an unplayable and hit his third shot from the bunker. His shot SOMEHOW stayed on the downslope of the huge swale, so he'll have a chance to make his par.
And Hovland saves his par! That's going to be a momentum-boosting par if there ever was one. Spectacular stuff from the young Norwegian.
8:38 a.m.: Cam Young gets up and down for his birdie at the home hole—even after having to back off his birdie putt when the first-tee announcer introduced the next group to tee off on the adjacent first hole—to card an eight-under 64 in his first round.
What an amazing debut at the Old Course in The Open ... the extremely talented 25-year-old made that look easy. He was actually 7-under through 11 holes on his round, so it looked possible he'd be able to get it to double digits under par in his first round. But he will take the round of the morning to kick things off.
8:28 a.m.: Cam Young escapes with par after a really tidy approach putt at the 17th ... and now hits his tee ball significantly over the green at the 18th ... with a fairway wood. He should have a great chance to get that up and down for a potential eight-under 64.
And Rory gets on the reachable par-4 12th with his driver ... down in the "bonnet" as announcer Tom Abbott described the putting surface. He'll have a great chance to reach five under.
8:08 a.m.: Cam Smith left himself a good seven-footer, breaking hard left to right on the home hole, but he nails it into the back of the cup. He grabs the (very early) clubhouse lead with a strong five-under 67 to open his Open Championship.
Cam Young, who has the round of the day so far, must've been holding his breath as his tee shot on the iconic 17th hole at the Old Course kept moving more and more right. But it ended up just fine, and he played a fine shot to the front right of the green. That's a round-saving result.
8 a.m.: There could be some serious movement on the leaderboard in a moment. Cameron Smith just drove the 18th green and has a long look at eagle, while back at the ninth, Justin Thomas and Viktor Hovland both make birdie to reach two under. In the group behind them, both Tony Finau and Will Zalatoris drove the green and have eagle putts inside of 15 feet, putts they both desperately need to drop considering they are two over.
7:51 a.m.: Strong finish from Bryson DeChambeau, who drove it short of the 18th green, putted it up to about 13 feet past the hole and poured in the left-to-right birdie putt. He posts three-under 69, his lowest round on the PGA Tour since the third round of the Sentry Tournament of Champions, which was in January. Wild. Just before DeChambeau's birdie, John Daly came inches from holing a lengthy eagle putt, settling for a kick-in birdie and a one-over 73. Not bad for a 56-year-old.
7:47 a.m.: McIlroy fails to birdie the gettable ninth hole and he remains at four under, three off Young's lead. Joining him at four under is ... Ernie Els?!?! That's right, the Big Easy, at 52 years old, is minus four after 11 holes in the first round of the 150th Open Championship at St. Andrews. What a story that would be.
7:22 a.m.: Cameron Young is still your leader at seven under, but the buzz is beginning to build in the Rory McIlroy group. The four-time major champion is four under after eight holes, with another prime birdie opportunity coming up at the short par-4 ninth, which is currently playing as the easiest hole on the course.
6:52 a.m.: We were sort of kidding about the Vince Carter "it's over" GIF, but another birdie for Cameron Young at the 12th has made things get a little real. He's at seven under, two clear of Tom Kim, who is coming off a solo third at the Scottish Open. As for some other surprises a the top of the leader board, Scotland's own Robert MacIntyre has climbed to four under after 12 holes, while Bryson DeChambeau is sneaking up the board at three under, having just birdied the 14th. England's Danny Willett is also among the three unders, as is Rory McIlroy.
6:33 a.m.: Another birdie for Cam Young at No. 11, getting him to six under. Prepare the Vince Carter GIFs.
6:26 a.m.: If you're name is Cameron, you're more than likely picking the Old Course apart on Thursday. Cameron Young is the solo leader, and he just gave himself a great look at birdie at the par-3 11th. Cameron Smith just birdied that hole in the group ahead to get to four under, one back of Young. And then there is Cameron Tringale, who sits at two under through 13 coming off a strong performance at the Scottish Open. Sportsbooks missed a big opportunity not offering a "low Cameron" bet this week.
6:14 a.m.: Quite the story developing at the Old Course with Brown, an amateur from England, posting a four-under 68 for the clubhouse lead. He's one back of Cameron Young, who struggled mightily last week at the Scottish Open but appears to be handling the links at St. Andrews just fine. Through nine holes, he's at five under.
6:00 a.m.: Brown, the Stanford junior from England, joins Kim, Cam Smith, and Young at the top of the leaderboard. The bucket-hat-wearing youngster has five birdies on the day in his first major championship, and he has the chance for another as he drives the 18th green.
5:56 a.m.: Paul Lawrie, who had the prestigious honor of hitting the opening tee shot of the 150th Open, is wrapping up his round in impressive fashion. The 53-year-old smacked his yellow golf ball to about 6 feet on the short par-4 18th, and he sinks the putt for eagle! We presume we'll be seeing quite a lot of close albatross calls at the finishing hole this week.
5:40 a.m.: Zalatoris hits his tee shot at the 2nd about 60 yards left of his target, but it finds a friendly patch of sparse rough on the opposite side of the parallel fairway, leaving the American a decent look at the green considering the severe miss. Links golf can work in strange ways.
5:30 a.m.: Thomas, Lowry, and Hovland all stick it tight with their opening approaches, but only the Norweigan closes for birdie. A third stacked group is off next: Will Zalatoris, Hideki Matsuyama, and Tony Finau. Meanwhile at the second, Morikawa fails to get up and down at the green, and back at the tee, Shane Lowry finds the treacherous gorse on the right side of the fairway.
5:19 a.m.: The young guns are firing off birdies like it's nothing on the front nine at the Old Course: 25-year-old Cameron Young is 4-under through 6, as is 20-year-old Joohyung Kim, an up-and-coming player to watch after his strong performance at the Scottish Open last week.
5:10 a.m.: And the action in this fan-favorite group kicks off immediately: Rory McIlroy drains a 30 foot putt to birdie the first. Morikawa leaves the 1st with par, but Shauffele walks away with a very unfortunate three-putt bogey. Next off is another group that will keep you glued to the TV for the early morning hours: Justin Thomas, Viktor Hovland, and Shane Lowry.
4:59 a.m.: OK, this might have been the threesome that fans on the East Coast really set their alarms for: Collin Morikawa, Rory McIlroy and Xander Schauffele are by far the marquee threesome to tee off so far.
4:57 a.m.: And we have our first player to four under—Min Woo Lee—after making a eagle on the par-5 14th hole. Lee missed the cut last week at the Scottish Open, where he was defending his title.
4:48 a.m.: Just six amateurs are in the field this week at the Open, none from the U.S. Mind you England's Barclay Brown plays college golf at Stanford and showing himself well with three birdies on the day. He's also winning over fans with his fun hat.
4:39 a.m.: Is three holes too early into a round to proclaim a #59Watch? OK, it is, but J.T. Poston, who got into the field at the Open off his win last week at the John Deere Classic, is three under through three holes after a trio of birdies. He joins a fivesome tied at three under. The chatter about low scores at the Old Course has been fairly constant all week. Asked about what his reaction woudl be if somebody went really low and shot a 59 during the Open, R&A chief Martin Slumbers insisted he would greet the player on the 18th green and say job well done. We'll see if he has to make good on that promise.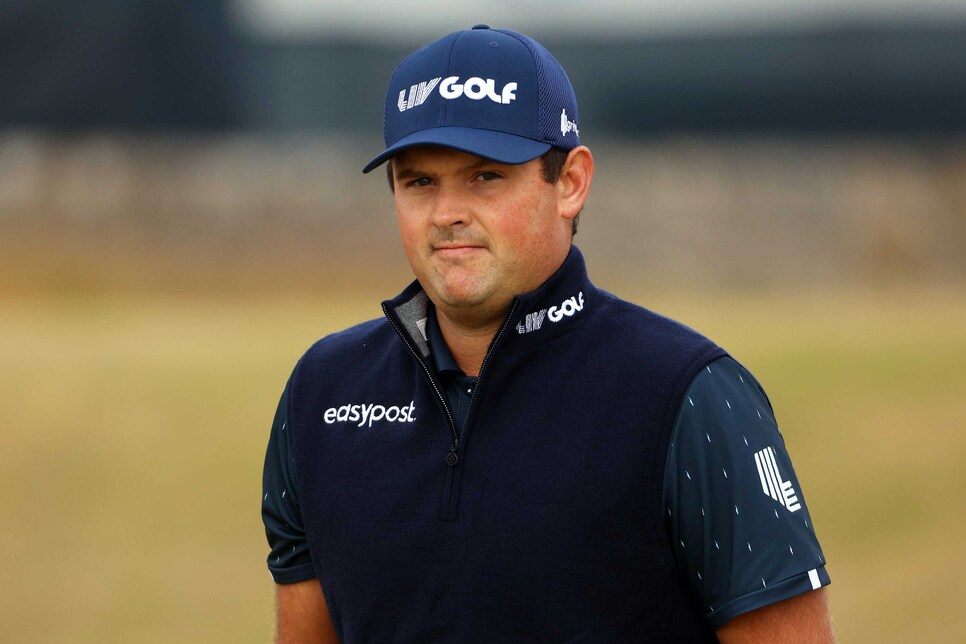 4:31 a.m.: Speaking of LIV Golf, our Dan Rapaport had this interesting story yesterday about how the R&A has been treating the 23 "rebel" golfers in the field this week—spoiler alert they've been given the cold shoulder. It's worth a catch-up read as the players who have jumped to LIV have taken notice themselves. And some lean into the LIV brand.
4:25 a.m.: There have been some birdies to be had so far under the calm conditions, but no eagles until Ian Poulter just rolled in putt from more than 160 feet on the par-4 ninth hole to jump into a tie for the lead with Brendan Wu at three under par.
The roar was noticable when the ball found the hole, which was in stark contrast to the reception that Poulter received on the first hole. When his name was called, the Englishman who is among the players who accepted a big-money offer to jump to the LIV Golf series, was greeted with a smattering of boos. Possibly rattled by the reception, Poulter nearly tugged his drive into the burn to start his round.
4:12 a.m.: Another catch-you-up item for those still sipping their first coffees—Justin Rose was hoping to make his 18th Open Championship start this week, but pulled out just before his 8:14 a.m. local tee time with back injury. At the start of the week, Alex Noren was first on the alternate list, but believing he was unlikely to get into the field, decided instead to travel to the U.S. to play in the Barracuda Championship. The first player on the list who was at St. Andrews was Japan's Rikuya Hoshino. Next up if there's another drop out: Aaron Rai.
4:04 a.m.: If you're just waking up, you'll see a notable name atop the leaderboard: Webb Simpson. Notable because he's a former major champion but also notable given he's struggled so far in 2022—in 16 starts in the 2021-22 season he's had just one top-10 finish. Yet the 2012 U.S. Open champion, playing in the first threesome, has been bouncing back and forth be at two and three under par. He's right now at two under through 11 holes.
Here's a glimpse at the birdie putt that got Simpson to three under after seven holes.
3:50 a.m.: A few house keeping matters. Here's a look at the hole locations for the first round.
And an updated weather report:
3:45 a.m.: Chances are you were still in bed when the opening tee shot was struck to kick off the 150th Open. Have no fear, you can see it here, as Scotland's own (and newest honorary member of the R&A) Paul Lawrie did the honors.
MORE OPEN CHAMPIONSHIP 2022 STORIES FROM GOLF DIGEST