News
British Open 2018 live blog: Jordan Spieth tied for the lead after 65, Tiger Woods four back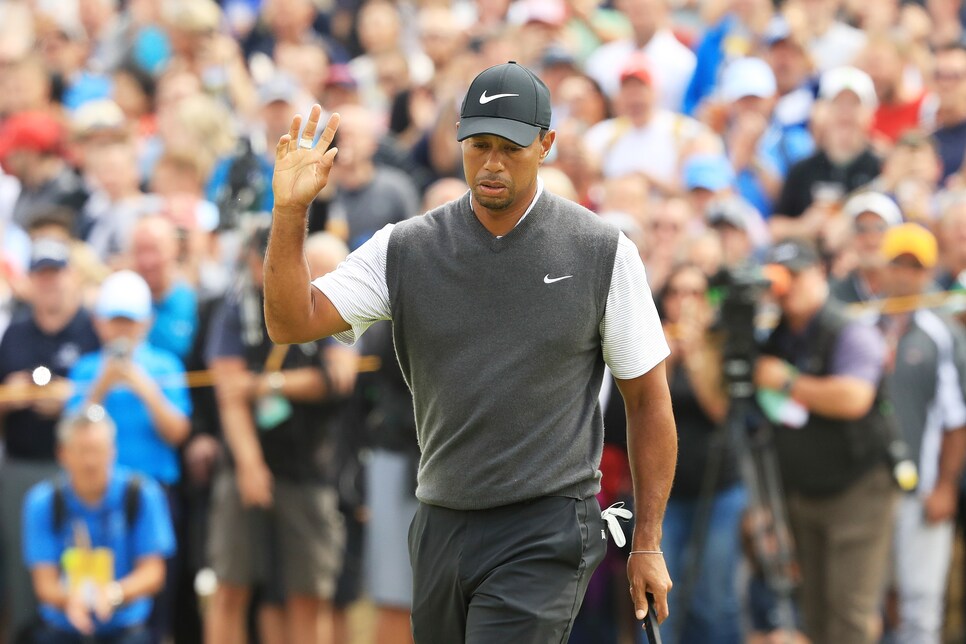 The reset has come. Seventy-seven players have been sent packing—including a few pretty high-profile ones—their Open Championship experience over before it really started. The remaining 79 now settle in to Carnoustie to see if they've got 36 holes of glory left in them. Welcome to the third round of the Open, where we blanche at using the cliché of "moving day" but admit the next 13 hours are critical for anyone who wants to have a serious chance at holding the claret jug come Sunday. Zach Johnson and Kevin Kisner, who share the lead at six under and are sharing a house a couple miles from the course, can sleep in as they don't tee off until 4 p.m. local time. As for the rest of us, crank up the coffee and settle in as we offer the latest scores, tidbits and highlights from Scotland.
All times local to Carnoustie
8:09 p.m.: Pretty strong leader board heading into the final round. Be sure to check back here on Sunday for all all the updates from a last day that promises to be a special one at Carnoustie.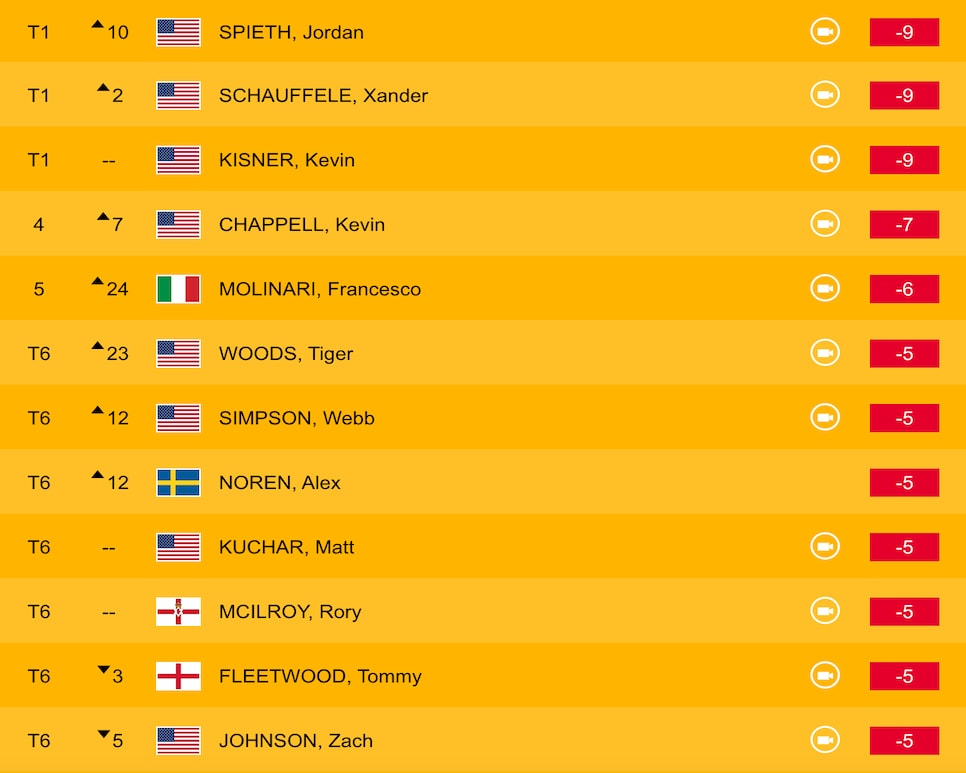 7:42 p.m.: Kisner hits one of the better drives you'll see at the 18th hole this week, leaving him just a wedge in, one that he hit just a bit too hard and immediately asked for it to get down. It didn't, just rolling over the back of the green. From there, he two-putted for par and a bogey-free 68 to put himself in a tie for the lead through 54 holes at nine-under 204. This marks the second time in less than a year Kisner will have at least a share of the 54-hole lead at a major, the first time coming at last year's PGA, where he fell to T-7 after a rough final round.
Zach Johnson two-putts for par to card a one-over 72 and drop to five under overall.
7:40 p.m.: A bad drive at 17 forced Kevin Kisner to lay up to about 78 yards, and from there he stuck one tight and saved an all-world par. He remains at nine under, and looks to finish off a bogey-free, three under round with one more par at the 18th. Zach Johnson didn't have similar luck, making his fourth bogey of the day at 17 to drop to five under. That means it looks like Tiger Woods will be in the third-to-last group off the first tee on Sunday. What a time to be alive.
7:26 p.m.: McIlroy and Schauffele go in complete opposite directions at the tough 18th hole, as the X-Man buries a bomb of a birdie putt to post a four-under 67 and tie Jordan Spieth for the clubhouse lead at nine-under 204. McIlroy was doomed from the start, hitting his drive in a fairway bunker and then his next right of the green in the high grass. He still made bogey, finishing off a one-under 70 and dropping to five under overall.
7:17 p.m.: A wayward drive at the 17th leads to a bogey for Xander Schauffele. He's now alone in third at eight under, while Kisner and Spieth are tied at the top once again.
7:11 p.m.: Early in his round, South African Zander Lombard appeared up to the task of a weekend at the Open Championship, making birdies at the fourth and fifth holes after a bogey at No. 2 to get to five under. He followed with 10 straight pars and had a chance to find himself tied with Tiger Woods through 54 holes. Then, Carnoustie's closing stretch happened, as Lombard bogeyed 16th and doubled the 17th to drop to two under. The 18th hole, however, was not a problem for the 23-year-old:
That's how you salvage a round. Lombard will enter the final round just five back of Jordan Spieth. No matter what happens, hell of a week for a guy who has made just four cuts in his last 18 starts worldwide.
7:04 p.m.: After seven straight pars, Kevin Kisner makes his third birdie of the day at the par-5 14th. That puts him in a three-way tie for the lead with Spieth and Schauffele.
6:47 p.m.: A bogey at 11 and a double at 12 killed all of Zach Johnson's momentum, but he did make a birdie at 14 and is now back at six under. He's joined there back McIlroy, who bogeyed the 16th.
6:50 p.m.: Two-putt par for Spieth gives him a six-under 65, one of three 65s from the field today. He's at nine under through 54 holes, and if that holds up for at least a share of the lead, it'll be his sixth career 54-hole lead or share in his career. At 24 years old, some would say that's good.
Spieth's playing partner Kevin Chappell will have a legitimate chance at his first major on Sunday thanks to a quiet four-under 67 alongside the three-time major winner. That currently has him in a tie for fourth with McIlroy.
6:45 p.m.: Remarkably, Spieth arrived at the 18th bogey-free, and should keep it that way even after a poor drive that he hooked into the rough but got a good lie. His next found the green and he should have no problem two-putting for par, which may not be good enough for the solo lead as the X-Man makes his second straight birdie at the 15th to get to nine under. His playing partner, Rory McIlroy, also just made back-to-back birds, putting him at seven under. It really is all happening now.
6:25 p.m.: Lost in the shuffle of all the big names was a great round from potentially the hottest player in golf, Francesco Molinari. The Italian fired a six-under 65 to get to six under for the tournament, which is now three off the current lead as Jordan Spieth holes a birdie at 16 to get to nine under. The man wants the jug back.
6:14 p.m.: Zach Johnson makes his second bogey of the day at the 11th, dropping him to seven under. That leaves Kisner and Spieth tied at the top, though that may not last very long as Spieth has hit another good approach into the 15th and has about 15 feet for birdie.
6:10 p.m.: Spieth makes his birdie at 14 and is now tied for the lead at eight under. Schauffele misses at 12 and remains one back.
6:00 p.m.: Guys continue to have zero trouble with the wind. X-Man puts his approach at the 12th to a few feet, will have that to join ZJ and Kiz at eight under.
5:55 p.m.: Spieth's drive on the par-5 14th finds the deep stuff, but draws a decent lie. Allows the three-time major winner to hack it some 220 yards on the green. Sixty feet or so remain, but Spieth will have an eagle attempt.
5:50 p.m.: A birdie at the 11th gets Rory to six under, just two back of the leaders. Speaking of which, said leaders hit nice approaches into the 10th, with a chance to get to nine.
5:40 p.m.: Spieth shakes off an awful approach at the 12th with a magnificent bunker shot, and rolls in a testy seven-footer. Coupled with a birdie on 11, Spieth sits one back.
5:35 p.m.: Despite a shaky front, Rory McIlroy is one under for the day, five under for the tournament. Tommy Fleetwood, who was the revised betting favorite, is even on his day, also at five under.
5:32 p.m.: Zach johnson makes birdie the seventh to join Kisner at eight, but puts his tee shot at the eight into a bunker. Kisner misses the same green left. The wind is slightly starting to turn at the moment.
5:30 p.m.: If you're wondering why there hasn't been an update, it's because NBC has gone 12 minutes without showing a shot.
5:18 p.m.: Zach Johnson and Kevin Kisner don't care about your Woods-Spieth aspirations. ZJ drops a 50-footer while Kisner lags an eagle put to tap-in range. Kisner leading at eight under, Johnson one behind at seven.
5:15 p.m.: Spieth has been in scramble mode the past few holes, will find himself in a similar situation on the 10th after pulling his wedge long.
5:00 p.m.: Tiger hits one of his worst drives of the day that takes a miraculous hop to stop it from heading into the burn. After chopping it back into the fairway, his lob wedge stops a foot from the hole. Has that left to finish at five under. That will do.
4:52 p.m.: Woods can't convert the birdie at 17, needs a par at "Home" for a five-under 66. Spieth rolls a nice lag on the eighth for par. Though he hasn't got much TV coverage today, Francesco Molinari joins the five-under contingent with three holes left in his round.
4:44 p.m.: Tiger takes iron at the 17th and finds the fairway. The X-Man makes a birdie to rejoin the five-under crowd, while Kisner takes the lead with a birdie at the third.
And, with a 4-iron in hand, Tiger attacks the pin at the 17th, leaving himself 10 feet or so for a bounce-back bird.
4:40 p.m.: The Woods Train goes slightly off rails with an ugly three-putt (although, is there anything as a good three-putt?) at the 16th. If he can get into the clubhouse at five under, that could hold up strong with winds starting to blow at Carnoustie.
4:30 p.m.: Tiger and Spieth both miss birdie putts, stay at six under. At least we think that's what happened. We're not sure. It's simply too much.
4:17 p.m.: Tiger's eagle putt was another good one, just missing on the left side of the hole and leading to an easy birdie. He's now tied for the lead. Driver is working, irons are working and the putter is working. Now, can he finish? He's had trouble closing out good rounds all year, and now he's going to have to do it at Carnoustie's difficult final stretch. He's off to a good start, finding the fairway at the 15th with an iron off the tee.
4:08 p.m.: Tiger is on in two at the 14th, but he's got a long look at eagle. Two solid shots in, though.
3:58 p.m.: Tiger's birdie putt at the par-3 13th somehow doesn't catch the edge. Wow. He'll take par, but that hurts. On to the short par-5 14th, where he grinded for par on Thursday and had to fight for a birdie on Friday. He has to make one here with Carnoustie's tough closing stretch awaiting.
Back at the fourth, Jordan Spieth's approach spins to tap-in range and he cleans up the birdie to tie for the lead. Remember when this guy was "struggling" ? Felt like just weeks ago ...
3:50 p.m.: Tiger's 251-yard approach shot at 12 came into the green a little hot and just rolled over. From there, he two-putts for par to stay at five under. Another birdie at No. 4 also gets Rickie Fowler to five under. This is a dream leader board on Saturday: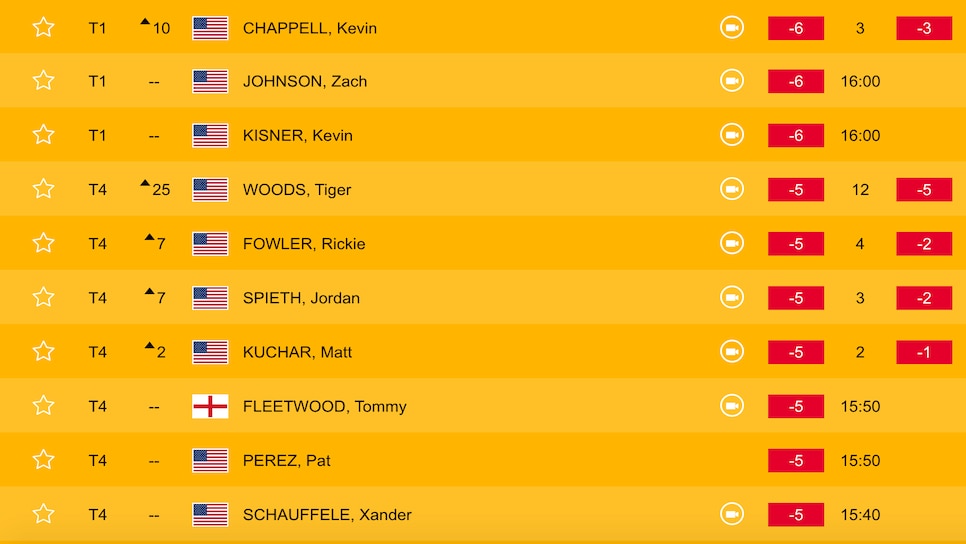 And we couldn't even fit Rory McIlroy, Matt Kuchar or Justin Rose in that screenshot. It's almost TOO good.
3:47 p.m.: If you thought Tiger was hot, Kevin Chappell would like a word with you. He's made three consecutive birdies to open his round and is now tied for the lead. Chappell has had some strong showings in majors, with three top 10s in 17 starts, but this comes as a bit of a surprise considering his play of late. After a T-7 finish at Bay Hill, he's missed five of his last nine cuts and finished no higher than T-30 during that span.
3:40 p.m.: Tiger Woods is one back on Saturday at a major championship. Yes, that's a real sentence. After nearly driving the green at the 11th, he two putts to get to five under. Here was his kick-in birdie from the 10th:
At the 12th he stripes an iron down the middle, which should leave him with another long iron in. We're about to find out just how dialed in he is on this one.
Speaking of dialed in, Patrick Cantlay's fourth birdie of the day at the par-4 seventh moves him to five under along with Woods, Jordan Spieth and Kevin Chappell, who has opened his round with back-to-back birdies. Also at five under are Pat Perez, Tommy Fleetwood and Xander Schauffele, but they have yet to tee off.
3:20 p.m.: Tiger is officially in the zone. He nearly jarred his approach for eagle at the 10th and taps in the bird to get to four under, two off the lead. For the firs time all week, he's on the first page of the board.
But Woods is not alone in making a Saturday charge. The scores are low at Carnoustie, and guess who else just pulled to within one of the leaders? Jordan Spieth. He nearly drove the green at No. 1 and his eagle putt caught the edge and dropped. Decent start for the reigning champion.
Rickie Fowler also gets off to a good start with a birdie at the second, which places him in the large group at four under that includes Woods, Patrick Cantlay and Kevin Chappell, who birdied the first hole. It's about to really get going, as Tony Finau, Matt Kuchar, Rory McIlroy and the rest of the leaders are about to get their rounds underway.
3:11 p.m.: Tiger slightly pulls his drive in the left rough at No. 9 and smartly plays his approach to the front of the green, some 30-plus feet away and DRILLS the putt from deep for birdie. That's a three-under 33 for Woods. Things are happening, folks.
3 p.m.: Nice little early move from Patrick Cantlay. Three straight birdies at the second, third and fourth holes to move to four under for the week. Don't be surprised if he climbs all the way to the top of the board by day's end.
2:57 p.m.: Par for Tiger at the seventh, and after coming up short of the green at the par-3 eighth he hits a beautiful putt right on line that comes up just short. We got robbed of an epic celebration from Woods, who was backwards walking it in. So close, but he remains at two under. We should also mention his playing partner, Shaun Norris, is beating Tiger at the moment, as he's working on a three-under round.
2:45 p.m.: Another fairway at the seventh for Tiger, and his approach finds the green about 15 to 20 feet from the cup. If he holes this one the hype train will be rolling at full speed ahead.
2:30 p.m.: You won't see a better par than the one Chris Wood just made at Carnoustie's 18th this week. After his second barely stayed in bounds down the left side, and we're talking about a foot in bounds, Wood put his second shot to here and needed to hole this for par to turn in a five-under 66:
As NBA announcer Mike Breen would say ... "BANG!" What a putt, and what a move from Wood to get to three under for the tournament. We highly doubt that will keep him within three of the lead, but he's at least given himself a slim chance to make another run on Sunday.
Also in the house at three under is Japan's Yusaku Miyazato, who carded a six-under 65 after opening the week with rounds of 71 and 74. This is the 38-year-old's fourth career Open start, and the only time he's made the cut. Even with seven wins on the Japan Golf Tour, it's fair to say he could be in for a career week with another low round tomorrow.
Tiger's eagle putt left a little bit to be desired, but he hole the eight footer for birdie to get to two under. Little momentum building for Big Cat.
2:15 p.m.: Tiger's birdie effort was always right, and rolled out about five feet, but he made the comebacker for par to stay at one under. Then at the par-5 sixth he rips a driver that just stays in the fairway. Sigh of relief. This is a must-birdie situation for Woods.
Up ahead at the 18th, Bernhard Langer is looking to get into the clubhouse with an impressive round on moving day. After dropping shots at the ninth and 12th holes, the 60-year-old made eagle at the par-5 14th and just birdied the 17th to get to three under for the day, one under for the championship. Surprisingly, this is only his third start in the Open in the last 12 years, and it looks like it could be the best of that trio as he missed the cut in 2011 and tied for 78th in 2015. He never won this one, but came so close so many times, with eight top 10s in 30 career starts.
2:11 p.m.: After a third straight par at the third, Tiger knocks one tight at No. 4 and walks in the birdie putt to get to one under. Up at the fifth he's got about a 40 footer for another birdie coming up.
1:44 p.m.: Woods lays up with a 7-iron off the tee at the third, leaving a wedge in for his approach. While he hits the green he misjudges the wind, leaving about 25 feet or so for his first birdie of the day.
1:37 p.m.: Woods rips driver on the second, which leads to a nice approach to about 15 feet. Unfortunately Tiger can't convert, and walks to the third even for the tournament. Elsewhere, Chris Woods, seven under through 13 holes, makes bogey on the 14th. Still in the mix at four under for the championship.
1:27 p.m.: After making the cut on the number, Justin Rose shoots 64 to jump into T-7. If wind picks up, that could be a standing that holes, even improves, to give Rose a puncher's chance at his first claret jug.
Woods pulls his approach on the 1st but gets up-n-down for par.
1:19 p.m.: Tiger stays the conservative route on the first tee, and though it's a tad chunked and pushed to the right, it settles just into the rough. Shouldn't be much of an issue for his second shot.
1:09 p.m.: As Tiger Woods is about to roll up to the first tee, Chris Wood rolls in another birdie, this one from eight feet on the 13th hole. He's seven under on the day, five under for the tournament and one off the lead. Screw it ... we love MOVING DAY!
1:06 p.m.: We really don't like writing the term "moving day" but another Englishman is forcing us to use the term. Justin Rose needed to roll in a 15-footer on the 18th hole on Friday to get to three over and just make the cut. Now he stands at three under for the tournament after rolling in a 18-footer for birdie on the 17th hole. Here's where I mention that Rose was my pre-tournament pick.
1:01 p.m.: The forgotten man of Carnoustie just stepped on the first tee, four minutes from his staring time. Yes, Phil Mickelson made the cut at the Open, going 73-69 to sit just six back of the lead. Of course it was a Saturday at a different Open a month ago that has become Lefty's most memorable moment to date in 2018. Could he change that with a low round today at Carnoustie? Maybe, although history suggest Saturday at the British Open isn't usually his day: Only twice in 19 tries has he shot a score on Saturday in the 60s.
12:45 p.m: Wood has a birdie putt on the 11th hole from 40 feet … and just missed left. If he made that one, we might have needed to get the #59Watch hashtag fired up.
12:39 p.m.: Shameless plug time: Earlier this week I spent some time wander the streets of Carnoustie (pop. 12,000) to see what it means to he hosting the Open Championship in their sleepy coastal town. The conscensus? 'Surreal.' When you have a moment, indulge me.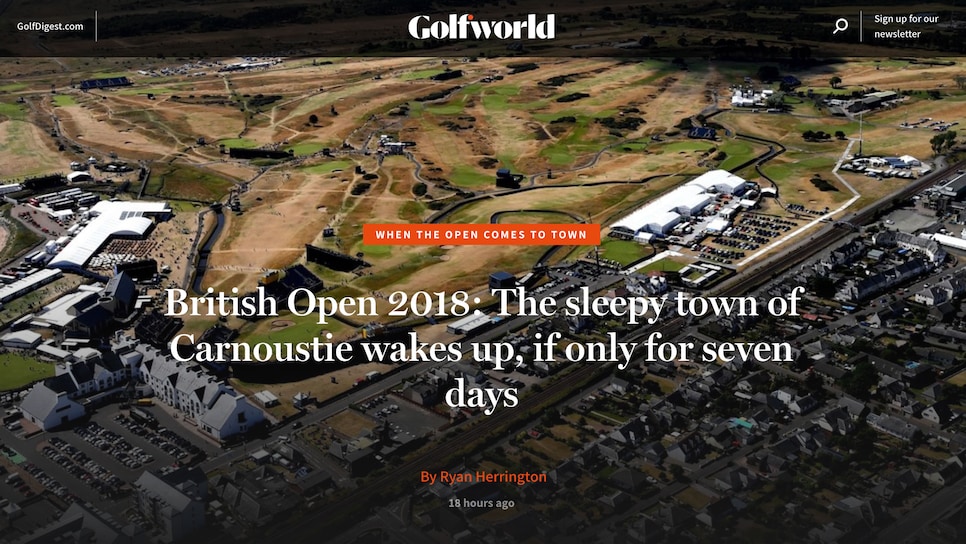 12:34 p.m.: Make that six birdies in the first 10 holes for Wood, after rolling in another putt on the 10th hole. Wood is now suddenly four under and two back of Johnson and Kisner. More immediately, is another Saturday 62 at the Open now in the offing?
12:30 p.m.: Englishmen Paul Casey and Chris Wood have just made the turn, having teed off at 10:35. But the day is going decidedly different for the countrymen. Casey has two bogeys and one birdie, shooting a one-over 37. Wood, however, has five birdies and is not three under par for the championship, just three shots off the lead.
12:25 p.m: Just saw Byeong Hun An make a birdie, his first of the day, on the fourth hole. He's playing with Kevin Na. An & Na: Does the board the walking scorer carry feel lighter than usual?
12:21 p.m.: Also, if you haven't taken a peak at this moment from Tiger's second round, you've got to watch this:
12:15 p.m.: T-minus 60 minutes until T-Woods tees off for the third round at Carnoustie. Consecutive 71 have left Tiger six strokes off the lead, and frustrated … but not necessarily out of the championship.
12:08 a.m.: Sam Locke has already locked up low amateur honors, the 19-year-old who learned the game at the Paul Lawrie Academy being the only on of the four amateurs to make the cut. But he doesn't appear satisfied with just playing the weekend as he rolls in his third birdie putt to get to three under through eight holes, much to the delight of the locals.
11:48 a.m.: A little more than 2½ hours removed from Gavin Green getting the action rolling, there are 29 players on the course and lots of red numbers on the scoreboard. Fourteen players are under par on the day, and just six are over par (five of them sitting a one over). The good scoring shouldn't be much of a surprise: the course has been drenched in mostly sunny skies and seen little wind to this point. With the rain that help soften things up on Friday, right now is a perfect time to get moving up the leader board.