News
British Open 2018: Little seems to rattle Zach Johnson, which is why he is contending at Carnoustie
David Cannon/Getty Images
CARNOUSTIE, Scotland — Zach Johnson would like to make something clear: Contrary to popular belief, he does not love playing golf in windy, rainy conditions. "But I can do it," Johnson said. "I'm going to go out and fight."
That point was made, emphatically, on Friday at the Open Championship, when the 42-year-old two-time major champion handled the less than stellar conditions and shot a four-under 67 to grab the clubhouse lead at six-under 136.
Through 36 holes, Johnson has found Carnoustie Golf Links to his liking, although he admits the version of the course he saw on Friday was a bit more hospitable. Despite playing in more difficult weather—rain falling for nearly the entirety of his morning round—Johnson said the course became more predictable and that his strategy on what clubs to hit off the tee became more clear.
Mind you, the round didn't start well. A sniped drive off the first tee, his worst shot of the day, led to an eventual bogey, and some early nervousness. Yet from there, Johnson played smart, methodical golf, making five birdies, including a rare one on the par-4 18th.
"I probably played equally well yesterday," Johnson said, having posted a 69. "I mean, if I go through my round yesterday, there really wasn't a whole lot of difference. It's just that I made more putts today."
It's hard not to conclude that there's something about the Open that appeals to Johnson. After missing the cut in his first three appearances in the championship, he hasn't gone home early in his last 11 straight. The capper was his playoff victory at St. Andrews in 2015, but Johnson has two other top-10 finishes and six top 20s to his credit.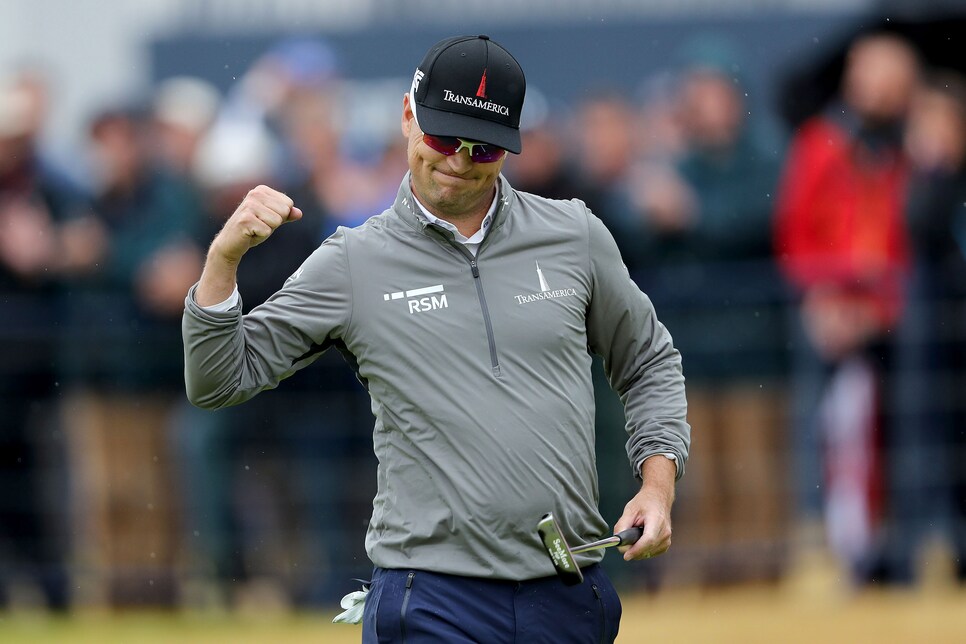 David Cannon/Getty Images
Why exactly there is the connection, Johnson isn't certain, but he has a hunch.
"Augusta is Augusta. You know what you're going to get there," Johnson said, having won his first major there in 2007. "It probably doesn't favor me unless the conditions are really, really firm and fast, meaning the scores are not 15 under.
"The other championships—you know, I think the golf courses year to year are just dramatically different, whether it's West Coast, Midwest, Southeast, Northeast. And then over here the golf courses are not dramatically different. The elements might be, meaning you might have brown fairways one year and then you go somewhere else and it might be plush."
A 12-time PGA Tour winner, Johnson says his appreciation for the event and what it takes to play links golf may also explain why he's played better in the Open over the years.
"The reverence I have for this championship and specifically that trophy, that Claret Jug," Johnson said, "I'm not suggesting that someone doesn't have a higher reverence for it, but I'd argue with them."
Another potential reason why Johnson seems to be playing better in the event as he gets older? In recent years, what's also made competing easier has been a settled situation off the course.
Starting in 2016, Johnson has made arrangement with pals Jordan Spieth, Justin Thomas, Rickie Fowler, Jason Dufner and Jimmy Walker to stay together in rented houses. The group then collectively hires a British chef from the Floridian to come with them and cook for the group for the week. Having a comfortable foundation, especially considering that Johnson travels over late after playing the weekend before at the John Deere Classic, helps him focus more on golf and less on the outside world.
There is something a bit amusing about Johnson, a veteran in his 40s, hanging around the #SB2K17 crowd, even to him. "I wasn't in a fraternity in college," Johnson said, "but it kind of feels like I'm going back to my alma mater, and I'm the old guy stepping into the current frat house."
Maybe Johnson is the house's RA for the week. Regardless, it's a situation that seems to be paying dividends (this year's addition to the house, Kevin Kisner, is also still on the leader board), and one that Johnson thinks can help him continue his strong play into the weekend,
"I've still got a lot of work to do this week, and I'm not going to take anything for granted," Johnson said.
As for the forecast: The rain is expected to subside but wind might be strong.
No problem, says Johnson. He won't love it, but he'll handle it. Like he usually does.