News
British Open 2018 live blog: Jordan Spieth finishes with four-under 67, sits three off the lead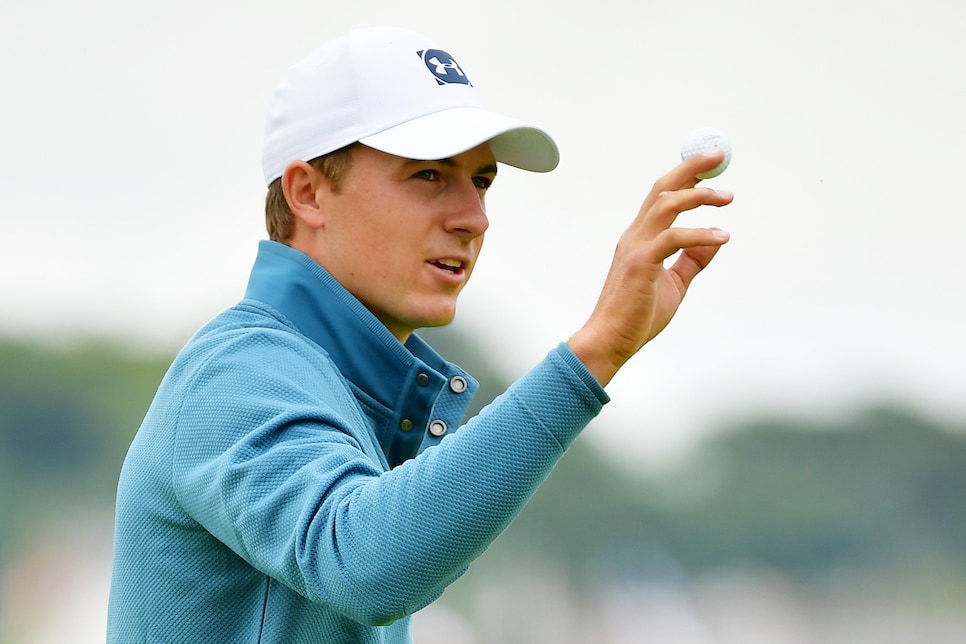 So what did we learn after the opening 18 holes of the Open Championship? A baked-out Carnoustie Golf Links, with no wind, will yield red numbers—although not quite as much red as other links courses. Kevin Kisner's 66 was impressive, but if the calm conditions that greeted players on Thursday were seen at other venues on the Open rota, 63s would likely have been the order of the day. Meanwhile, the forecast for Friday calls for darker skies, spots of rain and a generally more Open Championship atmosphere for the Open Championship. So, what does that mean for the second round? In theory, players in the morning wave—most notably Tiger Woods (10:20 a.m. tee time), Rory McIlroy (7:52), Justin Thomas (8:25), Dustin Johnson (8:03) and Brooks Koepka (9:58)—might wind up seeing that they are this year's hard luck golfers stuck on the "wrong side" of the draw. That's just fine with the likes of Kisner, who tees off at 12:53 p.m. In the meantime, the rest of the field will still be trying to figure how to attack Carnoustie in hopes of finds a secret that can propel them into the weekend. Once again, sit back, relax and stick with us here for the latest scores and highlights from Day 2.
All times local to Carnoustie.
8:13 p.m.: Tough finish for Tony Finau, who was tied for the lead not too long ago. But bogeys at 15 and 18 saw him turn in an even par 71, which still has him in contention at four under overall. Xander Schauffele's finish, however, was pretty spectacular. He toured Carnoustie's difficult back-nine in 31 strokes, including a birdie at the 17th to post a five-under 66. He's just one off the lead at five under for the tournament through 36 holes.
7:43 p.m.: Joining Spieth in the clubhouse at three under is Rickie Fowler, who lipped out a birdie putt at the 18th, finishing with a par and a two-under 69.
It's looking like the cut line will be three over, which makes this one clutch putt by Justin Rose at the 18th for birdie:
Depending on how Zander Lombard finishes, Rose may only be nine back at day's end. Crazier things have happened in the Open ... at Carnoustie ... in 1999. But let's not beat a dead horse.
As for the others hovering on the cut line, Patrick Reed may have just come up very clutch at No. 18, knocking his approach tight. At three over overall, he only needs two putts from about eight feet, so he's safe. Can't say the same for Jon Rahm, who shot himself out of the weekend with a seven-over 78 on Friday. Looks like Henrik Stenson, Jason Dufner, Bryson DeChambeau, Keegan Bradley and a few other notables that have been waiting to see their fates decided will hang around for two more days as well: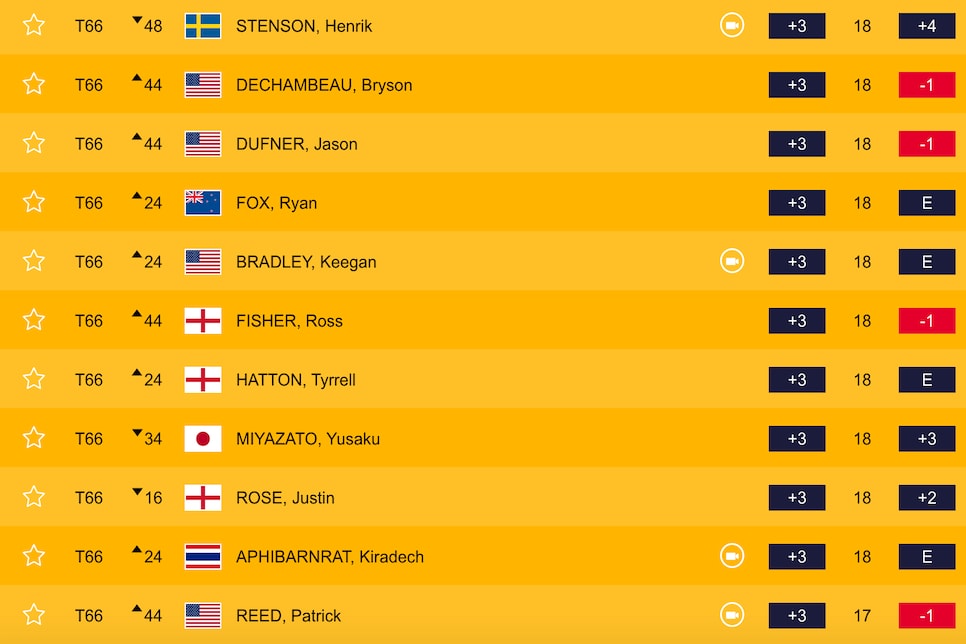 Oh, and we did fail to mention Phil Mickelson earlier. Lefty posted a two-under 69 with a double bogey, and rolls into the weekend at even par with Tiger Woods. Still in it.
7:33 p.m.: After the bogey at 16, Jordan Spieth finishes strong with a pair of pars at 17 and 18, giving him a four-under 67. Strong move from the reigning champion to get within three of the current lead heading into the weekend. Last year's runner-up, Matt Kuchar, made a move as well, carding a three-under 68 to get to four under overall.
7:17 p.m.: Out of nowhere, Xander Schauffele shows up on the broadcast thanks to an eagle at the par-5 14th that gets him to four under on the day and the tournament after his first-round 71. If there's not a "low player named X/Zander" prop bet for this weekend, what are we even doing here?
7:08 p.m.: Don't forget about Tony Finau. He just made his second birdie in the last three holes to tie for the lead, replacing Zander Lombard in the process after the young South African made his first bogey of the round at the 12th.
Like many guys late in the day, Rickie Fowler just bogeyed the difficult par-3 16th, but it was a good save after missing the green well right, similarly to how Spieth missed. He's back at three under with Spieth, Kevin Chappell, and Matt Kuchar, who heads to the 18th tee looking to finish off a bogey-free back nine.
6:56 p.m.: Pat Perez will walk off upset with a bogey at the last, his only dropped shot all day, but it could have been much worse. Just ask Kevin Kisner. Perez ends up with a three-under 68, which sends him into the weekend at five under overall, one off the current lead.
Just as the Spieth train started to roll, he misses way right at the par-3 16th, then leaves his ensuing chip short of the green. But it looks like's about to get up-and-down from there after another great chip to avoid a disastrous double. Back at 15, Rickie Fowler made a nice save himself, his for par to remain at four under for the tournament.
Zander Lombard continues to plug along, but will face a long putt to save par at the 12th. He's made just one bogey so far this week.
6:42 p.m.: Rickie Fowler picks up another at the short par-5 14th, which gets him to four under overall, tied with Spieth, McIlroy and Van Rooyen.
Up at the 18th tee, Pat Perez follows up his par at 17 with a poor drive that yields an F-Bomb from the three-time tour winner. Never change, Pat.
6:33 p.m.: Jordan Spieth two-putts for his fifth birdie of the day at the par-5 14th. He has now climbed all the way into a tie for sixth at four under, and has still yet to make a bogey on Friday. The question is, can he hang on this time? We keep saying how hard the closing stretch is, but that's because it's true. Just have a look at this insane stat for proof:
If Spieth can somehow finish this out without a bogey, he'll deserve a nice, hearty golf clap at the 18th green. Also, we'd really like his chances heading into the weekend.
6:23 p.m.: Late in the day, the birdies are becoming few and far between as guys look to just get to the clubhouse in position for the weekend. Pat Perez has made two straight pars and has two holes to play, Zander Lombard made two straight pars to close his front nine and Jordan Spieth has made two in a row to remain at three under overall with five to play.
Rickie Fowler did make a birdie to get a shot back at No. 11, then followed with pars at 12 and 13 to stay at three under for the tournament. Joining the group at three under is Matt Kuchar, who just made back-to-back birdies at 13 and 14. Kuch in the mix at a major? Who would have thought!
6:00 p.m.: If anyone says they thought "co-leader Pat Perez" would be something we'd here on late Friday afternoon at Carnoustie, they're lying. But we are totally here for it. Perez has made five consecutive one-putts, including his fourth birdie of the day at the par-5 14th. He's working on a bogey-free, four under round, which will be challenging to keep together on these final few holes, as we've seen. But for now, it's Perez, Kevin Kisner, Zach Johnson and Zander Lombard tied at the top, just like we all expected.
Someone we always expect to be in the mix though, is Jordan Spieth, despite his putting woes of late. He's been just fine with that club today, making four birdies and no bogeys to get to four under on the day, three under for the tournament. Spieth is looking to become the first back-to-back Open champion since Padraig Harrington accomplished the feat with wins at Carnoustie in 2007 and Royal Birkdale in 2008.
5:45 p.m.: Kevin Kisner's fourth shot after his drop was not a great one, leaving him a long, right-to-left putt to save a bogey. He lipped it out again, a common them for him today, and settles for double. Not quite Jean van de Velde, but a tough way to finish what was another great round.
Kisner had 27 putts total, and it felt like five of them lipped out. If he can putt like that for two more rounds, there's no reason he won't be in it late on Sunday. He heads to the weekend tied with Zach Johnson and ... Zander Lombard! The South African just birdie No. 7 to get to two under on his round, six under for the tournament. Can you imagine him taking the lead into Saturday? The 23-year-old has missed 14 of his last 18 cuts worldwide and ranks 444th in the world. What a crazy game.
5:40 p.m.: Back-to-back bogeys for Rickie Fowler at nine and 10 have spoiled that strong start. He falls back to two under overall.
5:35 p.m.: Oh dear. Kevin Kisner may be human. He just found the burn on his second shot at No. 18. We'll see how much he can limit the damage.
5:34 p.m.: How about this finish from Sandy Lyle? Not a bad way to (possibly) end your Open career:
5:28 p.m.: After a first-round 69, 2016 Masters champion Danny Willett was asked how dark it got during his lengthy slump that saw him drop from ninth in the world to as low as 462nd. The Englishman responded "pitch black." Fortunately for him, he may finally be seeing the light, having collected a pair of top 20s at the Irish and Scottish Opens and now playing his first 36 holes at Carnoustie in two under par. Good to see his hard work paying off, because it looked like we may never hear from him again not too long ago.
Also in the clubhouse and in good position is Kevin Chappell, sitting at three under overall following rounds of 70 and 69. We've seen how much talent he possesses in recent years, taking Rory McIlroy deep into a sudden death playoff at the 2016 Tour Championship and earning a spot on last year's Presidents Cup team. He's also had a few strong starts in majors, with three top 10s in his career, but none in the Open Championship. This is just his third start in the event, the last two coming in 2017, a missed cut, and 2016, when he finished T-53.
Don't look now, but Jordan Spieth has pulled to within six of Kisner's lead. The reigning champ just made his third birdie of the day at No. 10, and remains bogey-free.
5:22 p.m.: Rickie Fowler plays a deft chip from a tough spot at No. 9, but can't convert on the seven-foot par putt. That's his first bogey in the last 16 holes, and it gives him a two-under 34 on the front. He's now five back of Kevin Kisner, who just nearly holed a long birdie putt at 17 and cleaned up his par to remain at eight under heading to 18 tee.
5:11 p.m.: Another Kevin Kisner birdie effort tracked the whole way, but came up just short at the 16th. Two holes two go and he remains at eight under. Barring a disaster, this is quite a start from a player with just one career top 10 in a major to his name.
Another semi-surprising name at the top of the board is Pat Perez, who just made another long birdie at No. 11 to get to five under. At 42 years old he's playing arguably the best golf of his life, and he too only has one career top 10 at a major.
We should note that Erik Van Rooyen, despite an odd rules situation that was quelled on the 18th green, carded an even par 71 to get to the weekend at four under. Van Rooyen's putter slipped out of his hands and moved his ball mark, but it was deemed accidental. Bullet dodged for the 28-year-old South African, who heads into Saturday in a great spot, tied with Rory McIlroy and Rickie Fowler, who has run into some real trouble at the ninth. Fowler's drive went into the left rough and his approach is also left of the green in the rough. Staying bogey-free would be a minor miracle from where he's at, but at least he's in better shape then playing partner Jon Rahm, who has fallen all the way to one over after another bogey at No. 8.
4:57 p.m.: It looked like Kevin Kisner might not take advantage of the short par-5 14th, hitting his second in a tough spot in a green side bunker. His third then rolled about 10 feet past, and he was able to knock it in for two straight birdies. He's now three under for the day, eight under for the tournament and leads by two with three holes to play.
Rickie Fowler did a nice job of avoiding bogey at the par-5 sixth, then just missed another birdie at the seventh. Still, a clean, three under round through seven holes for Rick, but he's now four back of Kisner.
Jon Rahm, who appeared to right the ship after bogeying the second, just tripled the seventh hole, dropping him to level par overall. We'll see how that affects his mood for the rest of the round.
Tony Finau is quietly cruising along at five under overall, with a birdie and four pars so for. Zander Lombard isn't going anywhere either. He's also one under on his round and five under for the tournament.
4:13 p.m.: Putts are starting to fall for everybody on Friday, including Jordan Spieth, who just drained one from deep at the fifth for his second birdie in three holes. The reigning Open Champion is now in red figures at one under overall, which puts him six back of Kevin Kisner, who just made his fourth birdie of the round at 13. On Thursday, he began a run of three straight birdies on this stretch. More of the same would give him a nice little cushion as he heads to Carnoustie's closing stretch.
One of the longer putts we've seen all week was just holed by Pat Perez. Double P is two under on his round, four under overall and officially lurking. This is just his second Open Championship start in the last decade.
Matt Kuchar makes his first birdie of the day at No. 6, a chip-in from a green side bunker. Kuuuuch is also lurking at two under for the championship. Back at the fifth, Rickie Fowler lips out for what would have been is fourth birdie of the day. Putter is rolling very nicely for Fowler so far.
4:06 p.m.: After a quiet one-under 70 on Thursday, it's taken Rickie Fowler all of four holes to vault up the board. He just made his third birdie of the day at the par-4 fourth, which gets him to within two shots of Zach Johnson and Kevin Kisner's lead. We say this at every major, but is it finally "his week" ?
3:45 p.m.: The highs and lows of Jon Rahm are on full display early, as the young Spaniard bombed a drive at the first and then hit a wedge tight for a birdie. On the very next hole, he gave it right back with a bogey, but then stuck another one tight at the third and converted for his second birdie to get back to three under. The guy is never not exciting to watch. Same goes for his playing partner Rickie Fowler, who just made his second birdie at the third to move to two under on his round, three under for the championship. Tiger Woods just mentioned in his post-round interview that he believes "six or seven" under is out there this afternoon. Don't be surprised if Fowler and Rahm make those words sound prophetic.
Speaking of highs and lows, we were just treated to one of Jordan Spieth's highs of the week so far, a ridiculous birdie chip-in at the third that was even better than his bold play at the eighth hole on Thursday. That gets him back to level par for the tournament.
3:32 p.m.: Tiger Woods' closing birdie putt comes up short and right, in what will be a disappointing finish to his round, with just about seven feet for that birdie, after this beauty of a shot.
That's Tiger's second-straight round of 71 for back-to-back even-par rounds. The putter was the disappointing part of his game: Big Cat had 32 putts on the day. Though he holed a couple nice birdie putts, there were mostly disappointing results, considering he hit 13 of 18 greens. Still, Tiger finishes up just six shots back of the current lead.
His playing competitor, Hideki Matsuyama, finishes up with a triple-bogey 7 at 18. That's a tough finish: He had gotten it to 1-over before 18. And now he'll miss the cut.
3:30 p.m.: It has been about 10 minutes until Tiger hit his approach shot, and we're still waiting for Hideki Matsuyama to escape the mess he made at the par-4 18th hole.
In the meantime, we saw Kevin Kisner open his inward nine with a bogey at the 10th hole to relinquish that solo lead. He's back to 6-under, in a tie with Zach Johnson.
3:21 p.m.: Tiger Woods has given himself a great chance at a closing birdie at the Home hole. From over 210 yards out, the 14-time major champ hoisted a 6-iron way in the air, landing it perfectly on the green, and rolled out to about 7 feet for birdie.
Though it was a conservative strategy for most of the first two rounds at Carnoustie, Tiger went after that pin. He'll have a chance to get to red numbers, and nonetheless, will be in solid shape heading into the weekend.
To put it in perspective:
3:13 p.m.: It's back to 7-under for Kevin Kisner, as he retakes the solo lead with a birdie at the par-4 ninth. His outward-nine 34 matches his opening score from yesterday.
3:02 p.m.: How about this lucky break at the Barry Burn for Sergio? He'd get up and down from there to make par ... still not good enough to make the cut, but pretty impressive nonetheless.
2:58 p.m.: Kevin Kisner drops his first shot of the day on the par-3 eighth hole after he found the bunker. He moves back down into a tie with Zach Johnson. How bout this ironic fact: One of Kisner's two wins on tour came at Colonial Country Club, known as Hogan's Alley. Kisner is playing some great golf at the site of one of Hogan's most heroic wins, the 1953 Open, capping off one of the most memorable seasons in golf history, as Hogan won all three majors he entered—the 1953 Masters, U.S. Open and the '53 Open here.
2:53 p.m.: Tiger's long par save misses on the low side, and he makes his first bogey on the inward nine. The 14-time major champ drops back to even-par.
Brooks Koepka has played himself back into the tournament. Following a really, really tough start on his first nine (5-over 41), the back-to-back U.S. Open has fought back, playing the next 27 holes in 6-under, with a birdie at the home hole today, to move to 1-under for the tournament. Impressive stuff from Koepka, who has the second-longest active cut streak (16 majors), and will continue that number this week.
How about this fun fact? Koepka, at Shinnecock, also started his tournament at 5-over. And we know how that ended.
2:50 p.m.: Tiger's tee shot at the difficult par-3 16th found one of the greenside bunkers, and his escape is fine, but it checked up early on him. He'll have about 12-15 feet for his par-saver to stay at 1-under.
2:46 p.m.: Kevin Kisner adds a second birdie to his scorecard to move the lead to 7-under—he's now one clear of Zach Johnson and two of Tommy Fleetwood.
Meanwhile Phil made a mess of the par-5 sixth hole ... making a double bogey after that wayward drive. His time in red numbers was short-lived, dropping back down to 1-over for the tournament.
2:43 p.m.: Here's Rory discussing his second straight round of 69, which puts him on the first page of the leader board after two rounds:
2:35 p.m.: Tiger hit a solid shot into the 15th green, with about 35 feet for a birdie. The try comes up just short—giving him an easy par heading into the gauntlet of 16, 17 and 18.
2:24 p.m.: Phil, on the heels of three birdies over his first five holes, is now on the par-5 sixth hole. And he just hit this moon shot that went Jordan Spieth levels of right. Knowing Phil, he'll probably make birdie from there.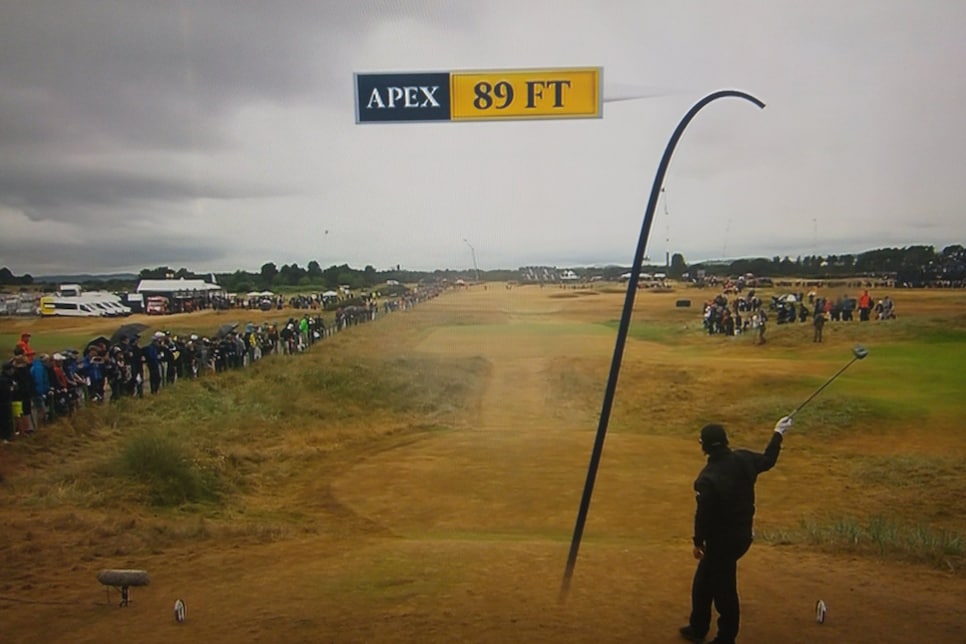 2:19 p.m.: It's more than halfway through Day 2 of the Open, but we finally have the first birdie on a par 5 for Tiger Woods.
Tiger's eagle try came up short, but he had an easy birdie to move to 1-under. And he has company there. Phil Mickelson rolls in another birdie (he has birdies at 2, 4 and 5) to also get to 1-under.
2:13 p.m.: You might've been surprised Tiger pulled an iron off the tee on the easy par-5 14th. But Tiger's strategy proves to be sound—as his second shot, a 5-iron from 235, comes to rest on the front part of the green, about 20 feet away from eagle.
If we saw a medium-sized fist pump on the last hole for a par putt, can you imagine what an eagle version would look like? Regardless, Tiger looks poised to get to red numbers here.
2:05 p.m.: We haven't seen much of Phil Mickelson on the coverage this week. Very quietly, Phil has matched Tiger's score for the tournament thus far—rolling in his second birdie of the day to move to even-par.
2:02 p.m.: It looked like Tiger Woods might drop a shot at the par-3 13th after his pitch shot went about 13 feet past. But the 14-time major champ holed the lengthy par putt to remain at even par—and gave a decent-sized fist pump to accompany it.
1:41 p.m.: Kevin Chappell is making an early move up the leaderboard with a couple early birdies in his round. The Presidents Cupper is 2-under through 5, and three back of Zach Johnson's lead.
Tiger had 241 yards in on the difficult 12th hole and found the green. He'll have a lengthy (very lengthy) two-putt upcoming to stay at even par.
1:26 p.m.: Meanwhile, Tiger Woods walks in his third birdie of the day with a bounce-back bird at the 11th hole. He's back to even-par for the tournament, matching bogeys at 2, 3 and 9 with birdies at 4, 5 and 11.
1:21 p.m.: Kevin Kisner started his round with an absolute laser shot to within 3 feet at No. 1. But the first-round leader missed the shorty—a missed opportunity fo sure—to stay at 5-under, which is one back of Zach Johnson's lead.
In his post-round comments, Rory McIlroy said Kisner and some of the afternoon wave might have an advantage and be able to stretch the lead out a little bit. Kisner had a great chance to do that on the first hole.
1:06 p.m: Yes, sir! Zach Johnson holes a long birdie at the Home hole to card a second-round 67 to follow his 69. The two-time major champ is now the outright leader at 6-under.
An impressive round in the rain from ZJ, only topped by Tommy Fleetwood in this morning wave.
Sure, Zach has a history of playing great golf courses well (see major wins at Augusta National and St. Andrews), but 2018 hasn't been kind to ZJ thus far. He just has one top-10 (the Valero Texas Open). Impressive start from the plodding Iowan.
12:54 p.m: Zach Johnson holes a 10-footer for par at the 17th hole—keeping him at 5-under and tied for the lead with Tommy Fleetwood and Kevin Kisner.
Meanwhile Tiger Woods bogeyed the ninth hole, so he is out in one-over 37. He's just six back of the lead at 1-over for the tournament.
12:42 p.m.: Rory nearly holed his birdie bid, but he'll be happy to wrap up his second round with his second straight 69, leaving him one back of the lead of Tommy Fleetwood and Kevin Kisner.
With four birdies and two bogeys, it was a really stellar round from the eighth-ranked player in the world, looking for his first major since the 2014 PGA. Sure, Rory tends to play better in softer conditions when he can flight his ball high and stop it. The rain is supposed to stop over the weekend, but the four-time major champ took advantage of the conditions this morning.
12:37 p.m.: Rory McIlroy found the rough at the Home hole, but a really sporty approach to about 15/20 feet gives the Northern Irishman a good chance to tie Tommy Fleetwood and Kevin Kisner atop the leaderboard.
12:32 p.m.: Tiger Woods had a nice look at a birdie at the par-3 eighth, but his try comes up just short. He stays at even-par through 8 heading to the final hole of the outward half.
12:21 p.m.: Tommy Fleetwood finishes up the round of the week so far with a second-round 65—bogey-free with six bogeys. The 29-year-old is searching for his first major, and after his closing 63 at Shinnecock, the Englishman looks as poised as ever to hoist a major trophy.
It has been a proper start to that pursuit—with Fleetwood tying Kevin Kisner for the lead with that closing birdie at 18.
12:11 p.m.: Zach Johnson has tied Kevin Kisner for the lead with a birdie at the easy par-5 14th hole. ZJ is three-under on his round.
Imagine if the two-time major champion added Carnoustie to his list of major victories? Augusta National, St. Andrews and Carnoustie? No golfer in the history of the game has won majors at those three historic venues.
Meanwhile, Rory parred the 16th hole—so he heads to 17 just one back of Johnson and Kisner. Tommy Fleetwood is playing the 18th now, finishing up the best round of the morning. He's 5-under on his round, -4 total, and he has a chance for a finishing birdie at the Home hole.
11:57 a.m.: Rory McIlroy bogeys his second hole of the day at the 13th—his poor second shot went way left of the green, and Rory failed to make the length par putt. He drops back down to 4-under, one back of Kevin Kisner's lead.
Meanwhile, Tiger's third shot at the par-5 sixth hole comes up about 50 feet short. From long range, he cozied it up to a couple feet for par.
11:54 a.m.: Tiger's errant drive found a decent lie—allowing him to hack it out into the fairway. The sixth hole is a par 5—so he could still get up and down for birdie. That would be his first birdie of the week on a par 5, where he used to feast during majors.
11:40 a.m.: Tiger hits what seems to be a shank with his driver, or at least a hard, HARD slice, at the sixth, but it's so bad that it appears to have escaped trouble. On the other end of the links, McIlroy makes another birdie, strutting his way to the top of the leader board at five under.
11:37 a.m.: What's this, a Tiger run? Woods drops a long putt for birdie at the fifth, his second consecutive birdie to get back to even. Suddenly not all is lost.
11:35 a.m.: Zach Johnson just missed a birdie for a share of the lead at the 12th. Still, putting together a strong round, and with the weather expected to worsen throughout the day, it's a number than can stand.
11:30 a.m.: Good news: Rory makes his birdie putt. Bad news: his tee shot at the 14th finds the bunker. Likely will be forced to lay up.
11:23 a.m.: Tiger makes the putt for his first birdie of the day to get to +1. Now six back of the lead. McIlroy bounces back from his bogey with a sporty tee shot at the par-3 13th. Will have 10 feet or so for another red figure.
11:17 a.m.: Rory takes his first bogey of the day from a three putt, while Fleetwood converts for birdie. Meanwhile Woods, from 122 yards, puts his second within 10 feet at the fourth for a chance to right the ship.
11:11 a.m.: Fleetwood reaches the 14th in two, and has an eagle putt to grab a share of the lead. Coming off a stellar U.S. Open run, Fleetwood entered Carnoustie as a tournament favor. Through the early part of Round 2, the Englishman has proved those prognostics correct.
11:03 a.m.: Woods doesn't necessarily challenge the flag on the third, facing a 30-footer for birdie on the third. And gets wayyy too aggressive, leaving himself a six-footer left for par. He leaves that short and to the left. Woods is now +2 on the day and tournament, and suddenly finds himself battling the cut.
10:53 a.m.: Justin Thomas went from the leaderboard to the wrong side of the cut line with three straight doubles. Interesting to note Thomas went south in bad weather at last year's Open as well.
10:43 a.m.: Tiger takes out the SmokeWagon but it sputters way right and into heather. Take takes a hack...and it snipes the fans to stay in play. Clearly, Big Cat has been hanging around Bryson Dechambeau too much. Ball does not go far, and remains in the long grass. Needs serious damage control to make bogey.
He manages to get it within 25 feet or so of the flag. Chance at bar, but will happily take bogey after that drive and second shot.
10:37 a.m.: It's raining, which means it's Rory time. McIlroy makes the turn in one under, and has a good look for birdie to get to four under at the 10th...any he sinks it. Does that interest anyone?
10:32 a.m.: Looking at 20 feet or so for birdie, Tiger just misses to the left. Nothing wrong with a tap-in par at the first.
10:26 a.m.: Tommy lad! Fleetwood making an early run at Carnoustie, three under on his day with a short birdie putt awaiting on the 11th.
10:20 a.m.: Sticking with yesterday's strategy, Tiger takes an iron off the first tee and splits the fairway. Despite the rainy conditions, still plenty of roll.
10:14 a.m.: A certain 14-time major winner is about to head to the tee. His first-round 71 left fans wanting more, but given his struggles on Thursday this year, Tiger Woods will take 71. His scoring average ranks this year by round:
Thursday: 163rd
Friday: 119th
Saturday: 1st
Sunday: 52nd
9:58 a.m.: And guess who is quietly creeping up the leader board. Former Open champion Zach Johnson just made his third birdie of the day and is now four under for the tournament, one back of fellow "frat houser" Kevin Kisner. The pair are among a group, along with Jordan Spieth, Justin Thomas, Rickie Fowler and Jimmy Walker who are share a pair of houses in town this week.
9:54 a.m.: After six straight pars, McIlroy finally rolls in a birdie putt on the seventh hole, moving him within two strokes of the lead and tying him with Zach Johnson, Brendan Steele and Thorbjorn Olesen as the low players on the course.
Interestingly in McIlroy's threesome of Olesen and Marc Leishman, none of them have made a bogey through seven holes, the only group past the first hole on the course to have collective clean cards.
9:45 a.m.: A bad drive followed by an approach shot into the burn on the par-4 10th leads to a double bogey for Moore, dropping him to two under for the tournament, three off the lead.
9:12 a.m.: Weather check: the rain is no longer a drizzle, but actually coming at a steady pace. So much so that players are starting to take out their umbrellas. It's the heaviest rain seen here at Carnoustie all week. The forecasts suggest the rain should linger at least through the morning, potentially tapering off in the afternoon.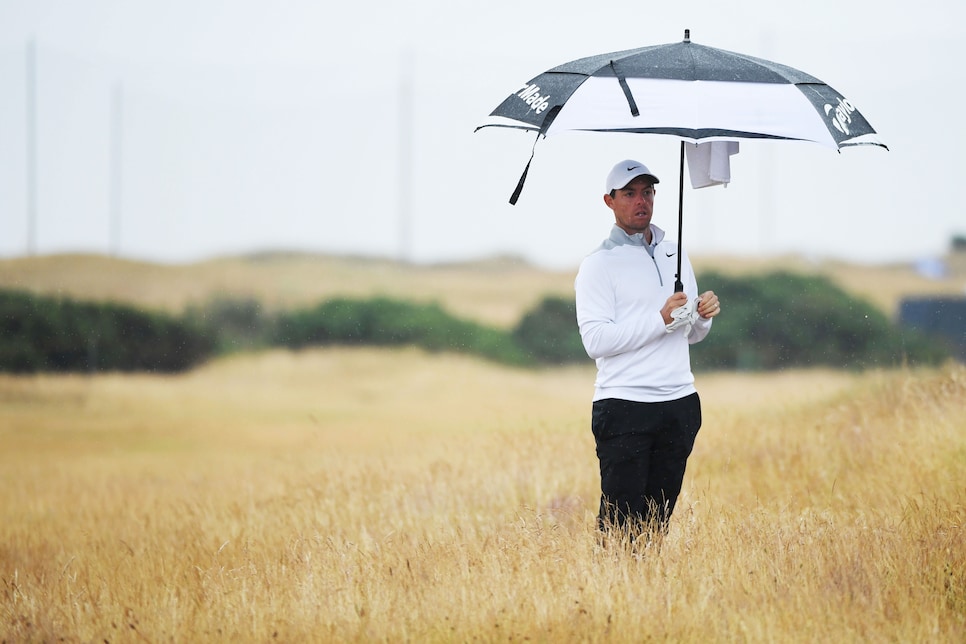 9:05 a.m.: Speaking of Tiger, we have our first Woods sighting as he strolls to the driving range, 75 minutes ahead of his (10:20 tee time). Unclear if the tape is on today or not (too much raingear).
9:02 a.m.: Have a few "spies" coming to the course this morning after making the walk through the tiny town of Carnoustie. Their early reports: contrary to popular belief, there's no early run in KT tape after Tiger Woods became an unofficial endorser yesterday.
8:48 a.m.: Ryan Moore has to "settle" for par on the par-5 sixth, the second easiest hole at Carnoustie on Thursday. Still, a birdie on the third leaves him at four under, one stroke off the lead as he plays the 40th major of his career. Moore got into the Open off the alternate list when 1999 Carnoustie winner Paul Lawrie pulled out of the tournament due to injury. Interestingly his opening-round 68 on Thursday was the lowest he's ever shot in any of the 40 major starts.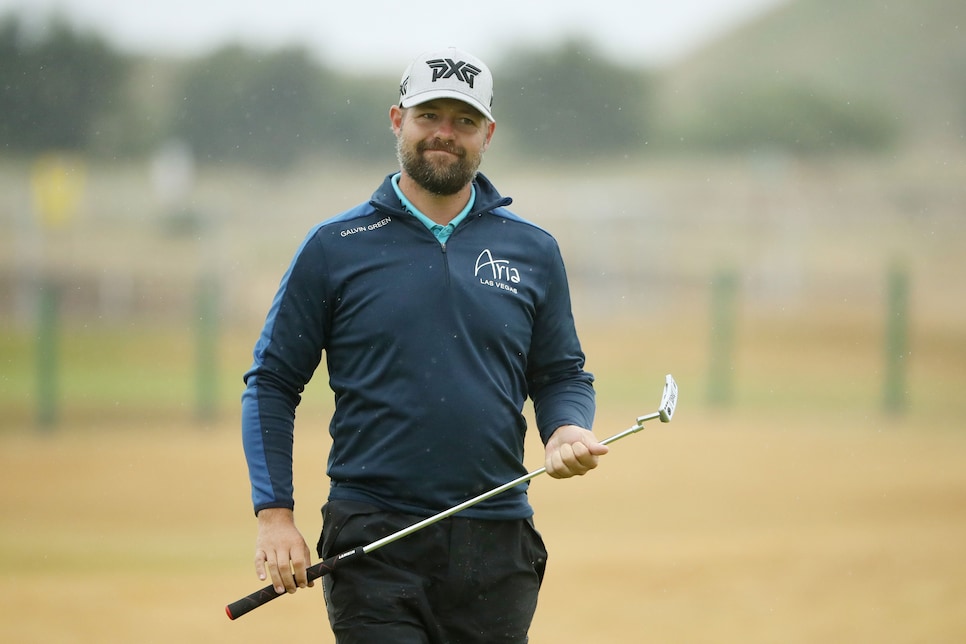 8:38 a.m.: Not entirely sure what to make of this but …
8:29 a.m.: Rory McIlroy saves par on the third hole after his wedge approach on the short par 4 bounded over the green. It leaves him two under for the tournament. His 69 on Thursday went a bit under the radar, it's interesting to note that the last six times McIlroy shot an opening round in the 60s at a major, three of those times he's won. And the other three times he's had top-10s. Suffice it to say, the oddmakers have taken note of this trend.
8:14 a.m.: Just how disappointing was DJ's Thursday? According to Golf Channel's stat guru Justin Ray, DJ's 76 tied for the worst first-round score in the Open by a sitting World No. 1. During the ranking's first year, 1986, Seve Ballesteros also opened with a 76. The solace for DJ? Seve wound up finishing T-6 that week at Turnberry.
All this said, after hitting the green with a wedge and leaving himself a 14-foot putt for birdie, DJ misses high left and settles for par.
8:03 a.m.: It was certainly a disappointing day on Thursday for Dustin Johnson. The World No. 1 made just one birdie and then made a triple-bogey 7 on the 18th to finish with a 76. If there was any doubt he's going to take a more aggressive attitude, the driver he just pulled out of the bag on the first hole answers the question … and then laced 343 yards.
7:42 a.m.: For those of you curious about the hole locations for the second round:
7:34 a.m.: Another example of how the course might be playing different today? Tommy Fleetwood hit driver off the first tee, the first player in the field to do so on Friday. It's believed that nobody pulled a driver until the afternoon wave on Thursday.
7:25 a.m.: Early signs of a different Carnoustie on Friday compared to Thursday? The first double bogey of the day has been recorded by amateur Sam Locke on the third hole. Took until 8:31 a.m. yesterday for that to happen.
6:38 a.m.: Drops? Drizzle? A sprinkling? Whatever the proper Scottish way to say it, there's a bit of rain going on as the first threesome of Brandt Snedeker, Sam Locke and Cameron Davis is off the tee on Friday at Carnoustie. It's not enough for more than a smattering of umbrellas to have been pulled. Will it be enough, though to help keep balls in the fairway?