News
British Open 2018: An aching Tiger Woods survives his start, but was hoping for more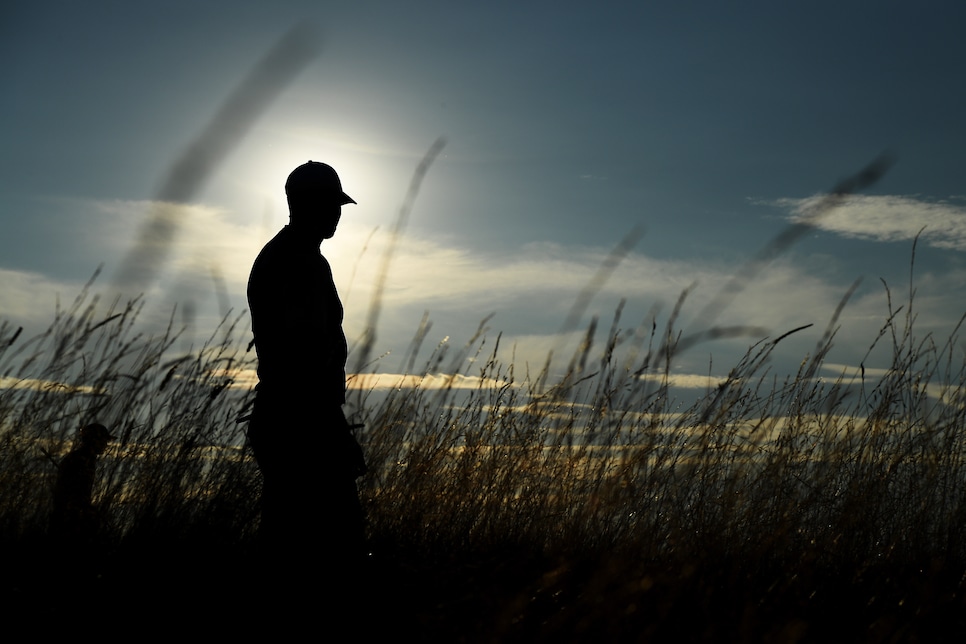 Photo By: Stuart Franklin
CARNOUSTIE, Scotland — There was much to like about Tiger Woods' first Open Championship round in three years. The score just wasn't one of them—at least not to the author of it.
Playing to his strengths and keeping his driver in mothballs, Woods tacked his way around crusty Carnoustie Golf Links and submitted an even-par 71 Thursday afternoon in the 147th Open despite a creaky neck. It was his best opening round in a major championship since carding 69 to begin the 2014 Open at Hoylake, a stat skewed by the fact that he didn't play in any majors in 2016 and '17.
"It's been bugging me for a while," said Woods, 42, who has been watched closely all year to detect any problems with his surgically repaired back. "This is not … everyone acts like this is the first time I've been bandaged up. I've been doing this for years. So, braces and bandages, just that this time it's actually visible."
He added that the problem affected his swing only slightly.
Any pain he did sense was likely brought on by the same scoring bugaboo that has largely stymied him since the Masters.
Woods hit just one driver and one 3-wood off the tee, choosing not to push the issue on the brittle Carnoustie layout. Early on, the strategy seemed to work as he found six of the first seven greens in regulation, all within an enticing range from the cup. He birdied the opening hole from eight feet and the fourth from 12, but other attempts went asking, including the four-footer at the par-5 sixth.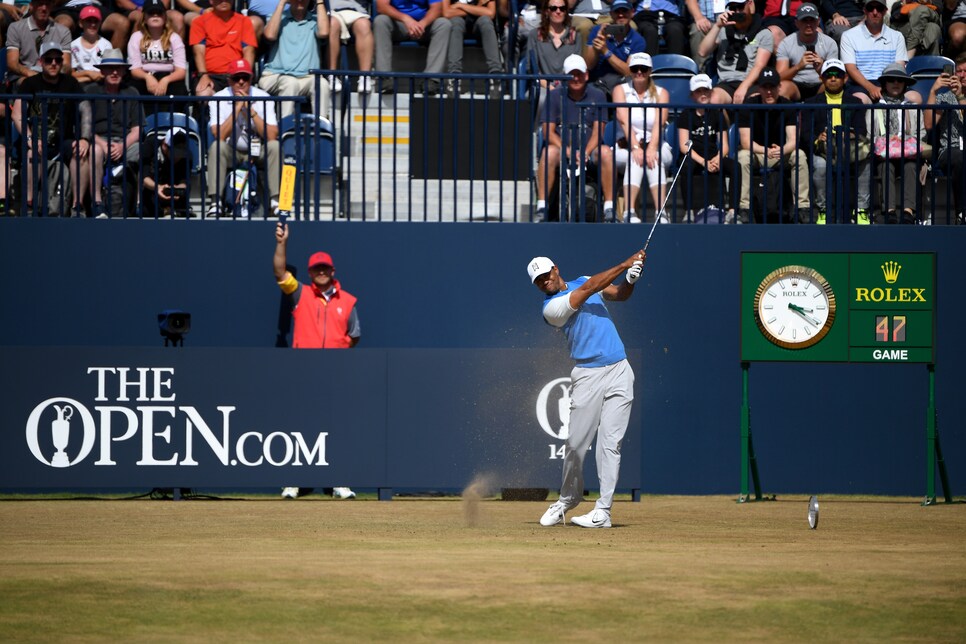 He also made par on the other par-5, the 14th, after finding the front bunker, the ball settling into a buried lie that prevented him from getting it close.
"I played better than what the score indicates because I had two 8-irons into both par 5s today, and I end up with par on both of those," he said. "If I just clean up those two holes and play them the way I'm supposed to play them with 8-iron in my hand, I think I'd probably have the best round in the afternoon wave."
He went out in a clean 34, 2 under par, but bogeys at Nos. 10, 13 and 15 overwhelmed the card that included just one more birdie, at the 11th. Though the wind freshened as the afternoon began to fade, Woods never considered abandoning his conservative strategy.
"I was just playing to my spots," he said. "You know, just watching the board, the guys weren't doing much this afternoon, and I felt like, if I could shoot something in under par today, it would be good. I got off to a great start. I birdied 1 and birdied 4, and I was right there. I had an 8 iron to 6 and looking like I could really do something here. Unfortunately, it didn't quite turn out that way."
When Woods fired a closing 69 at the Masters, his assessment was that he "could have had one of those low rounds." There have been a couple of other occasions in his comeback season when he has lamented missed opportunities.
Perhaps that's why he found it hard to smile afterwards. A decent day wasn't necessarily wasted, but it sure didn't transpire as he hoped, even if he is just five strokes behind leader Kevin Kisner.
"It certainly could have been a little bit better," he agreed.
Well, the guy has standards. High ones. For evidence, just go to the tape.