News
British Open 2018: Tiger Woods hit a shot directly at the fans at Carnoustie, and it did not end well
It wasn't too long into Tiger Woods' second round at Carnoustie before the 14-time major champion gave us a bizarre scene to discuss. Tiger started with a solid par at the first hole, but things got a little dicey on the second hole.
After taking out driver at the difficult par-4 second hole, his ball settled in a tough lie way right of the fairway. As you'll see, Tiger went for the dramatic, big-time hook—despite Golf Channel's Justin Leonard urging him not to go for it. Turns out, Leonard might've been right. And the golf fans surrounding the second hole might've wished Tiger played it safe.
In case any of those Scottish fans didn't have their coffee yet this morning, Tiger aiming directly over their heads with a shot way above his feet will wake you up really quickly. Bold move, you guys, standing so close. According to Golf Channel on-course announcer Bones Mackay, Phil Mickelson's former caddie, the ball might've hit a spectator: "Oh, he caught one of the fans up the right-hand side..." We hope nobody got hurt too badly.
And how about this tremendous photo shot by Getty Images/R&A photographer Matthew Lewis?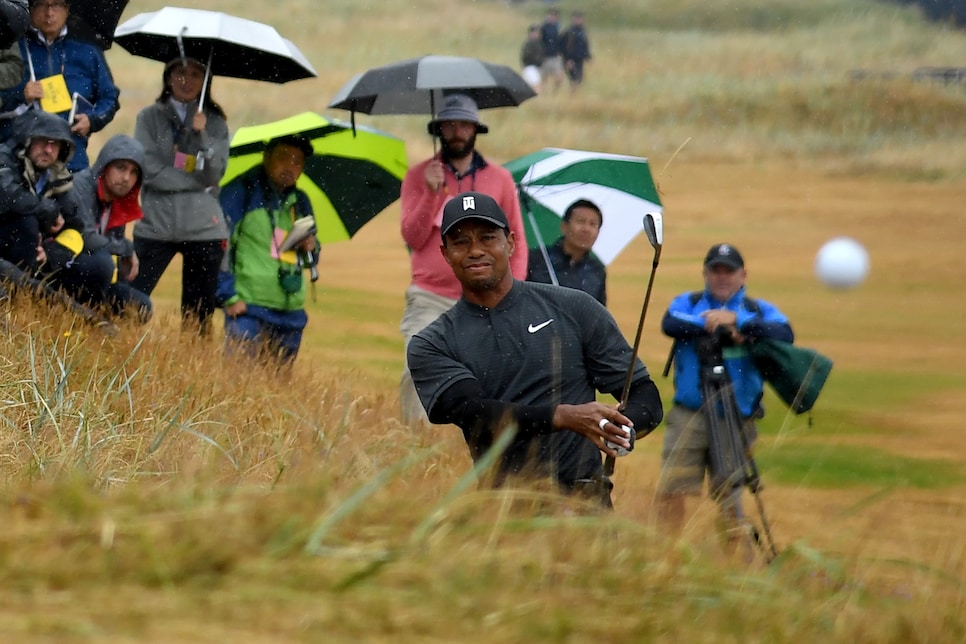 Tiger would go onto hit his next shot to about 40 feet and two-putted for bogey. Not too bad considering the circumstances, but still, some early-round dramatics so far at Carnoustie. (Tiger would finish with a second straight even-par round of 71—check out our live blog for all the latest.)
We love the Open Championship for giving us scenes we don't normally see in regular tour events in the United States. The extremely firm-and-fast fairways, the pot bunkers, the fescue—all of it makes the Open unique. How about playing low running iron shots directly into the gallery? Didn't think that'd be on the list, but that's what we have so far from Tiger.
For those with a keen eye, you might recall a scene from the 11th hole at the Masters this year, when Tiger also played a shot dangerously close to the patrons. It seems like the 42-year-old is getting a little lazy with his gallery moving. Maybe that's on caddie Joe LaCava, but either way, an interesting way to start his round.