News
British Open 2018: Tiger Woods is frustrated after second consecutive 71 loses ground on leaders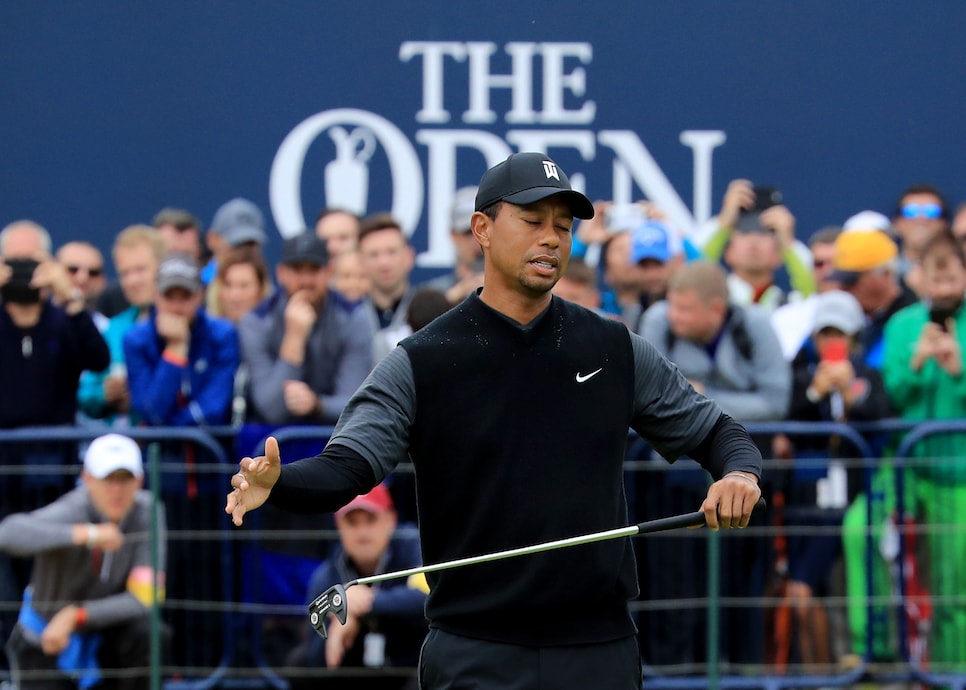 CARNOUSTIE, Scotland -- As ever, the numbers do not lie. Even-par and well off the pace after a second consecutive 71, Tiger Woods was a frustrated figure halfway through his 20th Open Championship. And no wonder. Having hit more than 70 percent of the fairways and two out of every three greens, the 14-time major champion clearly knew he had left a few shots out there on a softer - but still no soft touch - Carnoustie links stacking up its first rainfall in almost a month. Sixty-two putts in 36 holes is never going to get it done at major championship level. Nor is failing to get up-and-down five times out of 12 around the greens.
"I could have cleaned up the round just a little bit," admitted Woods. "Right now I'm six back, and by day's end I think I'll be more than that. I actually played a little better yesterday. Today wasn't quite as good. But I finally birdied a par-5. So that's a positive."
More telling than that succinct summation of a day that started wet, got wetter but ended dry came when Woods was asked to identify the one shot he would like to play over.
"There are a few," he said. "There were a few shots I hit poorly out there."
One of those came as early as the second hole. After badly pushing his tee-shot into deep rough, Woods was faced with a hanging lie, the ball well above his feet at maybe waist height. More than once he asked the crowd on the right to move back. More than once they did so. But not enough. Gripping the club with his right hand on the shaft, Woods hit a low "snipe" that narrowly missed the more adventurous members of the gallery. Or maybe just those with bad hearing.
"I was trying to play for the grass to wrap the shaft around there and hit it left," explained Woods. "I was just trying to hold the face open as much as I possibly could. But the grass grabbed the shaft and I smothered the shot."
That wasn't funny, but one of Woods' playing partners certainly was. Scotland's Russell Knox may have missed the halfway cut but he still found the time to inject some dry humor into the account of his first two rounds in the company of the man many believe to be the finest golfer of all-time.
"We chatted away," said the Irish Open champion of his companion. "He was nice to me. I was nice to him. I enjoyed watching him play. He's Tiger Woods for a reason. He hit some incredible shots. So, yeah, I think it was important for me to get my first time out of the way. Next time I'll bury him."
Indeed, on the form Woods has shown so far, Knox might have a chance on that front. Not much has so far come easy for the three-time Open champion. Too many shots have leaked right. Too many times he has come "up and out" of a motion that has, too often, displayed an uncharacteristic abruptness rather than its usual fluidity.
The KT tape on the back of Woods' body is in place to alleviate an ache caused by sleeping in an awkward position. Fully awake over the last two days, he has sent his ball into a few more of those. If he is to lift the Claret Jug to his lips for a fourth time on Sunday evening, he will need to relieve the pain in more than his neck.