News
British Open 2018: Paul Lawrie's Carnoustie legacy lives on in an amateur protégé, Sam Locke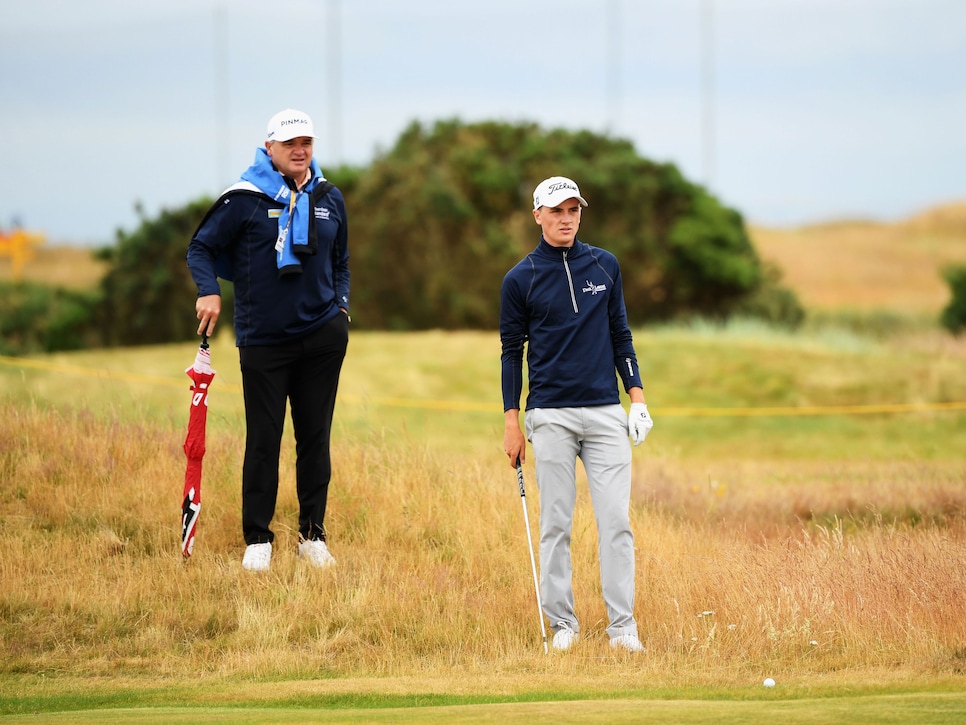 CARNOUSTIE, Scotland — The last time the Open Championship was at Carnoustie, a doughy-cheeked 18-year-old amateur from Northern Ireland introduced himself to the world with an opening-round 68 to sit in a tie for third just three strokes off the lead in what was the only bogey-free score of the day. Rory McIlroy, who earned the silver medal as the low amateur that year with his tie for 42nd, has since gone on to win four majors, including an Open at Hoylake in 2014.
Sam Locke can only dream of that kind of that kind of success. The more immediate concerns for the 19-year-old amateur from nearby Stonehaven Golf Club, an hour up the eastern coast, are how to make a latte and, this week, finding his way from the driving range to the putting green and eventually the first tee.
Locke, who when he isn't honing his future craft, works as a barista in the coffee shop at the Paul Lawrie Academy, punched his ticket to the Open by winning a qualifier two weeks ago at The Renaissance Club in East Lothian, a couple of hours to the south. Locke's only other round at Carnoustie prior to this week was during a sponsor's day. Needless to say, things look a little bit different—major championships are big productions with large stages in a literal and metaphorical sense.
"It's pretty exciting," said Locke, a slender boy-next-door type with a shy smile and enough game to have won last year's Scottish Amateur at Prestwick in a 9-and-8 whitewashing. The last player to win by the wide a margin in the event was Colin Montgomerie 30 years ago. His career worked out pretty well, too.
"I'm trying to treat it as another event but obviously enjoying it," Locke said. "I'm trying to take everything in. Getting asked for photos and autographs and interviews, I'm not really used to that. You're treated like royalty. That's what it feels like for me, anyway."
Contributing to that feeling is being mentored by one of Scotland's greatest sporting heroes, Lawrie, the 1999 Open champion and eight-time European Tour winner, whose foundation Locke has come up through.
Though Locke is coached by his dad Andrew, Lawrie has proved a beneficial hand and mind. On Monday, the teenager played nine holes with Julian Suri and another nine by himself. Joining him the whole way around was Lawrie, who due to foot and back injuries isn't playing in the championship. Nonetheless, he was more than happy to show his young protégé around.
"It's important when he finishes his practice round to just get out of there," Lawrie said. "Not hang about and not hit too many balls and take it in too much. That's what normal tour players do."
"It was him helping me deal with everything, say where everything is, telling me how to prepare properly for people and interviews," added Locke, one of four amateurs in the field along with Nicolai Hojgaard, Yuxin Lin and Ernie Els' nephew Jovan Rebula. "Also course strategy in the way that best suits my game, not necessarily how he would see it. I got to enjoy it but he told me that Thursday I need to switch on, that it's a golf tournament then."
Locke, who was introduced to golf at age 3 by his father, a PGA professional who also used to coach Lawrie, wasn't yet a month old when Lawrie raised the claret jug here in 1999. He has seen clips of it, though.
"You forget how good Jean van de Velde played the whole tournament," Locke said. "A lot of people say Paul was given it, but he played really well and in the playoff as well."
More impressionable memories came from attending the 2013 Open at Muirfield when he followed boyhood idol McIlroy around and later watched Phil Mickelson outlast Henrik Stenson to claim the claret jug.
Locke has memories of Tiger Woods, too, though not the Tiger in his prime save for some YouTube clips, and more recent ones of last year's winner Jordan Spieth.
Whether he can come close to having even half the success McIlroy or any of the aforementioned names have had, time will tell. It would be a lot to ask. But Lawrie likes what he sees so far.
"Tee to green he's very strong, he swings it well, hits it high and a long way," Lawrie said. "He's prepared to do the work. He's not scared to do that. I like that. I don't see any reason he can't be a good tour player. It's just letting him get there and have to be careful not to get ahead of himself. It's going to be a huge week. Let's see how he handles it."
Still, Locke couldn't help soak in some of the atmosphere. Making lattes can wait.
"The first hole tee shot is pretty cool," he said, noting the new grandstands that have been installed. "Going down 18 as well. It makes you feel excited to play."
And perhaps mark the beginning of something much bigger.