Year In Review
The 22 biggest golf rules issues of 2022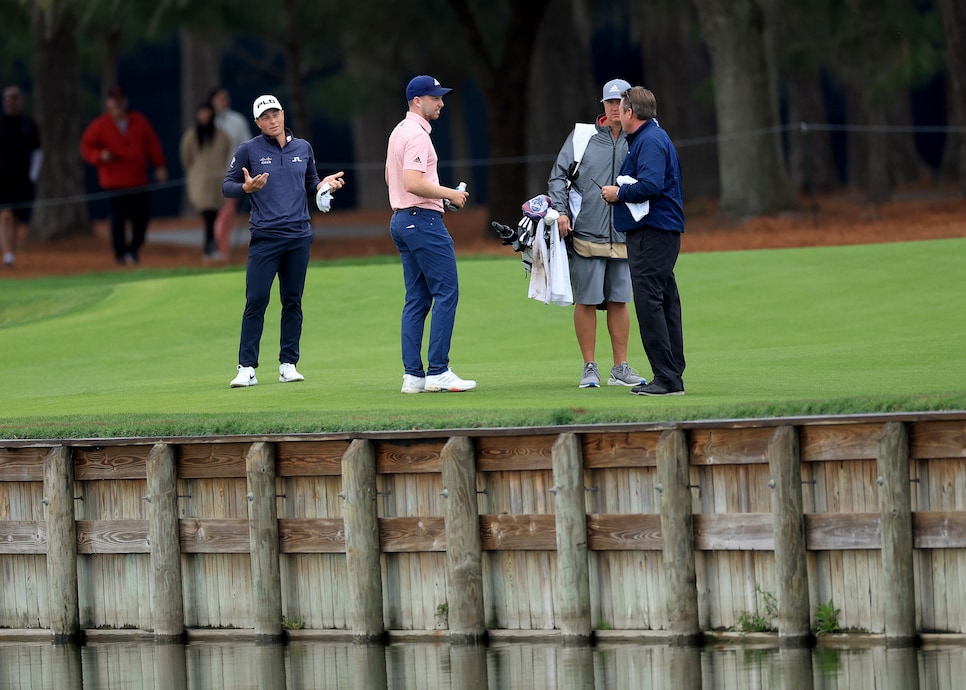 The good news? The USGA and R&A continue to make strides when it comes to revising and—perhaps more importantly—simplifying the Rules of Golf. The bad news? Golf is still, and will always be, a complicated game with complicated rules no matter how straightforward they are.
That's why it should come as no surprise that 2022 provided nearly as many notable rules snafus as 2021 did (31 when it was all said and done), none more controversial than what happened between Daniel Berger, Viktor Hovland and Joel Dahmen at the Players Championship last March.
Our recap of that epic imbroglio, plus 21 others, can be found below. Just like last year, we'll go in chronological order, hopefully providing you with the best possible trip down the Rules memory lane of 2022.
Mackenzie Hughes' wrong ball at Torrey Pines
The situation: In the opening round of the Farmers Insurance Open in January, Canada's Mackenzie Hughes arrived at the ninth tee (his 18th hole) of Torrey Pines' North Course at four under on the day. After finding the fairway with his drive on the par 5, Hughes' second shot, he thought, had found the rough up near the green, setting himself up with a chance to get up and down for birdie, and likely securing a par at worst. As he made his way to his ball, he noticed that a volunteer had used a little flag to mark where it had come to rest in the thick grass (a common occurrence on the PGA Tour), leading him to assume it was his ball. He hit his third shot to six feet only to find out when he marked it that it was not, in fact, his golf ball.
The result: Hughes' original ball, which was also in the rough, was actually much closer to the flag than the one he thought was his, this making a birdie, and a five-under 67, seemingly a lock. Instead, Hughes was penalized two strokes under Rule 6.3c for playing the wrong ball, and in order to correct the mistake he also had to go back and play his original, which he made a double-bogey 7 on:
Oh, and Hughes went on to miss the cut that week by one stroke, which he handled shockingly well:
Charley Hoffman's drop problem at WMPO (including a spicy social reaction)
The situation: On Friday at the Waste Management Phoenix Open, Charley Hoffman found the water down the right side of the par-5 13th with his tee shot, leading to a standard one-stroke penalty. After two unsuccessful drops (the ball began rolling toward the penalty area after each one), Hoffman was allowed to place the ball under the Rules of Golf. Once he placed it, Hoffman turned away to begin assessing his next shot, only for the ball to roll into the penalty area.
The result: Hoffman, who was under the impression that the USGA had changed the rule (a similar situation occurred with Rickie Fowler at the WMPO three years earlier), was hit with another one-stroke penalty, leading to a double-bogey 7. He went on to call the situation "a joke," even implying that this was one of the many reasons players were planning to jump ship and "go play on another tour." Hoffman added: "No accountability at any level here. No protection for the players at all." Phil Mickelson and Bryson DeChambeau, arguably the two most prominent names who would later bounce to LIV, lent their support to Hoffman on Instagram. The very next day, Hoffman returned to Instagram to backtrack on his comments, saying he had "nothing but respect for the PGA Tour." Meanwhile, in November, the USGA and R&A announced that starting in 2023, the Rules of Golf will no longer assess another one-stroke penalty for a player who has already taken relief from a penalty area.
PGA Tour Champions qualifier runs out of balls
The situation: Golf Twitter was alerted to this "tour pros are just like us!" situation by 1989 Open Champion Mark Calcavecchia, who began the story by saying "saw something today that was an all-time 1st in 41 years of pro golf":
Rick Garboski, a Southern California-based club pro who Monday qualified for the Hoag Classic, ran out of balls and thus violated the One Ball Rule, which was in effect that week. The rule states that a player can only use one specific brand and model of a golf ball during a round, an infraction Russell Henley had infamously (and accidentally) committed at the 2019 Mayakoba Golf Classic, resulting in a staggering eight-stroke penalty. Fortunately for Garboski, it wasn't THAT bad.
The result: Well, it almost was. After realizing his bag was empty (Garboski had given out one too many souvenir balls to young fans throughout the week), he sent someone to the locker room to get him a box of golf balls that were different from the Titleist ProV1x Left Dash balls he was using, resulting in a two-stroke penalty. Because he had to wait so long for the balls to get to him on the fourth hole, Garboski had to fall back a group and was then hit with a one-stroke penalty for undue delay. The good news is he was able to laugh it off.
'You're wrong': Berger, Hovland and Dahmen get into spat at Players
The situation: During the weather-delayed Monday final round of the Players Championship, Daniel Berger's second shot on the par-5 16th hole at TPC Sawgrass was so wayward that he said "water ball" almost immediately after impact. That's when things got real testy, real fast. Berger believed his golf ball had started left of the flag stick on the 16th green, therefore crossing land up near the putting surface, where he thought he was going to drop and have a decent chance at an up-and-down par save. His playing partner, Viktor Hovland, disagreed about the line and dropping it that close to the green in an all-time #protectthefield moment. Joel Dahmen, the third member of the group, sided with Hovland, both of them believing the ball had crossed land much further back than Berger had thought.
"To be honest with you, I'm not really OK with [the drop] being up there," Hovland said. "That's not really what I saw."
The result: Given Dahmen and Hovland were in agreement, Berger decided to drop farther back than he thought he should (he could have played two balls or dropped from where he thought it last crossed, but may have run the risk of being DQ'd after the round if it was determined that was the wrong spot). "It's a bad drop, that's all I'm saying," said Berger, who later added "you know what, I'm going to drop here for the sake of you guys, but you're wrong."
Later, Berger said: "In the end, it was the right decision." He went on to make bogey, eventually tying for 13th instead of finishing inside the top 10, a difference of nearly $200,000 in prize money.
Bryson DeChambeau gets a favorable sprinkler-head ruling
The situation: On Wednesday in round-robin play at the WGC-Dell Match Play, Belgium's Thomas Pieters played his second shot from beside the green of the drivable par-4 13th at Austin Country Club in his match with Tom Hoge. The ball raced through the green and toward the water, but a sprinkler head saved the day, stopping Pieters' ball from finding the penalty area. Seemingly, a great break.
Turns out, the sprinkler head was technically inside of the penalty area given the way the grass marked with red paint was resting against the sprinkler's plastic top. Instead of free relief, Pieters was forced to either play it as it lies or take a drop with a one-stroke penalty attached. Pieters, indignant as ever, chopped at the ball and proceeded to attempt to kick it into the water, missing it with his foot and then knocking it into the water with his wedge. Later that same day, an identical situation occurred at the 13th, with Bryson DeChambeau's ball finding the same sprinkler head. DeChambeau, however, was given free relief, eventually saving par to halve the hole with Richard Bland. Wait, what?
The result: Chief referee Gary Young had heard about the original Pieters ruling and realized afterward that the sprinkler head in question was never intended to be inside of the hazard line. The rules official following the Pieters match made the ruling based off the red paint touching the sprinkler head. As Young went on to explain, that was never the intent of how the course was set-up, so the rules committee decided to change how the red line was painted on that hole in the middle of the tournament, leading to this A+ tweet from CBS Sports' Kyle Porter:
But, as Young said, "two wrongs don't make a right," so it was decided that they'd correct the mistake mid-tournament. Also, the Pieters-Hoge and DeChambeau-Bland matches were in two different groups, so neither had bearing on one another. Pieters also won his match anyway.
Scottie Scheffler uses rules to his advantage en route to Masters victory
The situation: The casual golf fan probably only remembers that Scottie Scheffler ran away with the 2022 Masters, and that his weekend lead never really felt in danger. But you may have forgotten that late on Saturday evening, things almost turned catastrophic for the eventual champion. Scheffler badly pulled his tee shot on Augusta National's 18th hole after only missing two fairways all day, his ball rattling in some trees left of the fairway about 220 yards up the hole. For a brief period, it looked as though he might not even find the ball.
Eventually it was found, but the stance was so bad Scheffler, brilliantly, used the Rules of Golf to his advantage, not only taking an unplayable (and one penalty stroke) and finding a better spot within two club-lengths to play his third shot, but conferring with a rules official that he could A) move pine needles before taking his drop and B) check the ground to see if there were any tree roots in the drop area.
The result: After two unsuccessful drops (the ball rolled outside of two club-lengths each time), Scheffler was allowed to then place the ball in the pine straw, leaving him with 237 yards up the hill and a great look at the green. From there he ripped a 3-iron and went on to make one of the best bogeys in Masters history when you consider how disastrous this hole could have been to his green-jacket chances:
Dylan Frittelli's Spanish moss swing lesson at Harbour Town
The situation: Early in Sunday's final round of the RBC Heritage, South Africa's Dylan Frittelli hit a wayward drive on the sixth hole, his ball headed directly toward a waste bunker. Somehow, though, it instead got stuck in some Spanish moss overhanging the bunker. After a brief period of confusion, Frittelli decided to play the ball as it lied/hung, making a short, awkward swing with his driver and advancing the ball as far as he could:
Frittelli, incredibly, put his next shot to 10 feet, then saved what he thought was one of the pars of the week, year and century. Unfortunately, it was not to be.
The result: Frittelli was assessed a two-stroke penalty under Rule 10.1c, which forbids a player from making a stroke while standing across or on the line of play. Had he simply stood to the left and struck the overhead shot baseball style, it would have been legal. As Frittelli perfectly put it in a tweet afterward, the Rules of Golf remain undefeated:
Branden Grace gets (tree) stumped, suffers horrible penalty
The situation: As if Frittelli's run-in with a tree wasn't odd enough, just six days later another South African, Branden Grace, hit a ball directly into a dead tree stump at the Zurich Classic. The type of thing that is almost impossible to fathom:
The result: Grace, who found his ball inside of the dead stump after lifting a large branch out of it, was forced to take an unplayable (two club-lengths of relief no closer to the hole and a one-stroke penalty). He wound up saving par.
Mini-tour pro wins in playoff, promptly gets DQ'd after review
The situation: In a 2020 Pro Golf Tour event in late April (a real thing), Chris Hanson (not that Chris Hanson) and Dan Brown went to a playoff, which was being streamed online. Hanson appeared to have won with a birdie on the first extra hole, but tournament officials watching the live stream noticed that Hanson may have taken an incorrect drop from an immovable obstruction. He had pulled his tee shot on the first hole left of a metal fence, which was considered an immovable obstruction, allowing Hanson free relief under Rule 16.1. After discussion with his caddie, Brown and an on-course announcer, they all agreed he was free to take his drop to the right of the fence.
The result: After re-watching the clip, officials decided that Hanson should have taken his drop left of the fence, the nearest point of complete relief. This made it an improper drop, resulting in Hansin being DQ'd and having a win taken away from him.
Sergio Garcia's 'can't wait to leave this tour' penalty
The situation: After hooking his tee shot into a marsh at TPC Potomac during the second round of the Wells Fargo Championship, Garcia began searching for his ball and eventually found it. However, a rules official had determined Garcia took longer than the three minutes granted for search, causing Garcia to infamously say "I can't wait to leave this tour."
The result: Per Rule 17.1d(2), Garcia's ball was now determined as lost even though he found it, meaning he had to go back and take back-on-the-line relief from the red penalty area. After the round, the PGA Tour released a statement saying that the referee made an error in beginning the three-minute search time too early, starting the clock before Garcia had actually begun his search. Of course, it was already too late, and the penalty stood.
Alex Cejka busted for using a bad green-reading book (again?!)
The situation: At the PGA Tour Champions' Regions Tradition, where Alex Cejka was defending his title, the German shot a 66 in the third round to pull into a tie for 43rd. Cejka wouldn't strike another shot in the major event, as it came to light that he'd been using a yardage book that had not been approved for the competition by the PGA Tour Champions Rules Committee.
The result: Cejka was disqualified from the tournament under Model Local Rule G-11, which was implemented last December and allows the governing bodies to limit the detail in green-reading materials. The purpose of the rule was "to return to a position where players and caddies use only their skill, judgement and feel along with any information gained through experience, preparation and practice to read the line of play on the putting green." Strangely enough, Cejka was DQ'd for a similar infraction in the first round of the 2019 Honda Classic, where it was discovered that he was using a book that did not fit the "scale" of the new green-reading books. Prior to that season, the tour limited the size of images of greens in the books to a scale of 3/8 inch to five yards. Who says the Rules of Golf are confusing?
College teammates' gripping DQ at the U.S. Amateur Four-Ball
The situation: Ty Gingerich and Cole Harris, teammates on the University of Cincinnati men's golf team, were 1 down with two holes to play in their quarterfinal match at the U.S. Amateur Four-Ball when darkness halted play. They never got a chance, however, to overcome that deficit the following day after it was determined that Gingerich was using a 39.5-inch TaylorMade Spider putter with two split grips, which was potentially non-conforming.
The result: During his warm-up on the range, USGA officials approached Gingerich and informed him that the grip may not have conformed to the Rules of Golf, which states that a player is allowed to use split grips, but that they must be at least 1.5 inches apart. Gingerich's grips were less than an inch apart, leading to he and Harris' disqualification from the event.
"I was just shocked," Gingerich said. "I didn't even know it was a rule. I had never heard of it before. No one has ever told me about that. But you know I guess it's my fault. I should have looked deeper into that. I made a mistake."
Justin Thomas gets livid over tough U.S Open rules break
The situation: On Saturday at Brookline, Justin Thomas found the fairway off the tee on the fourth hole at The Country Club. When he arrived at his ball, though, he found out that it had come to rest close to a drainage opening. It seemed like a clear case of free relief, which a player is entitled to if his or her ball lands on the drainage opening or if their stance or swing is impacted by it. While Thomas was discussing with a rules official, he made the grave mistake of being honest, saying that he did not believe it would impact his swing.
The result: In Thomas' case, honesty was not the best policy here. He had to then play the ball as it lies, proceeding to chunk his approach shot, then promptly making his opinion known in close proximity to an NBC microphone.
"That's what pisses me off, because so many other people would lie about being able to hit that," Thomas could be heard saying, "but it's just like, I'm not going to hit it. That's bull****, man."

White paint has Hideki Matsuyama seeing red at the Memorial
The situation: On Thursday at Muirfield Village, Hideki Matsuyama got off to a rough start, shooting a three-over 39 on the front. He never reached the 10th tee, being pulled off the course when it was revealed that he had white paint all over the face of his 3-wood, which he used on his opening tee shot.
The result: Under the new rules, had Matsuyama not used the club during the round, he could have continued playing so long as he didn't use it subsequently. But because he already hit it during the round with his opening tee shot, he was disqualified because the paint was considered "excessive."
Dylan Frittelli just can't avoid tree trouble
The situation: No, you're not seeing double. Less than three months after his ball got stuck in Spanish moss at Harbour Town, Frittelli found more tree trouble at TPC Deere Run. His ball had gone inside of a tree after a duck-hooked tee shot, which led to a testy exchange with a rules official, as Frittelli was not granted free relief:
The result: Frittelli was hit with a one-stroke penalty. He made double-bogey 7 and, at some point, had to be thinking "maybe it's just not my year."
A retroactive penalty for Cameron Smith at the FedEx St. Jude
The situation: In Saturday's third round at TPC Southwind, Cameron Smith found the water at the par-3 fourth hole. He then took a drop two club-lengths from where the ball crossed the red line, played his third and was able to save bogey, eventually finishing with a 67 that had him two shots off the lead heading into Sunday.
The result: Upon closer review, it appeared that Smith's ball was still touching part of the red penalty line after the drop, meaning he hadn't taken complete relief from the penalty area under Rule 17.1. On Sunday morning, the rules committee discussed the incident with Smith, who did not realize it was a potential rules issue. Since he was unaware this was an infraction, he was not DQ'd for signing an incorrect scorecard, but he was hit with a retroactive two-shot penalty that put him four shots off the lead prior to the final round. He went on to shoot an even-par 70, tying for 13th.
Pro makes hole-in-one, gets disqualified after the round
The situation: We've heard plenty of crazy ace stories over the years, but this one about an ace that wasn't might be the craziest of all. Canadian tour pro Aaron Cockerill made a second hole-in-one in a span of eight days on the DP World Tour, the first coming at the European Masters in Switzerland and the second at the Made in HimmerLand in Denmark. The second, however, wound up not counting. Wait, what?
The result: While coming down off the high of ace No. 2, Cockerill promptly made a snowman on the next hole, his second-to-last. After the round ended, Cockerill said there was some "hole-in-one chatter" in the scoring area, so much of it that he forgot to sign his scorecard, leading to his disqualification from the event. So, did the hole-in-one count? Technically, no, at least not in competition. But when Cockerill has all the grandkids around the fireplace one day, we'd imagine he'll tell them tales of making two holes-in-one in an eight-day span—and leaving the pesky technicalities out of it.
Thomas Pieters' mulligan after a chunked putt
The situation: Remember Pieters' run-in with a sprinkler head at the Match Play? Well, he got some good karma out of it in the fall at the DP World Tour's French Open. During the second round, the big-swinging Belgian appeared to literally "chunk" a putt on the par-5 third hole at Le Golf National, the ball only rolling about six feet from its original spot. Pieters immediately called over a referee, informing him that a kid had coughed during his backstroke.
The result: The official told Pieters that the stroke would count, so Pieters called in for a second opinion, again explaining #CoughGate. The second official believed Pieters' story—which was that after hearing the cough he tried to stop his stroke but still, accidentally, hit his ball—and under Rule 13.1d Pieters was allowed to return the ball to its original spot and replay the stroke because he did not intend to hit it. Pieters then two-putted for his par.
Mark Litton, the DP World Tour chief referee on site, later determined, however, that the stroke should have counted, and that Pieters should have played the next shot like normal. But, as Pieters hilariously pointed out in his tweet, he was a #luckyidiot, and because he was incorrectly advised to replace the ball and replay the stroke, he was not penalized retroactively. He went on to finish in a tie for third that week.
Wesley Bryan's four-stroke mistake at Monday qualifier
The situation: As the great ian Woosnam knows all too well, the 14-club rule is one of the easiest not to break in golf. Just simply count 'em up on the first tee and you'll avoid any trouble. Wesley Bryan did not learn from Woosnam, the fortunately his infraction came in a Monday qualifier and not the Open Championship. Bryan had an extra 7-iron in his bag at the Sanderson Farms Monday Qualifier, not realizing it was in there until the third tee.
The result: Under Rule 4.1b, you are to add two strokes to your score for every hole you play with more than 14 clubs. Bryan played two holes with the extra 7-iron in the bag, meaning he was penalized four strokes, all but ending any chance he had of qualifying that day. In typical Wes Bryan fashion, he laughed it off, saying "you can go add four to my score, boys" once he noticed the 15th club.
LPGA pro DQ'd for equipment issue: 'S--- happens'
The situation: Following a first-round 75 at the Volunteers of America Classic, Maja Stark had some serious work to do to make the weekend. She was never even afforded the opportunity, though, after it was determined she had mistakenly used a driver in the opening round with a clubhead that was not yet on the USGA list of conforming driver heads.
The result: Stark was disqualified from the event, a punishment made even more cruel by the fact that the driver in question, Ping's new G430, went on the conforming list that Monday, one day after the conclusion of the tournament. As Stark perfectly summed it up on Instagram, "s--- happens."
The most painful Q School DQ story you'll ever hear
The situation: Blake Abercrombie, a former PGA Tour Canada and PGA Tour Latinoamerica player, entered the first stage of Q School for the DP World Tour this past September. He paid the €2,000 entry fee, spent even more on travel to Denmark from the U.S., and his week lasted all of one hole. Yes, really. On the very first hole, Abercrombie used a rangefinder, which is not allowed in DP World Tour Q School.
The result: A DQ before he could even walk to the second tee. Brutal.
Another painful Q School DQ story
The situation: This one wasn't nearly as expensive as Abercrombie's story, but it still hurts. Gavin Hall, a former Texas Longhorn, opened Korn Ferry Tour Q School with a 66, delivering some much-needed positive vibes for a guy who had injury struggles and battled the driver yips after turning pro in 2017. Those vibes were extremely short-lived, with Hall receiving a phone call after the round that he had been DQ'd.
The result: On the sixth hole, Hall hit his tee shot up the left side and all three players thought they saw the ball splash in the water. With nowhere near the fairway to drop, Hall hit a second tee ball in the fairway. But according to Rule 18.3(a), when the only two outcomes for a shot are that the ball is in play or in a penalty area, hitting a provisional ball is not allowed. By hitting the second tee ball, then, Hall was declaring that his ball was in the penalty area, meaning he now had to play his second ball even if the first was found—which it was and which Hall then proceeded to play. Hall was seemingly unaware of that, though another player and caddie in the group claimed they did bring this up to him, asking him "Are you sure you can play that?" Hall thus proceeded to play with a wrong ball. Had he known that was the wrong ball, he could have went back, taken the wrong-ball penalty, and finished that hole over again. Once he teed off on the seventh hole, he was sadly destined to have any score he shot wiped out by a DQ.