Rules
Rules blunders: The definitive guide to the biggest, strangest and costliest mix-ups in golf history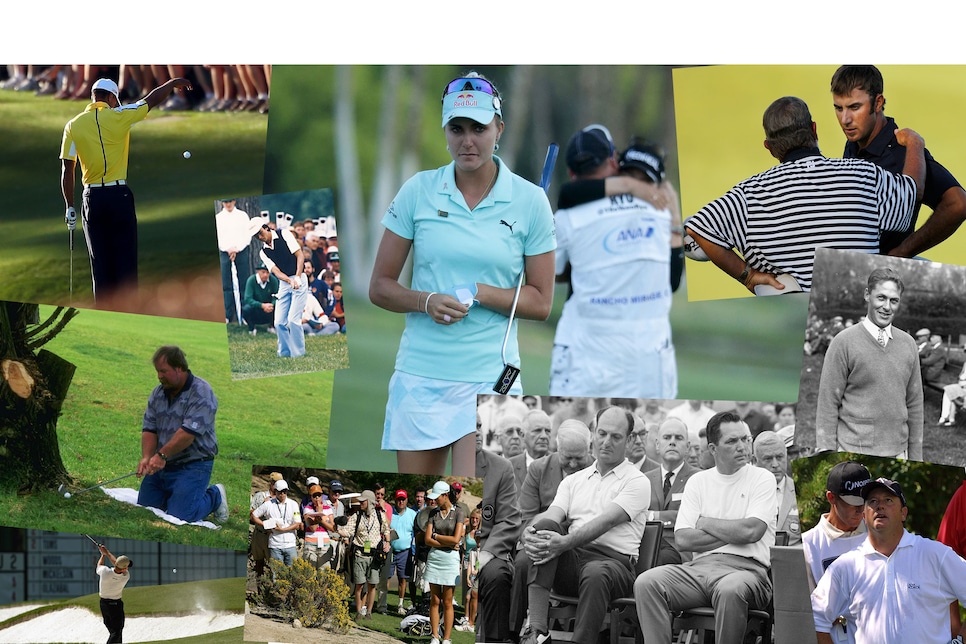 We're already well into the 2020-21 golf season, and we've not yet seen a serious rules breach. Are we rooting for such a thing to occur? Of course not. Wouldn't dream of it.
That said, we—golf fans and those of us who are paid to write and talk about the game—would all be lying if we said that we didn't get some sick pleasure out of a good ol' fashion rules infraction. Nothing sparks armchair, living-room debates like a player's golf ball oscillating a fraction of an inch, or somebody's wedge ever-so-slightly grazing a loose impediment. We yell and scream at the TV over how absurd and archaic some of these rulings can be, but deep down in places we don't talk about at parties we WANT these violations, we NEED these violations.
Fortunately for us—or, unfortunately for the violators—we've witnessed a literal endless amount of these transgressions over the years. Below is our attempt to comprehensively round up the biggest, strangest and costliest of them all, going all the way back to the 1920s and making our way to the present day. Some of these you'll know well, some you may have forgotten about and some you may have missed entirely. Sadly, the players in question did not have that same luxury.
Bobby Jones, 1925 U.S. Open
Perhaps the most famous "gentleman's game" moment in golf history was when the legendary Jones called a one-stroke penalty on himself at Worchester (Mass.) Country Club. The violation occurred in the first round when, on the 11th hole, Jones' club moved the ball slightly at address. No one—not his competitors, not a spectator, not an official—saw the infraction, but Jones pointed it out anyway, and it cost him one stroke. Had he not called it, he would have won the tournament outright. Instead, he lost in a 36-hole playoff to Willie Macfarlane. Jones was praised for his honest act, but deflected it saying famously, "You might as well praise me for not robbing a bank."
Cyril Walker, 1929 L.A. Open
Walker, who won the 1924 U.S. Open, was a notoriously slow player. So much so that in the 1929 L.A. Open, Walker was disqualified on the ninth hole of his first round for his snail-like pace. Apparently, he was as stubborn as he was slow, refusing to leave and continuing on with his round. It was so bad that tournament officials sent two policemen out to forcibly remove Walker from the course, and he was threatened with jail time. Hey, given how much of a problem slow play still is, maybe they were on to something …
Ed "Porky" Oliver, 1940 U.S. Open
With bad weather looming, and no official starter at the first tee at Canterbury Golf Club for the final round, Oliver, Dutch Harrison, Duke Gibson, Johnny Bulla, Ky Laffoon and Claude Harmon decided to tee off a half hour earlier then their designated start times. They were soon informed that was grounds for disqualification, but all six pros continued playing under protest. Oliver wound up getting hit the hardest, as he finished in a three-way tie for first, but was not allowed to participate in the playoff with Gene Sarazen and Lawson Little.
Byron Nelson, 1946 U.S. Open
In the third round at Canterbury Golf Club, a crowd had gathered around Nelson's ball on the 13th hole. This led Nelson's caddie to inadvertently kick the ball, a one-stroke penalty. Nelson, who won his lone U.S. Open in 1939, would have won No. 2 if not for his caddie's boot. He still managed to make a three-way playoff with Lloyd Mangrum and Vic Ghezzi, which Mangrum eventually won by a shot.
Lloyd Mangrum, 1950 U.S. Open
Four years after benefitting from Nelson's misfortune, Mangrum found himself in his own rules imbroglio at Merion. Once again in a three-man playoff, this time against the legendary Ben Hogan and George Fazio, Mangrum had 15 feet left for par on the 16th green. Noticing a bug on his ball, Mangrum lifted it to blow off the bug, a violation of the rules at the time. He was assessed a two-stroke penalty, and Hogan went on to win by four.
Editor's Note: After this story published, John Capers, a club historian and member at Merion, reached out to clarify what really happened to Lloyd Mangrum in the playoff. As Capers wrote, Mangrum was not penalized for blowing the bug off the ball. Ike Grainger, who was refereeing the three-way playoff, told Capers what really happened: "In 1950 a player in a PGA event could mark their ball as many times as they wanted. However, in a USGA medal play event, the player could ONLY mark their ball if it was in another player's line. Mangrum's ball was in Fazio's line and Mangrum marked his ball. He replaced the ball and was about to putt when a bug lit on the ball. Mangrum re-marked his ball and blew the bug off the ball. He replaced the ball and knocked it in. Ike Grainger then penalized Mangrum for marking the ball a second time when not in another player's line - two strokes. Mr. Grainger then said to him, 'The USGA does not believe in double jeopardy, so will not be penalized for blowing the bug off the ball.' The bug would be considered a foreign object sticking to the ball. Mismarking two penalty shots, bug zero penalty shots."
Jackie Pung, 1957 U.S Women's Open
After signing for the correct total score, Pung appeared to have beaten Betsy Rawls by one stroke at Winged Foot for what would have been her only major championship victory. But on the card, Pung was down for making a 5 on the fourth hole, when she actually made a 6. Despite signing for a correct total score, she was disqualified for signing an incorrect scorecard.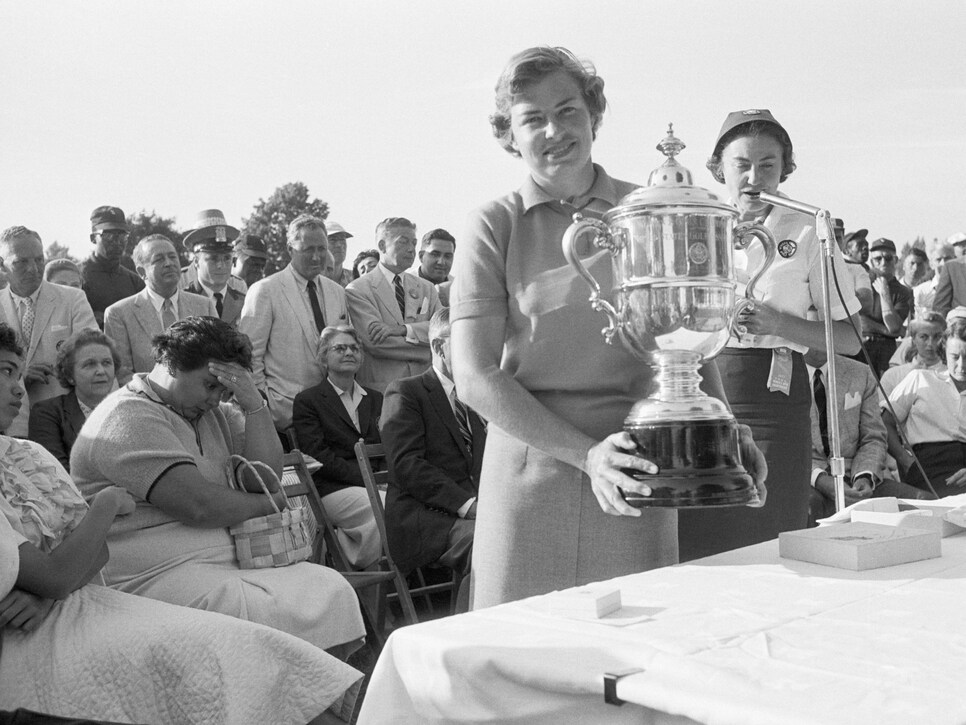 Jackie Pung (left) sits with her head in her hands as she watches Betsy Rawls receive the winner's trophy after the final round of the U.S. Women's Open.
Bettmann
Roberto De Vicenzo, 1968 Masters
Eleven years after Pung's disappointment, De Vicenzo suffered a similar fate at Augusta National, though the Argentinian signed for a higher score rather than a lower one. His playing partner in the final round, Tommy Aaron, marked De Vicenzo down for a 4 on the par-4 17th, but De Vicenzo had made a birdie 3. Not noticing the error after the round, De Vicenzo signed the incorrect scorecard, and the Rules of Golf stated that the higher score of 4 had to stand. He missed out on a playoff with Bob Goalby by one stroke.
Jane Blalock, 1972 Bluegrass Invitational
As it turns out, Blalock's infractions were not limited to one tournament, but it was at the 1972 Bluegrass Invitational where the LPGA's executive board DQ'd her for not marking her ball properly on the 17th green, and not taking the two-stroke penalty that came with it. Apparently, this was not a first-time offense, and the LPGA's executive board suspended her for a year. Blalock sued the LPGA and eventually won the case.
Tom Kite, 1978 Hall of Fame Classic
More than 50 years after Bobby Jones called a penalty on himself for an infraction no one saw, Kite did the same at Pinehurst. As he addressed his ball with his putter on the fifth green in the final round, Kite noticed the ball had barely moved, barely as in he was the only one who would have seen it. He called the penalty anyway, and he lost the tournament by a stroke.
Andy Bean, 1983 Canadian Open
On the 15th hole of his third round, Bean knocked in a short putt with the wrong end of his putter. At the time, it went unnoticed, but unfortunately for Bean, the PGA Tour's deputy commissioner of tournaments, Clyde Mangum, was watching on television. Mangum called in the infraction, and Bean was penalized two strokes. The following day, Bean shot a nine-under 62, tying the course record and tying for fourth in the tournament. Had he not been penalized two shots a day earlier, he would have been in a playoff with John Cook and Johnny Miller.
Hale Irwin, 1983 Open Championship
After lagging a birdie putt to six inches on the par-3 14th at Royal Birkdale on Saturday, Irwin went to clean up his par with the back of his putter. He completely whiffed, and because he intended to hit it, it counted as a stroke. Irwin told his playing partner he made 4. On Sunday, Irwin shot a final-round 67, good enough to … lose by one measly stroke to Tom Watson. The T-2 was the three-time U.S. Open winner's best finish at the British.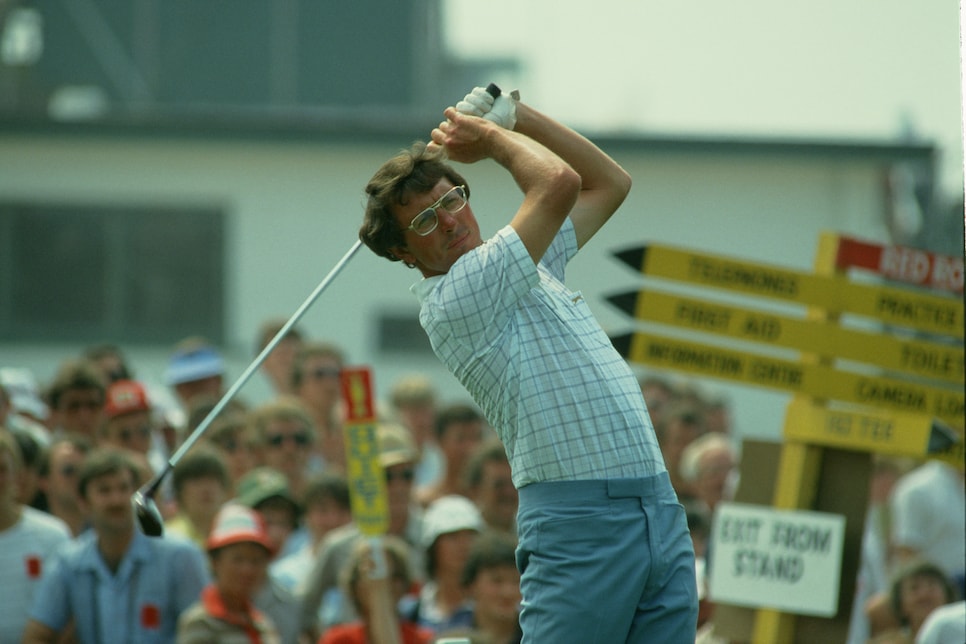 Hale Irwin's whiff on the 14th green at Royal Birkdale proved to be extremely costly.
R&A Championships
T.C. Chen, 1985 U.S. Open
The native of Taiwan was a surprise four-stroke leader in the final round at Oakland Hills when his approach shot on the par-4 fifth hole was short and right of the green. Chen barely moved the ball with this third shot. While playing his fourth from the heavy rough, his club got stuck in the grass, released and accidentally hit the ball a second time in mid-air. The ball landed just shy of the fringe after the double-hit, which resulted in a one-stroke penalty. Chen then chipped the ball eight-feet past the hole with his sixth shot, missed the comeback putt and carded a quadruple-bogey 8 to fall into a tie with Andy North. Chen ultimate finished T-2, one shot back of the victorious North.
Craig Stadler, 1987 Andy Williams Open
On the 14th hole of his third round of what's now known as the Farmers Insurance Open, Stadler placed a towel beneath his knees to avoid getting his pants wet while he hit a shot from underneath a tree. That was deemed to be in breach of the rule that says a player cannot "build a stance." Stadler was hit with a two-stroke penalty, but not until the next day, when the NBC telecast showed the highlight at the beginning of the broadcast, prompting one of the first viewer call-ins on record. Stadler would have finished second, but he was disqualified for having signed an incorrect scorecard (despite not knowing he'd broken the rule and needed to take his penalty).
Editor's note: Recent changes in the Rules of Golf allow players to no longer get DQ'd for signing incorrect scorecards that didn't take into account penalty shots for rules they did not know they'd broken when they originally signed their cards.
Raymond Floyd, 1987 Players Championship
At the par-5 11th, the second hole of Floyd's opening round, his caddie went out to the fairway to forecaddie while Floyd and his playing partners took their drivers back to the tee. Floyd's caddie plopped his bag down in the rough, then walked ahead to check their next potential distance. When the caddie turned around, Floyd's ball went directly into his bag, a two-stroke penalty. It gets worse: A few holes later, play was stopped for one hour due to rain. When play resumed, one of Floyd's playing partners, Seve Ballesteros, asked Floyd if they could hit some practice shots. Floyd said yes, and they both began hitting balls into the woods. They were soon informed that was not allowed, and each hit with two-stroke penalties, the second in a span of five holes for Floyd.
Kevin Johnson, 1989 NCAA Championship
A senior at Clemson, Johnson wrapped up his second round at Oak Tree with the individual lead over Arizona State freshman Phil Mickelson and was called to participate in a press conference. There was no scoring tent, and Johnson left his card on a table unsigned. A volunteer picked it up and when Johnson returned for it, he was told he had failed to sign it before turning it in. The NCAA golf committee met for three hours that night and announced Johnson would not be DQ'd, only to partially reverse the decision the next morning. Johnson was allowed to play for the Tigers in the final two rounds of the team competition being played that day, but was out of the individual contest. Clemson fell from first to third place, and Mickelson won the first of his three NCAA titles. Johnson shot 70-73 and had his entire 72-hole score been allowed to count, it would have beaten Mickelson.
Paul Azinger, 1991 Doral-Ryder Open
A few years after Stadler got called out via a call-in, Azinger became the latest victim of a tattle tale at Doral. A day before, the fiery American kicked some coral after playing a shot from a water hazard on the 18th hole. A viewer who picked up on Azinger's gaffe called in on Friday, and when it was determined to be a penalty, Azinger was disqualified for signing an incorrect scorecard on Thursday (69 instead of 71).
Editor's Note: The major professional tours no longer take phone or email warnings from viewers during tournaments as each has its own officials monitor TV feeds to look for potential infractions.
P.H. Horgan III, 1998 Buick Open
Following a first-round 71, Horgan was disqualified for one of the greatest oversights in golf history. No, he didn't sign an incorrect scorecard, and he didn't get tattled on by a viewer. It was discovered that Horgan simply forgot to register for the tournament, which is usually a good thing to do for a tournament you plan on playing in.
Ian Woosnam, 2001 Open Championship
It's not quite Jean van de Velde levels of Open infamy, but Woosnam's screw-up in the final round in 2001 is right up there. After making birdie at the first hole at Royal Lytham & St Annes, Woosie, 43 at the time, was in contention to win a second career major. But at the second tee, it was discovered that the extra driver Woosnam was practicing with on the range was still in his bag, meaning he was carrying 15 clubs, one more than the amount allowed. He was penalized two strokes, and wound up finishing four back of David Duval.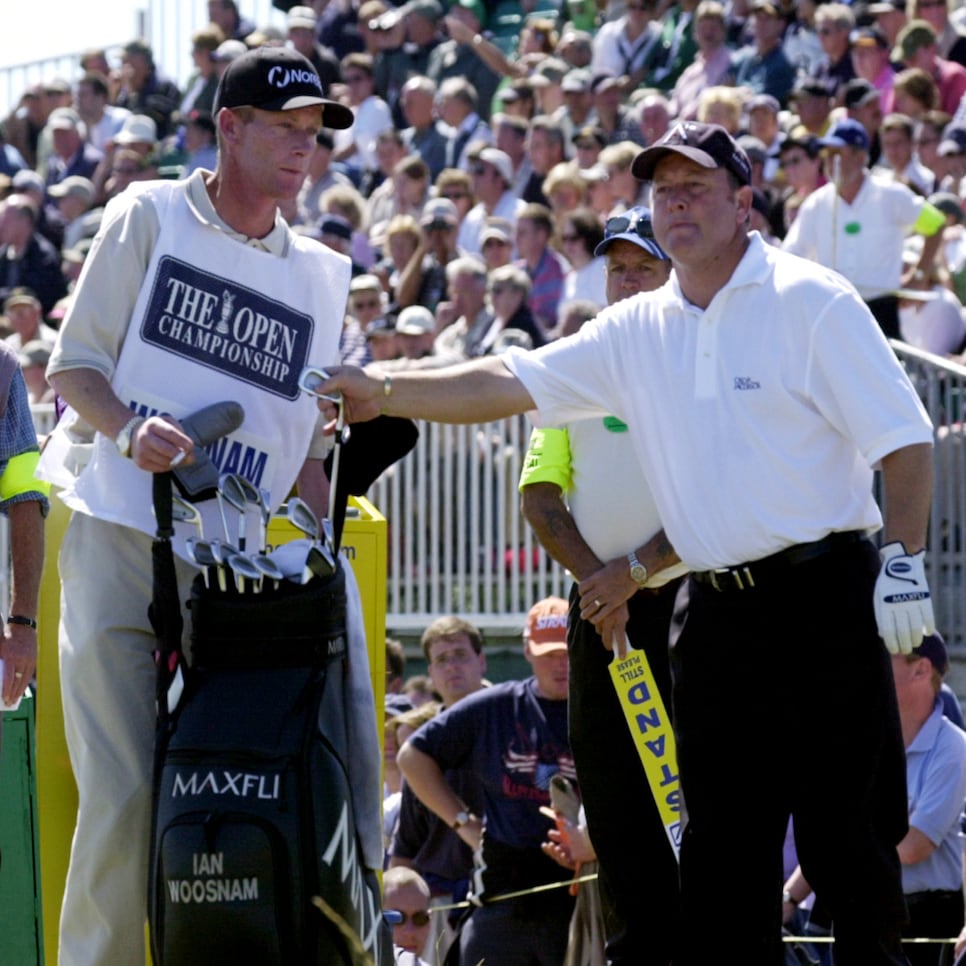 Ian Woosnam and his caddie Myles Byrne forgot to count up the clubs in the bag prior to the final round of the 2001 Open Championship.
R&A Championships
Jeff Maggert, 2003 Masters
With a two-shot lead through 54 holes, Maggert was poised to make a run at what would have been his only major title. Three holes into his final round, that dream died a swift death. At the short par-4 third, Maggert played it safe off the tee with a 2-iron, but found a fairway bunker. He then pulled a 53-degree wedge for his approach, which hit the lip of the bunker and came back and hit Maggert in the chest. He was hit with a two-stroke penalty for the infraction, and he walked off with a triple bogey. Later on the back nine, Maggert made an 8 on the par-3 12th. He still managed to shoot 75, finishing five shots out of a potential playoff.
Editor's Note: When the USGA and R&A modernized the Rules of Golf in 2019, they changed this rule so that players are no longer penalized if their ball is accidentally deflected by themselves or their equipment.
Jesper Parnevik, Mark Roe, 2003 Open Championship
Not only did Roe have a chance to post his first top-10 in a major that year at Royal St. George's, he had a chance to contend for what would have been the biggest win of his career. Through 54 holes, the Englishman was just two off the lead thanks to a third-round 67. Unfortunately, he never struck a shot in the final round, as both he and Parnevik, his playing partner, were disqualified. The reason? The pair never exchanged scorecards on the first tee on Saturday, and they mistakenly wrote down each other's scores on their own scorecards. It was the last major Roe ever appeared in.
Michelle Wie, 2005 Samsung World Championship
In her first event as a pro, Wie, then 16, posted an impressive fourth-place finish, which would have matched her career-best on the LPGA Tour to that point. But a journalist made officials aware that he had noticed a day earlier that Wie had taken what he thought might have been a bad drop on the seventh hole. Wie was eventually DQ'd, stripped of her fourth-place finish, and the $53,126 check that came with it.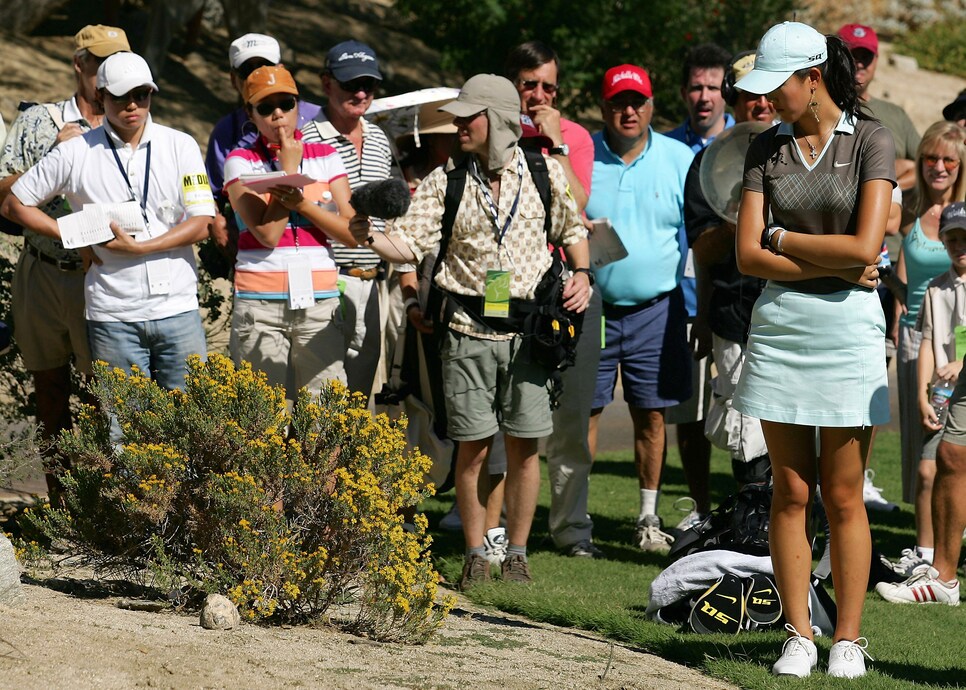 Michelle Wie looks at her ball behind the yellow bush on the 14th hole during the second round of the 2005 LPGA Samsung World Championship.
Robert Laberge
Brian Davis, 2010 RBC Heritage
In regulation, Davis went flag-hunting on the famous 18th at Harbour Town, and it led to a birdie that got him into a playoff with Jim Furyk. Back in the 18th fairway in sudden death, Davis went for the pin again, but missed left into the hazard, his ball coming to rest in the sand. As he took the club back, it clipped a weed, which was a loose impediment. Davis immediately called over rules official Slugger White to check if he committed a penalty, and White confirmed he did. It was a two-stroke infraction, and Furyk went on to win with ease. Davis, now 46, has still never won on the PGA Tour while earning more than $13.3 million, the most of any player who doesn't have a tour victory.
Dustin Johnson, 2010 PGA Championship
Outside of a violation a little further down our list, DJ's BunkerGate saga was among the more painful to watch unfold in major championship history. After missing the 72nd fairway, Johnson grounded his club in what appeared to be a waste area. Had Johnson looked closer at the note on every player's locker that week at Whistling Straits, however, he would have known that he was standing in a bunker. He was informed of the violation on the 18th green, and instead of competing in an epic three-man playoff with eventual winner Martin Kaymer and Bubba Watson, he was hit with a two-stroke penalty and fell into a tie for fifth.
Juli Inkster, 2010 Safeway Classic
Just three strokes off the lead after 36 holes, Inkster was in striking distance. But she never got the chance to make a serious run when, after a viewer had called her out via an email to the LPGA, it was determined Inkster would be DQ'd for using a training aid during play. Apparently, during a long wait on the 10th tee, she put a weighted donut (non-delicious division) on her 9-iron and took some swings to stay loose, which is not allowed.
Ryuji Imada, 2010 Mission Hills Star Trophy
If they aren't DQ-worthy, just about all the penalties on this list are of the one- or two-stroke variety. In rare cases, like Imada's, a player can be retroactively given penalty strokes for something they did throughout their round, and those penalty strokes can add up. For Imada, failure to read a local rule added up to a 26-stroke penalty in a 36-hole, mixed-field event in China. Players were not allowed to lift, clean and place, and Imada had done so 13 times before being informed he wasn't allowed.
Tiger Woods, 2013 Masters
Among the most famous/infamous rulings on this list came on Saturday morning at the 2013 Masters. A day earlier in the second round, Woods pulled within three strokes of the lead heading into the weekend, having shot a one-under 71. That was changed to a 73 when it was determined that Woods had taken a bad drop at the 15th hole, which he unknowingly revealed during a post-round interview on Friday. After Woods explained where he dropped his ball after hitting his approach off the flagstick and into the water, David Eger, a former PGA Tour rules official, called in to say the drop wasn't in the proper spot. Woods, who could have been disqualified for the breach, was only penalized the two strokes, and wound up tying for fourth.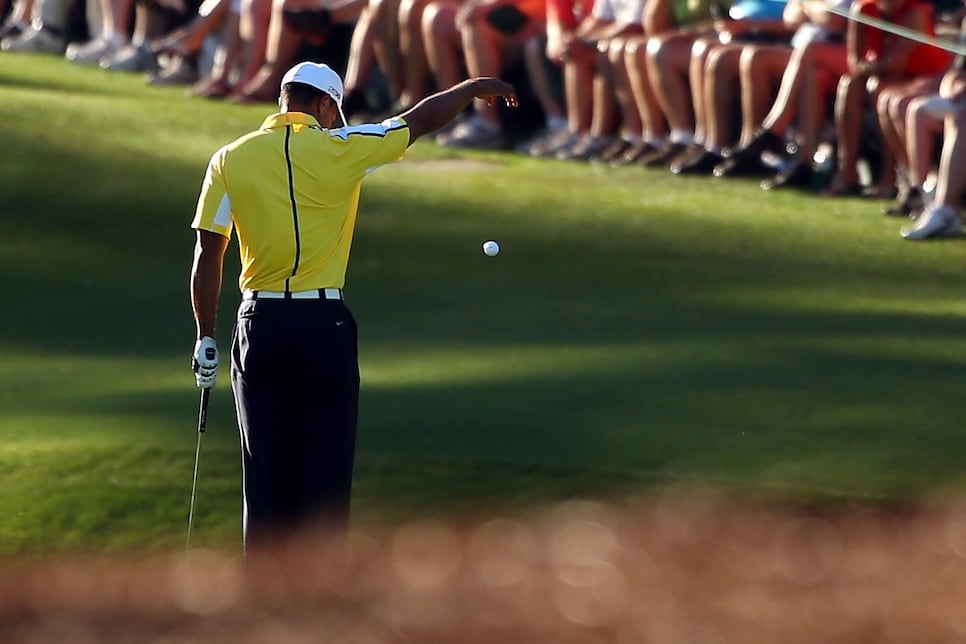 Following the second round, Tiger Woods discussed his play on the 15th hole after his ball hit the flagstick and ricocheted back into the water, inadverently revealing the bad drop he'd taken.
Mike Ehrmann
Justin Rose, 2013 BMW Championship / Hudson Swafford, 2013 Nationwide Children's Hospital
In an unfathomable turn of events, Rose and Swafford committed the exact same unbelievably rare infraction on consecutive days. First, it was Rose in the third round of the BMW. The Englishman took a practice swing and made a divot, and the divot somehow made contact with the ball:
Rose received a one-shot penalty, which didn't make too much difference, as he finished 15 shots back. As for Swafford, who did the same thing the next day on the Korn Ferry Tour, his divot was a little more costly considering he was in contention:
Dustin Johnson, 2016 U.S. Open
Once again, it looked as though Johnson's first major victory was in doubt due to another dreaded ruling. With the greens rolling like glass on Sunday at Oakmont, Johnson got into trouble at the par-4 fifth green, where he addressed his ball and it moved so slightly that only a super zoomed in camera shot could detect it. The USGA examined the video evidence for what felt like hours, finally informing him that he was being penalized a stroke on the 12th hole. Luckily, Johnson won by three, rendering the ruling irrelevant to the ultimate outcome of the championship and saving the USGA from endless wrath.
Anna Nordqvist, 2016 U.S. Women's Open
The USGA's peace and quiet lasted less than a month, when Nordqvist also got the delayed-penalty treatment during a three-hole playoff against Brittany Lang. On the second playoff hole, the Swede was hitting an approach shot from a fairway bunker at CordeValle, and cameras picked up on her barely grazing the sand as she addressed the ball. After once again taking a fair amount of time to examine the video evidence, Nordqvist was informed of the two-stroke infraction in the 18th fairway, after she had already hit her third shot in the final playoff hole. She went on to lose by three.
Editor's Note: The Rules of Golf has since been amended to allow for a "naked eye" standard so that if a player's action could not reasonable have been seen as it happened and the player was not otherwise aware of a potential breach, he or she would not be considered to have broken the Rules if video technology shows otherwise.
Lexi Thompson, 2017 ANA Inspiration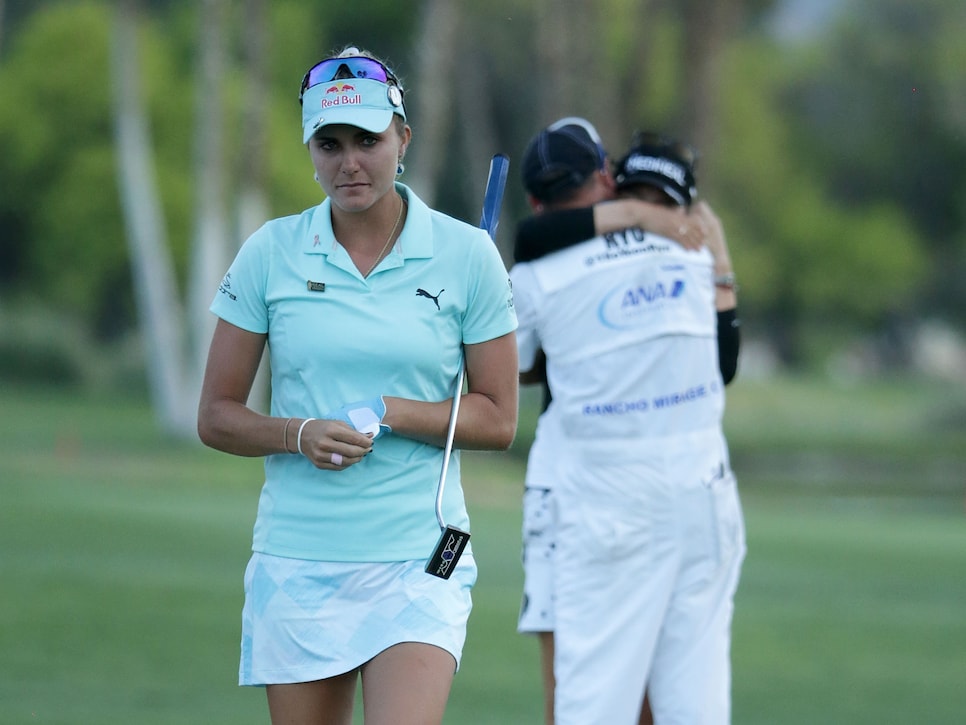 Lexi Thompson found out about a four-stroke penalty being assessed to her on the back nine of her final round.
Jeff Gross
Phil Mickelson, 2018 U.S. Open
Many of the penalties on this list were committed accidentally and/or unknowingly. That was not the case with Mickelson's "hitting a ball in motion" penalty during the third round at Shinnecock Hills in 2018, his frustration over years of heartbreak and punishment in the U.S. Open bubbling over. Four over on his round after making five bogeys on his previous eight holes, Mickelson faced a slick, downhill 18-footer for bogey on the 13th hole. Mickelson's putt rolled past the hole and it did not appear like it was going to stop before rolling off the front of the green. Inexplicably, Mickelson ran after his ball and hit it while it was still in motion on the green. He wound up making a 10 on the hole when adding the two-stroke penalty for hitting a moving ball. It remains the quintessential "Phil being Phil" moment to this day.
Haotong Li, 2019 Omega Dubai Desert Classic
On the 72nd hole, Li had a short birdie putt that would have secured him third place and a very nice pay day. Unfortunately for Li, he was later hit with a two-stroke penalty for breaking Rule 10.2b(4), which had just been implemented a few weeks earlier, that states a caddie can not stand behind a player and line them up. Had Li stepped away and re-lined himself up, there would have been no penalty. The two-stroke infraction dropped him all the way into a tie for 12th, costing him nearly $100,000.
Sergio Garcia, Matt Kuchar, 2019 WGC-Dell Match Play
In a Saturday quarterfinal match at Austin Country Club, Garcia was 1 down to Kucher through six holes. At the par-3 seventh green, after missing a seven-foot par putt, Sergio went to give it a quick rake before Kuchar had conceded the putt. The Spaniard's ball lipped out, and by rule, it counted because Kuchar had not conceded in time. The two eventually smoothed things over, even after a tense exchange soon after, and Kuchar went on to win the match, 2 up.
Darren Clarke, 2019 U.S. Senior Open
In his U.S. Senior Open debut, the Northern Irishman got off to a solid start, right up until he ran into some serious rules controversy at the par-4 10th hole. Clarke had pulled his drive way left and in his line of sight on his approach shot was a bird box. Clarke had his caddie move it, only to learn that the bird box was considered an immovable obstruction. Clarke was penalized two strokes, giving him a first-round three-over 73.
Segundo Oliva Pinto, 2020 U.S. Amateur
On the 18th hole of his Round of 16 match at Bandon Dunes, the 20-year-old from Argentina was tied with eventual winner Tyler Strafaci. Facing a greenside bunker shot, Oliva Pinto went up to the green to examine his options. As that was happening, his caddie stepped into the sand and swiped it with his hand. It was a clear breach of the rule that states a player (or his caddie) may not test the condition of the sand. Oliva Pinto, who hadn't seen what his caddie had done, was given a loss-of-hole penalty and in turn lost the match.