love to hate
America's Worst Golf Holes: The most head-scratching designs we love to hate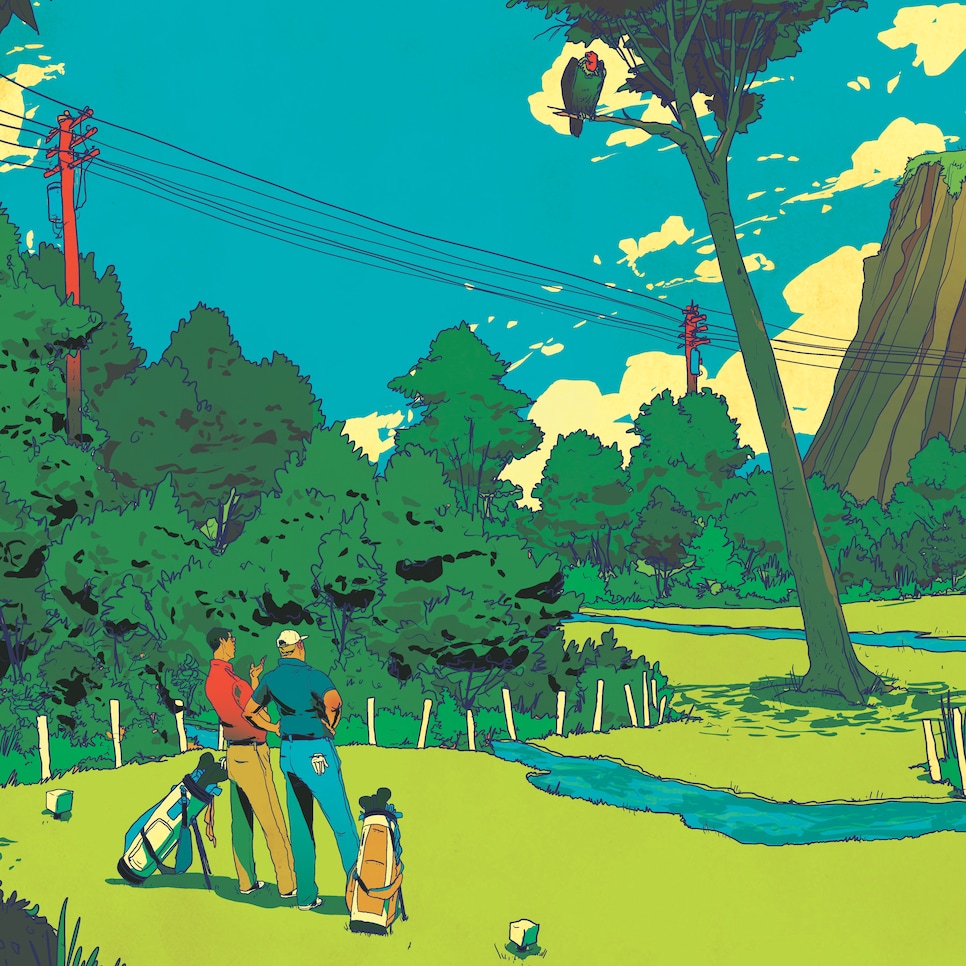 The elements that make a great golf hole have been debated since shepherds started swatting stones through the whins. Architects from Alister MacKenzie to Tom Doak have written about the merits of strategic design, hazard placement and the virtues of playability and options. Scribes like Bernard Darwin, Herbert Warren Wind, Charles Price and Dan Jenkins had their scotch-fueled beliefs, each making eloquent and wit-laced cases for what constituted good, better and best. For more than 50 years Golf Digest has done the same, if more soberly, tasking an army of data-driven course-ranking panelists to assess the degrees of excellence of thousands of courses across the land. Golf 's grand think tank chews on the issue endlessly, staking positions and advancing great-hole theories that invariably evaporate the harder one bites into them. For all their espoused wisdom, a good golf hole still comes down to the eye of the beholder.
This is not true for a poor golf hole. Some are so fundamentally flawed that anyone can spot them. Tragic golf holes possess, in the words of Shakespeare and MacKenzie (though in more laudatory terms), infinite variety. They can be set upon land so unusable that there is no possible way a good hole could have been made. They can be crammed into areas too small or lose their sense of direction like port-of-call sailors at 3 a.m. Some hail from golf's Upside Down, where lay-up drives are followed by driver-length approaches. Occasionally the architectural decision-making is so hallucinogenic that it should be subject to urine samples.
With so much ink already devoted to the greatest holes, we thought it time to pay homage to some of the least-loved holes. The following is a menagerie of the head-scratching, the awkward and the bizarre. As strongly as we react to beauty and the logic of the classically proportioned, we can't look away from the contorted and the cretinous.
The presence of a cringeworthy hole is not an indictment of the course. In fact, a hole of such ill repute can elevate the status of an otherwise ordinary design into a destination, not unlike a great hole can. Our desire is not to caution golfers away, but to intrigue them by better illustrating how the bad and the ugly exist in balance with the good. Far from avoiding this consortium of golf curiosities, you should seek them out, like the world's largest block of cheese and the five-legged calf, to experience their one-of-a-kind ingloriousness.
Cincinnati. First hole, par 4, 254 yards
The prospect of getting hit with a golf ball on a hole is not funny. But getting beaned five times on the same hole? Now that's comedy, or at least farce. Hole crossings were common on golf's earliest courses, but those were the days of hickory shafts, 150-yard drives and a scuttling ball. Modern weaponry makes the shelling much more lethal, a cause for concern at Fernbank, a quaint nine-hole course built in the 1920s where the opening par 4 cuts across the paths of the third, fourth, seventh, eighth and ninth holes. Players need a "Walk" signal before advancing. The regulars have gotten used to keeping their heads on a swivel, but the notion of six groups potentially playing different holes within the space of just more than 200 yards rises to a level of absurdity only the Marx Brothers could love.
CRYSTAL SPRINGS GOLF CLUB
Hamburg, N.J. Eleventh hole, par 3, 186 yards
Large greens with different pin positions make each day a little different. At Crystal Spring's 11th, a day can mean the difference between a hole that's playable and one that isn't. The butterfly-shaped green presents four distinct hole locations, two on the wing nearest the tee and two on the partially hidden back wing. Each pinnable quadrant is only 1,700 to 2,200 square feet, making this target golf extreme, though front-hole locations leave reasonable shots of 140 to 160 yards. Everything changes when the pins are back. Tee shots must carry 180 to 190 yards over a lake, and balls that don't find the correct quadrant might not have a direct putt to the hole. Golfers trying to navigate from the front section of the green to the back will need to pitch their "putts" over a stone outcropping. The superintendent asks that you please replace your divots.
THE CLUBS OF KINGWOOD (ISLAND COURSE)
Kingwood, Texas. Eighteenth hole, par 5, 572 yards
We know that playing to island greens is a thrill for many golfers, but how do they feel about island hazards? As in, an island of water in the middle of a long par 5? The 18th at Kingwood's Island Course challenges players with a large pond in the center of the fairway. It's a novel concept that thankfully never caught on, especially because players have little room to miss the fairway left or right of the water. It's uncertain what kind of golfer might attempt to play the left route that requires a 260-yard all-carry drive to a target landing area followed by a 240-yard shot entirely over water to an island green (yes, this hole has one of those, too). But maybe by the 18th hole all those beers have kicked in and, you know, what the hell? The poor duffer who chooses the safer right side is rewarded with a narrow pathway plus a long third shot over water that also must carry one of the green's flanking bunkers. Y'all come back now!
Maplewood, Minn. Fourth hole, par 3, 150 yards
The all-carry par 3 is nothing new in golf. Some of the sport's best short holes require players to loft their tee shots all the way to the green or suffer the consequences. Cypress Point's 15th hole, Augusta National's 12th and Pine Valley's 14th are all world-class holes that make golfers execute do-or-die carries, but usually the shot is over water, not over a 100-foot-tall tree. At Keller, a glorious oak stands dead in the way between the tee and the green. The only way past it is to launch a soaring, perfectly struck shot over the top or try to punch something low around the trunk and hope it chases up to the green. Local dignitaries refused to allow architect Richard Mandell to remove the tree when renovating the course several years ago, so he added a little tongue of fairway to the right of the putting surface as an optional target, turning the hole into a two-shot par 3.
SOME HOLES ARE SO FUNDAMENTALLY FLAWED, ANYONE CAN SPOT THEM.
Oakland, Calif. Eighteenth hole, par 6, 673 yards
Par-6 holes are gimmicky by nature. They're usually the result of the architect trying to make a statement, or uncreative workarounds to bridge unwieldy sections of a site. The former is the case at Lake Chabot, where after 17 holes the original designers, nearly 100 years ago, and by intention or compass malfunction, found themselves atop one of the property's highest points with only one way back down: straight. Though it covers nearly 700 yards, the distance is mitigated because the hole drops about 250 feet. After teeing off, golfers feel like they're slaloming down the mountain, which, in fact, they are if riding in carts because the path performs a series of switchbacks, crossing the fairway five times on the descent, as if skiing. The only thing missing is the snow. This par 6 could even become a par 4 if golfers can strategically use the cartpaths to catapult their ball even farther ahead. Regardless, there should be a stiff après-golf drink waiting once they make it to the bottom.
LAKE JUNALUSKA GOLF COURSE
Waynesville, N.C. Fourteenth hole, par 4, 295 yards
Short par 4s give everyone from the rabbit to the tiger a chance to make a good score. The best of them ask the player to hit some sort of bravado drive that flirts with danger to set up an easy approach, or even get all the way to the green. Lake Junaluska's short 14th can be played conventionally but unexcitingly with a 200-yard drive and short pitch, but the real fun is in cranking one 230 yards directly over the treelined hill standing between the tee and blind green. It would be a sporty little hole if overhead power lines didn't cross directly on the ideal trajectory, threatening to swat drives out of the sky. It still might be an interesting risk-reward hole, but a local rule grants an automatic re-tee if balls hit the power lines. In fairness, the lines didn't exist when the hole was built in 1919, but the company surveyors who later established the power-line easement obviously weren't golfers.
NABNASSET LAKE COUNTRY CLUB
Westford, Mass. Third hole, par 5, 456 yards
Par is an arbitrary construct—golf scores are the sum of the strokes it takes to complete 18 holes regardless of the par number. Thank goodness this out-and-back hole is labeled a par 5 because it offers players the psychological comfort that reaching the green in three shots is normal. It plays out of a narrow passage to a tight fairway with out-of-bounds trees along the right. Drives need to travel at least 200 yards to get a peek around the first corner, but unless golfers have a sweeping Bubba Watson like left-to-right bender in the bag, the next shot is a hard right turn about 100 yards to get past the trees at the second corner. That leaves a 130- to 150-yard third shot into a tiny pitched green, hopefully avoiding wayward drives coming in from the parallel fourth tee. Some architects think the only way to design a true three-shot hole is to add length. Nabnasset proves otherwise.
Spanaway, Wash. Eighteenth hole, par 4, 320 yards
For nearly 30 years, players at this public course enjoyed ending their round with a proper par 5 that required two or three well-placed shots down a gauntlet of Pacific Northwest conifers. That was before the club essentially sold off the hole to developers for housing, leaving behind an amputated remnant that now serves as the "new" 18th hole. It's a sharp dogleg right stuffed into the remaining space that calls for a tee shot of less than 230 yards to set up a 90-yard wedge over water or a 240-yard drive past a lone evergreen to set up an approach 10 yards shorter and angled slightly backward. Then it's a trek of nearly 400 yards up to the clubhouse, past the homes of people who are undoubtedly enjoying the old 18th hole far more than the locals will ever get to again. Salt, meet wound.
Show Low, Ariz. Eighteenth hole, par 4, 377 yards
Eighteenth holes feature prominently on this and most any list of notable holes because we expect much of them. They should be the triumphant exclamation to an exciting round and the taste you remember when the day is done. If the last hole on the Tower Course is memorable, it's for being an emotional fizzle. Think of it—you've done battle with the course for 17 holes and are looking to go down swinging on the last. You come to the 18th tee and are confronted with . . . a forced lay-up. Drives that go much beyond 200 yards—from the rear tees—will find a dry gulch unless you can drop a 240-yard carry into a lobe of fairway surrounded on three sides by penalty areas. The second shot is another lay-up short of the winding gulch or a boom or bust shot over the hazard to a shallow green just 15 yards deep with a bunker at the rear. This kind of enforced moderation is like going 14 bloody rounds with a heavyweight, then settling the match with a thumb war.
A lot of guys would agree the worst hole on the PGA Tour is the second at Sedgefield Country Club, which hosts the Wyndham Championship.
It's a blind tee shot, par 4, not very long; carry some bunkers at 250 yards, and it's a pitching wedge. But the downslope makes the fairway almost impossible to hold. The only way for me to keep one on the short grass is to hit this pop-up slice driver, but my caddie, Geno, says no way because if I catch it solid, it's in the hazard.
In our last practice round, four guys hit four different clubs off the tee, and we all finished in essentially the same spot, a foot into the Bermuda rough, the thickest on the course. The green cants left to right and front to back, so you usually wind up at the rear with about a 50-footer. I've sworn off playing this tournament; of course, every year I come back. A more fun conversation is what's the worst hole at Pine Valley or some other great course, but you didn't ask me that.
Golf Digest is looking to identify more of America's Worst Golf Holes, and we want to hear from you! File nominations with detailed descriptions and supporting images at golfdigest.com/worstholes.