out of bounds
Ten of golf twitter's most controversial moments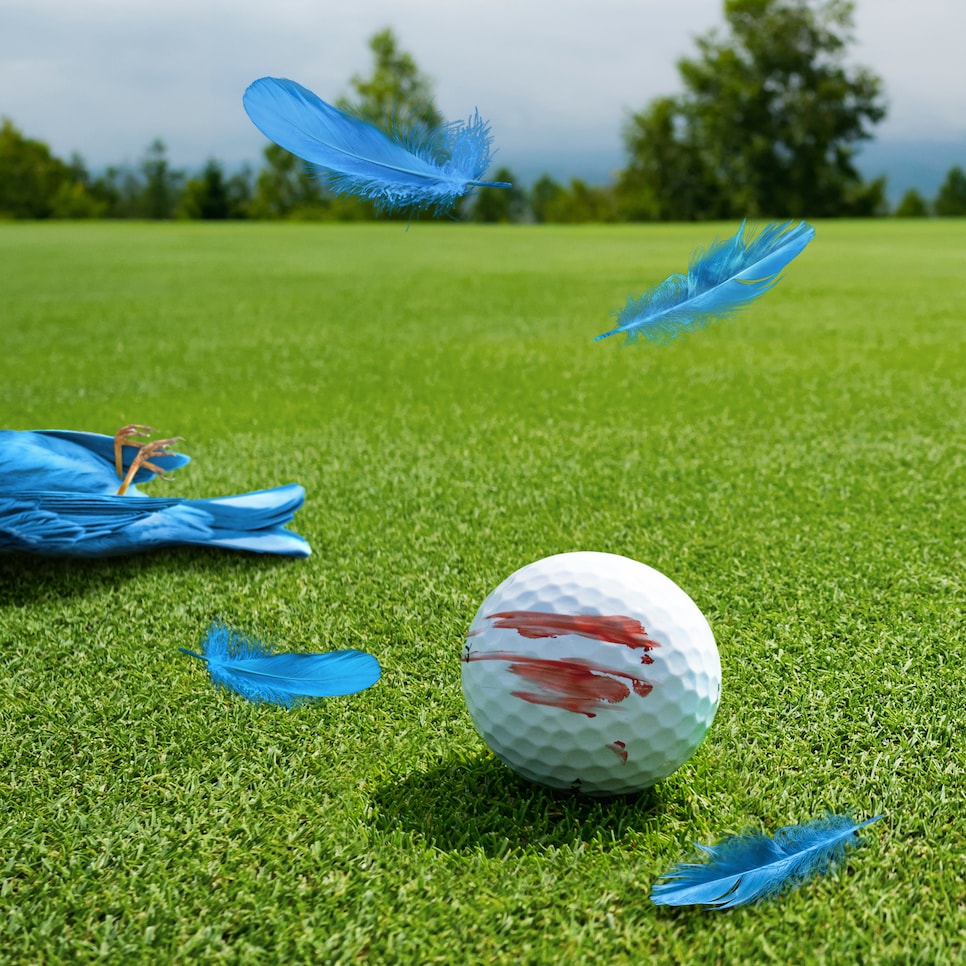 Photo By: hitandrun creative studio
Making mistakes is an inherent part of golf: attempting to hit a hero shot instead of punching out, misreading putts, even white belts, for pity's sake. However, the biggest danger facing modern golfers is Twitter. The social-media platform can be a source of good, yet it often proves to be the opposite. That might sound moralistic, but the following golf-related tweets make the point. We gathered the more controversial Twitter posts in recent years, ranging from the relatively harmless to the profoundly dumb to the disturbingly callous. If there's a throughline through these, it's this: THINK BEFORE YOU TWEET!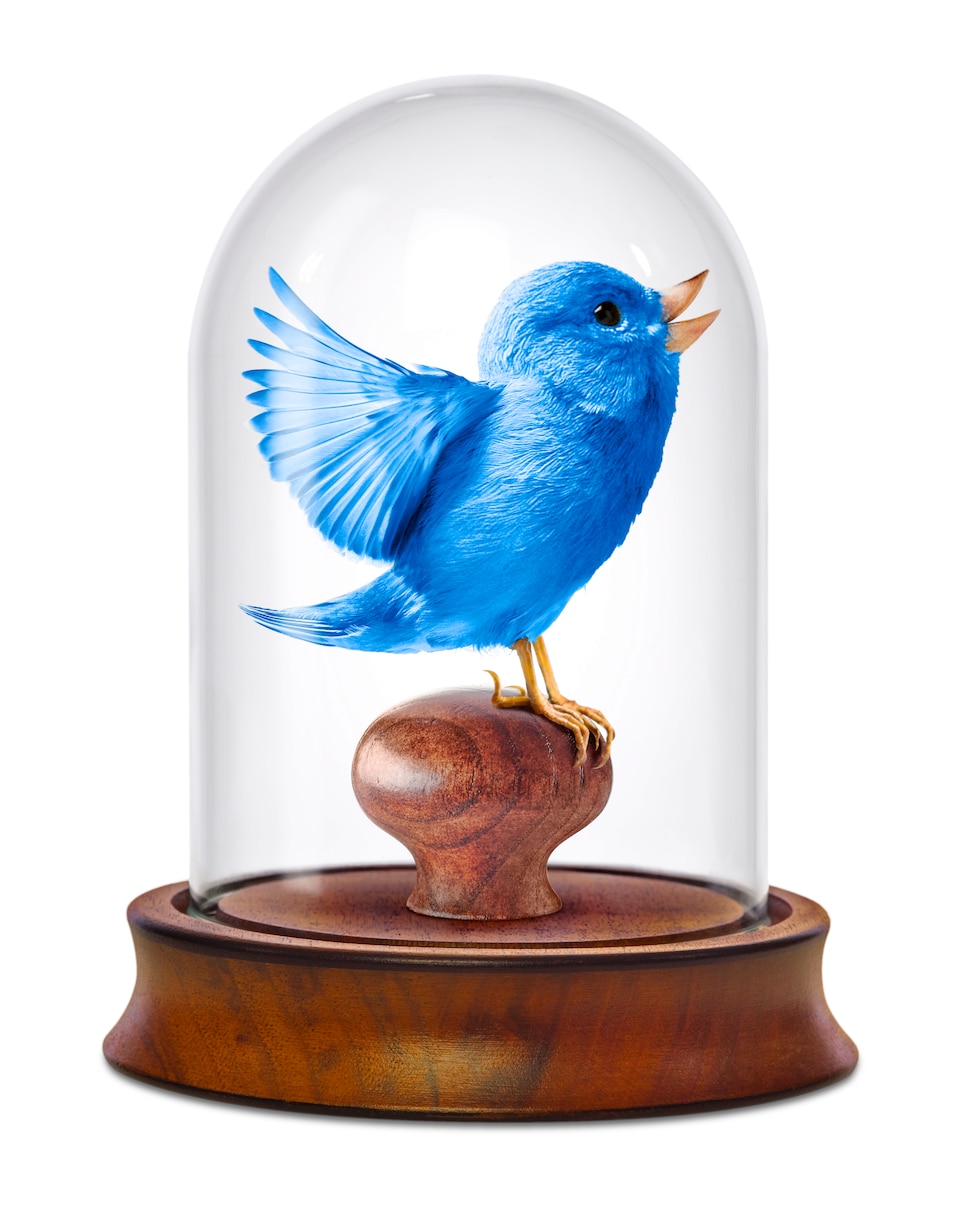 hitandrun creative studio
1. GRAYSON MURRAY-KEVIN NA CLATTER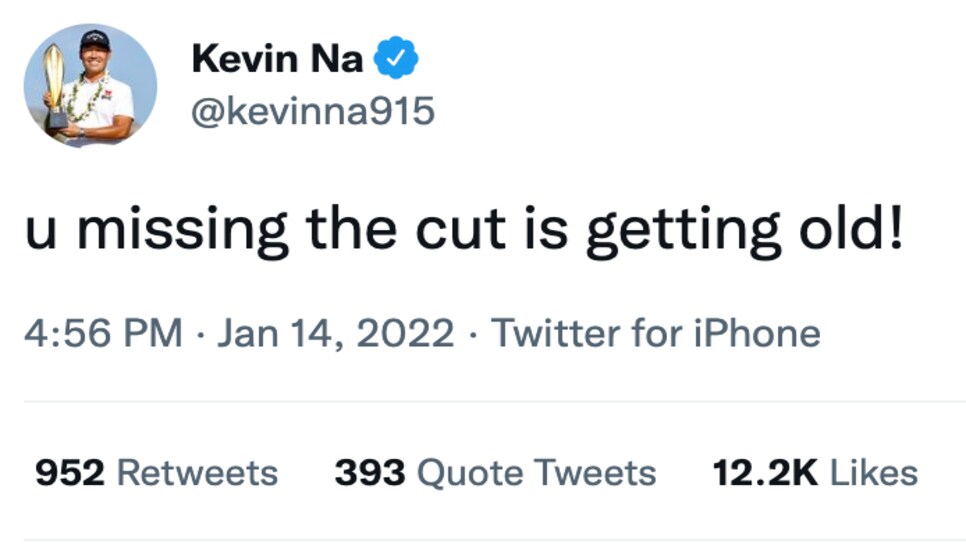 CONTEXT: It started innocently when Golf Channel reporter Chantel McCabe wrote on Twitter, "Kevin Na walking in putts does not get old" during the 2022 Sony Open. Murray—no stranger to controversy—replied, "Kevin Na taking three minutes to putt them does get old," a reference to Na's reputation as a slow player. Na countered: "U missing the cut is getting old!" This had to sting considering Murray had not reached the weekend in almost nine months. Murray tried to hit back, tweeting, "Hahah love it little guy! Would never tell that to my face" before deleting the tweet. Murray then asked Na to show everyone how many bad-time notices he had received from the PGA Tour.
WHY IT WAS CONTROVERSIAL: Initially it just seemed like two players engaging in petty insults. Only this online dispute spilled into real life when Na called Murray's bluff and confronted him on the range nearly four months later at the Mexico Open. Murray said later that Na unloaded a profanity-laced diatribe at him and that he did it at the range only because it was a "safe space." Na said the two exchanged words but maintained that Murray misrepresented what happened. "That's not exactly how it went down, but I'm over it, and I'm moving on," Na said. A few weeks later Na resigned from the PGA Tour to join LIV Golf, which Murray welcomed by tweeting, "Don't let the door hit you on the way out."
VERDICT: Was it entertaining? Maybe in a "Real Housewives of Beverly Hills" kind of way, but that appeal was offset by the time wasted watching two golfers engage in a display of machismo.
2.
PHIL'S WAYWARD ATTEMPT AT HUMOR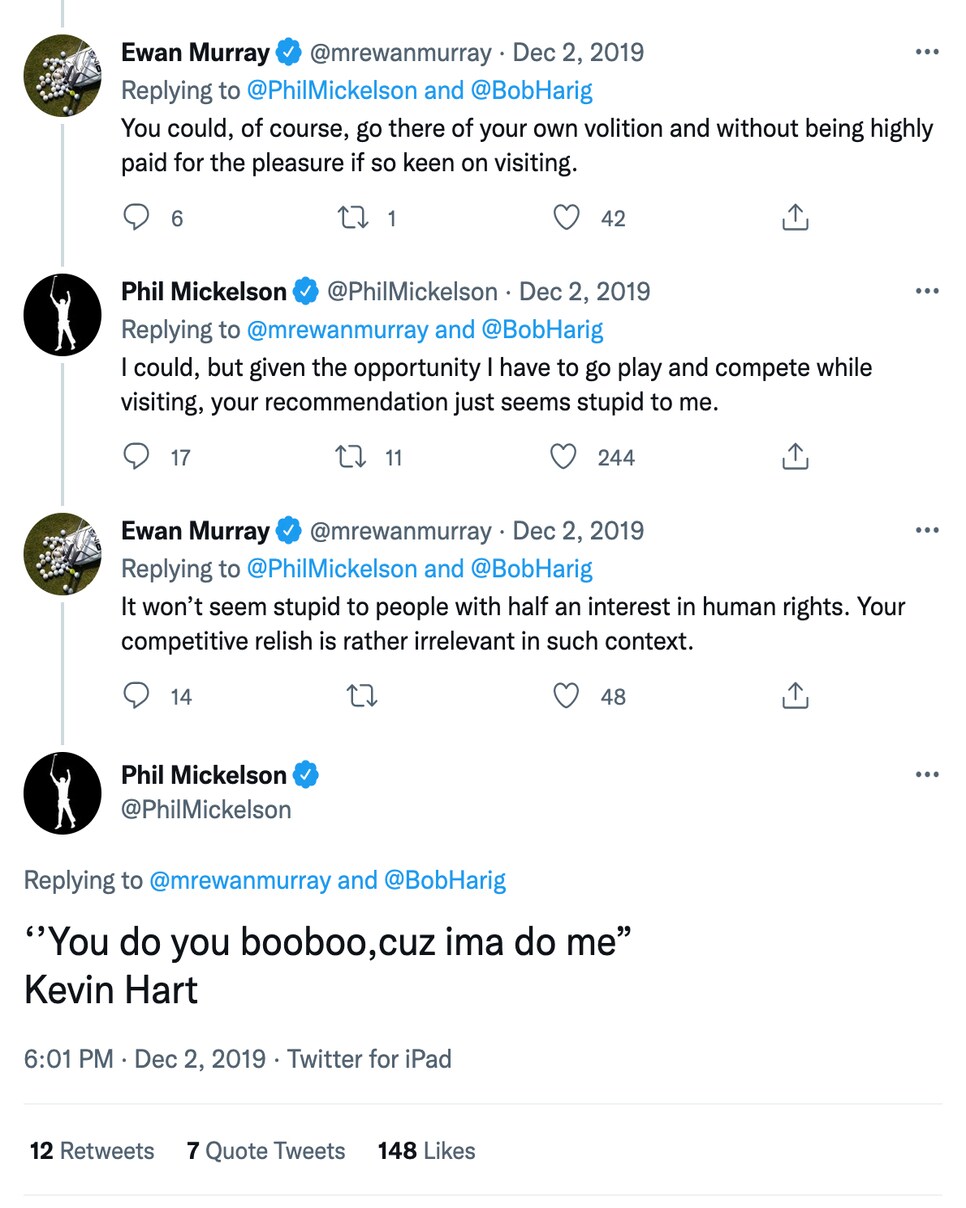 CONTEXT: In late 2019, word leaked that Phil Mickelson would skip the Phoenix Open for a cash grab at the Saudi International, a decision widely criticized on Twitter. European writer Ewan Murray said if Phil was so keen to visit the kingdom, he could go without being paid by the regime. "I could, but given the opportunity I have to go play and compete while visiting, your recommendation just seems stupid," Mickelson said. Murray replied, "It won't seem stupid to people with half an interest in human rights. . . ." Mickelson then quoted comedian Kevin Hart: "You do you booboo, cuz ima do me."
WHY IT WAS CONTROVERSIAL: Members of LIV Golf have had a difficult time defending their involvement with a government accused of human-rights violations. As bad as "Growing the game" and "I'm not a politician" defenses are, trying to hide behind humor can come off as obtuse.
VERDICT: Looking back, Mickelson gave us a glimpse of his intentions with LIV Golf before anyone knew what LIV Golf was.

CONTEXT: During the 2018 NCAA Championship, four-time tour winner Harris English tweeted, "I still can't take these pull carts seriously," a reference to the omnipresent usage of pushcarts in the amateur game. This seemed like an innocuous observation. LPGA Tour star Brittany Lincicome chimed in: "I agree lol. Especially the guys haha." It shouldn't have generated much heat, but English was roasted for his take. His replies were filled with the benefits of using pushcarts and how not everyone has the luxury of using a caddie like tour players do. It even led to a blog post at Barstool Sports titled, "If you are upset about golfers using pushcarts, you are a loser." Dang, that's tough.
WHY IT WAS CONTROVERSIAL: Good question, especially considering this came from English, one of the nicer guys on tour. We suppose it could be perceived as a disconnect from the upper echelon of the sport to the game the rest of us play and love. Maybe it came off as a bit dismissive or pompous.
VERDICT: Oh, 2018, you poor, sweet, innocent, naive child. If you think this is controversial you have no idea of the storm coming our way.
4. KOEPKA TROLLS DECHAMBEAU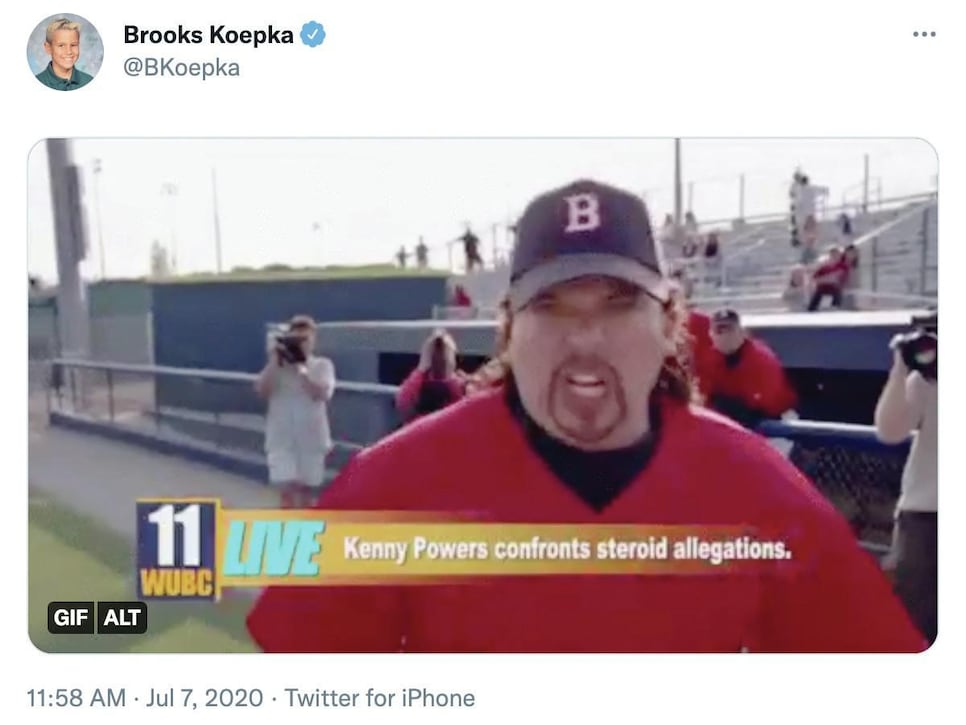 CONTEXT: In the early days of the Brooks Koepka-Bryson DeChambeau feud, you might recall an incident at the 2020 Rocket Mortgage Classic where DeChambeau had a testy exchange with a cameraman. "He was literally watching me the whole entire way up after getting out of the bunker, walking up next to the green," DeChambeau said later. "I just was like, 'Sir, what is the need to watch me that long?'" DeChambeau won the event, his first victory since transforming his body and adding more than 20 yards off the tee. But Koepka seemed to question those changes when he posted a GIF of the fictional character Kenny Powers from "Eastbound and Down" yelling into a camera, "I said I'm not on steroids!" (DeChambeau has denied taking performance-enhancing drugs.)
WHY IT WAS CONTROVERSIAL: Koepka, one of the best players in the world, suggested that the biggest newsmaker in the game was using PEDs. So, yeah, pretty spicy!
VERDICT: This is the genius of Koepka's trolling. He didn't mention DeChambeau in the post, yet everyone knew the target. Also, it's hard to be sympathetic to someone chewing out a cameraman. This wasn't really a controversy as much as it was a well-executed shot directed at an adversary.
5. IAN POULTER RATS OUT A FAN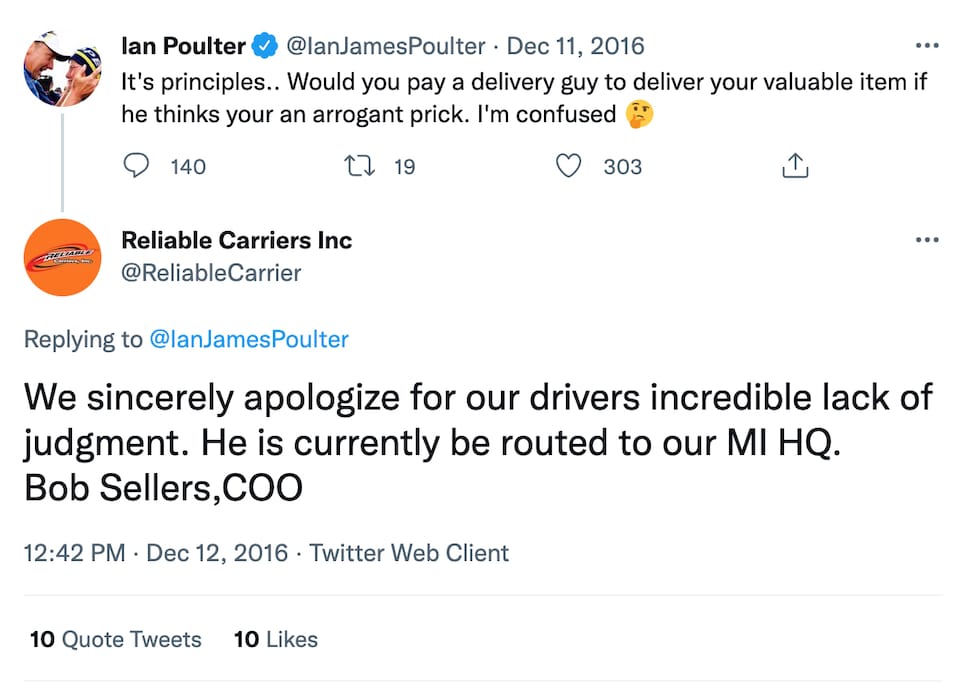 CONTEXT: A golf fan who attended the 2016 Valspar Championship tweeted that he had been heckling Ian Poulter to the point that the fan had gotten into Poulter's head. Poulter saw the tweet and notified the guy's employer about his conduct. As a result, the person lost his job. Bizarre as that sequence was, it happened again later in the year. After Poulter was caught disparaging a cameraman in a Hong Kong tournament, another fan shared an incident he had with Poulter after delivering a car to Poulter. The Ryder Cup star responded in similar fashion by tweeting at the guy's employer. The employer then said that the guy had been routed to company headquarters.
WHY IT WAS CONTROVERSIAL: Already a villain to most American golf fans, the optics of a multimillionaire tattletaling on ordinary Joes because of their criticism was not great.
VERDICT: Poulter has every right to defend himself, and we don't condone heckling. However, fan criticism—which occasionally includes knuckleheaded comments—comes with the occupation. This wasn't even a case of having thin skin as much as it was an abuse of power: Poulter using his celebrity to silence his detractors.
6. USGA CLAPS BACK AT JUSTIN THOMAS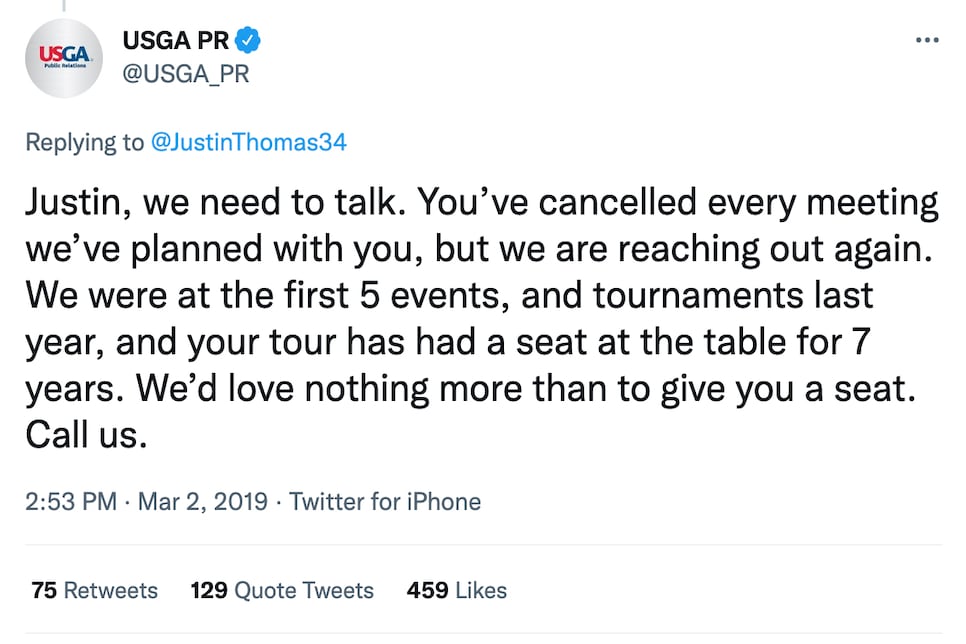 CONTEXT: An already strained relationship between the USGA and some players in the men's pro game was further frayed with a 2019 revision to the Rules of Golf. After a curious two-stroke penalty during the 2019 Honda Classic involving Adam Schenk, Justin Thomas tweeted: "Grow the game," with a screenshot of Schenk's penalty. Thomas clarified that he "hopes the USGA starts communicating with the current players to better the game [and that] going forward, communication is had and all golfers benefit from any changes." Everyone has a breaking point, and it appeared Thomas' remarks pushed USGA officials past theirs. "Justin, we need to talk," the USGA tweeted. "You've canceled every meeting we've planned with you, but we are reaching out again. We were at the first 5 events, and tournaments last year, and your tour has had a seat at the table for 7 years. We'd love nothing more than to give you a seat. Call us."
WHY IT WAS CONTROVERSIAL: A governing body singled out one of the game's best players. Three days later the USGA backtracked: "After further and more direct conversations with Justin Thomas, we realize he did not avoid a discussion with the USGA nor cancel any meetings. We value his and all players' opinions and are committed to a productive dialogue as the golf world adjusts to the modernized rules."
VERDICT: USGA officials let emotions get the best of them, but the organization's relationship with players has improved drastically since then.
7. A STORY THAT'S ALL BARK, NO BITE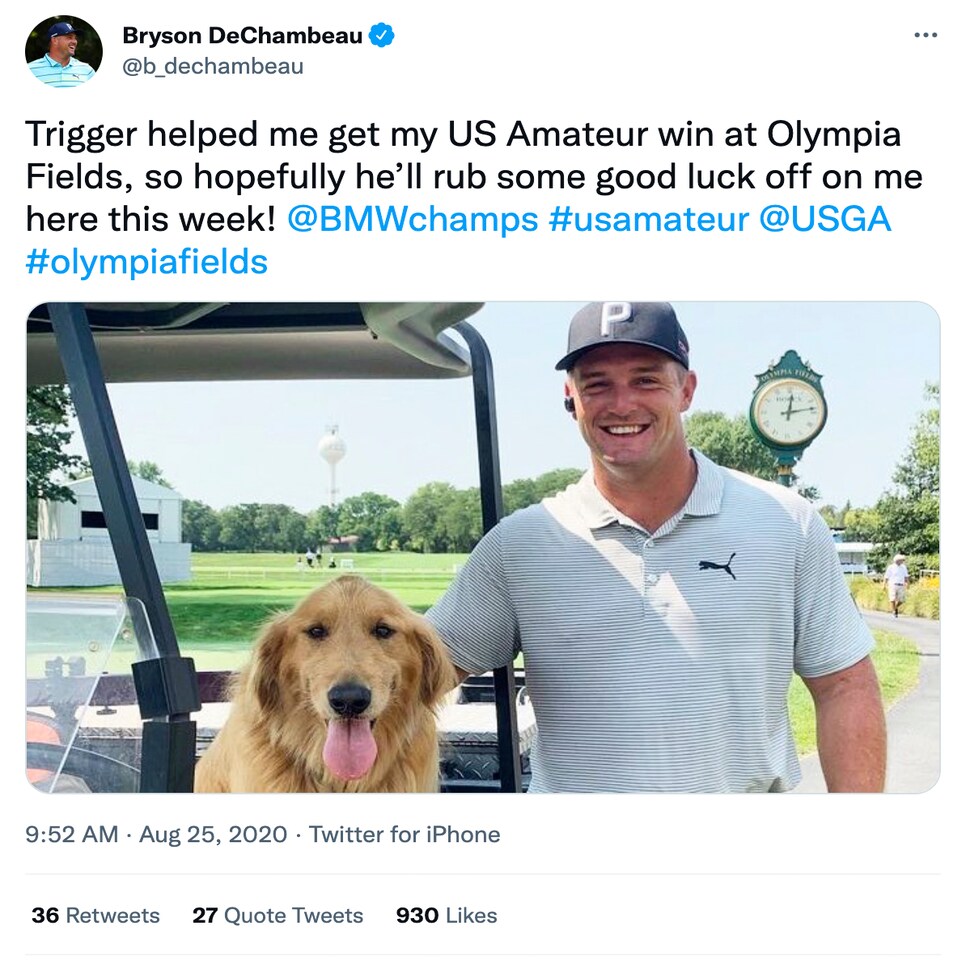 CONTEXT: The BMW Championship visited Olympia Fields in 2020, a course where DeChambeau won the 2015 U.S. Amateur. Early in the week, DeChambeau posted a photo of himself standing next to a dog, Trigger, who called Olympia Fields home. "Trigger helped me get my U.S. Amateur win at Olympia Fields, so hopefully he'll rub some good luck off on me here this week!" DeChambeau wrote. The PGA Tour's Twitter account posted a similar tweet. One problem: Internet sleuths, led by the Fried Egg's Will Knights, discovered Trigger didn't come to Olympia Fields until 2017.
WHY IT WAS CONTROVERSIAL: Boy, do people hate perceived insincerity, and with DeChambeau coming off a number of PR hits, posing with a dog that wasn't alive at his U.S. Am win appeared to be a publicity stunt gone wrong. However, it was later discovered that Trigger's father, Divot, was at Olympia Fields in 2015, making this a big misunderstanding.
VERDICT: This incident is proof that the Twitter cauldron can make much ado about nothing.
8. JAMES HAHN VS. PGA TOUR SCHEDULE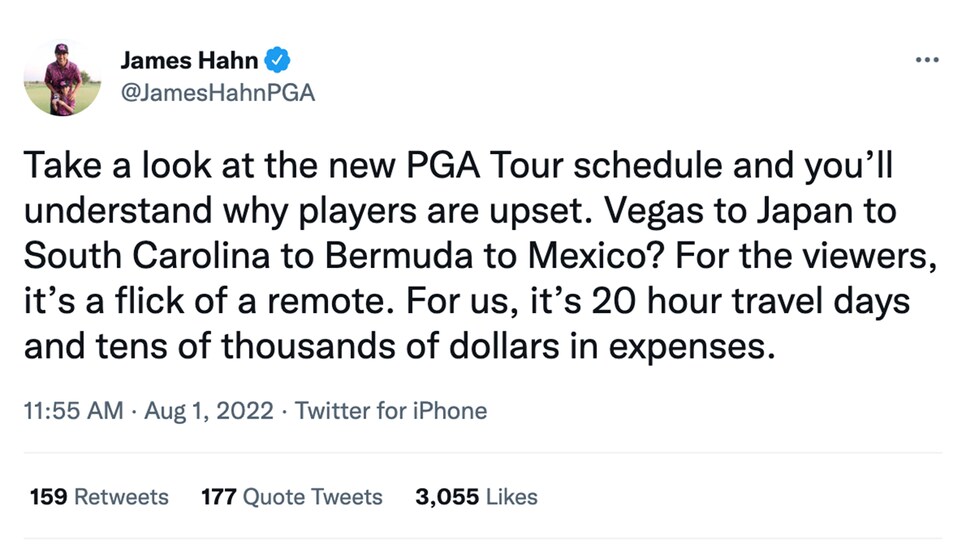 CONTEXT: When the PGA Tour released its 2022-'23 schedule on Aug. 1, Hahn let the world know how he felt about the fall portion. "Take a look at the new PGA Tour schedule, and you'll understand why players are upset. Vegas to Japan to South Carolina to Bermuda to Mexico? For the viewers, it's a flick of a remote. For us, it's 20-hour travel days and tens of thousands of dollars in expenses." Hahn said the tour should be playing in cities with NFL teams and not "Bermuda or Puerto Rico."
WHY IT'S CONTROVERSIAL: It was partially perceived as disingenuous; few if any players compete five consecutive weeks in the fall; Hahn did so once last autumn and zero times the previous season. Some LPGA Tour players weighed in, telling Hahn if he didn't like the PGA Tour itinerary, he should check out their globetrotting schedule. But most of the outcry can be distilled into the notion that the public has little appetite for a multimillionaire complaining about traveling the world to play golf.
VERDICT: Traveling can be a pain, and the tour might benefit from visiting bigger markets that they don't reach, but given the schism threatening professional golf, Hahn's remarks were a classic case of failing to read the room.
9. THE 4-HANDICAP KNUCKLE-DRAGGER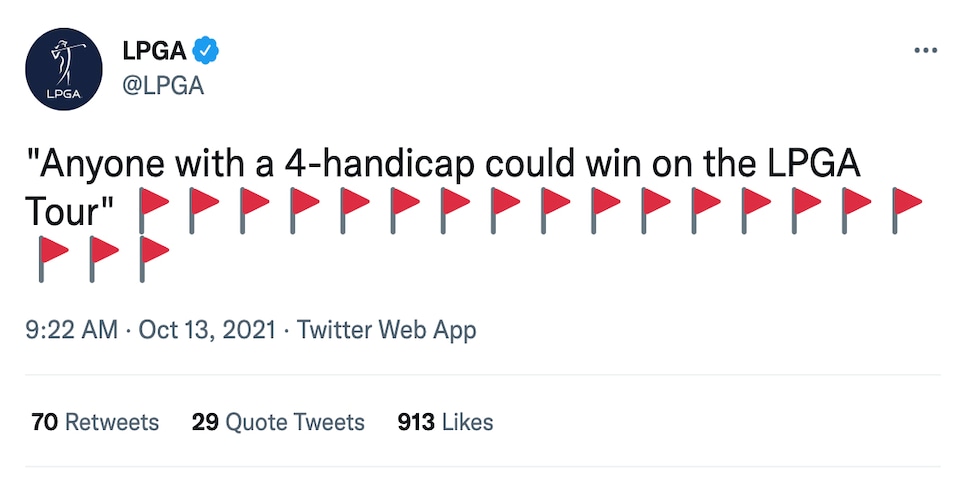 CONTEXT: As golf was gearing for its return from the pandemic shutdown, reporter Randall Mell noted the whopping pay disparity between the PGA Tour ($100,000) and LPGA Tour ($5,000) stipends for COVID-related withdrawals. An anonymous Twitter handle by the name of JPJ replied, "There are thousands of men who could win weekly on the LPGA Tour. Anyone with a 4-handicap would likely shoot mid-60s from forward tees." Seemingly every LPGA player with a Twitter account responded, most with GIFs that hovered between comical and indignant, with Jane Park chiming in, "I'm 7 months pregnant. Want to go head-to-head?"
WHY IT WAS CONTROVERSIAL: Female players constantly must deal with a variation of JPJ's nonsense—that their game is somehow inferior because LPGA Tour players don't hit it as far as PGA Tour players. It's a take that's more wrong than mustard on ice cream, and we have proof. At this year's LPGA's Hilton Grand Vacations Tournament of Champions, former tennis star Mardy Fish—a plus-3.0-handicap at Bel-Air who played in a PGA Tour event this year—shot a four-day 306 total in the amateur competition. Playing the same course from the same tees in the same conditions, Danielle Kang shot 272—a 34-shot difference.
VERDICT: Women already have to deal with countless forms of misogyny. Don't bring that nonsense to the golf course.
10. A POSSIBLE BURNER EXPOSED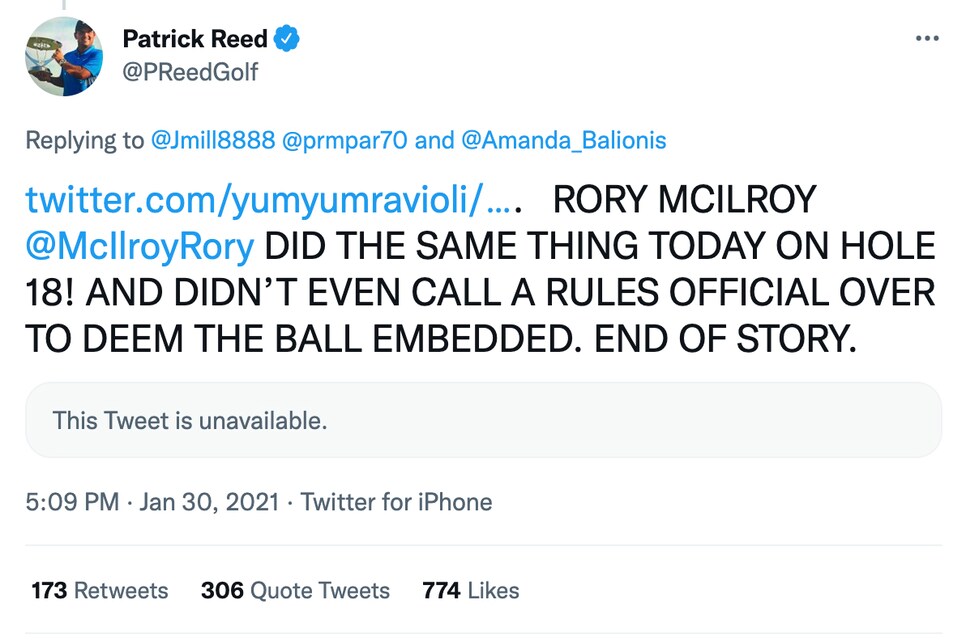 CONTEXT: After another Patrick Reed rules dilemma at the 2021 Farmers Insurance Open, Reed's account wrote, "Rory McIlroy did the same thing today on hole 18! And didn't even call a rules official over to deem the ball embedded. End of story." Twitter users pointed out that the account handle "useGolfFACTS" had sent a similar message to various Twitter accounts in defense of Reed and speculated that it was a burner used by Reed's team.
WHY IT WAS CONTROVERSIAL: Reed is a polarizing figure. Aside from the peculiar defenses of Reed's behavior, useGolfFACTS said Reed's two-stroke penalty for improving his lie in a waste bunker at the Hero World Challenge was doctored footage, and the account had disparaged Reed's competitors, the majors and the PGA Tour, which could possibly breach a section of the player code of conduct that addresses such public criticism. A lawyer for Reed told Golf Digest that the person who ran Reed's Twitter account does not run the useGolfFACTS handle.
VERDICT: The alleged burner continues to, well, burn. This is mostly a harmless controversy, although it follows Reed wherever he goes.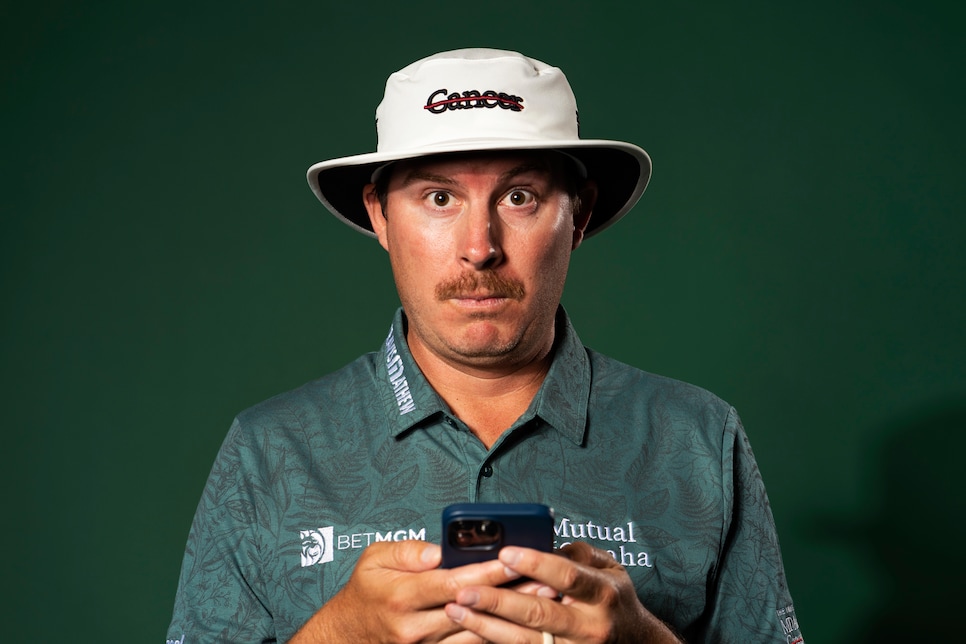 My best tweet of 2022 was a group effort: Keith Mitchell, Brian Harman, J.T. Poston and I were flying from Greensboro to Memphis after Bryson DeChambeau's confusing performance on Fox News when he compared LIV Golf to a new pizza parlor to Tucker Carlson. The boys and I were eating pizza and drinking beers when Mitchell had an idea. "We could totally roast DeChambeau right now."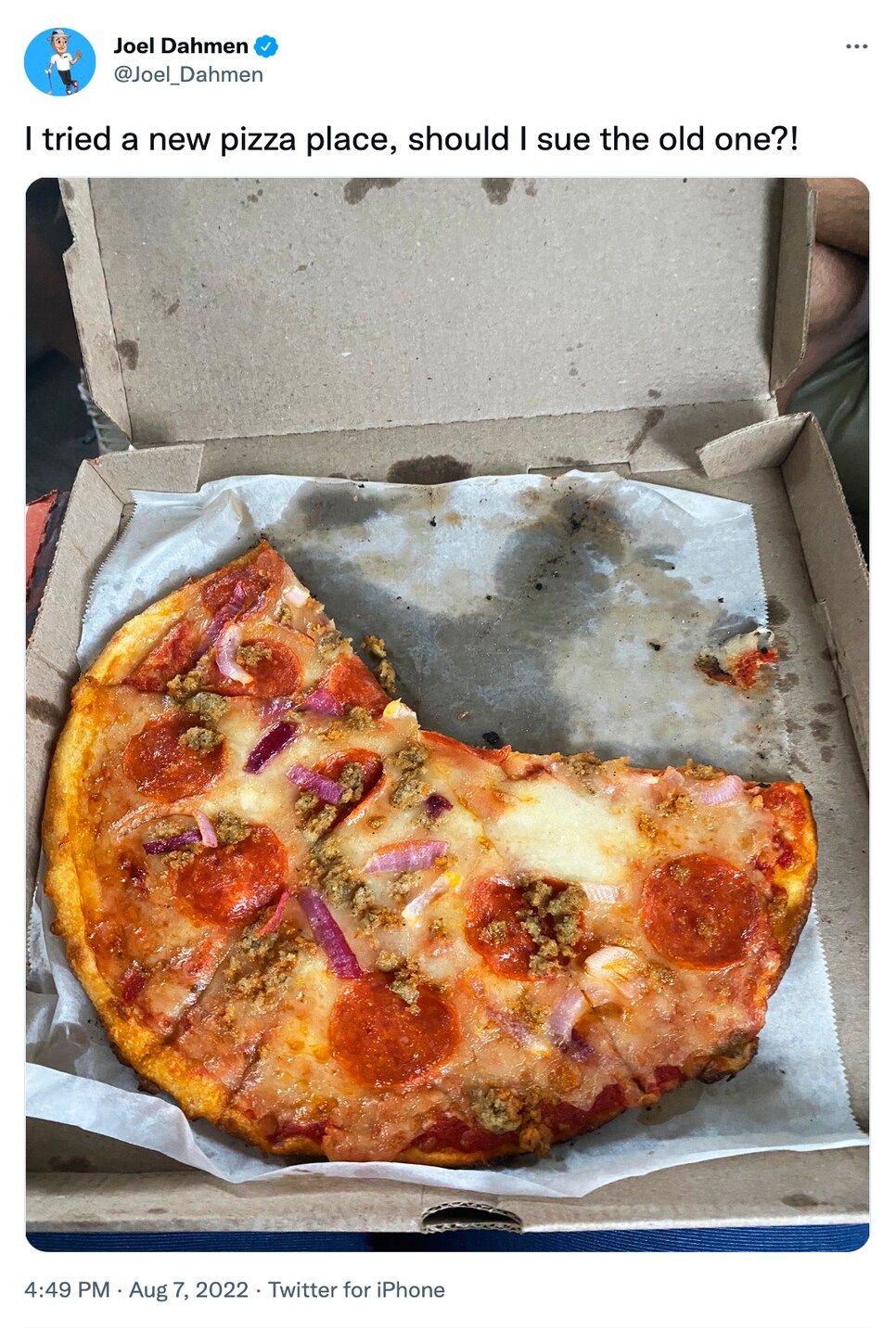 The four of us spent 30 minutes laughing and crafting the words—no mention of names or the tour that might give it a nasty tone. We decided I would send it because I have the most followers. Few things are more fun than a tweet that lights the world on fire, if only for a few hours.