The Fringe
Sports-talk-show host Chris Russo has some spicy takes on golf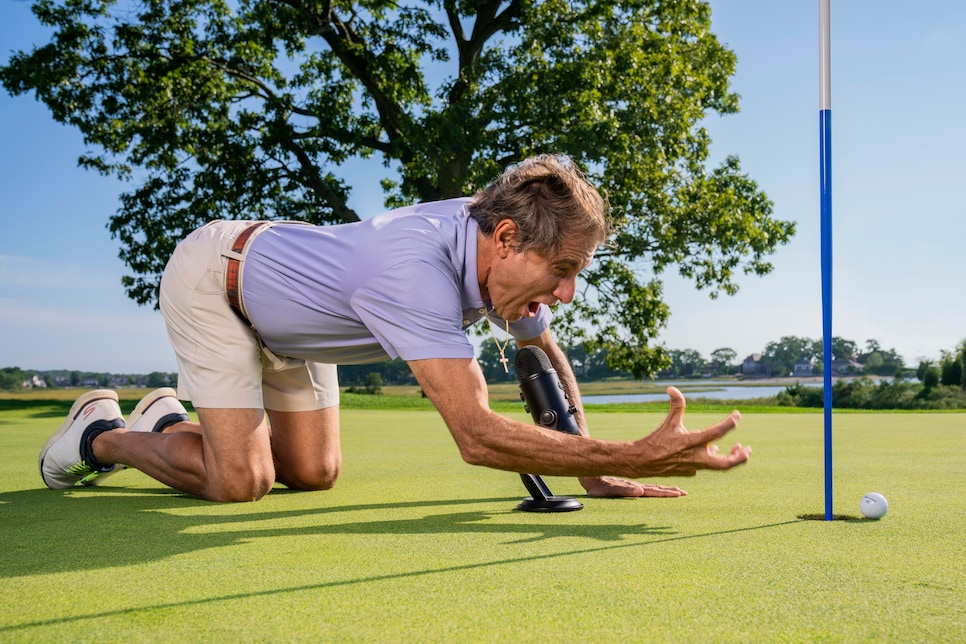 It's a tranquil fall morning at Shorehaven Golf Club—just not on the patio where Chris Russo is ranting to the delight of a long-time listener, first-time caller. Only I'm not holding a phone but rather sitting next to one of the most popular—and animated—sports-talk-show hosts ever. Russo, better known as "Mad Dog," has been talking mostly about golf for an hour, but as we start to wrap up a lively conversation, we begin riffing on topics like the recent retirements of Roger Federer and Serena Williams, the greatest NBA teams of all time, and Chris Paul versus Bob Cousy.
We disagree on the latter—let's just say Russo is a staunch defender of the old guard, including old point guards—but I still emerge smiling from the spirited back-and-forth chat like countless callers who have interacted with him through the years. The radio legend's career first took off in the New York market alongside Mike Francesa on WFAN's "Mike and the Mad Dog" show. But after that pair's iconic 19-year run, Russo has been a solo, national act, and the face—well, voice—of SiriusXM's Mad Dog Sports Radio channel for 14 years. "I've been very lucky, right place, right time," says Russo, 63, who was inducted into the National Radio Hall of Fame on Nov. 1. "I've tried not to make the colossal error, which can kill you."
The same can't be said of his golf game. Russo, a father of four who lives with his wife, Jeanne, in New Canaan, Conn., plays to a 15-handicap at nearby Shorehaven in large part because he can't avoid the occasional big number, but that doesn't keep him from participating in the club's various tournaments and engaging fellow members in sports debates. If you listen to his SiriusXM afternoon show, "Mad Dog Unleashed," you've undoubtedly heard him talk about his rounds in painstaking detail—emphasis on the pain. As with his commentary on professional athletes, he doesn't hold back. "The people who play with me get nervous that if they suck, I'm going to bring it up on the air, which I've done millions of times," says Russo, who was particularly feisty earlier this summer when his teammate in the Governor's Cup made a 10 on the seventh hole. (Russo made 10, too, but believes the 7-handicapper deserved most of the blame.) "You've got to take your jabs. You've got to have fun. That's the danger about playing with me. You're gonna hear about it."
Actually, it doesn't take much to get Russo going, and, oh, does he have some spicy takes on golf—starting with one of the game's most sacred locations. "I thought St. Andrews was overrated," says Russo, who played there for his 60th birthday in 2019 when he led a 12-buddy group in a Ryder Cup-like event. "There's too much going on. There are so many courses. There are balls being hit all over the place. A lot of the holes in the middle are very similar."
When it comes to the real Ryder Cup, Russo breaks into his signature quicker—and louder—cadence to address the current ban on LIV golfers competing in the biennial event. "If they don't let them play next year in the Ryder Cup, I don't want to watch," says Russo, who added that LIV has provided a huge uptick in the amount of golf calls he gets during his SiriusXM show. "The Presidents Cup is already a joke. No Cameron Smith? You're taking the best player in the world away!"
Russo is an advocate for more match play in the pro game and, not surprisingly, given his old-school bias, he takes Jack Nicklaus over Tiger Woods. "Tiger faced better depth, but Jack beat more top-tier players." As for LIV Golf, Russo is most bothered by what he sees as hypocrisy from its critics. "My issue is, I don't wanna hear people killing the golfers when NBC's got deals with the IOC, when the NBA's got deals with China," he says. "Who says that Harold Varner can't get a hundred million dollars? You'd probably do the same thing!"
Russo signed a contract he "never saw coming" this year with ESPN, making weekly Wednesday appearances on the network's "First Take" morning debate-style program headlined by the equally energetic Stephen A. Smith. At an age when most people are thinking about winding down their careers, Russo found another layer to his that has introduced him to a younger audience.
'I thought St. Andrews was overrated. A lot of holes in the middle are very similar.'
Turns out that you can teach this old Mad Dog new tricks. As part of the transition to TV, Russo says he purchased a fresh rotation of suits—"If you don't look good, Stephen A. is going to give you a hard time"—and hired a hair stylist ahead of his Wednesday spots. But once the cameras are rolling, it's the same Chris Russo who has been entertaining audiences with passionate sports takes for nearly 40 years.
"I know how to embellish it, how to sell it," says Russo, who bristles at the term "shock jock" but has managed to go viral several times this year thanks to his trademark rants. "I know how to make it a little bigger than it really is, but the origin of the opinion is real."
On this day, Russo is aware that he's going "to get pounded" for one of those opinions. A clip of him saying he would take Kirk Cousins over Lamar Jackson had made the rounds the week before, and the Minnesota quarterback had just played dismally on Monday Night Football. "You have to be prepared for that. They're not gonna remember what you got right. They're gonna remember what you got wrong," Russo says. "But you can't concern yourself with it one way or the other. You just go out there and do your thing."
Russo continues to do his thing at a time when the country seems as polarized as ever regardless of the topic. He knows he has done his job well when he gets people calling in to yell at him. He also knows there are far more serious things happening away from the sports world.
"This is not life and death," Russo says. "I try to treat it that way."
During this morning, Russo treated me just like any of his loyal callers—pushing back when we didn't agree but also tossing me a coveted, "That's a good job," when I made a persuasive point. After our meeting, I swelled with pride when a club employee asked if we had just taped a segment for his show. It seems Mad Dog is always on, even when he's not on the air. "There's probably going to be a day that they're gonna throw me the hell off because of something I say, but I'll worry about that down the road," Russo says. "I've lasted this long. Hopefully, I can last a little longer."