Editors' Choice
*All products featured on Golf Digest are independently selected by our editors. However, when you buy something through our retail links, we may earn an affiliate commission.*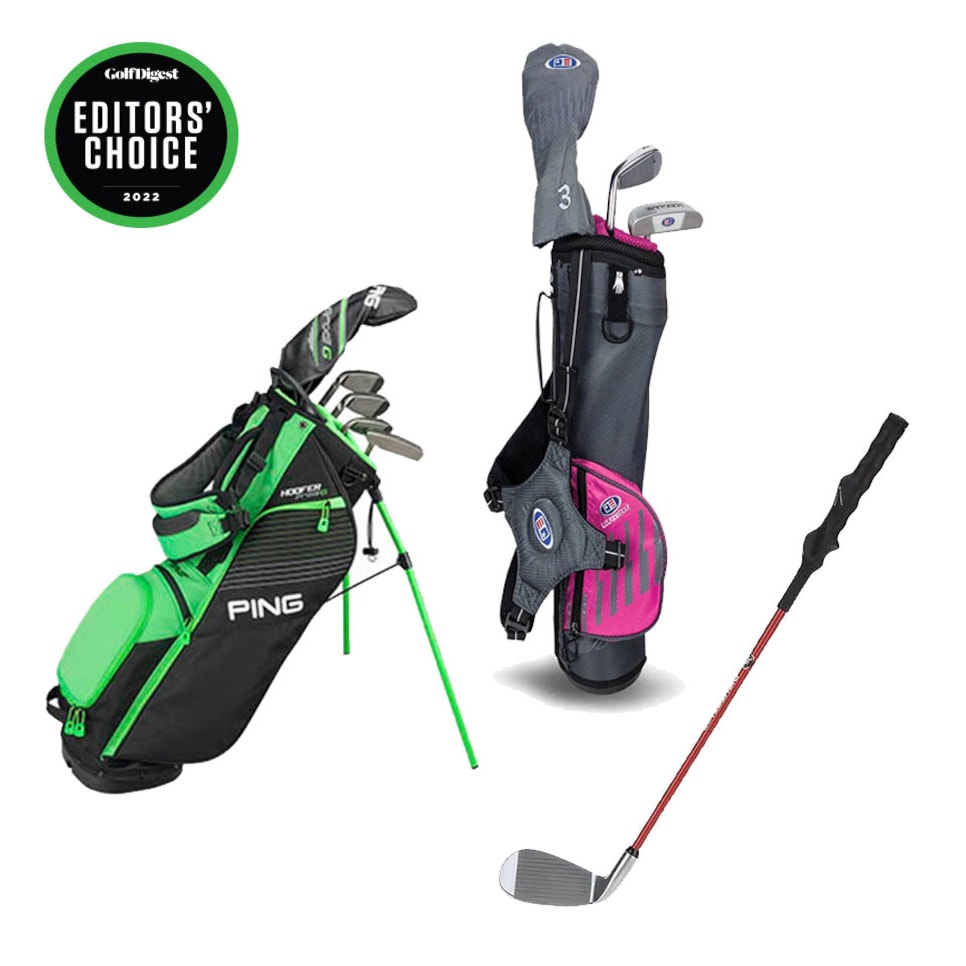 Whether it's your toddler or teen, there should be nothing childish about the golf equipment they use. Little Bobby or Brittany isn't going to get overly excited about the 45-yard ground ball so of paramount importance are sticks that provide the addicting satisfaction that comes with getting shots in the air. These makers of junior equipment differ in approach, but all succeed in producing clubs to make that task considerably easier, which isn't exactly child's play.
Related: Six companies you should know about if you have a junior golfer in your life

*Editors' Note: Winners in this category were selected and vetted by our editors in 2021. Under the new standards of Editors' Choice, all products must undergo a more in-depth testing process. Until a fuller review of the product and category is completed, our editors agree that these winners may earn recognition for another year as legacy Editors' Choice Winners.
U.S. Kids Yard Club
Sometimes the best equipment for those just getting started is outside the norm. U.S. Kids realizes that with its Yard Club. It's got a light oversized clubhead with a flexible shaft and training grip specifically designed to help make golf easier for the younger set. The Yard Club is available in 10 sizes and comes with foam golf balls to let the kids swing away at home without fear of breaking glass.
U.S. Kids Ultralight
"I always made sure Tiger had clubs that fit," said Earl Woods, the late father of Tiger Woods. Unfortunately for many kids, that's not easy to do, especially with the inevitable growth spurts. U.S. Kids' Ultralight model solves that issue by offering lightweight clubs (10 to 30 percent lighter than an adult club) in nine different sizes for kids ranging from 39 to 66 inches in height. As for those growth spurts, the company offers a "grow up, trade up" program allowing old sets to be traded in for credit towards a new set, with the company picking up shipping costs, too.
Ping Prodi G
Ping's reputation for creating quality clubs is unquestioned and that extends to its Prodi-G junior clubs that provide a nice transition toward adult clubs, Prodi G clubs are all custom built to allow for proper fitting. Ping's "Get Golf Growing" program offers a one-time, no-charge club adjustment to sets of five clubs or more purchased in one transaction as children continue to develop while the lightweight carry bag encourages your young one to hoof it when playing.
How to find and select the best junior golf clubs
If your kiddo has exhausted their plastic set of clubs in the yard, it's time to graduate your child to the driving range, and with that major life step, a new set of golf clubs. The following guide will walk you through what can seem like a daunting task, helping weigh the options when it comes to purchasing an entire set versus individual clubs, what accessories to buy, whether renting is suitable, and how to fit your growing kid for the best set of clubs that will not only last them as long as possible, but help nurture their love for the game.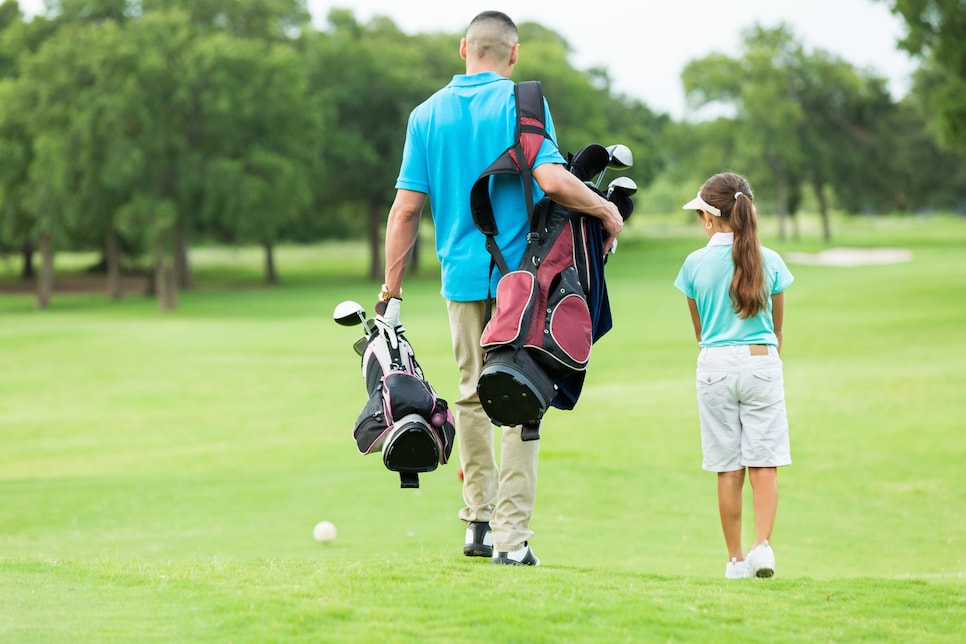 How many clubs does my child need?
If your child is younger than a teenager, and perhaps the first youth in your family to take up the sport, they will likely need a full junior set of golf clubs from the get-go (this typically ranges from 6-10 clubs). If this is the case, it's easier to buy a set of clubs that comes with a bag, irons, woods, and a putter. This is often more cost-effective and has the benefit of being designed to grow with your child, so they will be able to maximize the set, and replace clubs as needed from there. Some companies even offer deals when buying an entire set, so when your child grows out of it, you can trade it in for a larger set.
And once your child is hooked, buying a set is likely more financially advantageous than renting one—especially if it seems like your child might pass on their love of golf to other young family members who might be able to benefit from the family set as well.
What should I look for in my junior clubs?
Just like with adult gear, there's a lot to consider, and the player should have a say in how their clubs feel as well. One of the most important factors in a set of child clubs is weight: the best junior clubs optimize lightweight technology, so kids can swing smooth and easy (which can sometimes prove frustrating for even the pros). The next important factor is sizing, of course. Unlike adult clubs, junior clubs are designed to "grow into it," so to speak, but only to a point. It's not uncommon to choke down to 1-1.5 inches on a kids' club, but any more than that can make the swing too clunky, and your child frustrated (and even injured).
Many junior clubs are sold by age group. Isn't it more about height than age? But children develop so differently, that it's important to think about the age ranges as a physical number—so if your child is 12 years old but very small for their age, you might be better off buying a set of clubs that's technically for a younger age range. And likewise, for a 6-years-old on the stronger-side, you may want to "age up."
While the shaft is rightfully one of the most important factors, another aspect to consider is durability, especially considering how likely your kid is to bump their club heads against obstacles. A stainless steel head will be more durable, for example, than an aluminum alloy alternative. For those particularly accident-prone, helping them pick out a fun club cover for their driver or putter might be a good idea.
Finally, you'll want to pay close attention to the grip. Kids' hands range in sizes, so you'll want to look for a club that they can comfortably grasp in their fingers, and hold onto as they swing. (Gloves that fit snugly will also help with this.)
One note: resist the urge to convert your used clubs into junior sizes! Junior clubs are specially designed to feature flexible shafts that take the entire club architecture into account. If you simply cut down your clubs, the physics will be off the club will be too heavy, the shaft will be incredibly stiff—and that won't help foster your kids' newfound, and hopefully lifelong, passion. Give them to the next golfer in line, or save those old, storied clubs for when they're older (and might appreciate them more as well).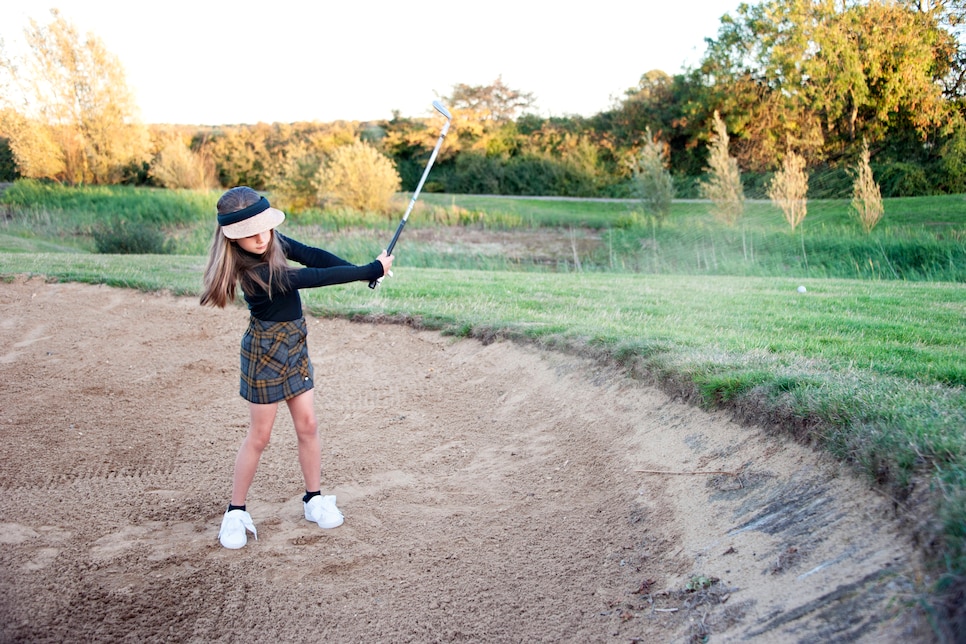 How can I help my child get fit for golf clubs?
You'll want to call your local golf outlet or pro shop ahead of time and request a fitter with expertise in junior clubs. Fitters with experience working with kids often bring a more playful energy to the fitting experience (which can be quite daunting for youngsters) and specialize in the junior clubs' market.
If your child is signed up for kids' clinics or lessons, instructors often have a few backup sets of clubs available which you can have your child experiment with to get a feel for different types of clubs and what they might like themselves.
Once you've found the right set of clubs for your child, make sure to check in with them often, say, twice a year, to ensure the clubs still fit.
What accessories do I need to go with my kids' junior clubs?
Your child could use a golf glove. Especially as younger golfers set out, snugly-fit gloves will help protect your child's new skin from blisters, and the club from slipping out of grasp.
When kids are this young, in addition to ensuring they're outfitted as best as you can, it's also helpful to think about ways to encourage their love for the game, whether that means colorful golf balls for the putting range, or sparkle-infused sunscreen for the golf bag. Once they have proper athletic attire for the range, clubs, bag, and sun protection gear, the rest is up to you and the level of intensity your child demonstrates for the game.