SPONSORED
Adidas re-releases golf versions of the iconic Samba, Stan Smith and Superstar in limited-edition capsule
* In partnership with adidas. All products featured on Golf Digest are independently selected by our editors. However, when you buy something through our retail links, we may earn an affiliate commission.*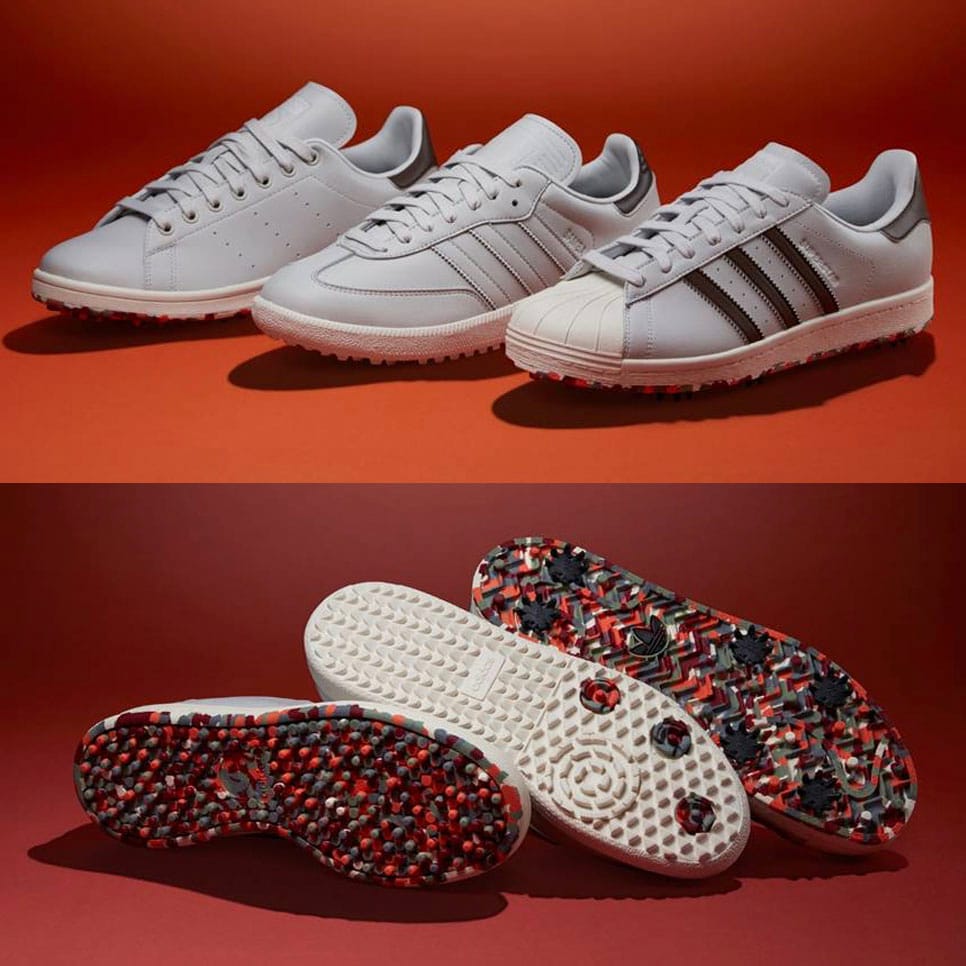 In recent years, the golf shoe design team at adidas has leaned heavily on the global brand's most trusted shoe models released in its 74 years of existence to develop golf shoes for brand loyalists and golfers looking to incorporate iconic street-style footwear styling of models—like the Stan Smith, Samba and Superstar—into their on-course attire.
RELATED: The best men's golf shoes and The best women's golf shoes of 2023
The oldest of the Icons trio, the Samba dates back to 1949 as one of the German brand's first shoe models. It was produced with soccer players in mind, the outsole's gumsole laden suction design aimed to help athletes train on hard, slick surfaces. In its golf version, originally released in 2022, suction cups were replaced with three lugs to provide additional traction to the spikeless outsole.
The waterproof microfiber upper features a soft gray colorway with a hit of brown at the heel and a subtle multicolor addition to the lugs. It's a low profile shoe designed for comfort, to be easily worn off the course and for versatility, with the simple gray palette able to match with almost anything.
Originally released as a low-top basketball shoe in 1969, the Superstar shoe was a sport and style staple for decades, being worn by the Milwaukee Bucks' Kareem Adbul-Jabbar during the 1970-1971 season and frequently Run-DMC after the group's hit song "My Adidas" was released in 1986.
The rubber shell-like toe capped shoe was introduced into the golf line in 2020 with adidas' recognizable 3-Stripe design across the midfoot and zigzag outsole design surrounding six strategically placed cleats.
"The Superstar is a timeless piece of footwear that's recognized and worn by people all over the world," Adidas Golf global footwear direction Masun Denison said when it was released in 2020. "It's always stood for those that are eager to push boundaries as well as stand out from the crowd, and we wanted to bring that style and mentality to the course."
Making a return after a short hiatus, the Icons Pack version of the Superstar Golf Shoe is primarily gray with hits of dark brown at the heel and stripe design. The outsole features a marbled design combining gray, a silvery green, burgundy and shades of orange.
The 2023 version has a quieter design with gray on the upper and a pop of color at the spikeless outsole, featuring the same marbled pallet on the outsole of the Superstar and on the lugs of the Samba.