Shoe News
Adidas releases first Ultraboost Golf Shoe, available now
*All products featured on Golf Digest are independently selected by our editors. However, when you buy something through our retail links, we may earn an affiliate commission.*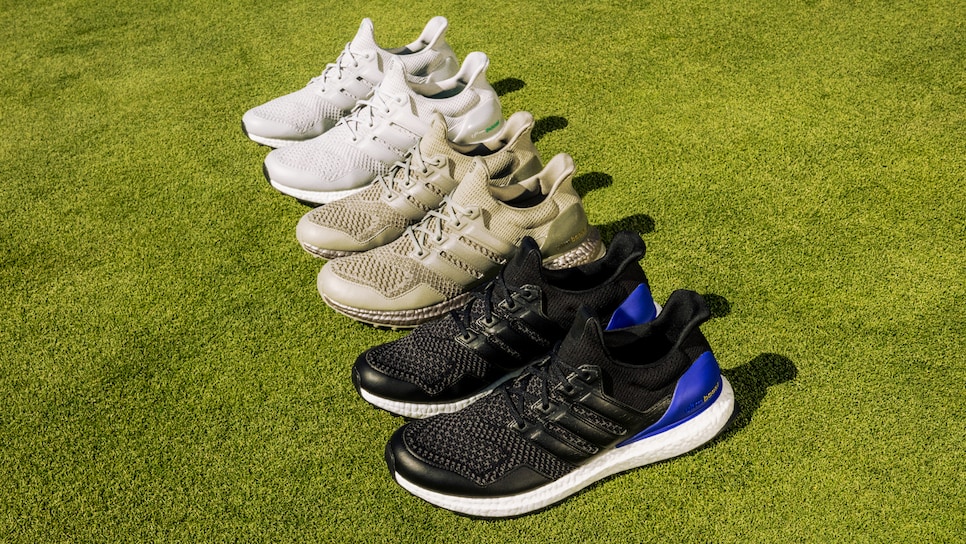 Sneakerheads and runners will recognize the sporty ultraboost silhouette on the newest golf shoe from adidas. Available for men and women, the Ultraboost spikeless golf shoes first went on sale April 13 in a limited-edition olive colorway for adiClub members exclusively. The public release for two color additional options—black with purple and gray with green—is today. Here's an early look at adidas' first Ultraboost golf shoe available at adidas.com.
Retailing for $200, the Ultraboost golf shoe mirrors the street shoe version with a knit-like construction and rubber outsole. The extended sockliner gives it modern styling and a little extra coverage to prevent blisters from forming. Aligning with the brand's commitment to using recycled materials, the water-resistant yarn used on the upper is made in part from plastics recycled from the ocean.
RELATED: If you like these high-fashion sneakers, try these golf shoe styles
Providing lateral stability during the golf swing, the Ultraboost features a textured saddle and TPU heel clip that keeps the foot in place. In addition to providing spikless traction and energy return, the lugs are polished with an anti-clogging technology to prevent grass and dirt from sticking to the traction pattern and reducing grip.
Today is the official release date for the Ultraboost golf shoe that will come in two additional colorways. The black version is brightened up by a blueish-purple shade surrounding the heel as an ode to the original Ultraboost sneaker released in 2015 with a similar look. The second shoe is an all-gray golf shoe with subtle hints of green throughout the design.