SPONSORED
Neutrals versus bold brights: The best golf pullovers and quarter-zips to match your style and stay warm
*In partnership with adidas. All products featured on Golf Digest are independently selected by our editors. However, when you buy something through our retail links, we may earn an affiliate commission.*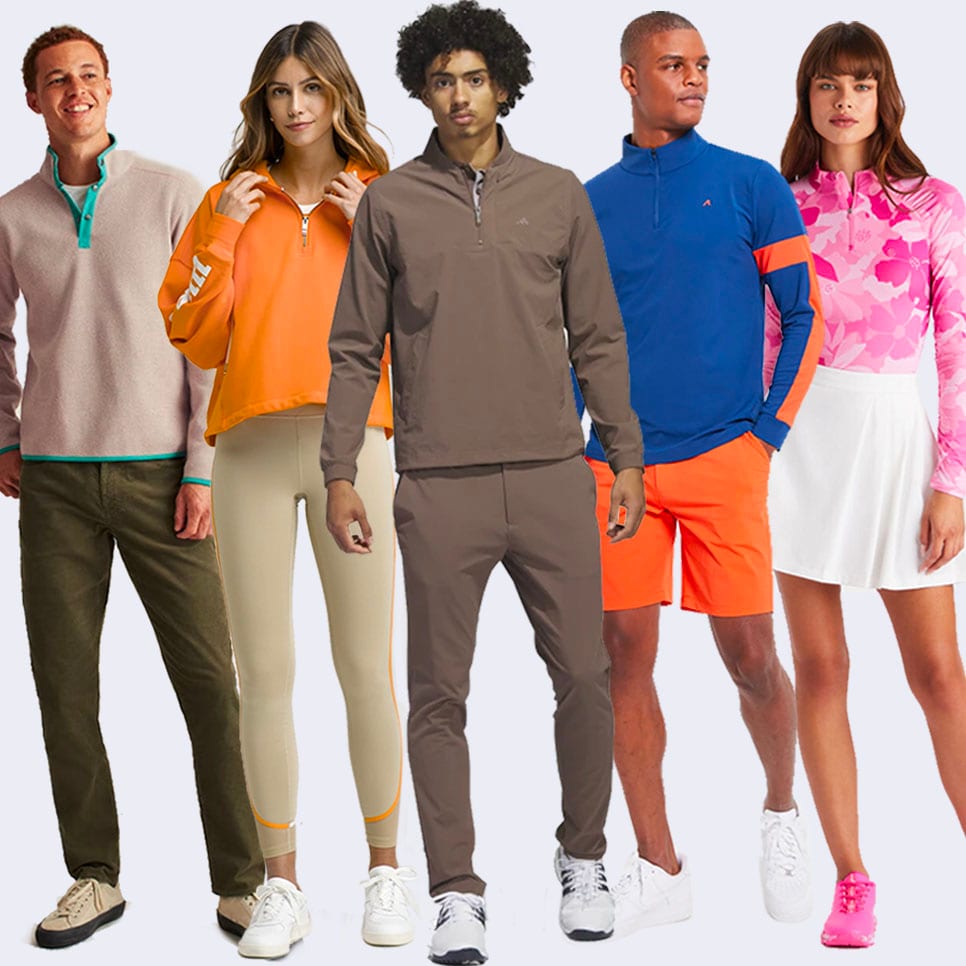 There are two very opposite trends in the golf fashion world right now. On one end of the spectrum, neutral colors have been on-trend for a while with beige, brown, gray and other quiet tones having a major moment. These pieces are easy to pair with, create refined outfits and may even be able to help you become a more consistent golfer. The second color trend many golfers choose to express themselves on the golf course is bold, bright, head-turning color palettes that are designed to make a statement. Bright colors started to creep back into the golf fashion world when G/FORE's colorful golf gloves hit the map in the late 2010s, but the colorful trend is now an unmistakable part of golf fashion, head-to-toe. It's a bold look that requires a little more thoughtfulness in pairing and layering, but with the right pieces will create a stylish, modern and energizing look your playing partners won't soon forget.
As early-spring golf rounds start to become more and more feasible for golfers in colder climates, we've rounded up the best layering options for both types of golfers—and even a few options that combine the two.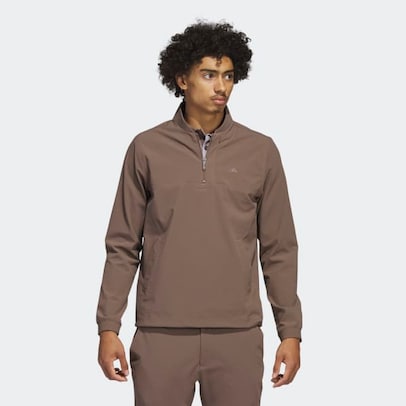 adidas Men's Ultimate365 Tour Stretch Golf Pullover
Both of these men's pullovers from adidas are weather-ready, have banded sleeves that will stay put while adding warmth and each have front pockets. This neutral pullover's earthy brown shade can be paired with lighter or darker shades of brown, cream colors or even some green trouser options, if you're feeling adventurous. Off the course, you can wear this pullover with black athletic jogger pants, or it'd even look great over jeans.
$130
|
adidas United States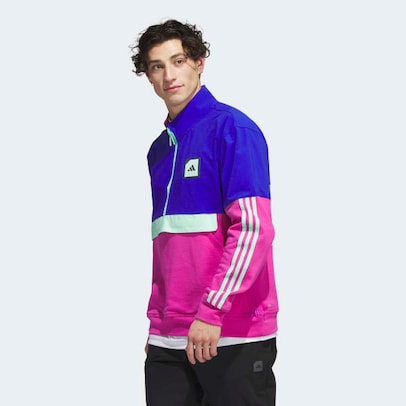 adidas Men's Adicross 1/2-Zip Golf Anorak
The adicross Half Zip Anorak features a range of highlighter-esque colors in a stylish colorblocked pattern. It's a bold and bright windbreaker that'll add hard-to-miss personality to any layering outfit. It's a great shell to layer with and the deep zip opening makes it easy to ventilate or take off mid-round as things warm up.
$120
|
adidas United States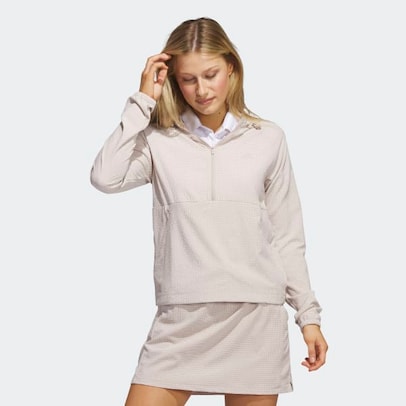 adidas Women's Seersucker 1/4-Zip Golf Hoodie
Seersucker is a stylish, textured fabric that looks great in soft, neutral tones. This lightweight taupe quarter-zip from adidas will require insulated base layers if you want to wear it in the shoulder season, but it will pair well with almost anything you have in your closet. Pair with brown or white tones for a neutral ensemble, or spice it up with bright pinks or turquoises for a balanced-yet-bold look.
$90
|
adidas United States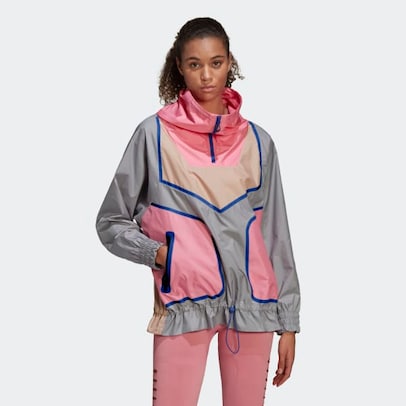 adidas by Stella McCartney Sportswear Half Zip Jacket
Showing how well brights and neutrals work together, the adidas by Stella McCartney half-zip has a modern athletic design to push style boundaries without going overboard. It's designed to hold up against the wind and light rain showers, is made with 100 percent recycled materials and has a bungee-adjustable hem to find the perfect fit among your layering options.
$120
|
adidas United States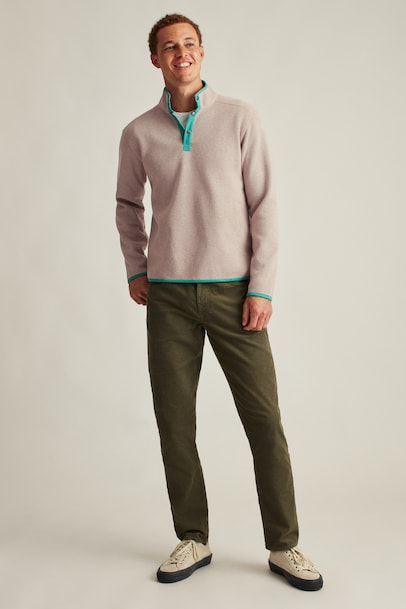 Bonobos Men's Sweater Fleece Snap Mock
With turquoise lining and placket details, this oat-colored snap pullover gets transformed from a quiet sweater-like layer into a retro, 90's-feeling statement piece. The blend of neutrals and brights creates an athletic and energized look, while the mock-neck finish makes it golf-ready. It's also currently discounted $90-off the original price.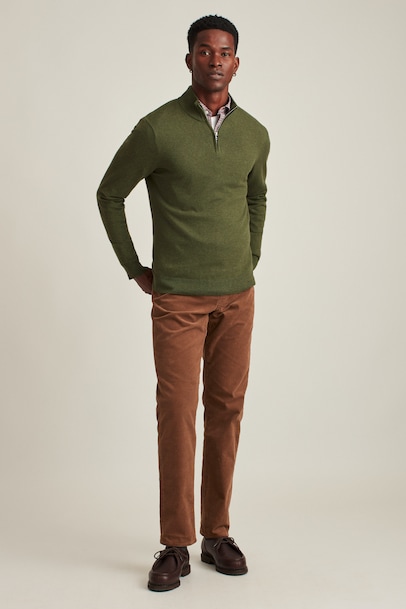 Bonobos Men's Cotton Cashmere Half-Zip
For a more traditional sweater look, but with a touch of color, this cotton-cashmere blend pullover from Bonobos will add an upscale finish to any golf look. Designed to transition into off-course looks with ease, the green shade is slightly heathered, so it'll pair well with neutrals like brown or beige to create a refined-yet-fashionable ensemble.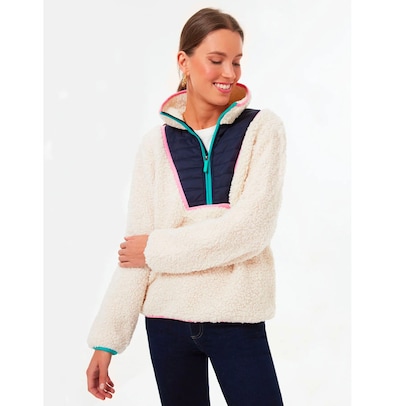 Tuckernuck Women's Cream Camel Sherpa Pullover
Sherpa is a fun trend to spice up neutral tones and stay warm. This cream pullover from Tuckernuck has hints of colors that add athletic styling and versatility to the piece. The stand collar is a great way to add warmth when the wind is at your back, but can be folded down when you need a little extra ventilation.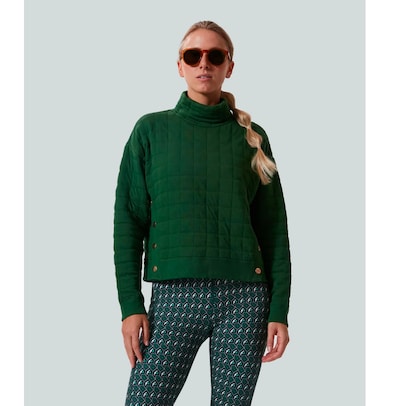 Tuckernuck Women's Fairway Green Quilted Funnel Neck Pullover
Funnel neck pullovers are a great option for golfers looking to add warmth to their shoulder season outfits, without sacrificing style. This quilted option is designed with a drop shoulder for full mobility in the golf swing and slimmer arms to prevent the garment from moving around or excess sleeve fabric from getting in the way.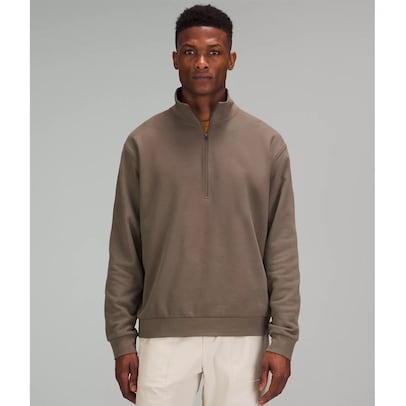 lululemon Men's French Terry Oversized Half Zip
This thick half-zip pullover from lululemon is made with a soft and breathable cotton fabric, has an oversized fit that is great for layering on the golf course and comes in a variety of color options to match any look.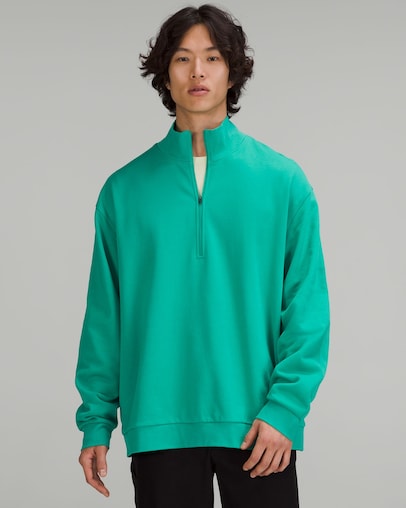 lululemon Men's French Terry Oversized Half Zip
The simple design of this pullover makes it easy to dress up or down, regardless of what color you choose. This greenish shade could go from the gym to the course to post-round drinks, enhancing each look with the clean silhouette and heavy fabrication.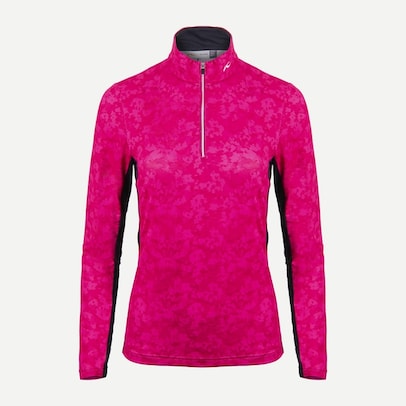 KJUS Women Sunshine Half-Zip
KJUS is a great place to find quality layering piece with unique designs. This women's half-zip comes in five color options and features a subtle embossed braided cable design. In pink, the design breaks up the eye-catching base color to make it more approachable. This UV-protective top would look great under a black or white vest for a sporty-yet-feminine on-course look.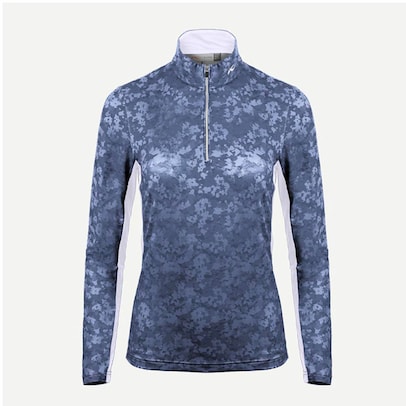 KJUS Women Sunshine Half-Zip
In gray, the embossed pattern on this half-zip has a more camo or tie-dye appearance, giving the simple tone a splash of excitement. It's a lightweight layering piece with a focus on sun protection and breathability, but will add a touch of warmth when layered properly.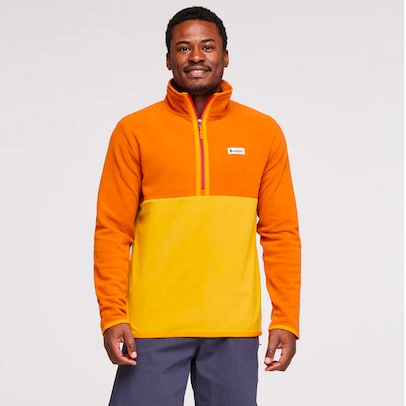 Cotopaxi Amado Men's Fleece Pullover
Cotopaxi is known for unique and personality-driven fleece pieces, and this orange-yellow pullover is no different. It's easy to layer over or under, has elastic binding at cuffs and hem, and can be paired with gray, black, khaki or blue trousers easily (and with a little courage).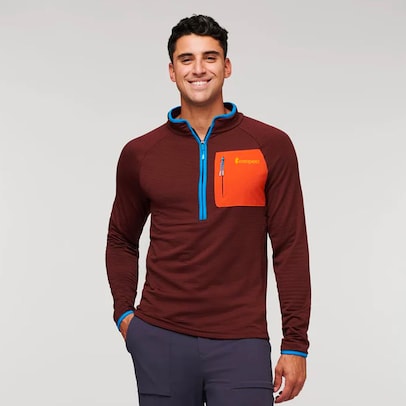 Cotopaxi Men's Otero Fleece Half-Zip Pullover
Playing with deep neutral shades and pops of bright colors, this fleece half-zip is a great way to test out some color without too much risk. It's a more fitted silhouette that won't move around during the golf swing and is made with a technical fleece designed for cooler temperatures.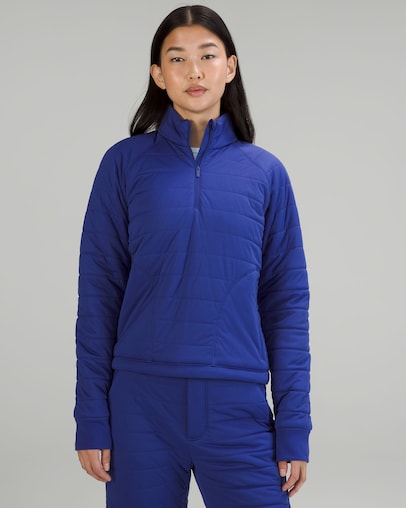 lululemon Women's Dynamic Movement Half-Zip
This wind- and water-repellant pullover is packed with a lightweight insulation with changing weather in mind. It's made to trap heat to regulate body temperature with fibers that stretch and move with you.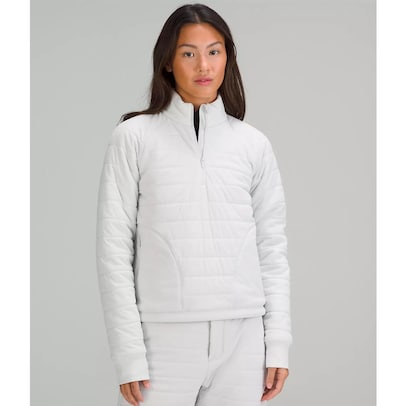 lululemon Women's Dynamic Movement Half-Zip
With a puffer-like style, it's a unique look to mix up your typical cold weather golf jacket options. It has a slimmer fit to optimize warmth and mobility, so if you plan on wearing this over a few layers, you may want to consider sizing up.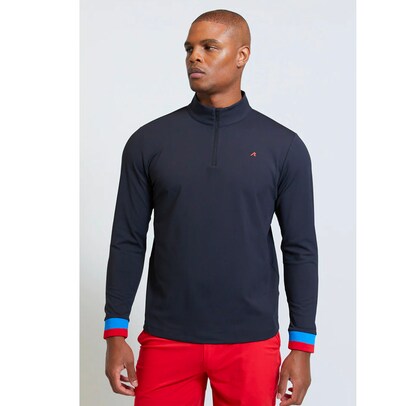 Redvanly Men's Hubbard Quarter Zip in Black
Another strong option for testing out colors, this stretchy knit quarter-zip from Redvanly is primarily navy with two stripes of color at the arm cuffs. The soft fabric has a slightly weighted feel and engineered to add warmth without impeding mobility.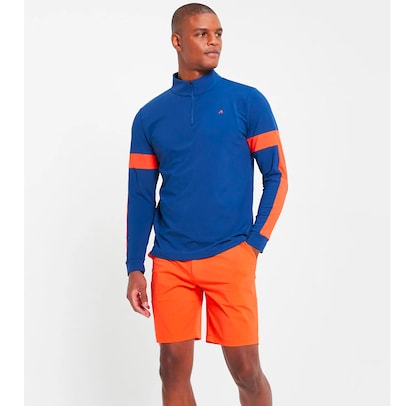 Redvanly Men's Fulton Quarter Zip in Classic Blue
A similar safe-yet-fun option, the Fulton Quarter Zip from Redvanly has a touch of orange on the primarily blue pullover. It also features the brand's poly-spandex fabrication that has an upscale look and feel, four-way stretch and moisture-wicking properties.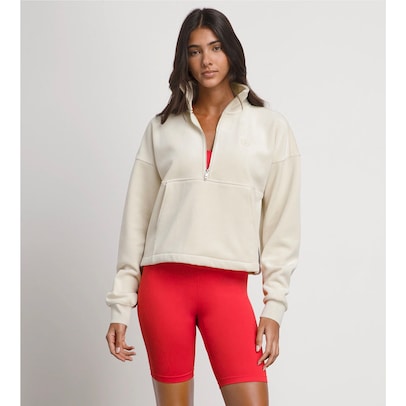 Wilson Women's Randolph Half-Zip Sweatshirt
Currently 40 percent off, this half-zip from Wilson is a versatile and stylish neutral women's layering option. The corduroy pattern gives the oversized sweatshirt a more refined look and feel while the adjustable draw cord at the waist allows for a customizable fit that won't move around during the golf swing.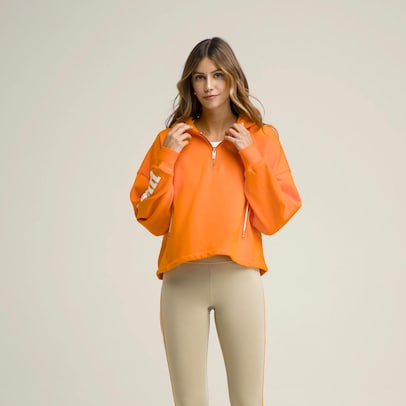 Wilson Women's Fly Crop Hoodie
With a slightly cropped fit, this bold pullover is designed with a stretch fabric that won't lose its shape after a few wears. It's a more casual option with a hooded design and graphic lettering on the arm that's great for brightening up chilly range sessions.
Peter Millar Men's Peter Millar Men's Perth Mélange Performance Quarter-Zip
Know for quality and upscale quarter-zips, Peter Millar has become a staple in most golfer's layering rotas. The classic Perth Mélange Performance Quarter-Zip comes in 11 color options ranging from this simple gray to brighter greens, pinks and even a cool neon yellow.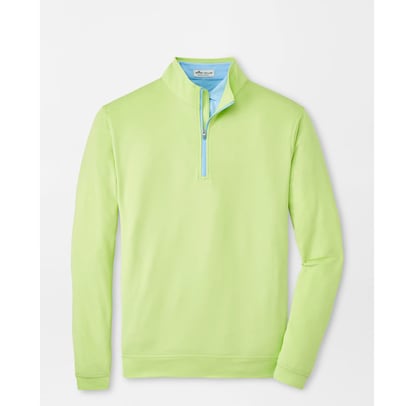 Peter Millar Men's Perth Mélange Performance Quarter-Zip
With four-way stretch and moisture-wicking properties, it's a performance pullover disguised as a refined outfit topper. It'll transition easily off the course and into dinner or office looks. Take a hint from the contrasting zipper pull as to which shades will pair well with this energetic shade.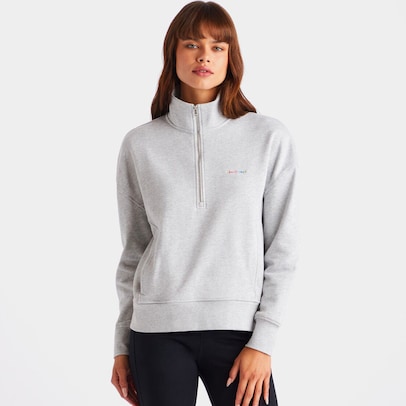 G/FORE Women's French Terry Quarter-Zip
This G/FORE quarter-zip may be in a neutral color, but the message is anything but. With the phrase "I hate golf" cheekily embroidered at the chest in a multicolored design, it's a feeling we've all had, struggling to shake the rust off after the long winter. The relaxed boxy pullover is warm and cozy to keep things comfortable temperature-wise, even if your game is a little less comfy.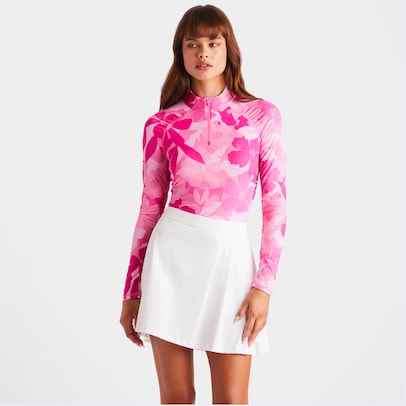 G/FORE Women's Floral Camo Jersey Pullover
Remixing the classic floral look, this feminine G/FORE pattern is almost camo-like in design. It's a multicolored pink layer made with a stretchy tech fabric and a slim fit that is great to layer over, or can be worn alone. Try pairing this top with a neutral-colored vest or oversized jacket to let the pattern shine.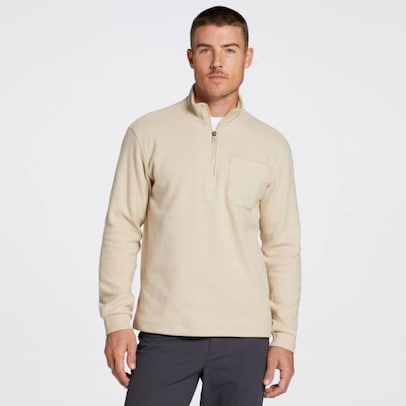 VRST Men's Cozy 1/4 Zip Pullover
Currently on sale, this pullover is simple, has a regular fit silhouette for room to layer under and is made with a warm technical fleece fabric. The beige colorway instantly gives the staple piece a high-fashion feel. Pair with gray or navy joggers and low profile white golf shoes for a understated-yet-stylish golf look.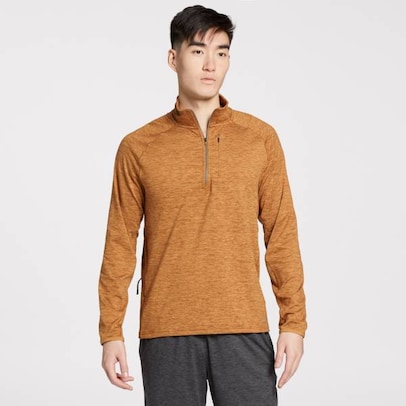 VRST Men's Accelerate Warm Half Zip Pullover
With a bit more of a technical look and feel, this half-zip is made with a soft poly-spandex, is moisture-wicking and has anti-odor properties. It's a unique yellow-brown heathered colorway that can be paired with black, brown or blue—making it a surprisingly versatile shade.