Style & Consistency
Three style tips to help you play with more consistency
*All products featured on Golf Digest are independently selected by our editors. However, when you buy something through our retail links, we may earn an affiliate commission.*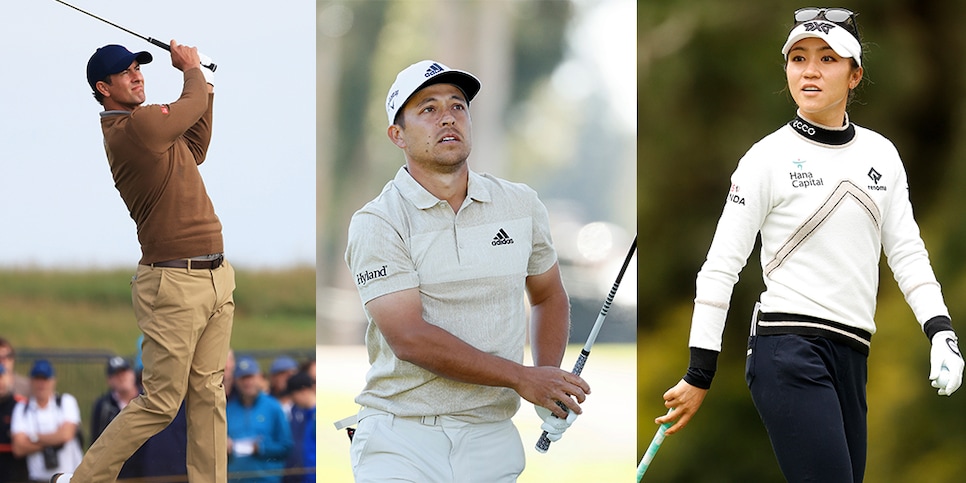 No. 1. Wear tighter fabrics

"Tighter fabrics make you feel more control, make you feel more sane," Karen says. "Makes you feel like if you're feeling anxious you can actually harness that into something else. Something healthy."
She recommends anything form-fitting. Bonus points if there's a turtleneck involved (which, thanks to the laxity of many course dress codes, there are some retro options for casual and style-savvy golfers). Think of it like wrapping your body in a tight hug, which scientists have found induces a calming effect, making you feel more clear-headed and controlled. (This is also the premise for the popular "swaddling therapy" technique introduced in Japan years back.) There's also something to be said for compression clothing that reduces inflammation and encourages circulation—to a point, of course. Make sure your athletic wear is still breathable and doesn't restrict bodily movement. Like these options below:
No. 2. Don shades of brown

In the field of fashion psychology—which focuses on the connotations of clothes for both the wearer and perceiver—brown is associated with stability, reliability, and practicality. According to Karen, it's a color that is grounding and cultivates intuition, all of which help a player look and feel more in control. "Brown can [give] a sense of being rooted," Karen says. "So look for beige, caramel, coffee—those are the same grounding color scheme."
In fall-fashion-ready shades from macadamia to walnut, these neutral looks foster intuition and encourage consistency:
No. 3. Don't overlook accessories

Any tour player will tell you: Consistency comes down to the details. To manifest reliability on the course, experiment with signature or lucky pieces that you associate with positive feelings or play highlights. For example, Dustin Johnson always carries quarters from the 1960s in his bag. "They're a good reminder of the scores I'm trying to get to," he says. Will Zalatoris marks his Titleist Pro V1 golf balls with his initials and the number "99," which—in a hint of nostalgia and originality—comes from a Dave & Buster's game in which he always shoots 99 by throwing a football. As a sign of respect for one of the GOATS, Patrick Reed always has a Kobe Bryant putter cover reigning over his clubs.
If you're looking for a signature accessory to focus some consistency into your game, check out these options we love: