Shoe News
Adidas' latest launch begs the question: Is the future of golf footwear seriously laceless?
*All products featured on Golf Digest are independently selected by our editors. However, when you buy something through our retail links, we may earn an affiliate commission.*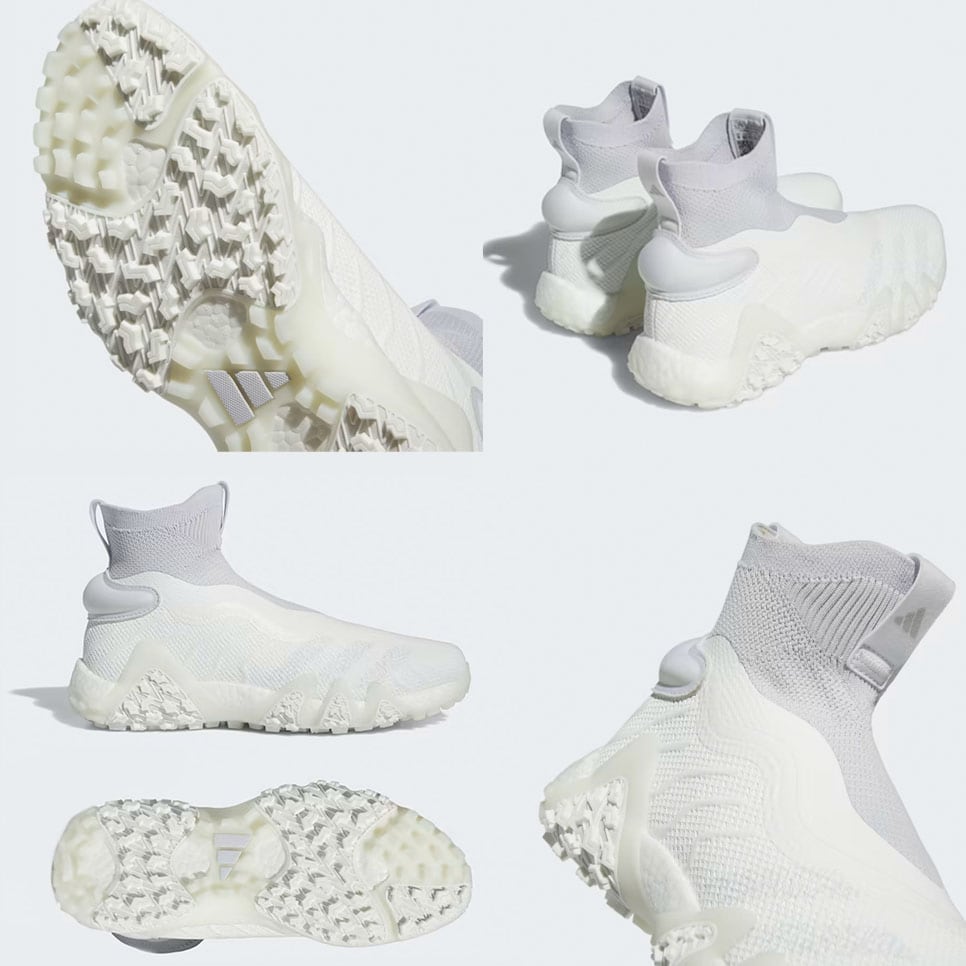 Adidas' latest golf shoe has an impressively descriptive name: Codechaos Laceless. The spikeless white pair of unisex kicks look sleek and pillowy, like a pair of performance socks melted into a golf shoe and stepped right out of the design lab.
The shoe is the latest release from Adidas to blend tour-level performance with hi-tech fashion influences. The design features many of the German sportswear giant's signature footwear technology, including a "Boost" midsole for bounce and a springy, energetic step; a "Primeknit" body for a cushiony feel that's comfy, endurance-enhancing, and highly supportive. A "Twist Grip" rubber outsole provides traction and grounding while moving with your body as it redistributes weight through the swing—all while looking pretty rad. Made in part with recycled materials, the above-the-ankle "Insite" silhouette supports the entire foot, while ankle tabs allow for the kind of easy pull-on and removal dynamic golfers need. Taken all together, the appearance is striking, equally successful at intimidating the competition as boosting your own style, confidence, and performance, and retails at a cool $200.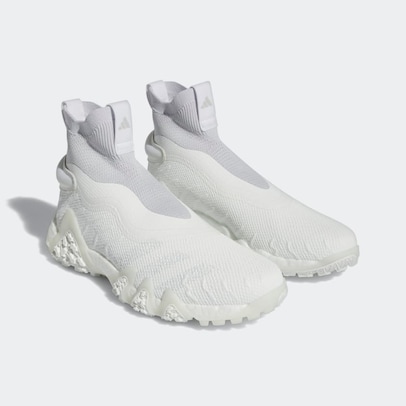 If you found yourself thinking these shoes look fit for playing 18-holes on the craters of the moon, you wouldn't be the first to compare the chunky-sleek modern footwear aesthetic to astronaut's wear (or, at least, a parody of the blast-off ready wardrobe). From the Moon Boots to the Golf Ball Slides, it seems footwear is moving to an otherworldly, maximalist multiverse, taking tour-level golf fittings with them.
While these laceless confections are a first for Adidas, the stringless shoe isn't entirely new to golfers, and certainly not to sportswear. You might recall the funky geometric Nike Go FlyEase laceless kicks, which are designed with accessibility in mind, boasting easy slip-on access and removal. In fact, as the sartorial world moves toward efficiency/sustainability and accessibility, these minimalist, versatile, unisex silhouettes complete with clever closure solutions, are increasingly common and even in vogue. Brands like MagnaReady are entirely devoted to layering pieces without laces, strings, and zippers, relying instead on easy snap buttons for those with restricted mobility. The advanced "BOA Fit System," which already graces golf shoes like the FootJoy Men's Hyperflex Boa, offers a micro-adjustable secure fit thanks to a dial functionality, guides a minimalist, (very low-profile) lace along the side for as sustainable, durable, accurate fit as possible.
So yes, these shoes look built for the world of tomorrow, designed for adventurous golfers who chart any course on this planet and dream of playing on the billowy turfs of, say, the moon or the stars. Though, if the demand for innovative, futuristic footwear is any indication, it seems that those golfers are here, playing and pushing the sport along today.