Runway X Golf Style
Golf is on the runway again. Here's the latest from Paris Fashion Week
Once again, golf makes a splash in the world of high fashion. This time, the sport frames the runways of Paris Fashion Week, both as a backdrop and as inspiration for the glamorous—if a little spunky—clothes strutting down the catwalks of the newly revitalized Paris ready-to-wear brand Georges Wendell. While seeing golf in high fashion is nothing new, what caught our eye was the use of adidas golf attire in the line. Adidas had no involvement with the collection, which features the signature three-stripes logo prominently and often paired with the Wendell "W-cut" logo and even the designer's signature.
RELATED: How to incorporate runway fashion trends into your golf style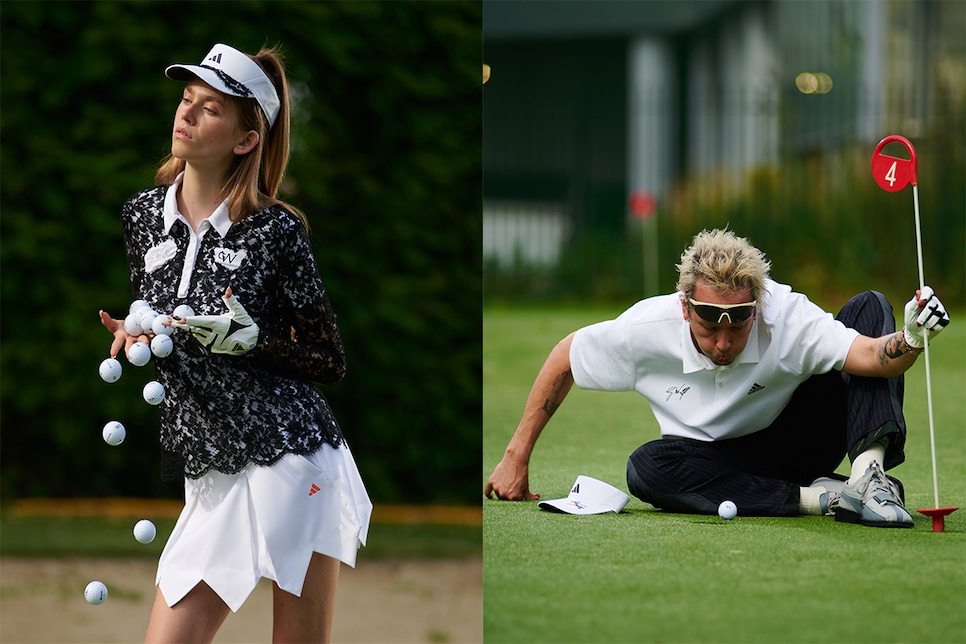 While the atelier itself is storied, with a love for iconic Parisian architecture and style senses, the latest collections have been vibrant and youthful, thanks to the new creative director at the helm, Pierre Kaczmarek, who cited the flux of golf—how you can succeed one day, lose the next and even crush one hole and feel disappointed one swing later—as inspiration for this capsule of zesty looks that embrace the classic and the cool of golf. The collection was inspired by, and meant to serve as a tribute to, one of the largest upsets in golf—Jean Van de Velde's collapse at the 1999 Open Championship. The French golfer's triple bogey on the 72nd hole at Carnoustie was profiled in the 2019 Netflix documentary aptly titled "Losers." And as it happens, the year of Van de Velde's epic "fail" is also Kaczmarek's birth year.
But Kaczmarek's takeaway is not one of total sorrow. Instead, he turned Van de Velde's story into a colorful, thoughtful collection on what it means to succeed, both personally and in the ink of history. The looks deconstruct classic golf silhouettes—pleated skirts, saturated polos and knee-high socks—into whimsical sets overlaid with black lace, or cut along the hems into zigzags, or paired with the brand's signature chunky heels in a metallic moonstone. The unisex looks are fit for the course and yet also seem to parody (with love and admiration) your typical golf outfit. And in the spirit of evolution and reinvention, the collection includes many vintage adidas pieces which the brand reimagined and reconfigured to bring Kaczmarek's vision to life.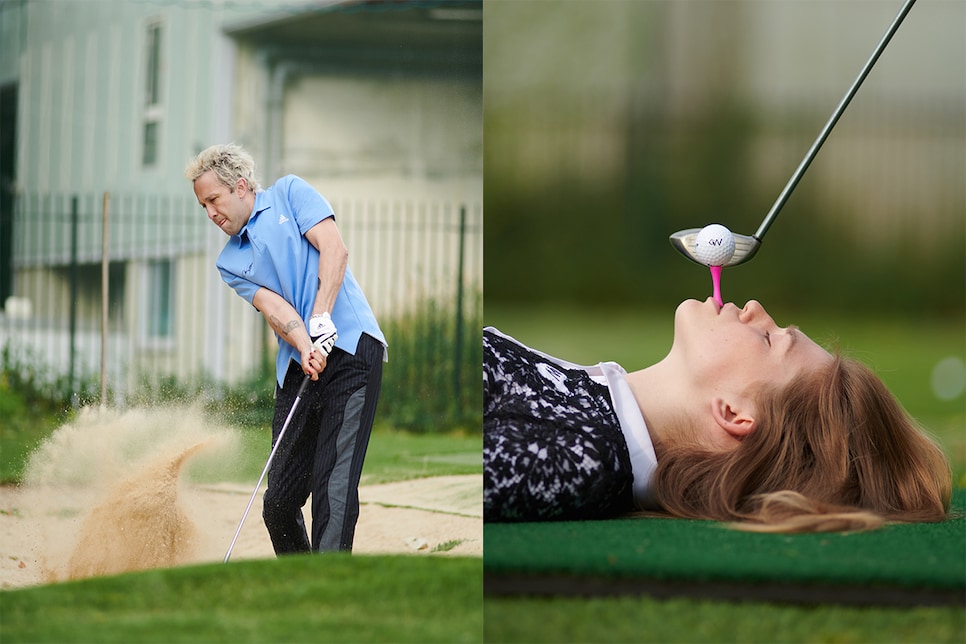 In a commitment to the theme, the runway featured a mini golf course and the lifestyle imagery features real bunker sand and gloves and clubs and tees, which often show up in unlikely places in the images (like one model's mouth, from which someone appears to be actually teeing off). The other looks in the 40-piece collection feature origami butterflies made out of bills, another evocation of the meaning and purpose (and perhaps folly?) of the strive for success. But it's the kitschy hot pink polos dipped in lace and the old-school, indigo adidas tops snipped in jester-esque W-cuts, like Van de Velde's rise and fall, we won't forget anytime soon.