U.S. Open
U.S. Open 2023: Faced with challenges of LACC's short 15th, players and coaches share their strategy for wedge shots off the tee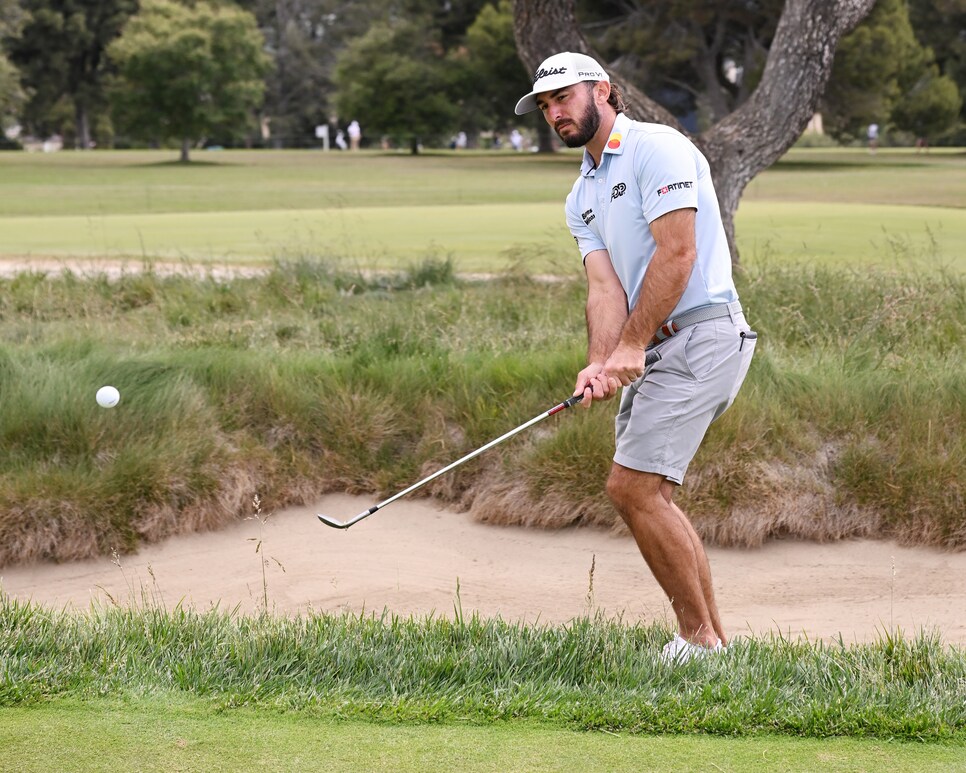 In the U.S. Open, if players miss their shot long at the par-3 15th, they'll be faced with a deep rough or bunker shot, like Max Homa had in his practice round.
Ross Kinnaird
Shorter usually isn't harder in modern golf, but the 15th hole on the Los Angeles Country Club's North Course could prove that wrong at least one day this week if it plays down to its potential double-digit length of just 78 yards. Put the ball on a tee, add a fresh downwind breeze and a treacherous hole location in the front right, and it's an off-speed shot tour players almost never see.
Collin Morikawa is familiar with it from his college days, when he played on the 2017 U.S. Walker Cup team that beat Great Britain and Ireland 19-7 at LACC. "I remember you almost had to practice teeing up with a 60-degree lob wedge like an inch off the ground—which you never do—and just try to hit it perfect, because you had to do it with height and with spin," Morikawa said. "You have, like, a yard or a yard and a half to land it if you want to hit a good shot. If not, you have to play left and hopefully hit a good putt."
Jon Rahm played 15 in its mini configuration as an Arizona State Sun Devil, and landed his lob wedge a foot from the hole only to see it bounce over the green. "Very rarely," he said, "are you going to have a hole that short where the best players the world are going to be thinking about going 20 feet long left to use that slope to at least hit the green, and that's something beautiful."
Morikawa and Rahm's hoist-it-and-hope shot choice will probably be the most common one, but Golf Digest 50 Best Teacher and short game guru Stan Utley says he would pick something different. "The main issue with a shot like that is dealing with too much backspin, but if it's playing downwind that takes some of that risk away," says Utley. "Still, I'd probably grip down on it and play a lower shot with a little bit of a draw. It's typically easier to control where you land it and the amount it rolls out."
Fellow Golf Digest Top 50 Teacher Tony Ruggiero is here with U.S. Amateur finalist Ben Carr, and he likes the higher, softer option—but with an important caveat for players who want to try it at home. "Lots of amateurs try to hit this shot with a lob wedge and get it spinning, but they lose control," says Ruggiero. "I would take a sand wedge and make a bigger turn but with less speed and try to hit a higher, softer shot with less spin vs. trying to rip one."
For that, set your ball position a club head width inside the lead heel, which will create some spine tilt and make it easier to get some launch, Ruggiero says.
Regardless of the shot players pick, offering options but demanding extreme precision makes 15 an epic—if pocket-sized—test. "It's a hole that gives you a lot to think about," Rahm said. "I wish we saw more of them like that."
MORE FROM GOLF DIGEST @ THE U.S. OPEN