LACC's greatest team
U.S. Open 2023: Golfer's girlfriend skips cancer treatment to see him play in his first major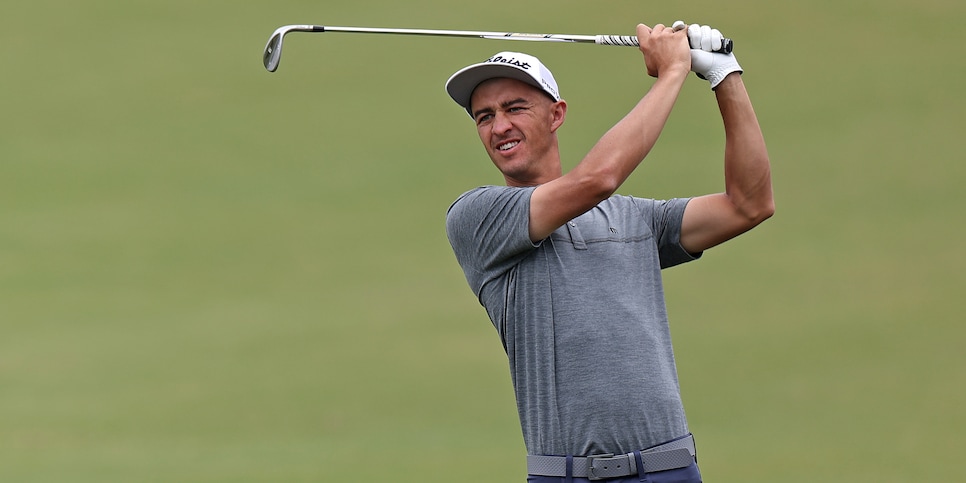 LOS ANGELES — Whatever fortune or frustration befalls Corey Pereira in his U.S. Open debut, whatever quality of play he can muster despite just 54 holes of competitive golf this year, his week will end with the sobering reality that living his dream was merely a respite from an ongoing nightmare.
A struggling professional who since he was 5 years old knew he wanted to be a golfer, Pereira is exactly where he wants to be as one of the 156 players competing in this week's 123rd U.S. Open at Los Angeles Country Club. The irony for the 28-year-old California native is that his goal never seemed farther away than last fall after he failed to retain his Korn Ferry Tour status. Weeks later, he chose to all but shelve his career. It was an easy decision, not because he didn't want it anymore; he hungered more than ever to reach the PGA Tour. But the pursuit felt empty. It had lost meaning.
In September, his longtime girlfriend, Leah Bertuccelli, noticed a marble-sized lump in her pelvic area. Three weeks later it had grown to the size of a golf ball. "I might have been more frightened than her," Pereira recalls.
Tests confirmed the worst possible news. Bertuccelli was diagnosed with Rhabdomyosarcoma, an aggressive soft-tissue cancer that normally strickens children. The odds for a 20-something adult contracting the illness, doctors told her, were "like, one in a couple hundred million." It can spread quickly. "I was lucky, if I can say it like that, because it was scary. But it was in a place where it was noticeable almost right away," Bertuccelli, 26, said. "I had no symptoms. I didn't feel sick. You find yourself thinking that this [illness] is a part of life, but you didn't think it would be a part of your life at this age."
An athlete in her own right as a pole vaulter at the University of Washington, where she met Pereira through mutual friends, Bertuccelli didn't want to impede Pereira in his quest to reach the next level. His goals had become hers, too. But that was just it; he felt she was a part of his world in every way. His career belonged to both of them, but it was only one aspect of their lives together.
He decided not to return to Q School. He put his clubs away for the rest of the year.
"As competitive as I am, I have not felt one ounce of regret or that I was missing out on anything," Pereira said. "She has been with me every step of my pro career, and if this was the next step we were going to have to take together, so be it. She has been so supportive of me. I knew this was the time to support her."
Phil Dawson, who first started coaching Pereira when he was just a youngster hanging around Cameron Park Country Club, near Sacramento, knows better than anyone how strongly Pereira is driven to succeed. But Dawson recognized immediately how Pereira's dedication to his game was secondary to Leah.
"When you're good at something and so focused on doing certain things, it's easy to be a bit selfish at times, but there was never any of that with Corey," said Dawson, who competed on the Canadian Tour for three years. "You can't afford to be selfish when somebody you love needs you. I don't want to say this has opened his eyes to, like, life is fragile. But he has found more balance, and I think somehow it has made him a better golfer."
The shock of Leah's cancer diagnosis hadn't worn off before doctors braced the young couple for what would come next. They didn't sugarcoat things. Treatment, they said, was going to be long and difficult for Leah. Radiation protocols began almost immediately, and she eventually would undergo 35 rounds of radiation, one almost every day, over seven weeks. Pereira drives Bertuccelli to Stanford twice a month, where every two weeks she alternates between receiving a five-day regimen and a more intensive single-day therapy.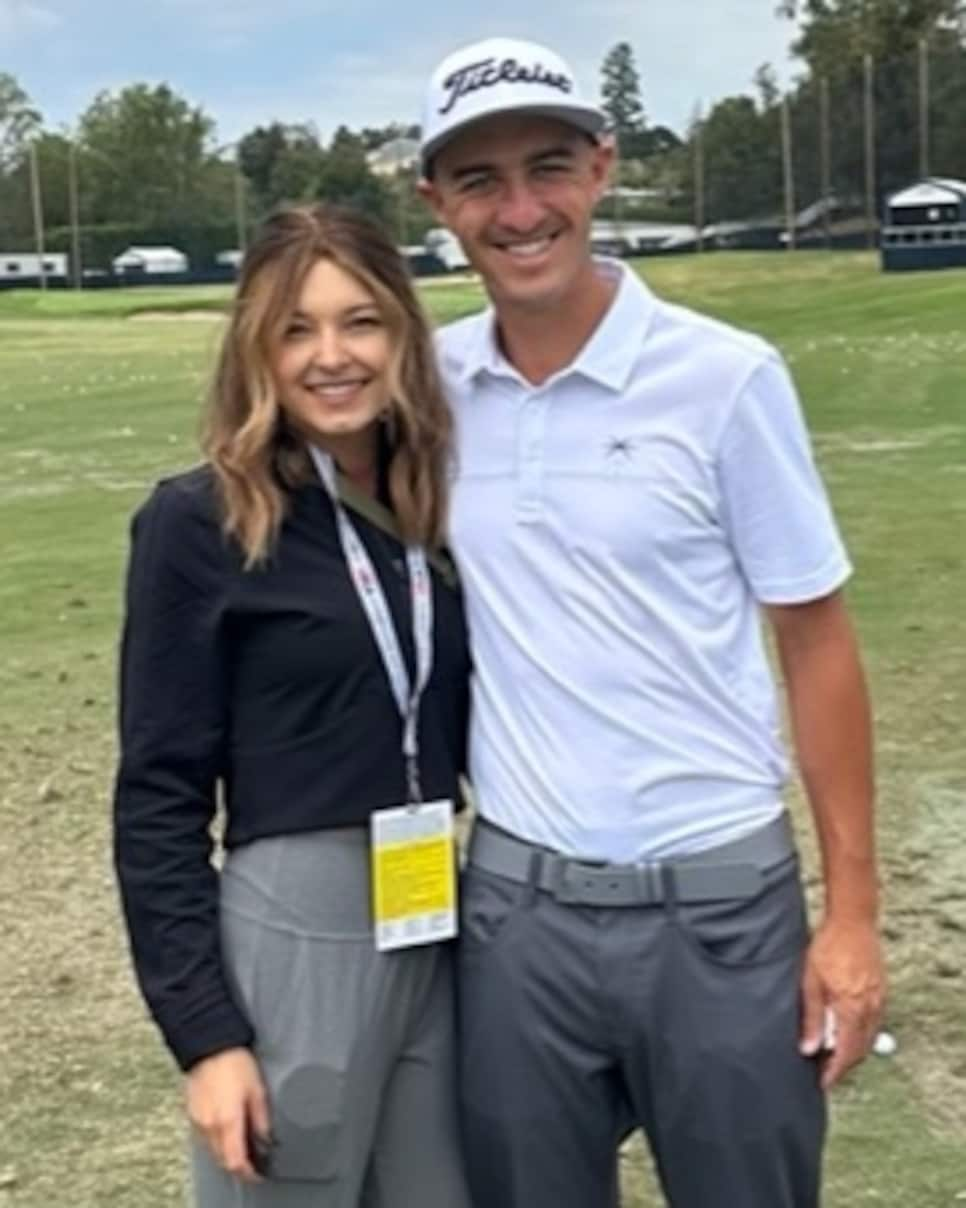 Corey Pereira and his girlfriend, Leah Bertuccelli, has worked as a team to fight her cancer.
"It's been really hard on her. It's so hard on your body. It just wipes her out," said Pereira, who not only has taken over all of the chores at home in Cameron Park, including the cooking—apparently, he makes a mean shrimp scampi, her favorite—but also looks after her general care, making her comfortable, keeping track of her blood counts.
It's hard on him, too, but not how you might suspect.
"She got the flu one time and that was a pretty big emergency," he said. "She was in the hospital for five days. I was so worried. Things can go wrong quick, so it's on me to be on top of things, but also take care of myself, not be around a ton of people so I don't pass something on to her."
He also did one more thing for her—he appealed to the athlete in her and pushed her out of the house, making sure she gets enough exercise. Standing with Pereira outside the player services area at LACC Tuesday morning, Bertuccelli appeared fit and energetic. "It's because he has been encouraging me to move my body and not be sedentary, which has helped me so much," she said. "He motivates me to get out and not just sit inside and dwell on what's happening.
"We've been bowling and golfing and trying to enjoy life as best we can."
This week, Bertuccelli will try to walk 18 holes each day with Pereira. She is supposed to be at Stanford for the last of her five-day chemo treatments, but decided to delay it for a week.
Fortunately, she's nearly finished, with her final sessions beginning on Monday. Then it's a waiting game to see if the treatments have been successful, and that could take up to three years to ensure she is in remission. "He's put everything on hold for me. Now he has this incredible opportunity. I couldn't miss it," she said.
Pereira begins the championship on Thursday off the first tee at 2:27 p.m. PT, in the final threesome. Bertuccelli hopes she will walk 72 holes. He hopes that she doesn't wear herself out. Pereira has no idea what to expect in what constitutes his first start on the PGA Tour, but he knows what attitude he will bring to the tee.
"She is an inspiration for sure," he said. "She's struggling with her treatments and she's fighting really hard, and I've tried to match that fighting spirit with everything I do with Phil and practice and working in the gym, all my preparation. I'm ready to get down in the dirt if I have to and just grind it out over every shot."
"Corey has always been a great competitor," Dawson said, "but I think what Leah has been through, he has an even higher degree of competitive spirit."
One of the most sought-after recruits out of high school, Pereira enjoyed a solid but not spectacular career at Washington, where current tour player C.T. Pan was a teammate. He won four times collegiately but distinguished himself more with some eye-popping amateur victories. In 2013, Pereira captured the Optimist International Junior by nine strokes at PGA National in Palm Beach Garden, Fla., and two years later he beat a tough field at the Pacific Coast Amateur by eight strokes. Pereira submitted at 18-under 261 total at the Pine Canyon Club in Flagstaff, Ariz., after beginning the event five over through eight holes.
He turned pro in 2017 after reaching as high as 12th in the World Amateur Golf Rankings, and in his second year on PGA Tour Canada he won the ATB Financial Classic by shooting 26-under 258 on the Talon Course at Country Hills Golf Club in Calgary, Alberta. The victory included equaling the course record of 62 in the third round.
'It's a great bright spot in both of our lives and something we can enjoy together.'
Corey Pereira on playing U.S. Open with his girlfriend, Leah Bertuccelli, at LACC
A stubborn back injury and the onset of the coronavirus pandemic retarded his progress, and after briefly seeking other coaching advice early last year, he returned to Dawson for what amounted to more of an overhaul than a quick fix. Pereira went on to finish 107th on the Korn Ferry Tour points list and started to get ready for the tour's qualifying tournament.
"I think he did get rattled a little bit that he wasn't progressing like he thought he should, that his ascension wasn't happening as quickly as other guys he had been competing against," Dawson said. "He has such tremendous talent and hand-eye coordination, but his greatest attribute is his mind. I felt like if we could give him a more precise technique, he could use his golf IQ better. He wasn't lost, but we needed to sort of start back up again from the ground up and really tighten things up."
That worked all but stopped when Leah got sick, but at the start of the year, Pereira slowly resumed the rebuilding process. He awakens at 5 a.m. each day to complete his gym and range work in the few hours before Leah gets up, and then he turns his attention to her for the rest of the day.
Dawson immediately noticed a change in Pereira. He was more like the kid who pestered him 20 years before when they first met. "His passion was back, and I think it was all because of Leah," Dawson said. "If you did want to find a silver lining on the darkest cloud possible, he had a chance to work the last six month without having an outcome to be concerned with. We just put the pieces back together where we liked them. And then he went out and did something that was just amazing to me."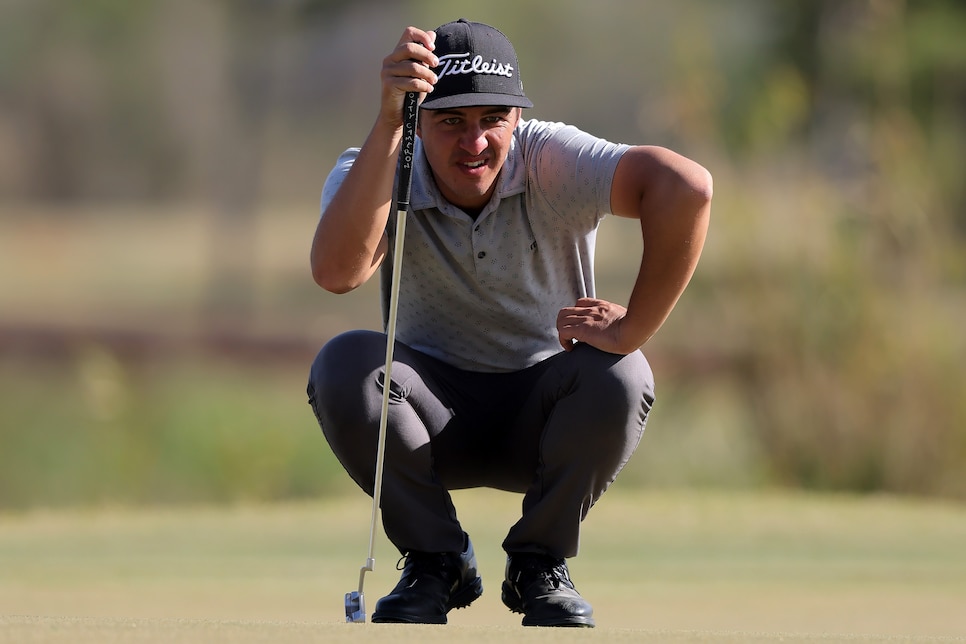 Corey Pereira studies a putt during the 2022 Lake Charles Championship.
Jonathan Bachman
Indeed. The 54 holes that Pereira has played this year were the two stages of qualifying for the U.S. Open. On April 26 in the local qualifier, he shot two-under 70 with an inward 32—on punched greens—at Casa Blanca Golf Club in Mesquite, Ariz., to finish third. Then he showed up at final qualifying in Columbus, Ohio, the one populated by dozens of PGA Tour players, and shot rounds of 65-70 at The Lakes and Brookside Golf & Country Club, respectively, to finish T-3. He sank a 15-foot par putt on the 18th hole at Brookside to earn one of the 11 U.S. Open berths and avoid a playoff.
"To be honest, I almost didn't even sign up for locals, but Phil at the last second was like, 'Hey dude, you need to sign up for locals, just go out and play.' I was two over through nine and then found something late and things just clicked," Pereira said. "Then I played really well in Columbus. It definitely was a surprise, considering how little I have played. But maybe when your expectations are tempered it frees you up a little bit. I don't even know how to describe it."
Miraculous isn't too strong of a word. Bertuccelli wouldn't disagree. "I think it's just amazing," she said. "It's almost like a reward for taking a step back for me."
Pereira said he could fall back on his experience in the qualifiers, having tried four times previously, but a major championship on a supreme test like the North Course at LACC is uncharted territory. But, then, so is confronting cancer. Pereira and Bertuccelli have done that as a couple. They are approaching the U.S. Open with the same mindset.
"It's a great bright spot in both of our lives and something we can enjoy together," Pereira said. "And, hopefully, this kind of gets her over the hump of those last two chemo treatments and then, you know, I can kind of get back to my career and hopefully life for us gets a little more normal."
"Normal," Leah repeats, letting the word hang in the air. "It'll be weird. I don't even know what normal is anymore."
Normal in this regard would be reclaiming the promise of living life to the fullest, pursuing dreams and aspirations, embracing hope instead of fearing the unknown.
"On the one hand, this is 100 percent a dream come true. On the other hand, it's the expectation I kind of have for myself to come out and compete at this level and in championships like this," Pereira said. "But given the year Leah and I have had, this is a blessing. I can't tell you how special this is to be here and to have her here with me. I want to soak in the moment, but at the same time I want to see how well I can do. This is exciting, but it's great to also be excited about what comes next."
MORE FROM GOLF DIGEST @ THE U.S. OPEN