Champ meets champ
U.S. Open 2021: Yuka Saso compares meeting Rory McIlroy to winning her first major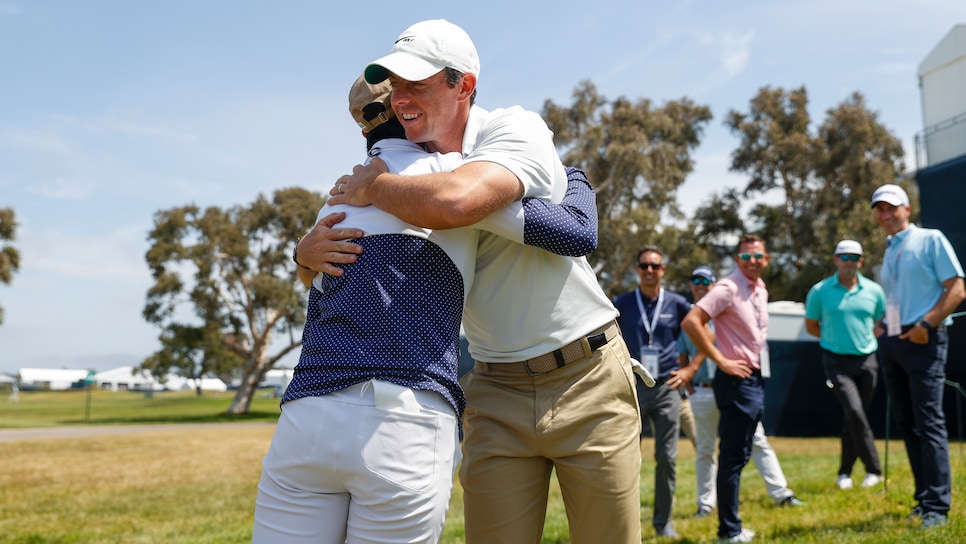 Rory McIlroy greets the 2021 U.S. Women's Open champion Yuka Saso during a practice round at the 2021 U.S. Open.
Chris Keane
SAN DIEGO — Yuka Saso stood out just a wee bit on Tuesday at Torrey Pines. It was hard to miss her, this diminutive young woman carrying around a huge silver trophy, the sun brightly reflecting off it. We're not talking about a lap around the clubhouse, either. The 19-year-old Saso carried it everywhere, including out on the South Course, like a fan with the biggest piece of bling you can imagine.
The reigning U.S. Women's Open champion, who won the title at The Olympic Club in San Francisco less than two weeks ago, was a guest of the USGA at Torrey Pines, where the U.S. Open begins Thursday. And Saso was on a mission: She wanted to meet Rory McIlroy, whom she has idolized since her early teens. Through YouTube, she learned to copy McIlroy's swing, but she had never come close to meeting the four-time major champion.
There was a bit of staging that took place as Saso caught up to McIlroy on the South's seventh hole, but the reaction was endearing and genuine. McIlroy greeted Saso with smiles and hugs, and she joined him inside the ropes over the next three holes.
"When I finally saw him, I said, 'That's Rory! That's the real Rory I've been watching on Facebook, YouTube and Instagram, and now I'm seeing him in person," Saso recalled later for Golf Digest as she sat in the media dining area with her father and the trophy.
"It's like a dream. It was much better than I was thinking."
Saso actually took her reaction to the experience a step farther. "It is the greatest moment of my life," she said.
Greater than winning the U.S. Women's Open?
Saso's eyes crinkled behind her safety mask, and she moved her hand like a scale.
"Fifty-fifty," she said with a laugh.
The distant runner-up on the day was meeting and trading fist bumps with Phil Mickelson.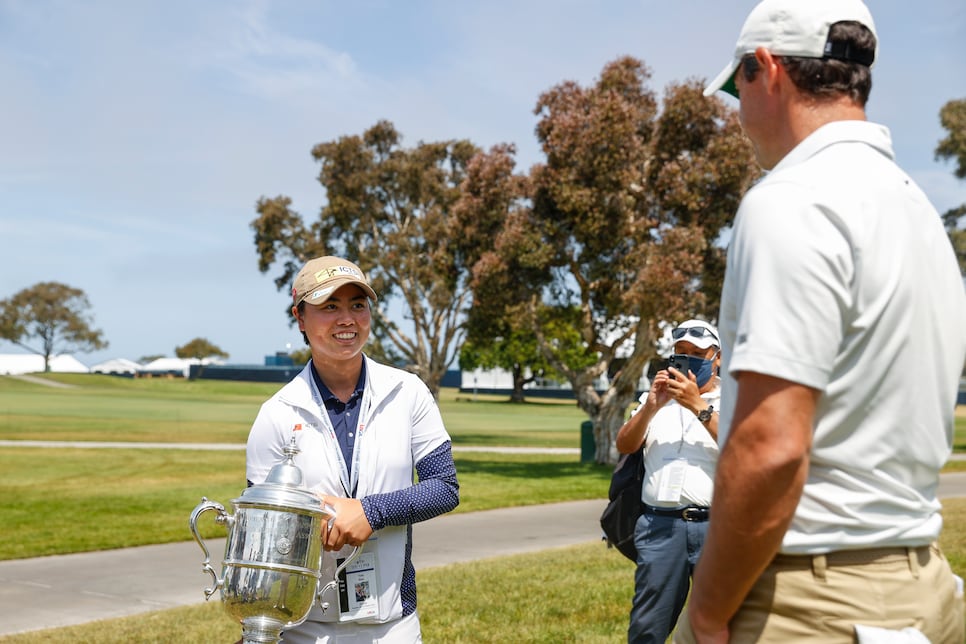 With her U.S. Women's Open trophy by her side, Yuka Saso talks to Rory McIlroy.
Chris Keane
"I saw Phil activating his calves," Saso said.
Saso said she didn't want to pepper McIlroy with a lot of questions because she knew he was working on his prep for a major, but she asked him about certain shots and they chatted about various subjects, and she hopes to be able to get more of his advice in the future.
"He's a really good person," she said. "He's had his ups and down, but whatever happens, he looks forward. He's a very honest guy."
Saso stunned the golf world with her victory at Olympic Club, becoming the first person of Filipino heritage to win a major. She triumphed in a playoff over Nasa Hataoka after both finished 72 holes at four under, and she joined Inbee Park as the youngest-ever winner of the U.S. Women's Open. Saso was playing in her third U.S. Women's Open and had notched to wins on the LPGA Tour of Japan.
The victory earned Saso an immediate invitation to join the LPGA and she accepted. Her next start will come in another major, the KPMG Women's PGA Championship in Georgia next week.
Saso admitted that she never thought she'd win a major so soon, and that she was only looking for more experience at Olympic Club. "I think I'm still in the learning stage. I'm still 19," she said. "I know I won the U.S. Women's Open, but there are so many players who have more experience than I do. So I'm hoping that I can learn more on the LPGA too, and get to where I want to be."
On this day, where she wanted to be was anywhere near Rory McIlroy.
MORE U.S. OPEN 2021 STORIES FROM GOLF DIGEST: