Open Championship
British Open 2022: 11 things that could decide the Open on Sunday at St. Andrews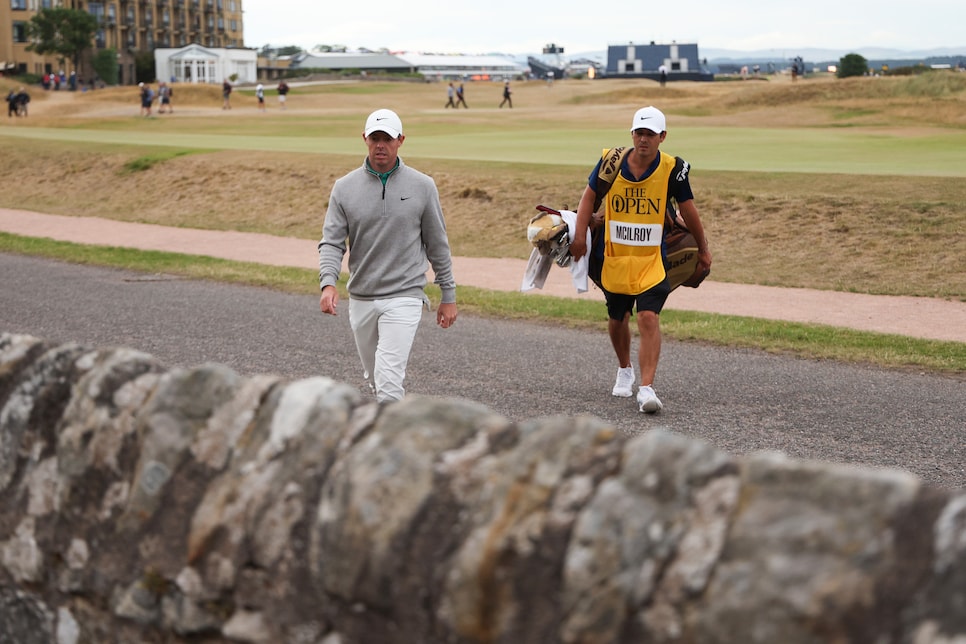 ST. ANDREWS, Scotland — There's a barista in the media center—which is a terrible way to start a story about one of the most exciting days in golf in recent memory but stay with us—who asked a reporter if he wanted a double-shot in his cappuccino. "Double shot?" remarked another writer in line. "After today I need a cigarette." We are not the smoking type, but we get where our friend was going.
There was a joyous Irishman working the crowd into a frenzy with back-to-back eagles. The Road Hole woke up from its two-day slumber. The final pairing featured two guys with the same name who made similar mistakes down the closing stretch. There was a crowd intent on carrying its hero to the finish line and an unbelievably nice young lad who is seemingly unaware of the crowd's intention. Dustin Johnson topped his drive at the 18th that somehow still went 285 yards. So yeah, if anyone has a light, we'll take that cigarette.
A scintillating Saturday at St. Andrews has set the stage for a Sunday that promises much of the same. However, though the third round proved anything can happen, how Sunday shakes out—and who is able to call themselves the Champion Golfer of the Year—doesn't seem as wide-ranging. Here are 11 things that could decide the 150th Open Championship on Sunday at the Old Course.
Contending with the pro-Rory crowd
McIlroy is already one of the most popular figures in the game, but the rapport between him and fans this week has somehow been strengthened. He is not just entertaining but galvanizing those who follow and they in turn have returned the favor. McIlroy doesn't have the Home of Golf buzzing; he has it ready to burst. It's created an unforgettable and awe-inspiring and whatever-adjective-you-want-to-insert atmosphere that will only scale upwards on Sunday. Now, it's not that the reception to the rest of the field has been cold, but the galleries are somewhat treating everyone else as minor annoyances, obstacles to a history they want to see achieved. "Isn't it Rory?" Scottie Scheffler replied when asked if there was a crowd choice. "I was like, they're chanting his name out there. I think he's definitely a crowd favorite. How can you not root for Rory?" It's far from the disdain or maliciousness seen at a Ryder Cup, but those seeking to grab the claret jug will have to do so knowing the crowd doesn't necessarily want to see them do it. By the way, our only explanation for Hovland's 66 in the face of Rory-mania is his hearing is completely shot from listening to all that death metal.
On a day when most went low Cameron Young (71) and Cameron Smith (73) stalled out. The latter's rough afternoon wasn't necessarily surprising: After gaining almost four shots on the field on the greens in Round 1 and breaking the record for most feet of putts made Friday, Smith was due to come back down to Earth with the flat stick. That was true: He lost a shot in SG/putting in Round 3. But what really submarined Smith's day was a hero shot gone wrong at the par-4 13th that led to a double. Young, meanwhile, was enjoying a solid—albeit far from spectacular—day until he doubled the 16th by taking four shots around the green. If history holds true (more on this in a moment), the Cams are the only ones capable of applying pressure to Hovland and McIlroy. But with four shots between the penultimate and final groups, they will need to go low, and need to go low early.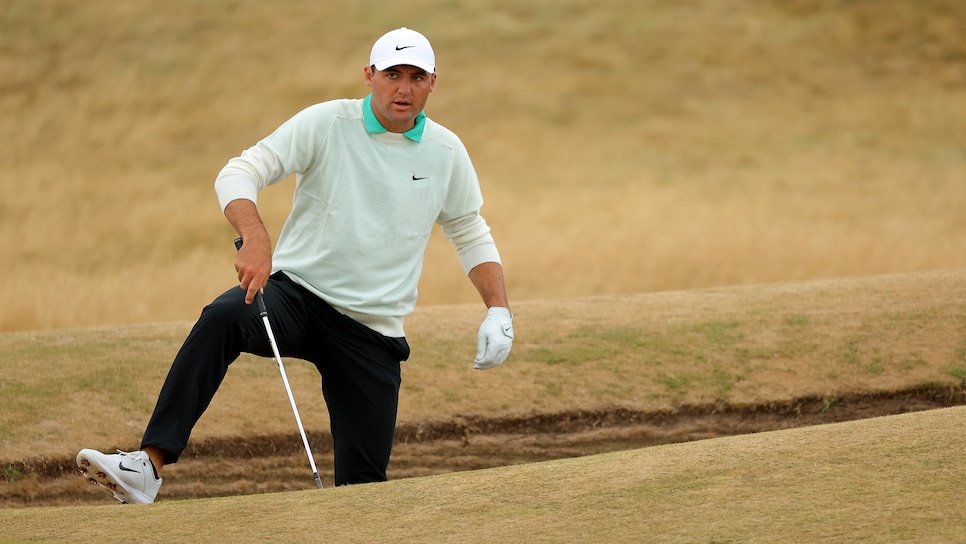 Will history repeat itself?
Every Open winner at St. Andrews has been within four shots of the lead after 54 holes. Applying that past framework to the present means this show is down to four actors: McIlroy, Hovland, Young and Smith. Si Woo Kim and Scheffler are five back at 11 under with Johnson just outside the fire at 10 under, and for the sake of posterity let's note Tommy Fleetwood, Matt Fitzpatrick and Adam Scott are at nine. If there is one to pick to make a run from this group, seems like the safe choice is the World No. 1, but to do so Scheffler will need to get right with his short game after losing strokes to the field Saturday around the green and in putting.
After two days of not having its usual bark, the 17th finally had some bite. A mean pin position, firm surface and consistent breeze made it impossible to get any approach close, and most players struggled to hold the green. Kevin Kisner said it was playing like a par 5, and the stats show he wasn't too far off: a 4.63 scoring average thanks to 44 bogeys and four doubles or worse among the 83 players that passed through. It seems obvious to state the 17th could decide this tournament … but if the 17th plays anywhere near as tenacious on Sunday as it did Saturday, it could. But maybe just as important, albeit not as sexy …
On the other end of that spectrum is the ninth, which at 354 yards is listed as a par 4 but essentially played as a par 3, surrendering 50 birdies and seven eagles against a lone bogey. Meaning if you made par you were losing almost a stroke (3.24 scoring average) to your competitors. Though it wasn't as easy the first two days, it also was far from hard, weighing in with a 3.64 scoring average. Depending on the wind direction and how much rain the course gets (more on this in a second), the ninth may not be drivable Sunday, yet it's unlikely to pose much of a fight. In short, this hole shouldn't be seen as a birdie opportunity; instead, birdie is a prerequisite, and those who fail could see their claret jug bids go down if they fail to register a red figure.
We are well overdue for a rules controversy. Wouldn't be a golf tournament without one. Our pick: Despite temperatures hovering in the 60s a number of fans are walking around with ice cream. A Jordan Spieth drive finding its way into a cone seems about right.
Will St. Andrews be even tamer Sunday?
No one was expecting a 1974 U.S. Open setup, but the Old Course has been as gettable as advertised/feared. It has its nuances and idiosyncrasies and obstacles; its leaders are also at 16 under. With rain in the forecast Saturday night and Sunday morning, the firmness that is serving as the final line of defense may go down. It sounds hyperbolic, yet—should players be able to fire their approaches without worry they could trampoline into town—there could be a sub-60 round on tap.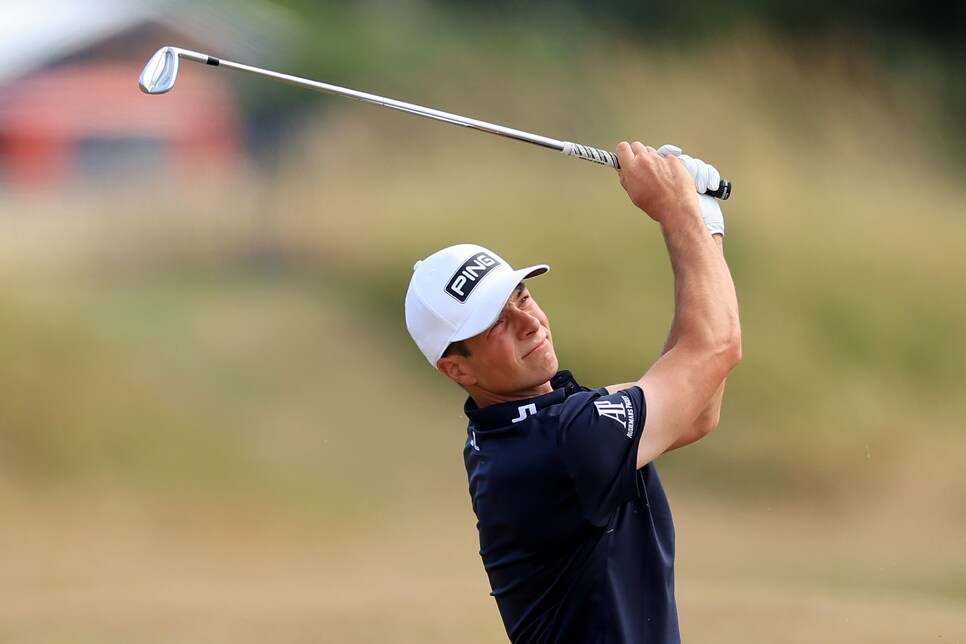 Can Hovland stay in the saddle?
Until this week Hovland has struggled in his fledgling career to translate the success he enjoys on tour to the major stage, his best finish in one of the Big Four a T-12. The general consensus is his notoriously-bad chipping has held him back, yet—as Max Homa pointed out—he doesn't necessarily need to do that this week, instead leaning on the putter when just off the green. However, there's a belief that majors are like rodeos, and every good bull rider will testify that sometimes you need to fall off to figure out how to stay on. Hovland has six professional wins along with the United States Amateur under his belt, and played well in his Ryder Cup debut last fall. But the final pairing of a major championship … there's no ride like that. That said, if anyone has the disposition to handle what lies ahead, it's the easy-going Hovland. "I was thinking what the hell am I doing here?" Hovland said with a laugh when asked if he's surprised to be where he's at. "Yeah, I mean, it's pretty crazy from where I grew up and so far away from playing the PGA Tour, European Tour, for that matter major championships. Just to be here is very special, but to have a chance to win one is -- yeah, I have to pinch myself, but that doesn't mean I'm going to hold back tomorrow." How Hovland fares over the first five to six holes should give us an idea.
Playing defense won't win this claret jug. Not with how this course is playing, not with how loaded the leaderboard is. Though players will often tell you their opponent is the course, not each other, someone can put the heat on his competitors—and perhaps force them into aggressive moves with the potential to backfire—with a string of red figures. In that same vein …
Who will make "The shot"?
Smith poured in a 64-footer for eagle on Friday. Hovland holed out from 140 yards at the 15th in Round 2. Shane Lowry had back-to-back eagles on Saturday, McIlroy sent Twitter ablaze with his own hole-out 2. Rarely does this game come down to the type of shot only seen in sports movies, but the Old Course has facilitated highlight after highlight this week. It might be precisely one of these shots that decides the championship.
And yet, it all comes down to …
He's tied with someone who's never been in this position before. The nearest competition after that is four shots back. The course isn't fighting back, and the crowd is fighting for him. The last time the claret jug visited St. Andrews McIlroy was the reigning champion and winner of two of the previous four majors. He never got the chance to defend his title, an injury suffered in a backyard soccer game forcing him out of the tournament. Since that moment he's had to face the pressures of who he once was against the hope of what he could still be again. He's 18 holes away from his Holy Grail, and the only thing standing in the way is himself.