'That was low'
British Open 2022: Dustin Johnson's stumbling Saturday ends with 'semi-top' drive on 18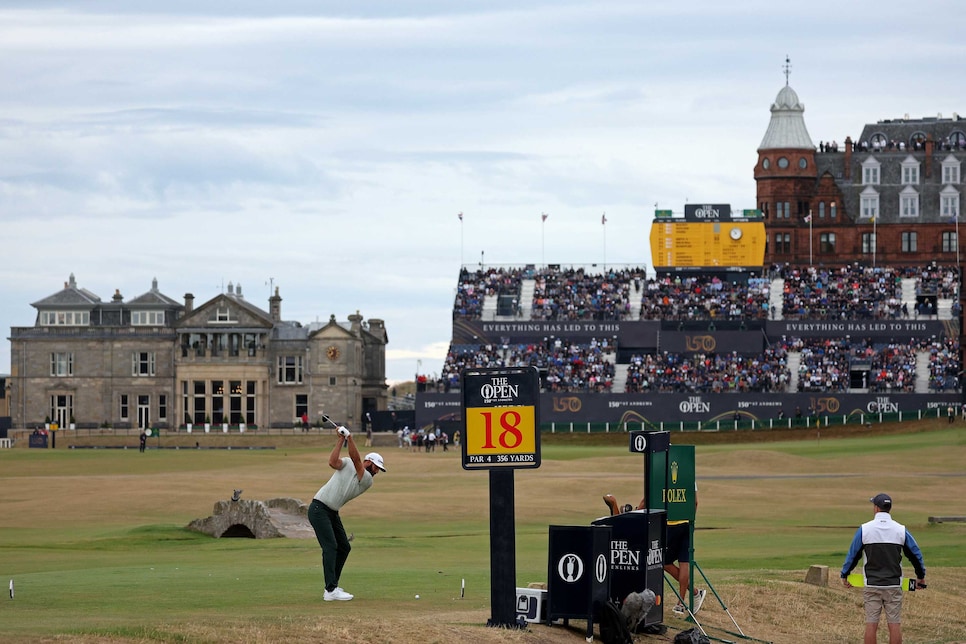 Dustin Johnson tees off on the 18th hole during Saturday's third round at the 150th Open.
Harry How
ST. ANDREWS, Scotland — As the famous cliché goes, it's not how, it's how many. Dustin Johnson still walked away with a birdie 3 on the par-4 18th hole Saturday to close out his third round at the 150th Open Championship. But it was no ordinary 3 on a round that was also a little out of the ordinary, a one-under 71 that dropped him six shots back of leaders Rory McIlroy and Viktor Hovland.
Using a fairway wood off the tee, Johnson didn't hit the drive he expected. Have a look … or more importantly a listen:
"Oh Jesus, that was low," Johnson is heard saying, his ball barely carrying the Barry Burn some 40 yards in front of the tee. The commentators were quick to call it something else: "That's a semi-top almost."
Thanks to just how firm the 18th fairway is, the ball still managed to roll 282 yards, from where DJ hit his approach to 15 feet and made the birdie. Easy game, right?
Not really on Saturday for the two-time major winner. His tee shot on 18 wasn't the only squirrely shot from Johnson, who was within three shots of the leaders on the back nine until a bogey on the par-4 13th. That was seemingly OK with the par-5 14th next, and Johnson just over the green in two. But that's where he essentially topped a 78-foot putt, hitting it too hard and rolling it over the green into a pot bunker.
Johnson hit on the green in four, but two-putted for a bogey on a hole that played to a 4.843 average on the day. Another bogey on the 16th hole left him nine under until the birdie bounce back on the 18th.
DJ didn't speak after the round, but his playing partner, Scottie Scheffler, fielded some questions about Johnson's play, specifically on the 18th.
"No comment," Scheffler said, laughing, when asked if Johnson topped the drive.
"Yeah, he walks away and he's like, 'Wow, tried to hit it low but didn't mean to try to hit it that low.'" Scheffler continued. "I don't know if he topped it or not. We were walking off the tee, and DJ looks at me, and he goes, 'Man, I forgot to get the cover there.' It carried the burn by like 10 yards."