STROKES GAINED SMILING
British Open 2022: Viktor Hovland sits atop Old Course leaderboard for both scoring and smiling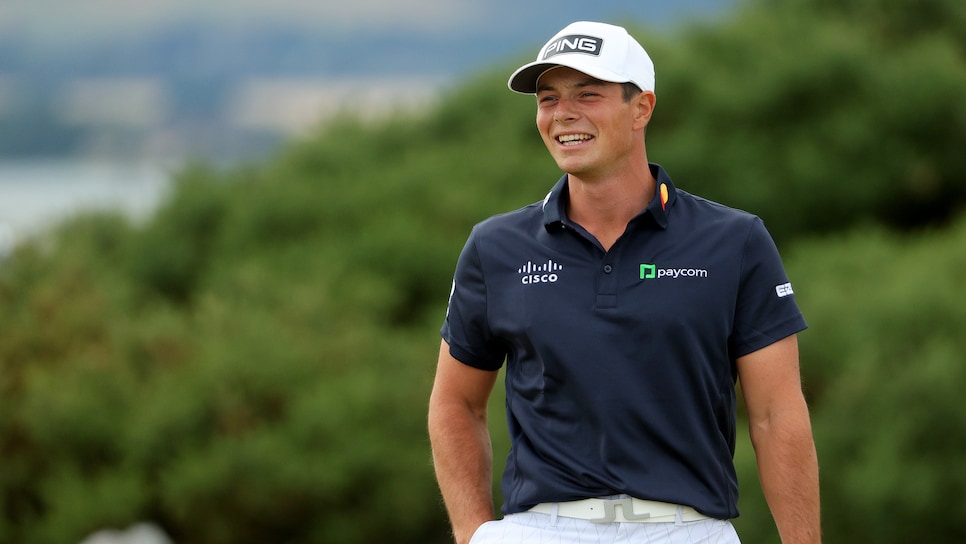 ST. ANDREWS, Scotland — It's one of the first things you notice about Viktor Hovland. And that familiar smile, the one that seemingly lights up his whole face, was much in evidence in the wake of a six-under-par 66 that has Hovland tied for the 54-hole lead alongside Rory McIlroy in the 150th Open Championship at St. Andrews.
Think about that for a minute. Because Hovland certainly was after etching six birdies on his scorecard, the last of those the result of a drive that found the 18th green. On one of the most famous courses on the planet, a 24-year-old kid from, of all places, Norway, is jointly leading the oldest event in golf alongside the man many believe to be the most naturally gifted practitioner in the game.
Does it get any better than that? Hovland does not think so. Hence the beaming smile.
"It's pretty crazy," he said. "I grew up so far away from playing the PGA Tour, or the European Tour, or for that matter major championships. Just to be here is very special. But to have a chance to win one, I have to pinch myself. But that doesn't mean I'm going to hold back tomorrow."
That last part will come as no surprise, least of all to the five men piled within six shots of the leaders. All will have to play outstanding to have any chance and even then will surely need help from the pair atop the leaderboard. Which is a state-of-affairs hard to imagine given their third-round performances. The bogey McIlroy made on the penultimate hole via the road was the only dropped shot either of the leaders made all day.
"That round was pretty cool," said Hovland, the World No. 9. "I'm probably not going to forget that one too quickly. I played great and it was so cool to trade some holes with Rory as well. I don't think there's any other place that would top winning here. Growing up in Norway I always watched the Open for way longer than I ever did, for example, the Masters. So, to win the major that's closest to home would be really cool."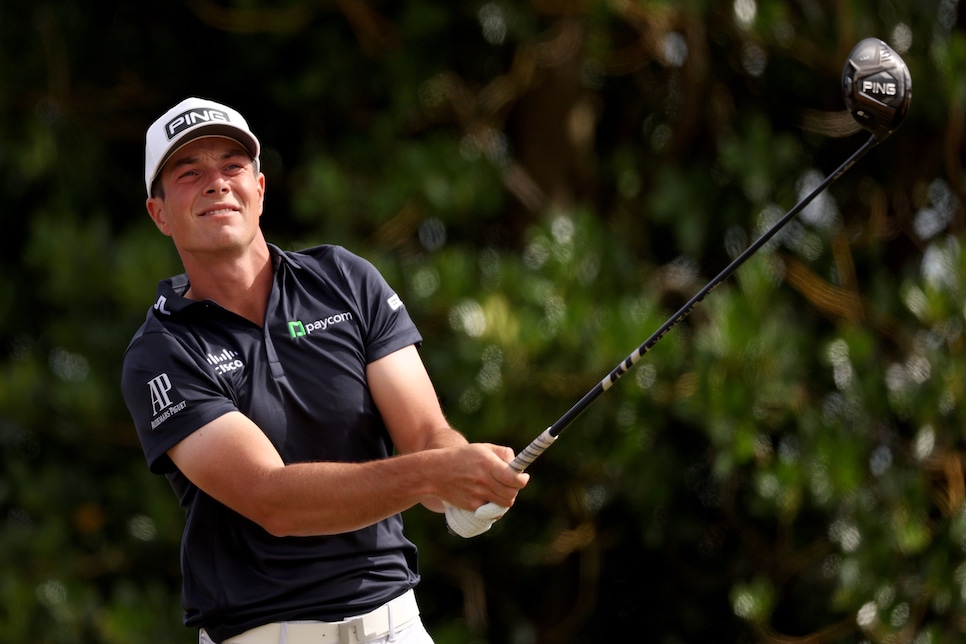 To do so, you get the feeling Hovland is going to have to at least repeat the sort of form he showed on Day 3. In front of a gallery that, while far from anti-Viktor, was clearly rooting for a McIlroy victory, Hovland silenced much of the boisterousness early. Four birdies in succession from the third hole set him on his way to a one-shot advantage at the turn. Two more dips under par coming home represented a solid return, especially with crowd-favorite McIlroy pressing so hard for a last-day advantage that ultimately never came.
"I don't mind," said Hovland, acknowledging that the golf-savvy Scottish crowd was more for Rory than against him. "I feel like I had some experience with that in the Ryder Cup last year. And there were some shouts there for me as well. I appreciate those. At the end of the day, I've just got to play my game and not worry about anything else."
That game was one Hovland played with his head as much as his heart. With the pins tucked away in places designed to at least partly negate the distances players hit the ball, the Old Course was a test of strategy and patience as much as shot-making. Only rarely did Hovland aim directly at pins.
"For example, on No. 3 the pin looked like it was all the way back in a pretty good spot," he explained. "But there was a little ridge on the right side and the wind was blowing a lot on the left. So I was pretty conservative even though that pin is very gettable. Mostly, I was trying to play shots to the middle of the greens and work the ball towards the holes."
There will be more of the same in the final round, no doubt. With the leaders already 16-under par, the R&A—despite their pronouncements to the contrary—will surely make every effort to keep the winning score within a sensible margin. In the meantime, however, Hovland remains unconcerned. Yes, thoughts of winning will inevitably cross his mind—"Hopefully I could have a similar impact to when [Swede] Henrik [Stenson] won the Open a few years ago"—but passing the time until his near 4 p.m. Sunday tee time won't be a problem.
"I'm pretty good at doing nothing," Hovland said with, you guessed it, a big smile. "I find that time flies by when you're just sitting on the couch on your phone, watching shows. I've been getting into 'Billions' and watching a lot of that. I might finish it before my tee time tomorrow."
"Billions" before making millions then. With smiles all around.