Open Championship
Open Championship 2022: On Rory McIlroy and his quest for golf's 'Holy Grail'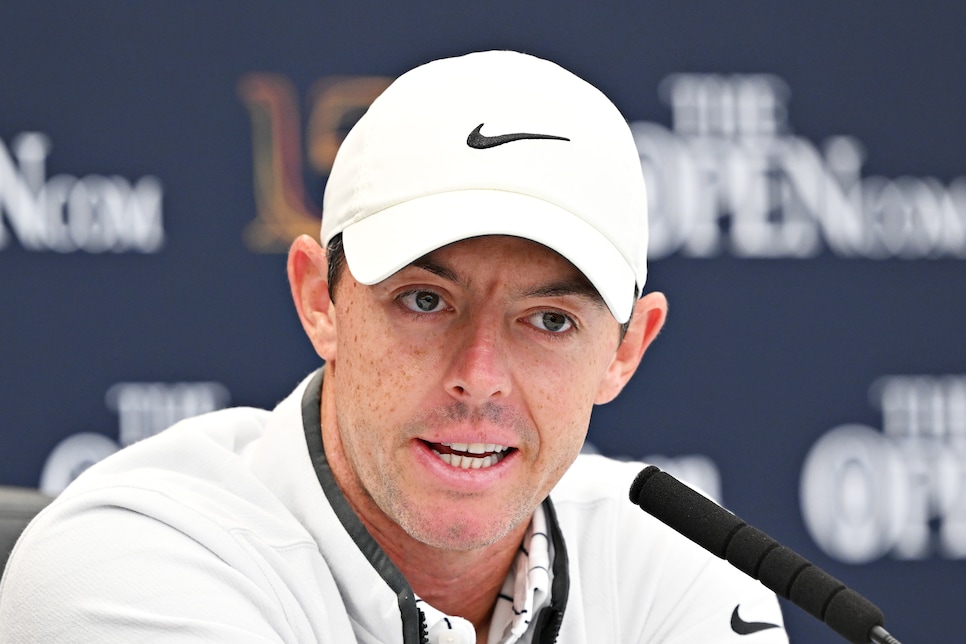 ST. ANDREWS, Scotland — The man who has become the conscience of the game took the stage at the Home of Golf ahead of the sport's 150th playing of its most cherished championship. If that sounds like a lot, it's because it is, and Rory McIlroy very much looked like one who has spent these past months with the weight of a league on one shoulder and the weight of expectations that come with stardom on the other. On Tuesday at St. Andrews, McIlroy affirmed what was already held to be true; that the confluence of those responsibilities have amplified the opportunity that awaits at this Open Championship.
"I don't know if a golfer's career isn't complete if you don't [win at St. Andrews], but I think it's the Holy Grail of our sport," McIlroy said. "So not a lot of people are going to get that opportunity to achieve that, but that's what winning an Open at St Andrews is. It's one of the highest achievements that you can have in golf."
Now this is a sport often discussed in reverential and religious tones. Even against that backdrop McIlroy's description is apropos. For these are heavy times, and through them the Ulsterman has been on a crusade, a quest both of his own making and something greater than himself.
The latter has been illustrated over 2022. McIlroy has become one of the de facto defenders of the PGA Tour as a Saudi-backed circuit is creating a schism at the professional level. McIlroy has leaned into this role because he believes it is the right thing to do. It is also a role that has increased an already-bright spotlight on what he says and what he does. Such an instance was brought up Tuesday when McIlroy was accused of flip-flopping his hardline stance against LIV Golf following a comment in Ireland about the two rival leagues potentially holding "peace talks."
"I wouldn't say they're contradictory," McIlroy said. "Basically I said the same thing."
He was not being defensive. When you talk as much as Rory does on a matter as divisive as this, any comment could be conceived as contradictory, or at least not copacetic, from previous statements. But it underlined the very real and ongoing threat that critics do not like positions built on perceived righteousness, wanting to tear them down at the slightest hint of slip-up or inconsistency.
Yet, because he is willing to make a stand so passionately and candidly on a subject others have no appetite for, he continues to field question after question after question. On Tuesday alone, McIlroy heard inquiries on past LIV opinions, the Open's ban of LIV Golf CEO Greg Norman, if it would be good for the game if a LIV player didn't win this week and why Tiger Woods has decided to stick with the PGA Tour. It is a vicious cycle that has little personal benefit and comes with a world of downside. It has not necessarily taken a toll on his play—he has finished top 10 in every major this season and recently won the RBC Canadian Open—but the wear is visible, the once-buoyant McIlroy at times seeming shackled to this battle that has no endpoint in sight.
That is a heavy hammer for anyone to swing, let alone for a guy already trying to hurdle the pressures of who he once was against the hope of what he could still be again.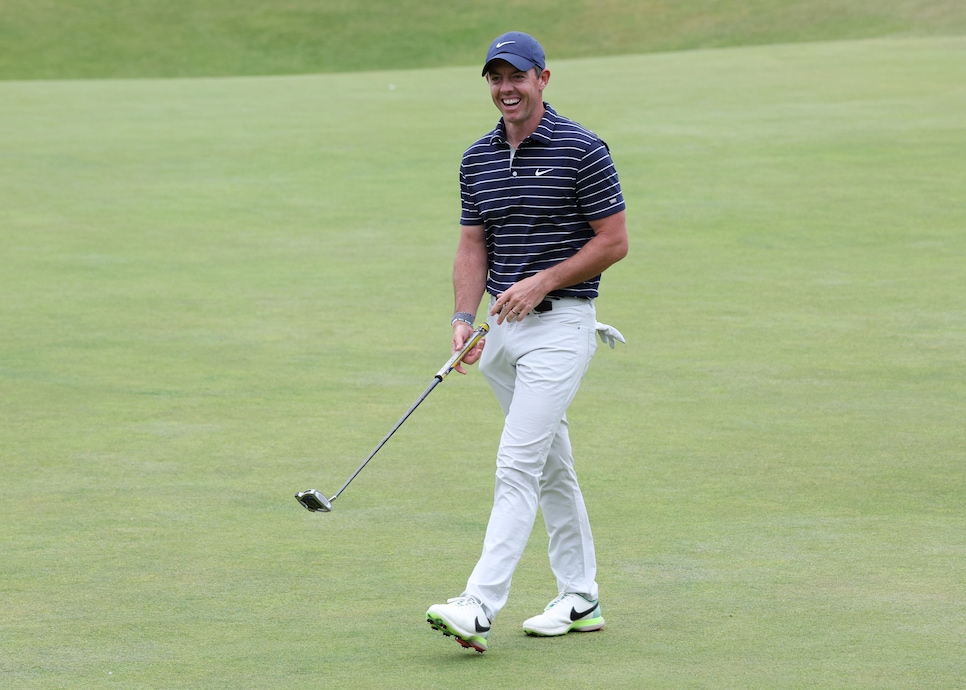 The last time the claret jug visited St. Andrews McIlroy was the reigning champion and winner of two of the previous four majors. He never got the chance to defend his title, an injury suffered in a backyard soccer game forcing him out of the tournament, and McIlroy has been unable to add to his four major total since. He has flirted with a handful of chances and in the interstitials that litter golf's calendar he has continued to be one of the game's best. But McIlroy is that rare talent that is judged by four tournaments and four tournaments alone. Moreover, he is blessed with the curse of making this ridiculously hard game look ridiculously easy, and though it is the catalyst for his popularity it can be the bane of his existence too, for when he looks human it is not seen as sympathetic or relatable but a disappointment.
Which is why so much is riding on the line this week. There have been popular champions at this venerable site, yet a theoretical McIlroy win would be the unique win that transcends the individual. It would be for what he stands for and the people that stand behind him, a chance to avenge the chance that was taken away from him in 2015. A day before on the same stage Jack Nicklaus channeled Bobby Jones when stating a golfer's career is not complete unless he has won at St. Andrews. McIlroy did not agree. Only, in typical McIlroy fashion, somehow added to the feat's significance and pressure by making the aforementioned Holy Grail comparison.
"There's a lot of great players that have won Opens and maybe not had won Opens at St Andrews, so I think it's unfair to say that a golfer's career isn't complete without that," McIlroy continued. "But it's certainly up there with one of the greatest things you can do in our game."
The logic makes sense; a player, even of the stature of McIlroy, gets three, maybe four realistic chances to win the Open here. At 33 years old, McIlroy has had just one shot to this point in his career, back in 2010. He led after Round 1 of that Open with a 63, tying the lowest score in major championship history, only to come out on the business end of a bad draw in Round 2 en route to an 80, ultimately finishing in a tie for third.
McIlroy doesn't remember much about that tournament, save for the first day. He missed a short birdie putt at the Road Hole, arguably the hardest par 4 in golf. "That's the one thing that sticks out in my mind because I remember coming off the golf course thinking that was a really good opportunity for the first person ever to shoot 62 in a major, and I didn't quite get it done," McIlroy said. "So you can always be better."
Again, he was talking about a round in 2010, yet is a sentiment that sums up his past seven years of major struggles. I didn't quite get it done. But more important is his final point. You can, always, be better. It's why those hoping for a revival, that McIlroy can take what he does on non-major weeks and do it when it matters the most, aren't prisoners of nostalgia or unfounded desires.
"That's a moment you dream about, especially being from this part of the world," McIlroy said when asked what a win this week would mean, his voice filled with vigor. "This was the major championship, it was the first one I ever attended as a kid. Yeah, it just means a little bit more. Yeah, to hear your name and winner of the gold medal, Champion Golfer of the Year, it's what dreams are made of."
Dreams are what make life tolerable. Especially to weary crusaders.
MORE OPEN CHAMPIONSHIP 2022 STORIES FROM GOLF DIGEST