Walker Cup
When They Were Walker Cuppers
Many of the game's top pro golfers got their first gained notoriety by playing as amateurs in the Walker Cup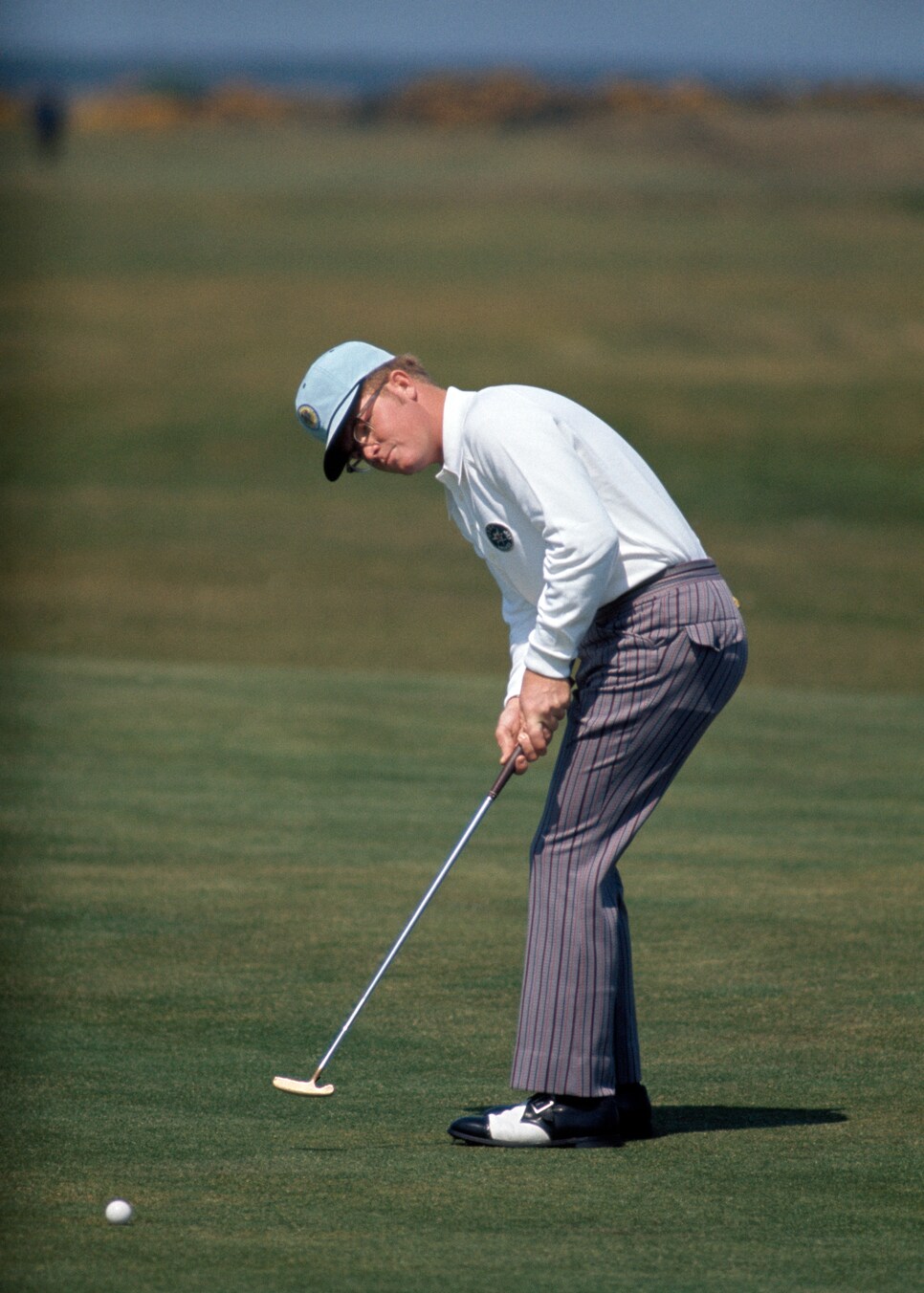 Photo By: Ed Lacey/Popperfoto/Getty Images
Photo By: Ed Lacey/Popperfoto/Getty Images
Photo By: Popperfoto/Getty Images
Photo By: Phil Sheldon/Popperfoto/Getty Images
Photo By: R&A via Getty Images
Photo By: Hunter Martin/R&A
Photo By: Harry How/Getty Images
Photo By: Harry How/Getty Images
Tom Kite, 1971
Kite played on the U.S. team that lost to Great Britain & Ireland in 1971 at St. Andrews, one of only two times the GB&I side beat the Americans in the first 32 editions of the match.
Photo By: Ed Lacey/Popperfoto/Getty Images
Lanny Wadkins, 1971
Wadkins was playing in his second Walker Cup at St. Andrews, and won both of his singles matches on the Old Course.
Photo By: Ed Lacey/Popperfoto/Getty Images
Curtis Strange & Jay Haas, 1975
The Wake Forest college teammates were naturally paired together in foursomes twice at St. Andrews, winning both times.
Photo By: Getty Images
Craig Stadler, 1975
Stadler was 3-0 for the U.S. at St. Andrews, with the American team easily avenging their 1971 loss at St. Andrews, beating the GB&I side 15.5-8.5.
Photo By: Getty Images
Jerry Pate, 1975
Pate turned pro shortly after playing for the U.S. team at St. Andrews. Less than a year later, he would go on to win the U.S. Open title at Atlanta Athletic Club.
Photo By: Getty Images
Davis Love III, 1985
Love beat Peter McEvoy, 5 and 3, in the final singles session to help the U.S. team beat GB&I 13-11 at New Jersey's Pine Valley G.C.
Photo By: Getty Images
Colin Montgomerie, 1987
Foreshadowing some of his Ryder Cup prowess, Monty was the lone bright spot for the GB&I side at Sunningdale G.C. While the U.S. team won convincingly, 16.5-7.5, Montgomerie was the only GB&I player to win both his singles matches.
Photo By: Getty Images
Padraig Harrington & Paul McGinley, 1991
The fellow Irishman has a surprisingly rough time of it at Portmarnock. Teamed together in the first foursomes sessions, the pair lost, 2 and 1, to career amateurs Jay Sigel and Allen Doyle. Harrington lost in the only other match he played while McGinley did at least win one of his two other matches.
Photo By: Popperfoto/Getty Images
Phil Mickelson & David Duval, 1991
In the lone Walker Cup appearance for each of these future major winners, Mickelson compiled a 3-1 record at Poirtmarnock, and Duval went 2-1.
Photo By: Getty Images
Tiger Woods, 1995
In his lone Walker Cup appearance, Woods was 2-2 at Royal Porthcawl as the American side lost for just the fourth time in the history of the event.
Photo By: Phil Sheldon/Popperfoto/Getty Images
Justin Rose, 1997
Nine months before Rose famously finish T-4 at the British Open as an amateur, the then 17-year-old was the only player on the GB&I team to have a winning record at Quaker Ridge G.C. (2-1).
Photo By: Getty Images
Luke Donald, 1999
Donald will go down as one of GB&I's all-time Walker Cup stalwarts after compiling a 4-0 record at Nairn G.C. en route to a 15-9 drubbing of the Americans. Two years later Donald would go 3-1 at Ocean Forest to help GB&I repeat in the match for the first time in history.
Photo By: Getty Images
Bill Haas, 2003
Bill followed in the footsteps of his father Jay (1975) and uncle Jerry (1985) by playing in the competition, going 2-2 at Ganton G.C. as the Americans lost for a third straight time.
Photo By: Getty Images
Rickie Fowler & Rory McIlroy, 2007
Before the young guns started to go at it in the pro ranks, they clashed at Royal County Down. Fowler, alongside Billy Horschel, beat McIlroy (paired with Jonny Caldwell) in Sunday morning foursomes, as the Americans pulled out a 12.5-11.5 victory.
Webb Simpson, 2007
Simpson struggled in his one Walker Cup appearance, going 0-2 at Royal County Down.
Photo By: Getty Images
Jamie Lovemark, Dustin Johnson, Rickie Fowler & Billy Horschel, 2007
Within four years of this foursome helping the U.S. win at Royal County Down, all four had earned PGA Tour cards.
Photo By: Getty Images
Danny Willett, 2007
Before he'd become more well known as the 2016 Masters champion, Willett played for GB&I, posting an 0-2-2 mark at Royal County Down.
Photo By: David Cannon
Tommy Fleetwood, 2009
At 18, Fleetwood was the youngest member of the GB&I side at Merion, and did not have the long locks we've seen from him as a pro. He finished the week with a 1-1 record.
Photo By: David Cannon
Jordan Spieth & Patrick Rodgers, 2011
Spieth went 2-0-1 at Royal Aberdeen, halving his Sunday foursomes match when paired with Rodgers. The duo, however, were on the wrong end of the final tally, with the GB&I team winning 14-12.
Photo By: R&A via Getty Images
Justin Thomas, 2013
Thomas made the Walker Cup his amateur swansong, and did so in style, posting a 2-0-1 record include a 6-and-4 blowout win over Max Orrin in Sunday singles as the U.S. cruised to a 17-9 victory.
Photo By: Michael Cohen
Matt Fitzpatrick, 2013
Fitzpatrick, low amateur at the British Open that summer before winning the U.S. Amateur title, continued his solid play by recording a 3-1 for GB&I in the team's loss at National Golf Links of America.
Photo By: Hunter Martin/R&A
Bryson DeChambeau, 2015
Fresh off his U.S. Amateur win at Olympia Fields, DeChambeau was among the few bright spots for the American side that was drubbed by GB&I, 16.5-9.5. He was one just two U.S. players to win his Sunday singles match to go 2-0-1 for the week.
Photo By: Jan Kruger/R&A
Cameron Champ, 2017
The Texas A&M golfer had gained attention for his power off the tee at the U.S. Open that summer at Erin Hills, and he continued to impress people at LACC. He finished 1-1-1 in the American route of GB&I, and used the moment to turn pro. He'd earn a Web.com Tour card that December and within a year had advanced to the PGA Tour and won the Sanderson Farms Championship.
Photo By: Harry How/Getty Images
Collin Morikawa, Doug Ghim, Maverick McNealy, 2017
The trio went 4-0 for the week at Los Angeles Country Club as the U.S. beat Great Britain & Ireland, 19-7. Ghim and Morikawa went back to school, while McNealy a Stanford graduate, turned pro. Fast forward to 2019 and all three players have PGA Tour cards, with Morikawa already able to call himself a winner on tour after taking the title at the Barracuda Championship in August.
Photo By: Harry How/Getty Images