The Year Of Spieth
Our favorite Jordan Spieth moments of 2015 (And boy, were there a LOT of them)
Jordan Spieth's five-win, two-major campaign in 2015 was one for the record books. We look back at some of the highlights that made Spieth such a popular champion.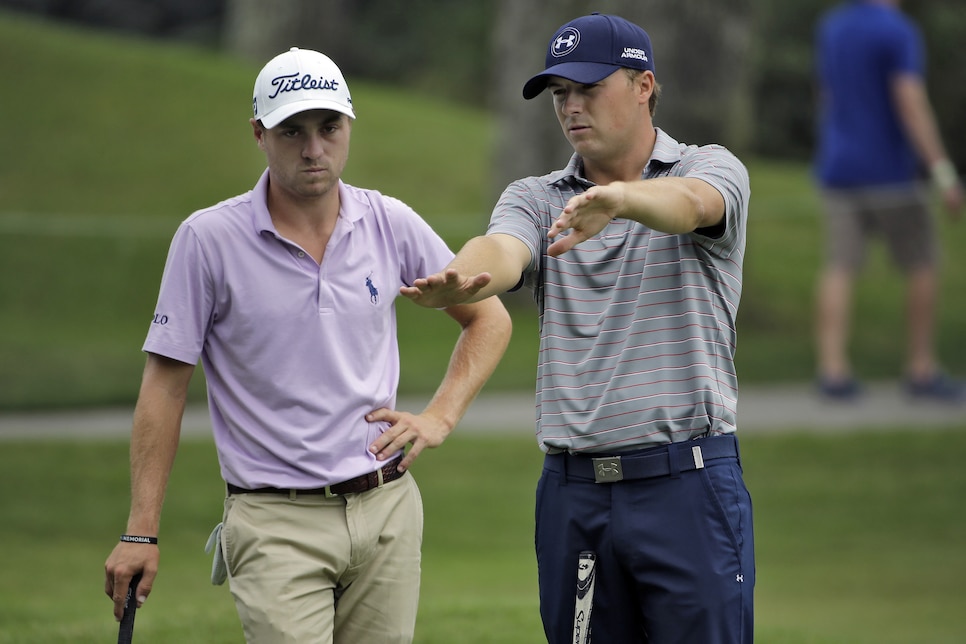 The Prank
Before his competitive side took over the PGA Tour, Spieth flashed his lighter side. After friend Justin Thomas parked in his spot at the Phoenix Open, Spieth had the car towed as a prank. "He was in a panic attack for a few hours, so that was worth it," Spieth said.
Photo By: AP
The Playoff Birdie Bomb
Spieth got the victory train rolling at the Valspar Championship by rolling in a 30-foot curler on the third hole of a sudden-death playoff. At the time, it was the 21-year-old's second PGA Tour title. But it started him on an incredible run in which he'd finish in the top-two four consecutive events, culminating with. . .
Photo By: AP
The Win For The Ages
Spieth led wire-to-wire, won by four shots, and tied Tiger Woods' tournament scoring record in the performance that defined his historic season. Afterward, he applauded the galleries at Augusta National for their support.
Photo By: Kyodo
The Kiss
He also got a nice smooch from his girlfriend and high school sweetheart, Annie Verret, and hugs from his entire family. Had he not turned pro early, Spieth could have been preparing to wear a graduation hat. Instead, he was being fitted for a green jacket.
Photo By: AP
The Looooong Presser
After answering all questions from the media at his winner's press conference, Spieth was asked to go through his card. Expecting a brief rundown of the day's birdies and bogeys, almost everyone left. Instead, an excited Spieth gave a shot-by-shot account of his entire round that lasted for another 20 minutes.
Photo By: AP
The Mavs' good-luck charm
Spieth made the rounds following his Masters win, but our favorite stop came when he was honored during a playoff game of his hometown Dallas Mavericks. Spieth spurred the crowd on by waving a jersey (it was the only game the Mavericks won in what turned out to be a five-game series) and showed everyone he was serious about taking his new favorite item of clothing with him everywhere.
The 62
Spieth didn't waste any time getting back to business after his Masters win, honoring a commitment to play at Hilton Head just days later. A media tour kept him from getting to the course until Wednesday and not surprisingly, a tired-looking Spieth shot 74 on Thursday. But Spieth showed he's not one for going through the motions. He responded with a 62 the following day and wound up T-11.
Photo By: AP
The Shoulder Rub
Spieth's bid for a fifth consecutive top-two finish came up short, but he still gave support (and a shoulder massage) to his Sunday playing partner, Jim Furyk, as they walked off the green. Furyk eventually won in a playoff to end a four-year-plus drought on tour.
Photo By: AP
The 3-Wood
Spieth's year went from great to historic at Chambers Bay. There, despite nine three-putts, Spieth hung around and claimed a second straight major championship. It looked like he might let the title slip through his hands with a double bogey on the penultimate hole, but Spieth responded with this 3-wood on No. 18 to 15 feet, which set up the winning birdie.
The Trophy Photo
Spieth's popularity soared even higher when he posed for trophy shots with all the volunteers and grounds crew at Chambers Bay. The win led to this special "introduction" when he finally flew home. . .
The Trophy & Green Jacket Photo
Spieth's photo of his U.S. trophy meeting his green jacket went viral. By all accounts, the two are still getting along quite well.
The John Deere
Why is Jordan Spieth playing in the John Deere Classic?! That was the prevailing sentiment as Spieth's attempt at winning a third consecutive major at the British Open the next week loomed. Not only did Spieth play, but he won. Here he is celebrating with his grandfather. But the lack of prep time at St. Andrews was certainly going to hold him back, right? Right?. . .
Photo By: AP
The Grand Slam Close Call
Nope. For four rounds and five days, Spieth contended at the Old Course and he appeared destined to keep his calendar Grand Slam hopes alive when he made this clutch birdie putt on No. 16 during the Monday finish to tie for the lead. A bogey on No. 17 left him one shot out of the playoff at T-4, but it was still a sensational effort -- and after, he put on an even better display of sportsmanship.
Photo By: AP
The Congrats
Spieth waited through the four-hole playoff and when it was over, he congratulated his friend and winner, Zach Johnson. Pretty cool, regardless of the situation, but to do it after such a heartbreaking finish showed even more class.
Photo By: AP
The First Pitch(es)
With the summer came opportunities to throw out the first pitch in Texas and Boston. With this first attempt in front of his hometown fans, Spieth showed off his southpaw arm and beat Zach Johnson in a first-pitch contest for charity.
Photo By: AP
The Thumbs-Up
Spieth threw himself into contention for one final major, only losing because Jason Day broke the major championship scoring record. Spieth's defining moment didn't come from any shot or putt, though. Instead, it was this thumbs-up gesture he made toward Day for hitting a perfect lag putt on the 17th hole at Whistling Straits, which all but wrapped up a first major championship for the Aussie. Spieth didn't pull off the calendar Grand Slam in 2015, but he came about as close as anyone has ever come with two wins, a T-4 and a runner-up.
The Plane Instagram
Spieth's mom, Christine, posted this pic of Jordan and his younger sister flying home from Wisconsin following the PGA. In it, the two are flashing the "Hook'em Horns" sign and Ellie is wearing a "Spieth for President" t-shirt. When is he eligible to run for office?
The Fitting Finale
Spieth capped his incredible campaign by becoming the youngest winner of the Tour Championship and FedEx Cup. That put the 22-year-old over $23 million in just on course earnings for the season -- a new PGA Tour record.
Photo By: AP
The Spoils
Ellie was the first person to greet Jordan as he walked off the 18th green at East Lake, and the two posed for this cute photo with the Coke machine Spieth won in addition to everything else. Jordan, if your new toy doesn't get along with your green jacket and U.S. Open trophy, let us know.