PGA Championship
14 Things You Should Know About Jimmy Walker
How familiar are you with the newest owner of the Wanamaker Trophy? Here are a few things you should know about 2016 PGA Championship winner Jimmy Walker.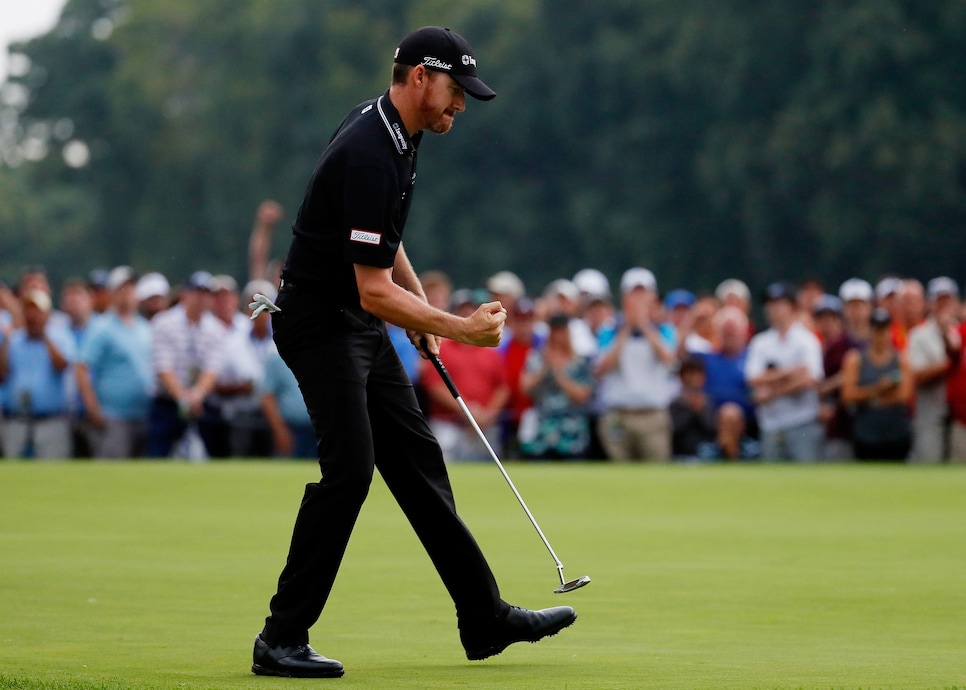 Photo By: MCT via Getty Images
Photo By: PGA of America via Getty Images
He was a LONG shot to win the 2016 PGA Championship
As of July 25, the Westgate Las Vegas SuperBook had Walker at 125-1 odds. And for good reason: Walker had missed the cuts at the past two majors, and his last top 10 came in March.
Photo By: Getty Images
He played collegiate golf at Baylor
Walker was an All-Big 12 performer in Waco, and never missed a tournament in his time with the Bears. He graduated in 2001.
Photo By: MCT via Getty Images
Prior to Baltusrol, his biggest golf thrill was playing in the 2001 US Open
That year's event at Southern Hills was his first tournament as a professional. Although we are guessing winning the Wanamaker has usurped this memory as his favorite moment.
He met his wife at a Nationwide Tour event
Erin Stiegemeier was a volunteer at a 2004 tournament, and as Walker said, "the rest is history." They have two children.
Photo By: Getty Images
He was the 2004 Nationwide Player of the Year
Walker grabbed this honor, as well as topping the tour's money list, thanks to wins at the BellSouth Panama Championship and Chitimacha Louisiana Open.
Photo By: US PGA TOUR
His caddie used to be a fellow pro
Andy Sanders played at the University of Houston and was one of the top amateur players in the country. He turned pro in 2001 and competed on the Nationwide Tour until 2004. However, his career was derailed due to multiple sclerosis and a battle with vertigo. ""We've been together a long time," Walker
said
of Sanders at Baltusrol. "And to win our sixth event, first major here where we met, that's just cool."
Photo By: PGA of America via Getty Images
His passion outside of golf is astrophotography
"Orion's Sword. The Christmas Tree Cluster. The Sagittarius Triplets. These are the interstellar things I see and photograph through astrophotography," Walker
told
Golf Digest in 2015. "Basically it consists of photographing distant galaxies and nebulae through a telescope." You can find his work at jwalk.smugmug.com.
He says golf isn't his only sport
Walker claims he can throw a small football close to 80 yards, and in Little League back in Oklahoma, he once struck out 14 batters in a six-inning game en route to a state championship. "On my way to the first tee on Thursday (at the '01 US Open), I hear a voice from the crowd yell, 'Jimmy Walk!'" Walker told Golf Digest. "Hearing my nickname from when I was a boy stops me. I look over, and it's my coach from Little League. Coach Bennett. And what does Coach Bennett say as I'm ready for the biggest moment in my golf life? 'I still think you should've been a pitcher.'"
Photo By: Getty Images
Jimmy is not the only athlete in the family
His father-in-law, Mark Stiegemeier, was the 1975 world champion in freestyle skiing, and his wife Erin is a show jumper.
He took the golf world by storm during the 2013-14 season
After 187 starts without a victory, Walker won three of the first eight PGA Tour events during the 2013-14 campaign. His inaugural victory came at the Frys.com Open, and quickly added titles from the Sony Open and AT&T Pebble Beach National Pro-Am to his trophy mantle.
Photo By: Getty Images
Butch Harmon is his coach
Better yet, early in the week at Baltusrol, Harmon was interviewed about his interactions with his pupils. When asked about his work with Walker at the PGA, Harmon
responded
, "He's swinging really good. He didn't need a lot of work."
Photo By: Getty Images
He almost quit in 2007
"I'd just had a lousy finish in Rochester and was driving to the next tournament," Walker
told
Golf Digest. "After six years as a pro my career hadn't gone anywhere." He called his wife to discuss getting a normal job. But she talked him out of it, saying "The guy I married has never quit at anything. This is what we decided to do. You've got to keep going."
Photo By: Getty Images
He set the Masters' Par-3 Contest scoring mark in 2016
Walker shot a course-record eight-under 19 at the annual Masters Par-3 Contest at Augusta National. Walker had six birdies on his round, and logged a
hole-in-one on No. 2
.
Photo By: Getty Images
He's a Titleist man
Thirteen clubs in Walker's
bag
at Baltusrol came from Titleist, including a 12-year-old Scotty Cameron putter and a prototype driver. Walker also used a Titleist Pro V1x ball.
Photo By: Getty Images