Get To Know Jason
19 Things You Should Definitely Know About Jason Day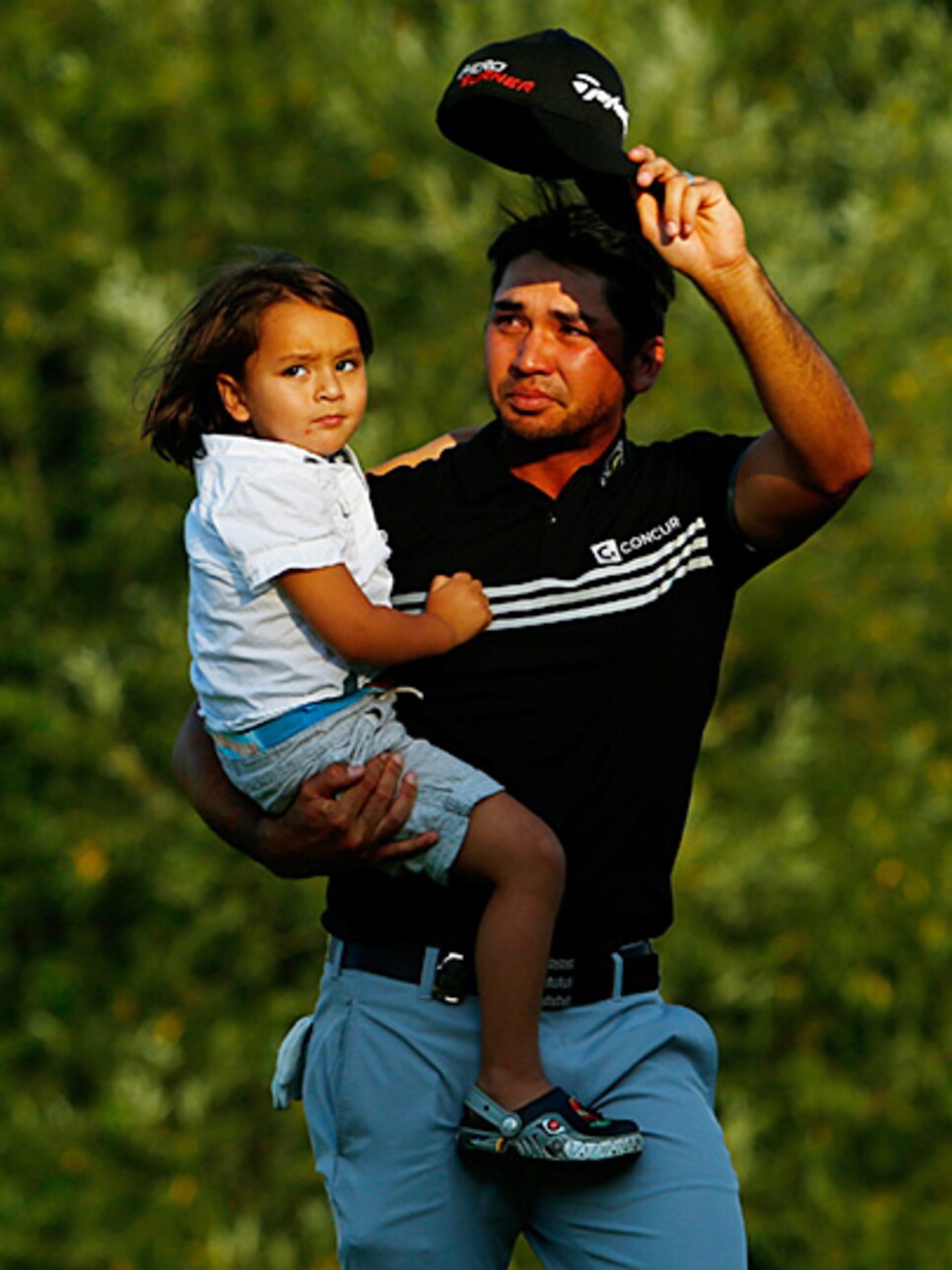 Photo By: Jamie Squire/Getty Images
Photo By: Ezra Shaw/Getty Images
Photo By: Andrew Redington/Getty Images
Photo By: Ryan Pierse/Getty Images
Photo By: GLYN KIRK/AFP/Getty Images
Photo By: Richard Heathcote/Getty Images
Photo By: Ezra Shaw/Getty Images
Photo By: Hunter Martin/Getty Images
Photo By: Courtesy of JIM MANDEVILLE
Photo By: backpacks with blessings
Photo By: Mike Ehrmann/Getty Images
Photo By: Chris Condon/PGA/Getty Images
Photo By: Montana Pritchard/The PGA of America via Getty Images
Photo By: The Yomiuri Shimbun via AP Images
Day was so poor growing up his first golf club was a 3-wood his father pulled out of the town dump.
His father died of stomach cancer when he was 11, leading to Day running into a host of troubles as a teenager.
Photo By: Jamie Squire/Getty Images
Day's caddie and coach, Colin Swatton, had the biggest influence in turning Day's life around.
Swatton forced Day to harness his talents as a golfer as a way of staying out of trouble. "He means the world to me," Day said. "I love him to death."
Photo By: Ezra Shaw/Getty Images
He met his wife, Ellie, when she was a waitress at an Irish pub in Twinsburg, Ohio, in 2005. They didn't go on their first date until two years later.
Photo By: Andrew Redington/Getty Images
Day raised a stir in 2007 when he made his clear his ambitions to be the best in the world.
"I'm sure I can take [Tiger Woods] down. My goal is to be the No. 1 golfer in the world and I want to chase Tiger." It doesn't seem so far-fetched now.
Photo By: Ryan Pierse/Getty Images
Before his breakthrough win at Whistling Straits, Day already had nine top-10 finishes in 20 career major starts, including three runner-ups.
Photo By: GLYN KIRK/AFP/Getty Images
His winning score of 20 under at Whistling Straits was the lowest score in relation to par in major championship history.
Photo By: Richard Heathcote/Getty Images
Day and family often stay in a motor home they own when competing on tour.
Photo By: @ellielaneday
His success has come despite a series of injuries and health problems.
Photo By: Ezra Shaw/Getty Images
With just one win (2010 Byron Nelson) in his first six full seasons on the PGA Tour, Day was once considered a bit of a disappointment.
Photo By: Hunter Martin/Getty Images
Day also learned the game by studying Golf Digest.
"Golf Digest had all the old school swings, and my favorite swing, ever, was Nick Faldo's swing. And it had all the greats, Ernie Els and Nick Faldo and all that stuff and I had the pictures of their swing sequences on my wall," he said in 2010.
Photo By: Dom Furore
Unlike most tour players who live in the Sun Belt, Day lives in Dublin, Ohio because that's where Ellie is from, and is a member of Muirfield Village.
Photo By: Courtesy of JIM MANDEVILLE
Since moving to Ohio, Day has become a huge fan of Ohio sports, including the Buckeyes and the Cleveland Cavaliers.
Photo By: @ellielaneday
He and his wife run their own charity, the Brighter Days Foundation.
Photo By: backpacks with blessings
He's buds with Tiger Woods and frequently plays major practice rounds with him.
Photo By: Mike Ehrmann/Getty Images
He, Ellie, and son Dash go all out for Halloween.
Photo By: @ellielaneday
Not only did he win on the Nationwide Tour at 19, he was (and still is) the youngest ever winner on the tour.
Photo By: Chris Condon/PGA/Getty Images
He excels at holing long-distance putts.
Through the PGA Championship, Day leads the tour this season in percentage of putts made from more than 25 feet (10 percent), converted them at nearly twice the average rate on tour.
Photo By: Montana Pritchard/The PGA of America via Getty Images
He lost eight family members, including his grandmother, when Typhoon Haiyan hit the Phillipines in 2014.
In the wake of the tragedy, Day's foundation provided assistance to other survivors.
Photo By: The Yomiuri Shimbun via AP Images
He uses a Red Spider Limited Itsy Bitsy Spider
The putter, first shown to tour staff at the Northern Trust Open at Riviera in February, has all the characteristics of the Itsy Bitsy used by Day for the better part of the last 18 months, except this one incorporates the color of the Redback Spider, which is found in Day's homeland of Australia.
Photo By: Getty Images