British Open
18 Things You Should Know About Henrik Stenson
How familiar are you with the newest owner of the claret jug? Here are a few things you should know about 2016 British Open champ Henrik Stenson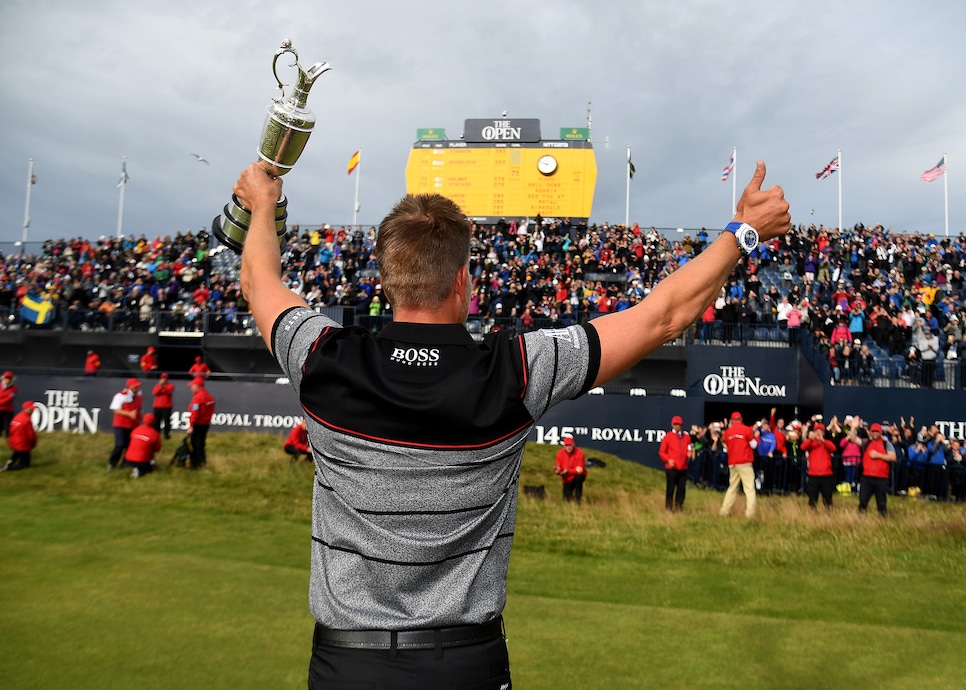 Photo By: Ross Kinnaird/R&A/R&A via Getty Images
Photo By: Bloomberg via Getty Images
Photo By: Mike Ehrmann/Getty Images
Photo By: Drew Hallowell/Getty Images
Photo By: Condé Nast via Getty Images
His Sunday round at Troon tied major championship records
Stenson carded 10 birdies and two bogeys for an eight-under 63, becoming the 27th player to post that figure in a major, and just the second to shoot 63 on the final day to win a major. His four-day 20-under total tied Jason Day's 2015 mark at Whistling Straits for lowest major score.
Photo By: Ross Kinnaird/R&A/R&A via Getty Images
He is known as a practical joker
In an
interview
with Golf Digest, Stenson said, "As kids we'd take what comes out the hind end of a dog and put it in a paper bag. We would put the bag on a neighbor's porch, light it on fire, ring the doorbell and run away." Fun!
Photo By: Getty Images
He lost $7 million in a Ponzi scheme
The scam's mastermind, Allen Stanford, was later convicted of fraud and sentenced to 110 years in prison.
Photo By: Bloomberg via Getty Images
He's played on three Ryder Cup teams
The European Team has won in two of Stenson's appearances (2006, 2014), and owns a sound 5-4-2 record in the event. Following his win at Royal Troon, the 40-year-old is a lock for the 2016 Ryder Cup at Hazeltine.
Photo By: Getty Images
He dedicated his win at Troon to a friend
Mike Gerbich was a friend and mentor to Stenson, the two meeting when Stenson lived in Dubai for six years. Gerbich died in Arizona at the age of 74 during Open week. "I lost a dear friend on Wednesday morning back in the States, who battled against cancer for a few years," Stenson
said
after winning the claret jug. "I feel like he's been with me all week and he was a keen golfer. Mike, this one's for you."
His wife, Emma, was a college golfer
Emma Lofgren was a member of the University of South Carolina's women's team. Stenson worked out with the USC men's golf team thanks to his relationship with coach Puggy Blackmon, and the two became close. Like Henrik, Emma hails from Sweden.
Photo By: Mike Ehrmann/Getty Images
He didn't start playing golf until age 12
He became hooked when a friend took him to the driving range. His love for hitting balls earned him the nickname "En Till Hink" (One More Bucket). By 18 years old, he was a scratch golfer.
Photo By: Drew Hallowell/Getty Images
He named his snowmobile Stalin
Why, you ask? Because, according to Stenson, the snow mobile
is
"a red menace."
Photo By: Condé Nast via Getty Images
He will represent Sweden in the 2016 Olympics
Better yet, in response to many of golf's top stars dropping out of the Rio games due to Zika, Stenson remarked, "I'm not afraid of mosquitoes. I'm more afraid of bears."
Photo By: Getty Images
The British Open was his first major, but not first high-profile win
Stenson captured golf's "fifth major" at the 2009 Players Championship. Also in his trophy mantle are the Tour Championship, FedEx Cup and Race to Dubai titles.
Photo By: Getty Images
He's a natural lefty
As Stenson notes on his website, this is most evident when he's signing autographs. Or, as you see in this photo, curing club throws.
Photo By: Getty Images
He's part of PGA Sweden National's ownership group
Stenson, who had already been named an honorary member of the club, purchased a significant amount of shares in PGA Sweden National in 2014. The course has hosted the European Tour's Scandinavian Masters.
He once fell to No. 621 in the world rankings
In the top 100 in the 2001 season, a battle with his tee shots equated to Stenson falling out of the top 600 in the world. He also faced another slump later in his career, falling into the 220s in 2012 after becoming a top-10 stalwart during the 2008 and 2009 campaigns.
Photo By: Getty Images
He once walked off the course during the European Open
While he's an affable personality, Stenson occasionally clashes with his temper, highlighted by club tosses or club breaks. His most famous example was at the 2001 European Open. Stenson was fighting the hooks, and decided he had enough, walking off the course.
Photo By: US PGA TOUR
He earned his Euro Tour card in Cuba
The Challenge Tour, the European's equivalent to the Web.com circuit, held its Grand Final in Varadero, Cuba in 2000. He won the tournament by five shots, earning a call-up to the European Tour.
Photo By: Getty Images
He says he failed his driver's test multiple times
After his win at Troon, a reporter asked where the win ranks among life achievements like having children or getting his driver's license. "Yeah, given that I failed my driver's test probably as many times I was second or third at major championships, that one has to be higher than this, of course," Stenson
deadpanned
.
Photo By: Getty Images
After missing the PGA Championship, Stenson played in his club championship
In 2011, Stenson's game was on life support, his play failing to earn an invite to that year's PGA Championship at Atlanta Athletic Club. Stenson decided to spend that weekend at his home course Barseback in Sweden. He finished
second
in the event.
Photo By: Getty Images
He has no problem baring it all on the golf course
Stenson infamously shed down to his underwear at Doral in 2009 so his clothes wouldn't get muddy. "It's going to be tough for me to top playing that shot in my underwear. Let's face it, I'm no Paulina Gretzky. I got so much attention from that incident," Stenson
told
us.