The Grind
Tony Finau's fun golf ball strategy, Luke Donald's dagger at Henrik Stenson and the PGA Tour's lovable new member
Welcome to another edition of The Grind, where we hope whoever won the Mega Millions jackpot is a golfer. Unfortunately, it wasn't me who won the $1.33 billion, but good lord, that could pay for a lot of amazing golf trips. And with the mystery person in Illinois, they're just a drive away from Sand Valley. Although, they're probably not driving anywhere ever again. Heck, they could just buy Sand Valley and live there permanently. Or they could just start their own professional golf league! Anyway, must be nice. And if the winner happens to be reading this, give me a call. I'd be happy to help you spend some of that LIV-level cash. In the meantime, here's what else has us dreaming talking.
Tony Finau: Amazingly, between Tony and Xander Schauffele, we've had two players known for not being able to win actually win back-to-back starts this summer. The odds of that happening this season would have been almost as high as the odds of winning the Mega Millions! And now these nice guys are absolute killers on Sundays.
After waiting more than five years before his second victory, Finau picked up wins No. 3 and 4 in just seven days, capped by a five-shot victory at the Rocket Mortgage Classic. And he did it in staggering fashion with 47 birdies to only four bogeys while hitting an absurd 79 percent of his fairways and 88 percent of his greens. Even Ben Hogan would be impressed by that kind of ball-striking. Well, maybe not Hogan because he basically never missed, but you get the point. Finau certainly dances better than Ben:
How can you not love this guy? And how can you not love how the former high school basketball star involves his basketball team worth of kids? Listen to the strategy behind putting their initials on golf balls and playing the hot hand/kid:
Congrats to Tony and Alayne and the rest of fam on the nearly $3 million in prize money these past two weeks. It's not quite winning the Mega Millions, but it'll do. Even with this inflation. And even with five freaking kids.
Joohyung "Tom" Kim: Move over Tiger and Xander, I may have a new favorite golfer. And at 20, he's so young that his English name was influenced by something my kids watch, "Thomas the Train." Actually, compared to the alternatives, it's not that bad. I'm looking at you, "Mickey Mouse Clubhouse." Anyway, this dude is a total stud, and I love that he's a fellow fast-food nut:
And following a Sunday 63 in Detroit to finish T-4, he's locked up his PGA Tour card for next season. Let's hit up a Wendy's together sometime, Tom!
Bath robe: Look, drinking celebratory bubbly out of a trophy must be awesome, but I love a prize you can actually put on. And yes, I'm partial to this because I currently have my golf group's coveted green jacket hanging up at home. But possibly even cooler than a jacket—and certainly more comfortable—is this bath robe given to the winner of the Woodstock Open:
Yes, I also just wanted to mention my man Mike Miller, who is on a heater right now after winning the New York State Open by seven shots. But seriously, that thing is baller.
Cameron Young's luck: Speaking of another Met Area legend, it's absolutely wild this guy hasn't won during an amazing rookie campaign on the PGA Tour. Just look at this stat:
Actually, I think I may have seen him driving around Westchester yesterday with some new vanity plates: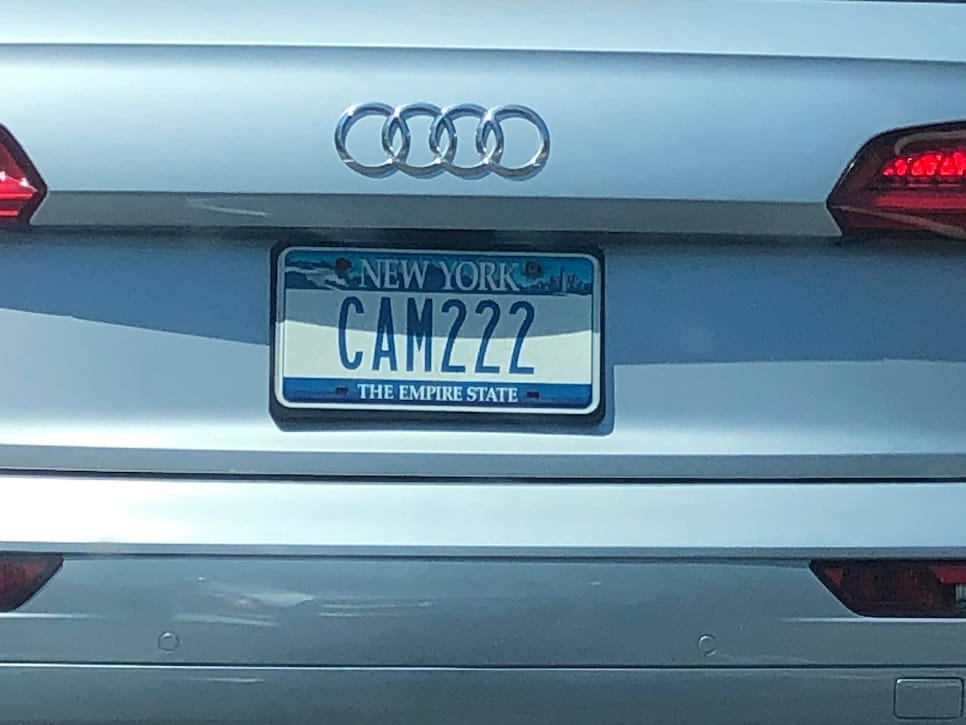 And how about the fact he's the first on tour to have seven top-three finishes without a win since Payne Stewart. In 1993! Crazy stuff. I'm sure he could point to times he didn't get the job done on Sunday, but you also need a bit of misfortune to come that close that many times and not win. On the bright side, all he has to do is look to the guy who wound up beating him this week to realize what's possible. In fact, how about this fantastic Finau quote: "I'm proud of the way I've fought through adversity in my career. They say a winner is just a loser who kept trying, and that's me."
So hang in there, Cam. Your time is coming.
Pat Perez: The PGA Tour defector's new squad, the Aces, have won back-to-back events, but with no help from this guy. Perez has finished T-29 and T-31 in his first two LIV events, placing him a combined 35 shots out of the lead. And yet he's made $1.75 million. That is just crazy. Perez is like the 12th man on the Golden State Warriors. But to be fair, maybe he's a great locker room guy: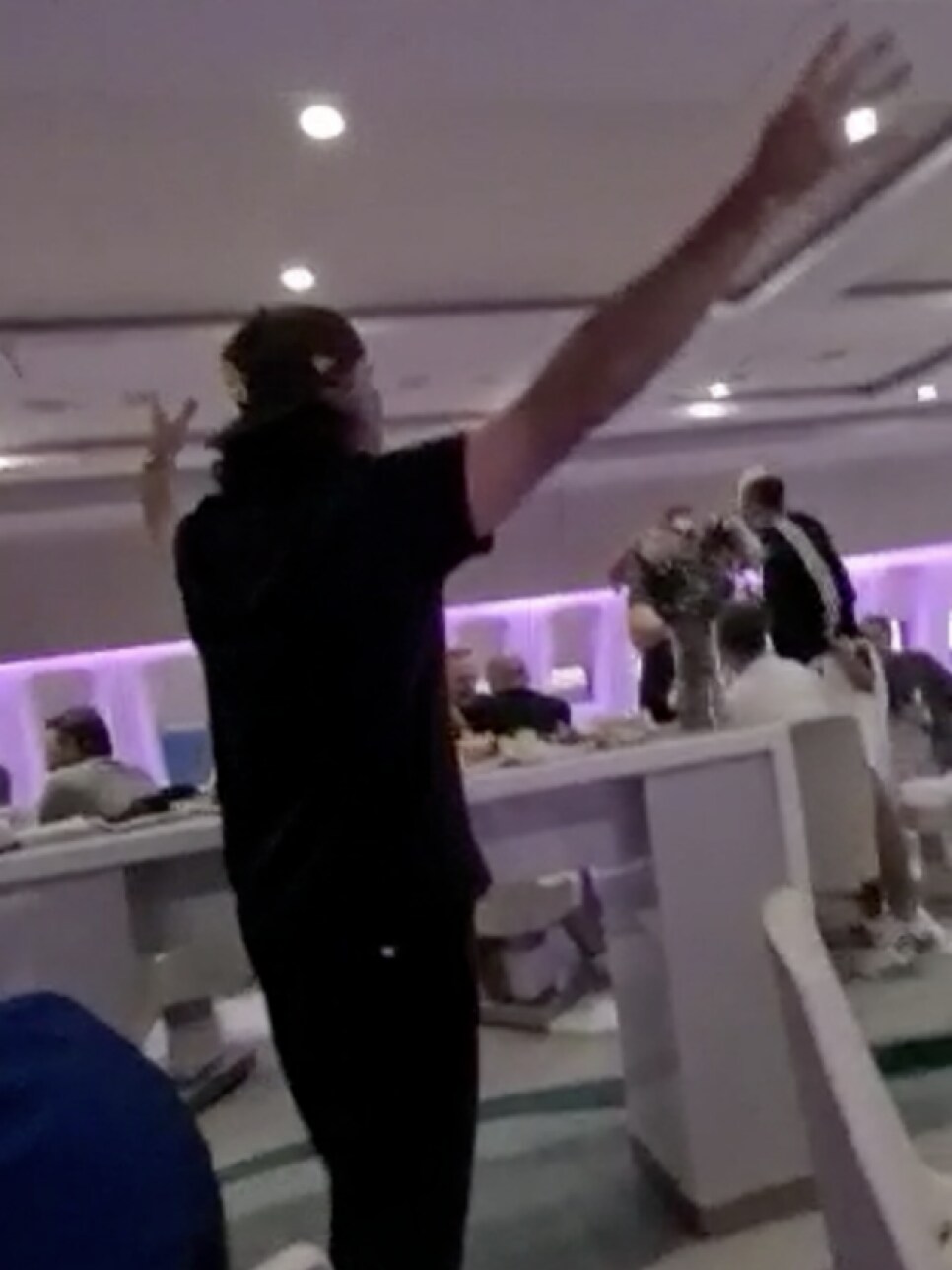 Golf gods: I've long ago decided these mythical creatures don't exist, but if they do, they did some of their worst work this past week. After Henrik Stenson broke his contract to be Ryder Cup captain to join LIV, he immediately won at Trump Bedminster to earn $4 million, plus another $375K for his new team—NOT Team Europe—finishing second. "I guess we can agree I played like a captain," Stenson cracked after holing the final putt in what is probably the first bad joke the usually hilarious Swede has ever made.
The PGA Tour heads to the Wyndham Championship, AKA the real "glory's last shot." The PGA Tour's final regular-season event creates some serious drama as it's the last chance for many to play their way into the FedEx Cup Playoffs and keep their tour cards. And we've also got the final major of the year with the Women's (British) Open at Muirfield. That's right, women are allowed to play there now! About time!
Random tournament fact: North Carolina native Webb Simpson has five top-fives and nine top-10s including a win at this event in 13 tries. DECENT. Which is why he also named one of his daughters Wyndham. True story.
RANDOM PROP BETS OF THE WEEK
—Henrik Stenson is regretting his decision right now to join LIV Golf: 4 MILLION-to-1 odds
—Webb Simpson will win this week: 20-to-1 odds
—Wyndham Simpson will be there on Sunday if he does: LOCK
Well said, Benny. And welcome back to the PGA Tour next season.
Yep, it could be a lot worse than playing for tens of millions on the PGA Tour.
PHOTO OF THE WEEK (ARCHIVE DIVISION)
Nice of JT to poke fun of young JT here:
Although I liked matching the hat with the shirt!
I'm guessing this dude putts with his glove on too.
THIS WEEK IN PUBLIC DISPLAYS OF AFFECTION
Turns out, Jason Day is just as big of a swing nerd as his buddy Tiger is:
What? As if your conversations with your co-workers are any cooler.
"If I got this captaincy, I would live up to my word and see it through. Let me put it that way. I wouldn't be doing a Henrik." —Luke Donald. Wow. Talk about some serious friendly fire there! And he did get the captaincy. Good for you, Luke. Although, it's a tough spot with most of the team gone to the LIV Tour.
Congrats to Phil Mickelson for being named Forbes highest-paid athlete for 2022. Of course, Tiger could have crushed him as usual if he had accepted his mind-blowing LIV offer. … Congrats to Ayaka Furue for winning her first LPGA title thanks to a final-round 62 at the Women's Scottish Open. Talk about a breakthrough victory. … Congrats to Wenyi Ding for winning the U.S. Junior to become the first Chinese male to win a USGA championship. Oh, and he got a nice trip to Bandon Dunes out of it as well. I'm jealous. … Speaking of Asia, Patrick Reed will make his Asian Tour debut the next couple weeks. Apparently, when he said he was joining LIV to spend more time with his family, he really meant he planned to take more family vacations to Asia. … And, finally, it's been more than three years since one of my good friends, Josh Thomson, made his first hole-in-one. And amazingly, he never reminds anyone about it. Kidding! We probably still hear about it on a monthly basis. Just look at the door to his office: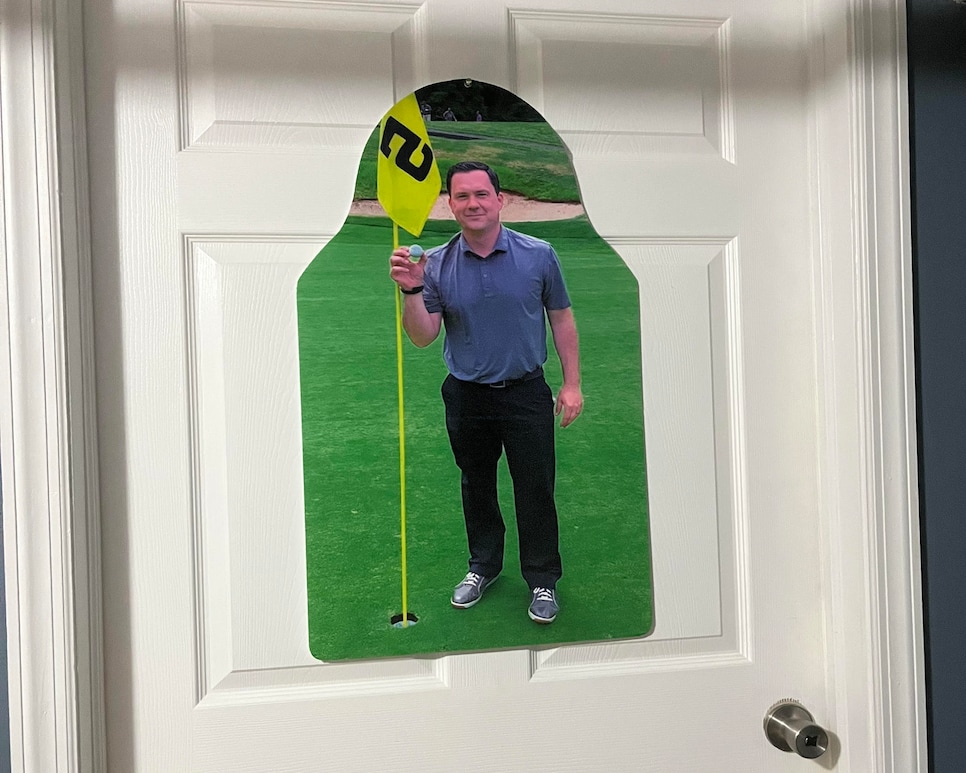 Can't say I wouldn't do the same thing. That's pretty awesome.
RANDOM QUESTIONS TO PONDER
What would I do with $1.33 billion?
What would I do if I made a hole-in-one?
Why do I waste my time thinking either could ever happen?