Rocket Mortgage Classic
Two weeks, two wins, 43 under par. Tony Finau is proving his doubters wrong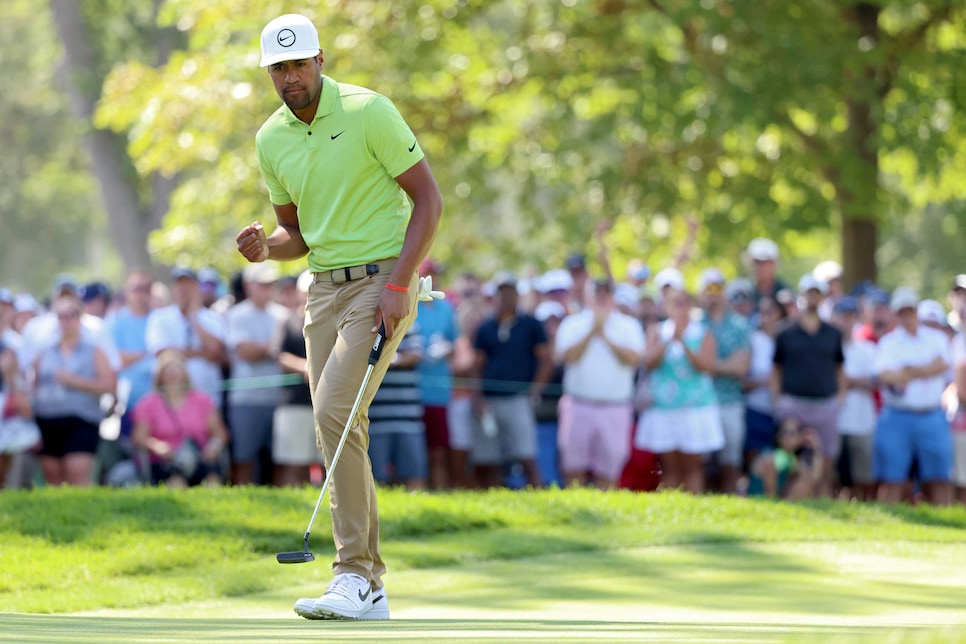 Photo By: Mike Mulholland
DETROIT — We haven't seen this kind of tear through the upper Midwest since Commodore Oliver Perry in the War of 1812.
Riding the momentum of his comeback victory at the 3M Open last week in Minnesota, Tony Finau played the most impeccable golf of his career and claimed the Rocket Mortgage Classic on Sunday for his third PGA Tour win in his last 25 starts. A closing five-under 67 at Detroit Golf Club enabled the Utah native to pull away for a five-stroke victory over the trio of World No. 4 Patrick Cantlay and rookies Cameron Young and Taylor Pendrith.
In the last two weeks, the famously congenial Finau, 32, has been merciless against his peers. He is a combined 43 under par and is beginning to fulfill the promise he had shown through a series of tantalizing near-misses—including eight second-place finishes—since winning the 2016 Puerto Rico Open. He suffered one bogey, that coming on the 65th hole of the tournament, in breaking the event's 72-hole scoring record with a 26-under 262 total, one better than Nate Lashley's effort in the inaugural edition in 2019.
Despite being fresh off an impressive victory, Finau felt like he still had something to prove this week. Mission accomplished. Actually, he accomplished two missions, because one of his goals this season was to record multiple victories.
"After bogeying the 18th hole [at the 3M Open] I had kind of a sour taste in my mouth, and I think it just gave me extra motivation to put myself there again this week and just prove to myself the kind of champion that I am and making birdies down the stretch when you really need them," he explained in his post-round press conference. "So that's all I tried to do. When I got to 14 tee, my goal was to birdie 14 and 17. If I could do that, I knew I was going to win the golf tournament, and I was able to do that. I was just proud of the way I finished. I thought that this week I was able to prove to myself the champion that I feel like I am."
Cantlay, the defending FedEx Cup champion, made an early run with five birdies in his first eight holes on the way to his tour-leading 10th top-10 finish of the 2021-22 season. He carded a six-under 66 and posted 21-under 267, while Young birdied four of his last six holes for a 68 and Pendrith had an up-and-down round of 72.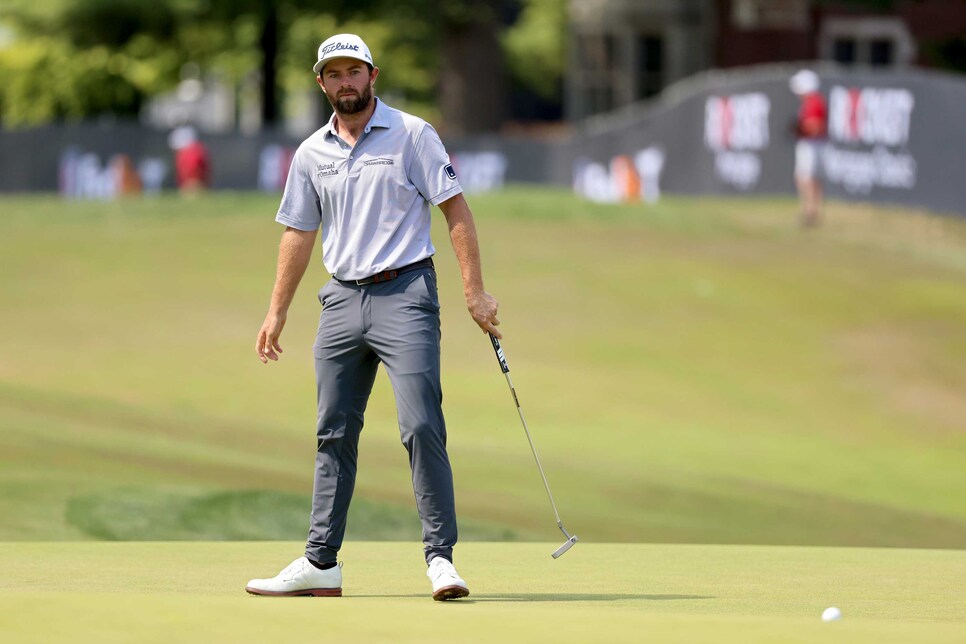 Cameron Young has taken over Tony Finau's old role of stringing together close calls after finishing in a share of second for the fifth time in the 2021-22 PGA Tour season.
Mike Mulholland
Young further fortified his credentials for PGA Tour Rookie of the Year with his fifth runner-up finish to join six others for most in a season in the last 40 years. The New Yorker owns seven top-three finishes—five coming in his last eight starts, including runner-up to Cameron Smith at the Open Championship in his previous outing.
"I'd be lying if I said it was easy to just watch other people win," Young, 25, said. "Obviously, today Tony beat us all by a lot, but it's not fun being that close that often and not having one. All in all, I think it's a great thing. It proves that I can at least put myself there. Yeah, I think overall it's a good thing, but definitely a little frustrating not to have won one yet."
Pendrith, who began the day tied atop the leaderboard with Finau, couldn't maintain the torrid pace of his first three rounds. Playing alongside Finau in the final pairing for the second straight day, the native of Canada registered his career-best finish in just his third event after taking 12 weeks off because of a broken rib on his right side.
"Yeah, it was tough, couldn't really get anything going and didn't get off to the best start like I did the last three days, but kind of hung in there," Pendrith, 31, said a bit dejectedly despite a personal best $635,600 consolation prize. "You know, middle of the round I hit some really nice iron shots and just couldn't get anything to fall … just kind of lost my feel on the speed of my putts."
Finau, who collected $1.512 million, pulled two clear of Pendrith at the turn, going out in two-under 34, capped by an 11-foot par save at the ninth that kept his bogey-free streak alive. When he rolled in a 21-footer on the 10th for birdie, his lead swelled to three shots, and although he bogeyed the 11th for his only blemish over 72 holes, Finau bounced back with a 31-footer that elicited a fist pump. Pendrith, meanwhile, bogeyed the same hole, and the outcome no longer was in doubt.
After opening with an eight-under 64 that featured hitting all 18 greens in regulation for the first time in his PGA Tour career, Finau would only say that he was playing with confidence, buoyed by his performance the week prior, but mentioned nothing about being in a zone or even playing relatively stress-free. "I hate saying stress-free in this game," he said. "I hate saying easy."
But the lithe 6-foot-4 veteran who generates power with ease made it look easy from start to finish. He hit 46 of 56 fairways, 66 greens in regulation (tied for third-most on tour since 1980) and sank 338 feet of putts. He led the field in strokes gained/tee to green and putts per green in regulation. It was a complete performance for a player who will move up to 13th in the world.
"Evolving," he said, is an apt description of his game. After an experiment chasing distance that he didn't need, he has concentrated on shoring up his short game and putting. He also has taken note of his thought process and how his body feels over shots in the heat of contention and tried to apply those lessons to succeeding opportunities.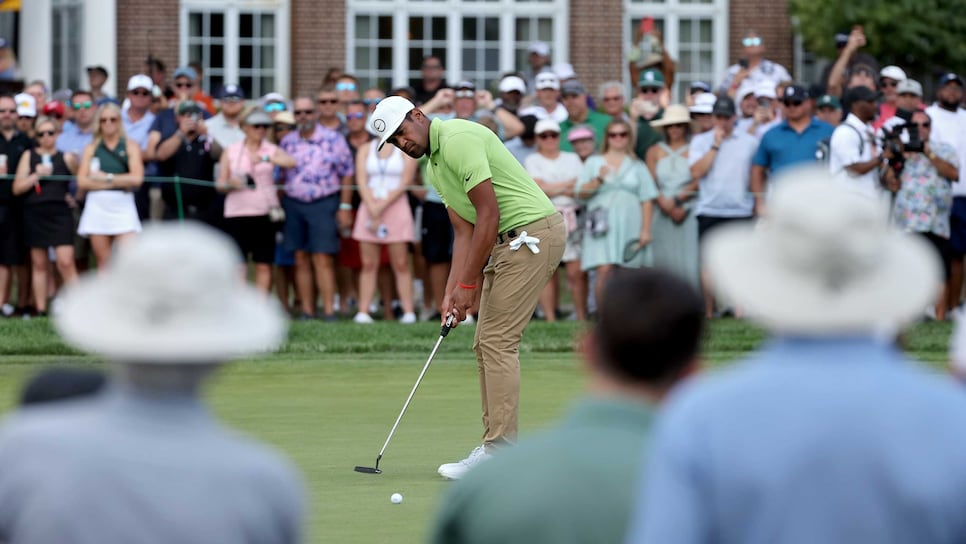 Finau noted in his post-round press conference: "They say a winner is just a loser that just kept on trying, and that's me to a 'T.'"
Gregory Shamus
"Those are all things that I've known over these last couple years and I've worked extremely hard on, so now that I'm enjoying the success that I am, it's all due in part to me just looking at myself square in the eyes and knowing I'm not as good as I can be and addressing those parts of my game that need to be elevated for me to be a great player," he said. "I think that's what you're seeing these last couple weeks from me is that I've been able to put myself in similar situations in the past, but my game is sharper, I'm stronger and I'm just a better player to be able to seal the deal and take control of golf tournaments."
Finau played 142 events before adding a second victory to his resume at last year's Northern Trust and then needed only 23 more to collect his third. Now he is the first player to win back-to-back weeks during the regular season since Brendon Todd in 2019. There was a belief that Finau was simply too nice to win. He's still one of the nicest on tour. He has just learned to apply his immense talents in a way that is emphatic and lacking empathy.
"You guys have been there for a lot of the tough losses. I put myself in situations to win before, haven't been able to do it, but I'm very optimistic," he said. "I've always been that way. I've always had hope and faith that things will turn out if I just keep working hard and putting myself there. But I'm proud of the way that I fought through adversity through my career. They say a winner is just a loser that just kept on trying, and that's me to a 'T.' How many times do I lose? But one thing I won't do is give up, and I'm only here as a winner because I chose not to give up and just keep going."
Don't be surprised if he just keeps on going.