Takeaways
Tony Finau's career first, a long-hitting Canadian's 'home game' and another Cameron resurfaces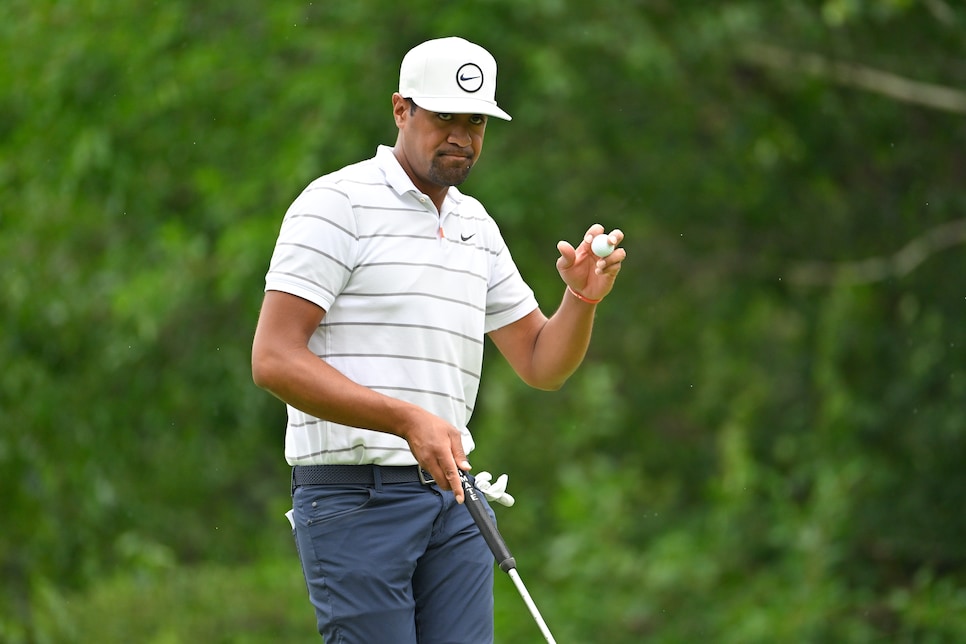 For years, golf fans wondered when Tony Finau would get his next win. Now it might happen in just a matter of days.
Finau finally got win No. 2 last August at The Northern Trust, more than five years after his maiden victory at the 2016 Puerto Rico Open. But after picking up PGA Tour title No. 3 last week at the 3M Open, he finds himself on top of the leaderboard yet again after shooting a bogey-free 64 Thursday at the Rocket Mortgage Classic. And he didn't even need any lucky bounces off grandstands!
"This game's a funny game because sometimes you play well and the next week you're a little flat, sometimes you play well and you keep it going," Finau told reporters after. "It was nice to keep it going after last week and keep it going today."
But while Finau is suddenly starting to pile up the trophies, he accomplished a career-first during his first round. Finau hit all 18 greens in regulation at Detroit Golf Club, something he had never done in 727 previous rounds on the PGA Tour. And that made his day seem pretty, well …
"I hate saying easy. Those are just words I don't like using, but it was nice to have hit as many fairways as I did to kind of open up the green for me today," Finau said. "Yeah, it's cool. I didn't know that fact before today, that I haven't hit all 18 greens, so to be able to do that here today is pretty cool."
Also pretty cool—especially for a big sports fan like Tony Finau—is that the best athlete on property this week, former Detroit Lion and Pro Football Hall-of-Famer Calvin Johnson—said one of the things he looked forward to most was watching Finau play. Well, if he was in the galleries today, he saw one heckuva show.
"Yeah, that's unbelievable," Finau said. "I got to meet him for the first time during the 313 Challenge on Wednesday, and I told him there's only one jersey in the NFL that I own and it's a Calvin Johnson jersey, so big fan of his. And I was sad when he retired, but I totally understood that decision. I was a huge fan of his, so I'm pretty humbled that he thinks highly of my game and me. The feelings are very mutual, and I have a lot of respect for him."
Here are the rest of our takeaways from Thursday in Detroit.
Tony Finau wasn't the only golfer getting good crowd support—and shooting 64—on Thursday. Taylor Pendrith matched Finau for the first-round lead in what could be a really special week for the Canadian.
Pendrith, an Ontario native, said he has plenty of family and friends in attendance at Detroit Golf Club.
"Me and my wife drove here on Monday, it was like three and a half hours," Pendrith said. "Pretty close. It feels like a home game."
And so far, the 31-year-old's performance has definitely been worth the drive. Known for his pop off the tee, Pendrith gained more than three strokes with both his approach play and putting on Thursday.
Pendrith enters this week ranked 104th on the FedEx Cup points list during his rookie season on the PGA Tour, but that's a bit misleading due to all the time he's missed. A cracked rib caused him to miss a few months after the Players Championship and a positive COVID test delayed his return this summer. But he entered this week off back-to-back top-15 finishes at the Barbasol and Barracuda Championships.
"It has been a long journey," Pendrith said. "I've been up and down from Mackenzie Tour, Korn Ferry Tour, Mackenzie Tour, Korn Ferry Tour and now here finally with some injuries in between. I think it shows all the hard work's paid off and when I'm healthy, I can compete with the best. It's been—other than the injury, it's been a great rookie year so far and just nice to be back."
Another Cameron resurfaces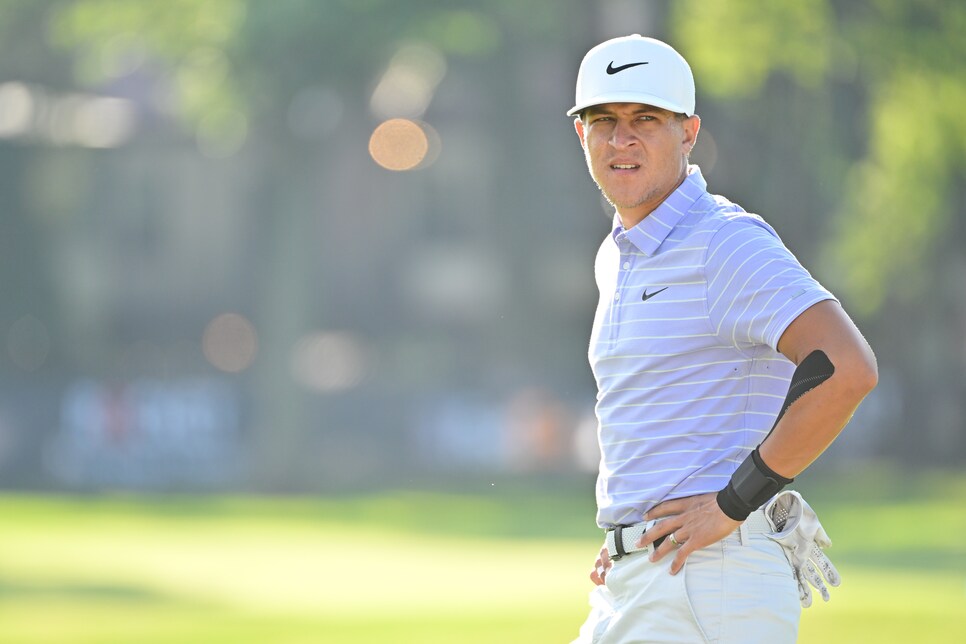 With Cameron Smith winning the Players and Open Championship, Cameron Young's impressive rookie campaign and even Cameron Davis being the defending champion at this event, golf is in the midst of the Cameron Era. But don't forget about Cameron Champ.
Champ, a three-time PGA Tour winner, has had his own injuries to overcome in 2022, but he looked healthy on Thursday with an opening 66 to place him in a tie for third, two shots behind Finau and Pendrith.
The 27-year-old has had a weird season that looked to be headed in the right direction after a T-10 at the Masters and a T-6 at the Mexico Open. But shortly after, he missed five consecutive cuts before a T-16 last week.
He's the low Cameron, though, for the moment. And these days, that means you're really golfing your ball.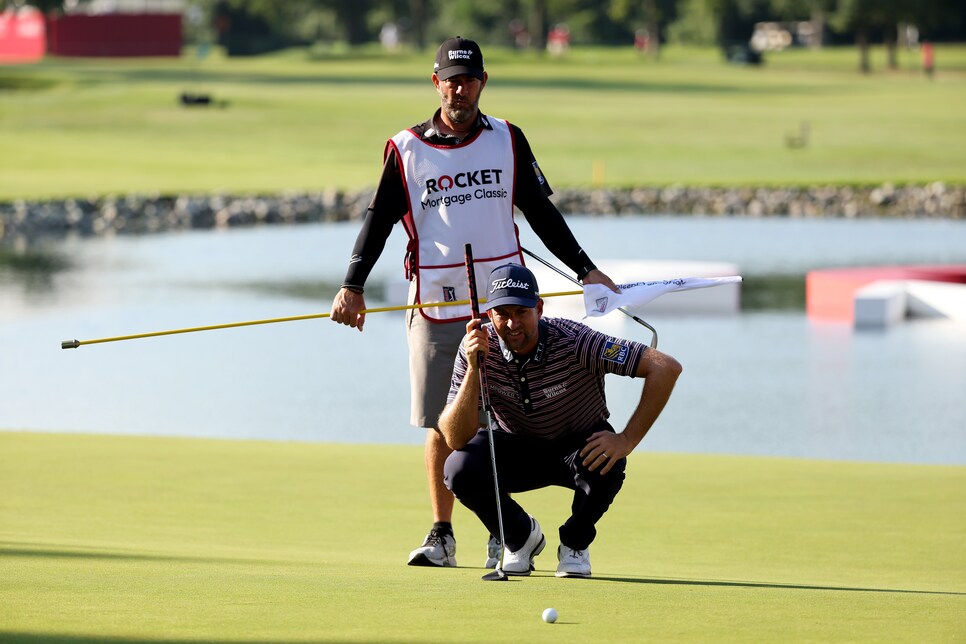 Webb Simpson entered this week as the FedEx Cup bubble boy at No. 125. And although he might have a bit of cushion thanks to all the LIV Golf defectors, the seven-time PGA Tour winner certainly wouldn't mind a strong showing to give him some breathing room. So far, so good.
Simpson opened with 66, and after, he gave credit to practicing hard during his off week.
"I flew to Vegas, worked on my golf swing a little bit," Simpson said. "Just trying to get a little more extension in my backswing and in my through swing to take a little bit of that face rotation out so my misses are a little better and I'm hitting more shots, quality shots with good strikes, which I've been struggling a little bit kind of hitting the ball solid every time. So today I hit pretty much every shot solid except for one."
It hasn't been his best season, but the score was another reminder of just how good Simpson has been since getting on the PGA Tour. Check out this eye-popping stat from Twenty First Group's head of content, Justin Ray:
In other words, there's potentially a lot more where that came from.