3M Open
'I called bank': The lucky bounce off the grandstand that propelled Tony Finau to his 3M Open win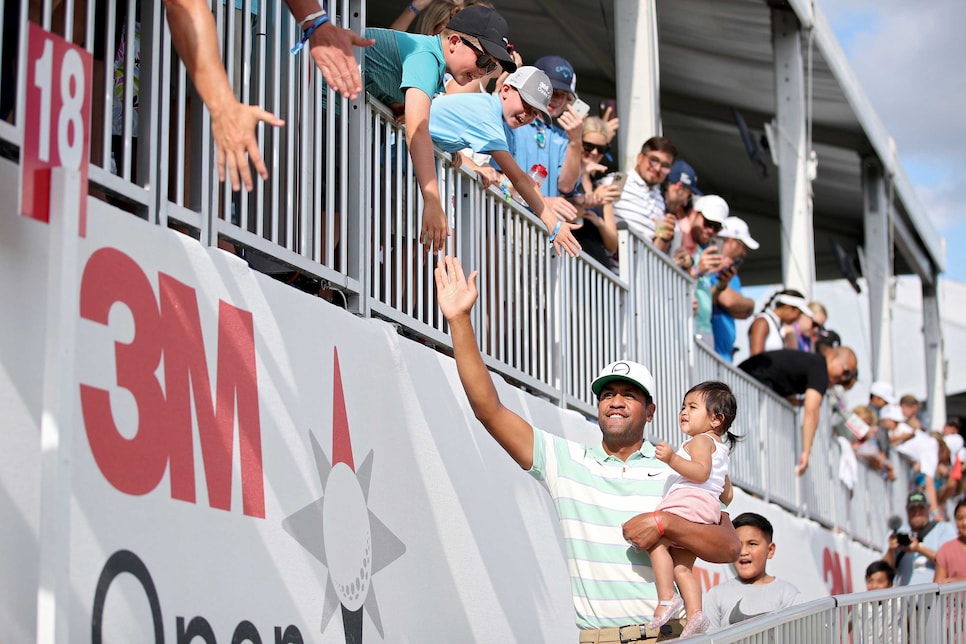 Tony Finau said every time he looked up on Sunday at the 3M Open he seemed to be four or five shots off the lead. But he kept attacking, and with four birdies on his back nine, along with a surprise implosion from third-round leader Scott Piercy, Finau suddenly was himself the runaway leader, four shots out front with two holes to play.
Still, Finau made those two holes awfully adventurous. On the par-3 17th, he got quick with his swing, rocketing his tee shot off the bottom of the grandstands left of the green. The ricochet was audible and the ball looked like it was heading for disaster as it bounced toward the water fronting the green. Then fate stepped in.
Another foot and things would have been awfully interesting. Instead, Final chipped to one foot and made par to walk to the 18th hole with a comfortable four-shot advantage.
Standing on the tee on the par-5 home hole, Finau stayed aggressive, pulling out a driver. Maybe too aggressive as the ball faded toward the right of the fairway, rolling into the water that hugs the entire hole.
Give a little credit to CBS announcer Nick Faldo who was anxious the entire time that Finau was swinging the driver on the tee—Faldo also started the broadcast by saying that Finau was going to come from five back and win the title.
Finau took a drop and laid up with his third shot. From 145 yards away, he hit his fourth just left of the green. He rolled a par putt 3½ feet past the hole, but made the comebacker for bogey that still gave him a comfortable victory.
"Once I took control of the golf tournament it was a whole different mindset, trying to seal the deal," Finau said. "A couple squirrely swings coming in. I called bank on 17, and it worked out."