Good Miss
Pro drops club in disgust, ends up making hole-in-one because these guys are good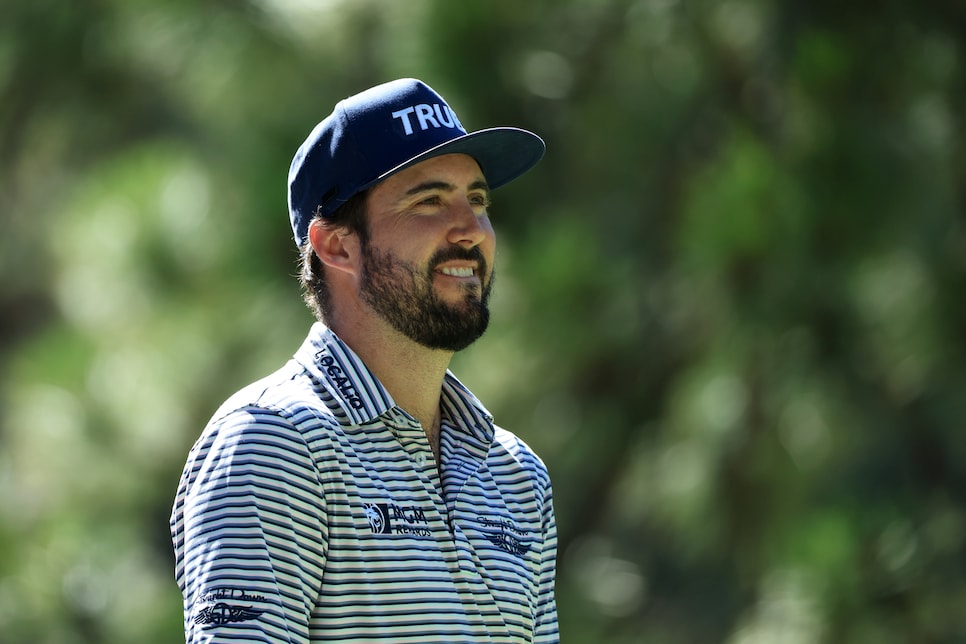 For awhile, Hideki Matsuyama held the club-drop-that-was-actually-a-good-shot crown. On Thursday at the Rocket Mortgage Classic, Mark Hubbard stole said crown and may be keeping it on his head for good.
At Detroit Golf Club's par-3 11th, which measures at 216 yards, Hubbard went full Hideki and dropped his club almost immediately after impact. We're talking 0.00001 seconds after ball hit club, the universal tour pro sign of absolutely despising how the contact felt.
But it couldn't have been nearly as bad as Hubbard thought. Much like a Brett Favre throw across the field on 3rd-and-15, Hubbard's tee shot was a "no no no no no .... YES!", coming to rest in the bottom of the cup for an improbable hole-in-one. We're not making this up:
As far as we know, this is the first club-drop ace in history, at least on television. We'd also classify it as one of the greatest "misses" in golf history. You know you're dialed in when a vicious club drop turns into a "1" on the scorecard. These guys are good, indeed.
After the round Hubbard tried to explain the reaction:
"I mean, honestly, it was pretty embarrassing. Didn't quite know where the ball was going today," he said. "Taking a week off and whatever, I just didn't feel as spot on. I think I let go of the club on about three of the last four shots as well, and they all ended up OK. I just felt really stuck, and I thought it was going to be way right of the green. I looked up and it was a perfect one yard draw. Wyndham actually was like, as soon as I let go, he's like, 'Dude, that better not go in,' but sure enough it landed and trickled in like a putt. Yeah, I think that's probably going to end up being one of my favorite hole-in-ones I ever had just because of the situation. And none of them even gave me high-fives after."
Not surprisingly, Mark's brother Nathan, who used to work for Twitter and remains very active on the app, had some fun with Mark's reaction:
Nathan also reported that this was one of many aces for Mark, whose most recent hole-in-one came while playing barefoot and wearing a Taylor Swift tie dye T-shirt:
Hubbard corrected Nathan, saying it was actually his ninth ace. But he did confirm the last one came under far different circumstances: "The previous one I had before this, my eighth, was at Baker's Bay and I had dropped about a hundred beers, so I don't know if I had shoes on. Probably not. Definitely didn't have a shirt. So that one was equally as, you know, shenanigans as this one, but this one was fun."
That's the good stuff. Hubbard's ace got him to three under for the round at Detroit Golf Club. He made two more birdies and a bogey to finish the round at four-under 68, four back of morning leaders Tony Finau and Taylor Pendrith.