Tony Finau not only rallied Sunday to win the 3M Open, but also simultaneously with his three-stroke victory injected a little sanity into a game awash in uncertainty.
The highest-ranked player to reach the weekend in Blaine, Minn., Finau overcame a five-stroke deficit to veteran Scott Piercy, who for 61 holes appeared poised to turn professional golf upside down not quite as seismically as Greg Norman but nevertheless with momentous consequences. Ranked 297th in the world, Piercy was attempting to win his first individual stroke-play title since 2015 after showing up with a new swing—from a new swing coach—a new caddie, a new driver and a new putter.
Oh, and also a new pair of shoes, which proved to be the only, ahem, misstep over the first three days while he was setting the 54-hole tournament record of 18-under 195. Piercy developed a painful blister on his right heel near the end of Round 2, which forced him to walk most of the third round carrying the shoe and only wearing it when he was hitting a shot.
But just imagine the chaos next week in Detroit for the Rocket Mortgage Classic with everyone making wholesale changes in the faint hope of duplicating the Piercy plan. Who needs reps, routines and established rapport with a trusty looper?
Unfortunately for the Las Vegas native, his final-round tour of TPC Twin Cities conjured the words of Charles Dickens. It was the best of times, it was the worst of times. And he felt the spring of hope before … despair. After seeing his lead increase to five strokes, Piercy played his final 11 holes in seven over par to soar to a 76. Finau, meanwhile, sprinted home with a series of birdies to card a four-under 67 and won his third PGA Tour title with the largest final-round comeback in the brief history of the tournament.
"Man, talking about the last few hours, I think I'm still trying to catch up, still trying to figure out. I think the win is finally settling in," said Finau, whose 17-under 267 total was three better than Emiliano Grillo and Sungjae Im. "I was just chasing all day, that's all I remember. Really all week. Scott played amazing golf and the thing about out here, I just know that you just have to keep playing. Anything can happen and that's what I did."
On a temperate but blustery afternoon, Finau, 32, was the player most under control and thus most likely to take advantage of an opening. He regularly ranks among the leaders in birdie average and the Utah native converted four birdies in six-hole stretch that made all the difference.
Especially clutch were the three straight he dropped starting at the 14th hole when he knocked in an eight-footer and then followed up from 31 feet and nine feet, respectively, to quickly construct an insurmountable lead.
"When I really needed to hole putts, I did starting on 11, again on 14, 15, 16. I mean, I made some really crucial putts when I really needed them," Finau said. "Then a little bit of some heroics on the stretch on 17 and 18. A crazy bounce on 17. I called bank in the air, so I think that cancels everything out, but I did get a great bounce there and I took advantage of that.
"My game is as good as it's ever been in really all aspects. I expected myself to contend and win again this year, so to be able to do it this late in the season when you're running out of tournaments and you put that type of expectation on yourself, it's so satisfying. That's what makes the game so great, so satisfying, when you get the job done because you know that it doesn't happen very often, but this one's very special."
As for Piercy, you, dear reader, might want to skip these next two paragraphs or at least send the kids into another room while you read them.
When Grillo, who began the day four back, triple bogeyed the par-4 seventh hole, Piercy found himself sitting on a five-stroke cushion, having reached 20 under par thanks to birdies at Nos. 2 and 6. He three-putted the eighth for only his fourth bogey of the tournament. No big deal. But then he missed the green at No. 9 for another bogey and three-putted again at the 11th to drop another shot.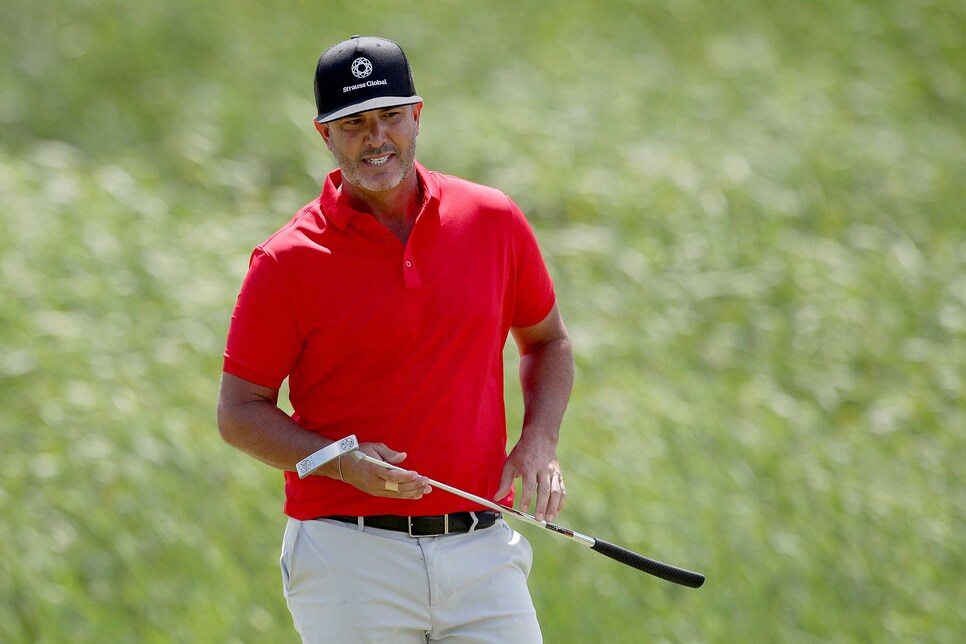 Piercy was hoping for his fifth career win, but will settle for getting on the right side of the FedEx Cup Playoff bubble with a T-4 finish.
David Berding
A kick-in birdie at the par-5 12th offered only fleeting comfort. Piercy proceeded to sandwich a triple bogey between bogeys at the next three holes. The problem at the par-4 14th started with a plugged lie in a fairway bunker that he could only move a few yards. From there, the man with one red heel pulled his third shot into the water, spun his fifth shot off the front of the green and then nearly saved double bogey except the darn ball stopped three inches short of the cup.
OK, the kids are allowed back in now.
Im posted a final-round 68 for his seventh top-10 finish of the year while Grillo, after a slow-play warning at the turn, recovered from his misadventure at the seventh to salvage an even-par 71.
"Obviously, Scott made a horrible hole there and gave everybody a chance," said Grillo, who notched his second T-2 finish in his last three starts and five times has been runner-up since his only tour win at the 2015 Fortinet Championship. "But then just Tony pressed really hard on the gas, and he just made it very hard for everybody."
Finau nearly made it hard on himself at the end just as he found himself, stunningly, in the lead. As he alluded to earlier, he got a huge break on the par-3 17th when he airmailed the green, but his ball caromed off the grandstand and somehow found dry land just two feet from the penalty area. When he tapped in for par, he staggered off the green patting his heart. That escape made his bogey at the 18th hole inconsequential after he blocked his tee ball into the water. Not the prettiest finish, but he'd already staked his claim to the $1.35 million first prize with his rush of birdies.
Piercy, 43, who either was not interviewed or declined comment after the round, showed a touch of class by giving Finau a congratulatory hug after signing his card. The four-time tour winner had to be content with a consolation prize—a T-4 that enabled him to jump from 138th to 112th in the FedEx Cup standings with two events left in the regular season. That should be enough to make the playoffs for the 13th time in the last 14 years.
Finau, meanwhile, moved up to 17th in the FedEx Cup standings, 16th in the world and is a lock for the U.S. Presidents Cup team, which was one of his goals for the season. Another was winning again after his playoff victory at last year's Northern Trust, and he figured his game was trending well when he walked off the Old Course at St. Andrews in last week's Open Championship with a closing 66.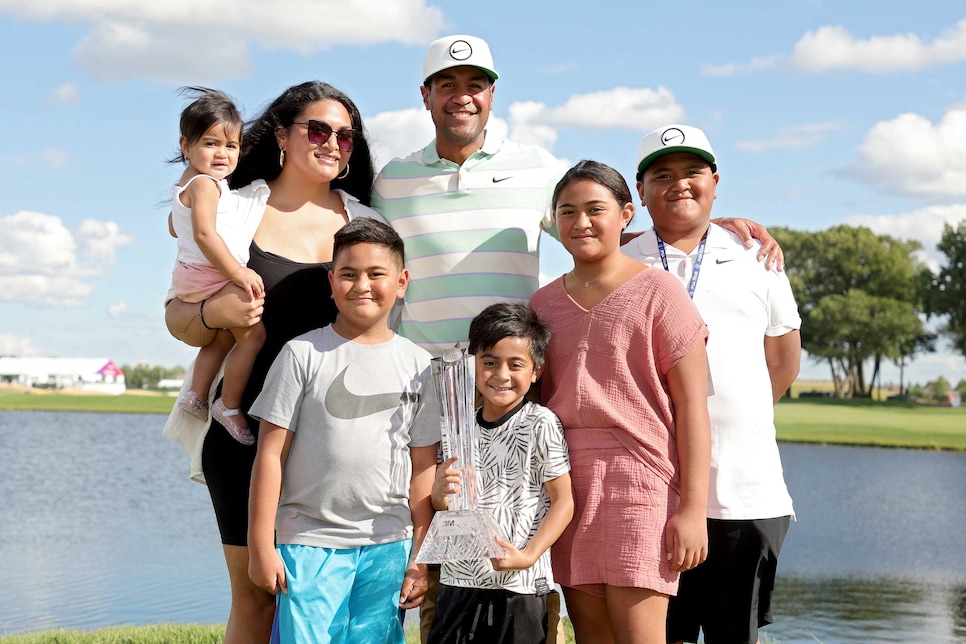 Tony Finau poses with his wife Alayna and their five children after dad's victory at TPC Twin Cities.
Stacy Revere
"I made a clutch putt on Friday just to make the cut and then I kind of pushed my way up towards the middle of the pack. I finished 28th last week, but it was like a good 28th," he said. "Anytime you can do that in a major championship, in a major championship setup, I think it gives you some confidence.
"I just kind of knew my game was good going into this week. I played about as clean a tournament as I've ever played from tee to green. I hit a lot of fairways, I hit a lot of greens and I stayed patient with my putter. It didn't go my way a lot, really all week I didn't make a lot of putts, but when I really needed them today, they fell. Last week, I made a lot of putts on Sunday, and out here, if you want to pick a day that you want putts to fall, Sunday's probably the best day."
And Finau finished the day as this week's best.