PGA Tour
'Shoeless' Scott Piercy holds lead, Tony Finau goes fishin' and J.T. Poston scores deep in red again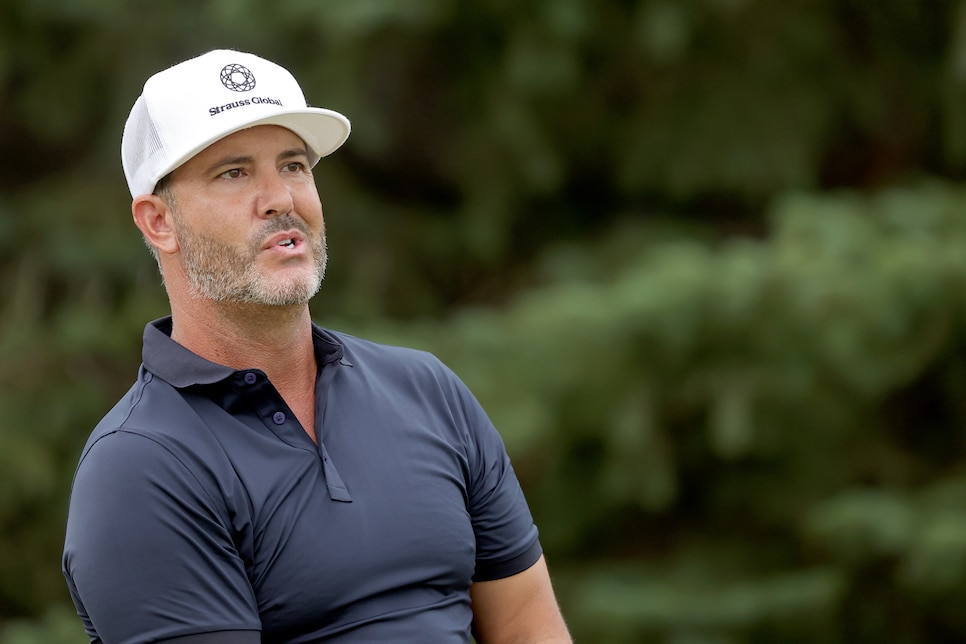 Scott Piercy follows his shot from the second tee during the third round of the 3M Open at TPC Twin Cities.
Stacy Revere
It has been a week of big changes for Scott Piercy. In opening up a lead early in the 3M Open at TPC Twin Cities, he revealed that he changed swing coaches, made swing changes, got a new caddie and put a new driver and putter into play. And now we know—he chose to wear new shoes, too.
That's the only bad move he's made.
It was Piercy's footwear that was the focus on Saturday—for both him and fascinated TV viewers—when he came back from a more than six-hour weather delay in Blaine, Minn., with a blister bothering him so badly that he took his shoes off while walking between shots.
When Piercy made bogey at the ninth—coming off five straight birdies in the morning—and looked uncomfortable swinging, it looked like horrible timing for a guy trying to retain his tour card for a 15th straight season. But that turned out to be the only glitch until Piercy put his second shot in the water on the par-5 18th. He managed to save a bogey there, and by shooting five-under 66 to get to 18 under, Piercy has a four-shot margin over Emiliano Grill and five-stroke edge on Tony Finau and Doug Ghim heading into the final round.
Piercy said the shoes left him with a nickel-sized blister on the back of his heel. He tried to "doctor it up" overnight, but it didn't help much. And it definitely affected how he played over what turned out to be a 14-hour day of competition from the time the first group started to when Piercy finished just before 9 p.m., local time.
"When you walk that weird, your body kind of adjusts, so putting the shoe back up on and trying to get set up over it correctly, I felt like I couldn't get into my setup like I normally do, and I felt that's like where a couple of the loose shots came from, along with the tiredness," Piercy said. "But, you know, hopefully get a good night's rest tonight and ready to go tomorrow."
Piercy, 43, said he couldn't help but wonder midway through the back nine how he was going to get through the day. The four-time tour winner is, after all, playing for his professional life to some degree, considering he's 138th on the FedEx Cup points list.
"It's one of those things where it's like nothing surprises you anymore a little bit," Piercy said. "I actually thought about that like on the 12th or 13th hole, like man, what a mental grind this pain is, like this is not what I needed on a long day like this. If it was just a normal day, it probably would have been okay, but 12 hours, long rain delay, just not the cherry on top you want."
Given the shoe situation, there were some laughs out there with his caddie. "I was, like, can you hand me my shoe to clean it instead of my club?" Piercy said.
The most recent years have been anything but light-hearted for Piercy. He hasn't won since teaming up with Billy Horschel in the 2019 Zurich Classic, and his last individual title came seven years ago in the Barbasol Championship. Piercy hasn't had a top-10 finish this season and he's an even 12-for-24 in making cuts.
But the changes—other than the shoes—have him feeling hopeful.
"It means a lot," he said of having a cushioned lead going into the final round. "I've had my struggles, and to prove and show that I can still do it is a big confidence boost."
The win that changed everything for Piercy
To see the names of Piercy and Finau near each other on a leaderboard brings back memories of a long-ago tournament that changed the career paths for both men.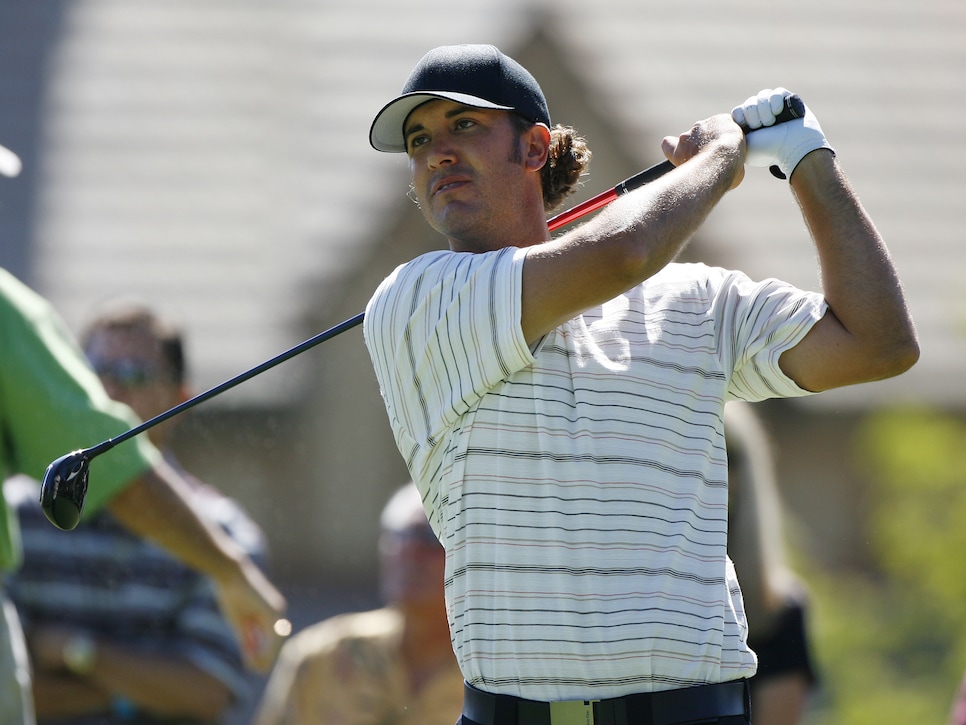 Scott Piercy hits a shot in the 2006 Reno Tahoe Open.
S. Badz
In 2007, Piercy was 28 years old and had zero status on any major tour. That's when the San Diego State grad (by way of BYU) was able to coax some investors to put up $50,000 for him to enter Steve Wynn's The Ultimate Game in Las Vegas that would pay $2 million to the winner.
The strange format required players to emerge from match play to become one of the 12 to compete in a 36-hole shootout. Piercy won his two matches, including against Gipper Finau. Basically, not given a choice by their parents, Gipper and Tony turned pro and entered The Ultimate Game. And while Gipper was eliminated (and had a disappointing pro career), Tony advanced to the final dozen, ultimately tying for eighth to earn $100,000. Of course, Tony would be something of a late bloomer; it would take him another seven years to gain his tour card and become the formidable golfer he is now.
In a change-your-life charge in The Ultimate Game, Piercy shot 31 on the back nine in the second round for a 65 and beat a 43-year-old professional caddie, Ken Jarner, by three shots. (Erik Compton finished third, Kevin Streelman was fourth, and Rick Rhoden tied for 10th.)
"What more can you do? I'm not a touring pro. I gave it a good shot," Jarner said at the time. "He's played PGA tournaments. If he doesn't win, it's an embarrassment to him."
Piercy, who won on his fifth wedding anniversary, admitted he was in heavy debt. He wasn't sure how long he'd be able to keep grinding on the mini tours. The money changed everything.
With less pressure and the ability to free wheel it, Piercy earned his PGA Tour card in late 2008 and is in his 14th straight year on tour. His career earnings: $22 million.
And it all started with a $50,000 investment. A very nice return.
Finau went fishin' during delay
There aren't many six-hour rain delays on the tour, and with that much time, you figure there are going to be some interesting stories about what players did to wait it out. Finau had one of the best we've heard: He fished with his kids. Before that, he'd played eight holes and was three under. He returned to play his final 10—and shot three more under to finish with a 65.
"I'm just staying right here off No. 10, so did a little fishing, took a nap, eat," Finau said. "There was a lot going on in those I think it was about six hours of downtime. Yeah, it's a strange feel. Again, I feel like I played two different rounds, but I was happy just to still give myself an outside chance for tomorrow."
Finau also pulled off a nifty shot early in the day when, with his ball in the fringe, he used the toe of his putter to roll in a 34-footer for par.
The way Finau talked about it, he made the really deft shot seem kind of ho-hum routine.
"I use it often," he said. "Whenever I'm in the first cut or on the collar I use it, so I'm actually pretty lethal with it, which is cool. I made a few out here on tour kind of in that same situation, so it was nice to build some momentum off that putt."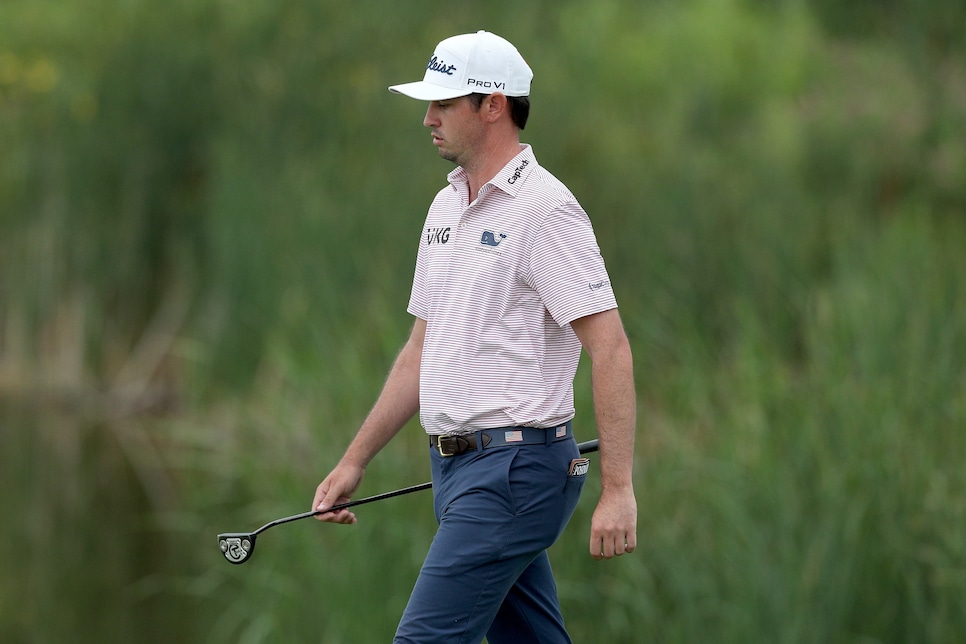 J.T. Poston walks across the ninth hole during the third round of the 3M Open.
David Berding
J.T. Poston is having himself a year, and it's showing no signs of letting up. In soft conditions, Poston, 29, produced another birdie barrage that has been his signature for the season, making eight in his round of seven-under 64 that put him at T-11.
The winner of the John Deere two starts ago, Poston can post his fifth top-10 finish of 2022 with a strong closing on Sunday. He missed the cut in the Open Championship last week withg despite making 12 birdies, and in the previous two starts he opened with 62s and shot 65 or better in four rounds.
"The confidence level is high, it's great," said Poston, who ranks 22nd in the FedEx Cup standings and is No. 63 in the world. "I know I'm capable of making a bunch of birdies, I've done that the last few months, last few tournaments. … So I know I'm making enough birdies to shoot a low number; I just need to keep doing what I'm doing and keep feeing off that sort of momentum and confidence a little bit."