Tough break
Scott Piercy played part of a round in 3M Open with one shoe, and it was a total pain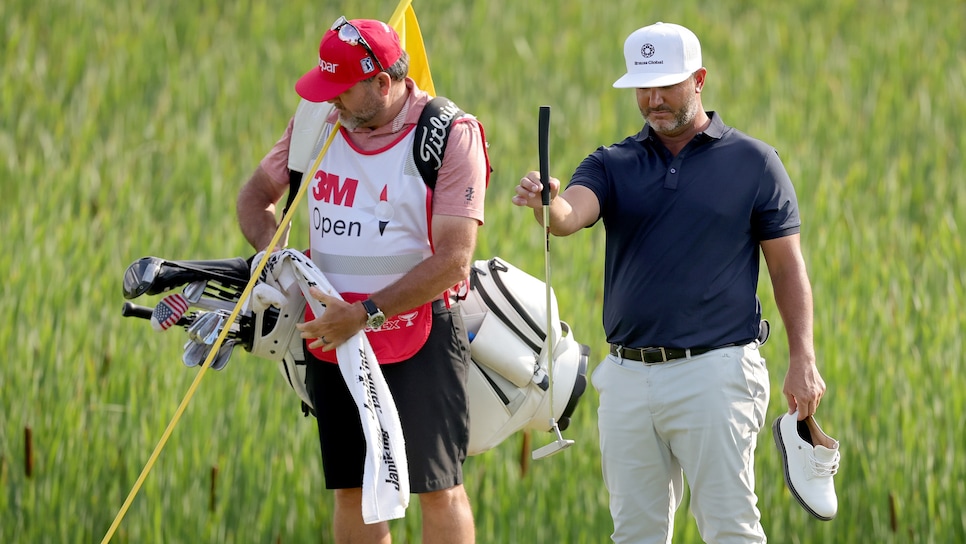 Scott Piercy of the United States lines up a putt on the 10th green while holding his right shoe during the third round of the 3M Open.
Stacy Revere
Blistering is usually a very good thing in professional golf. Scribes and headline writers like to say that someone got off to "blistering start" or that they shot a "blistering 62." For Scott Piercy on Saturday at 3M Open, the blister was real and the third-round leader was in extreme discomfort.
In one of the stranger sights of this or any other season, Piercy returned from a weather delay of six hours, 38 minutes at TPC Twin Cities and walked with his right shoe in his hand off between shots. He simply kept it untied, hit a shot and removed the shoe. He kept the shoe on when putting.
As CBS on-course commentator Dottie Pepper reported, Piercy, who made five straight birdies on the front nine before the horn sounded for the stoppage, was suffering from a blister on his right heel. He apparently tried to tape it up just before the restart, but was limping noticeably and struggled with mishitting shots. He bogeyed the ninth, but bounced back to birdie the 10th, and Piercy ultimately toughed it out to shoot 66 and own a four-shot lead over Emiliano Grillo.
Pepper wondered on the broadcast why Piercy hadn't sought treatment earlier to "get it taped up properly."
The blister couldn't come a worse time. It's been a big week thus far for Piercy, 43, who is battling to keep his card for next sesaon with a current standing of 138th on the FedEx Cup points list. In evidence of what a win can do on the tour, Piercy would vault 92 places to 46th place if he were to prevail on Sunday. He has four career victories on the PGA Tour, the last coming in the 2018 Zurich Classic of New Orleans with teammate Billy Horschel. Piercy's last individual win came seven years ago, in the 2015 Barbasol Championship.