25 things you should know about Jordan Spieth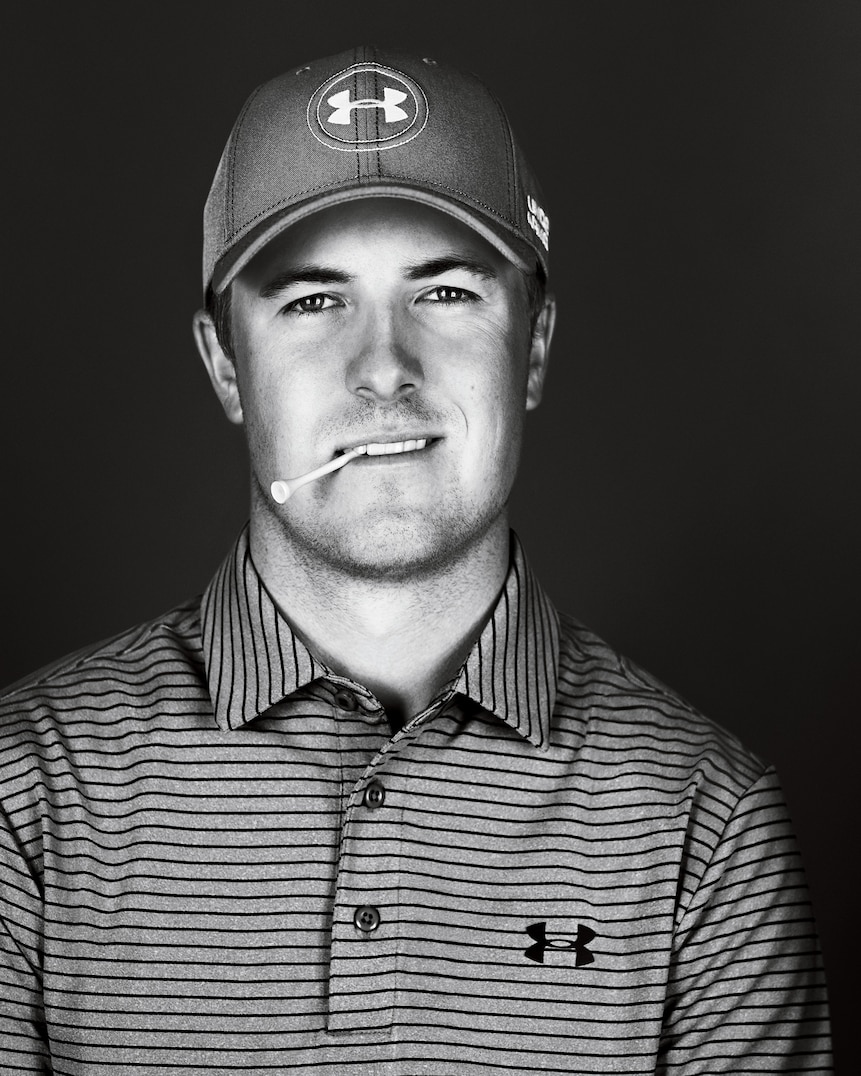 He's One Of The Top Money Makers In Golf
Spieth actually topped Golf Digest's list of top earners of 2015 when his $50 million income that year (on the strength of two major wins and the FedEx Cup) put him ahead of Tiger Woods. Spieth dropped down to fifth on our 2016 list, making only $30 million.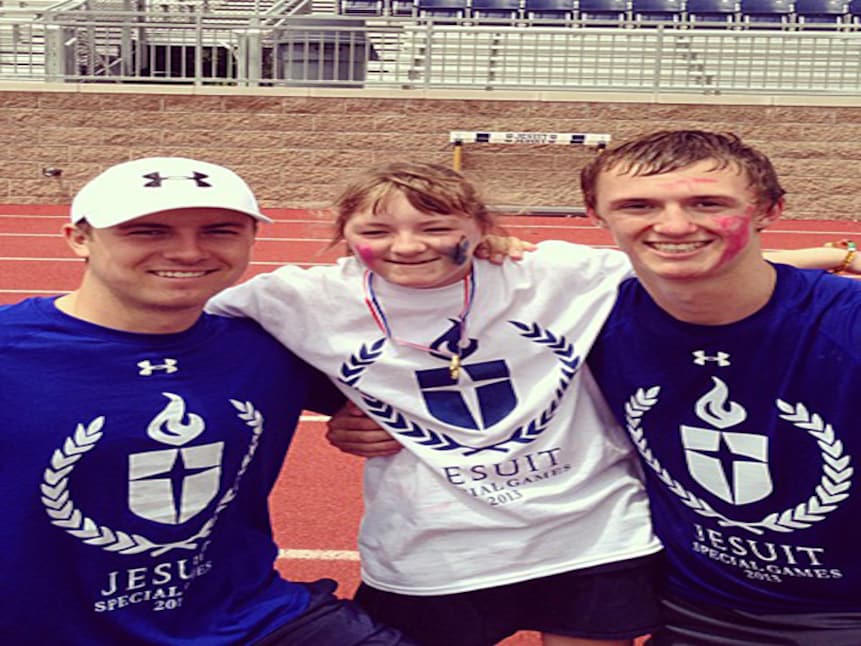 His Family Is A Big Part Of His Success
Brother, Steven, averaged 8.2 points per game as a senior on Brown's basketball team last season. And younger sister, Ellie, is the heart of the family. Ellie, seven years younger than Jordan, has special needs, which inspired Jordan to establish the Jordan Spieth Charitable Fund to raise awareness for, among other things, special-needs kids.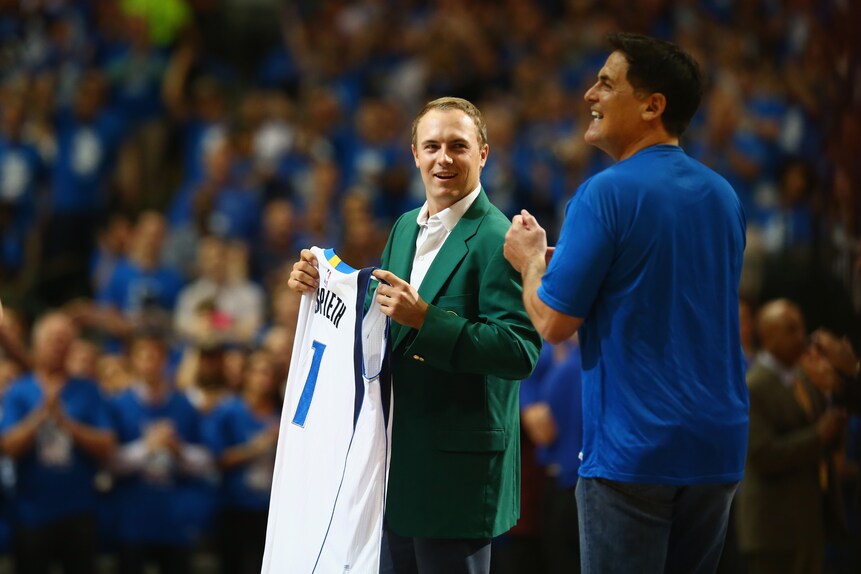 Getty Images
Spieth's A Huge Dallas Sports Fan
Asked who he'd want in his dream foursome, Spieth has stated multiple times he wishes to play with Mavericks star Dirk Nowitzki. In the offseason, Spieth can occasionally be found roaming the Dallas Cowboys' sidelines and he's good friends with quarterback Tony Romo.
Photo By: Getty Images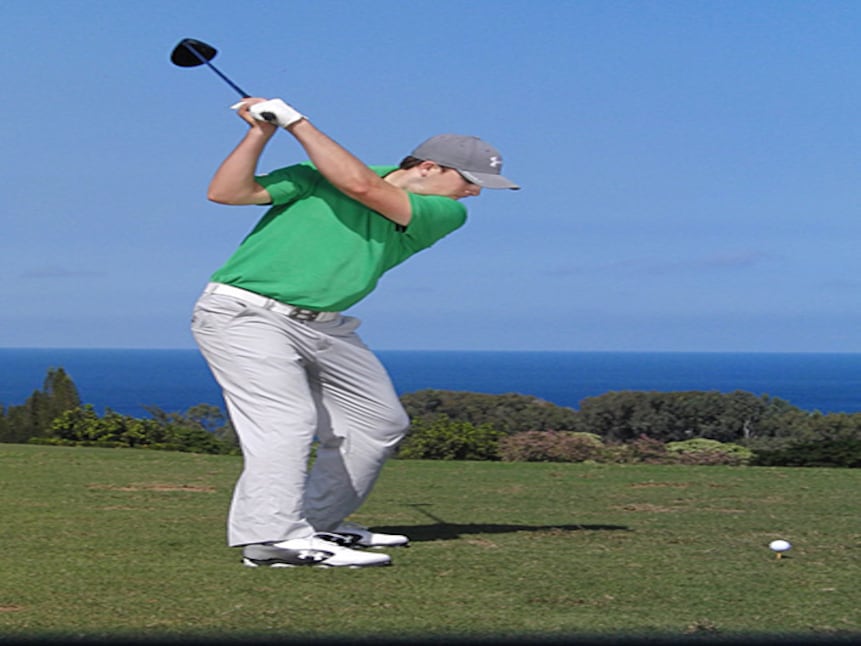 His Swing Isn't Textbook, But It Works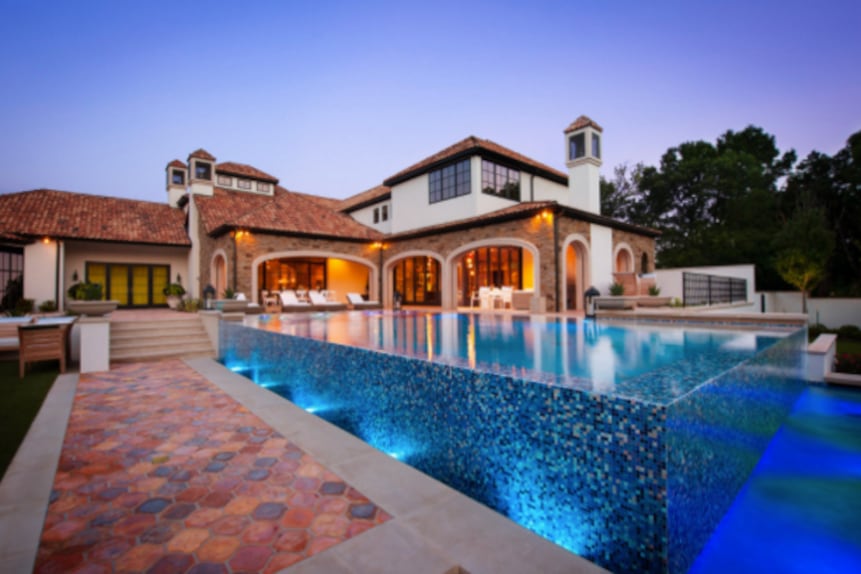 His Setup At Home Is Pretty Sweet
Spieth
purchased
fellow golfer Hunter Mahan's old digs in January 2016. The house boasts a 12-car underground garage, indoor basketball court, pool, golf-simulator room, grill room and wine cellar.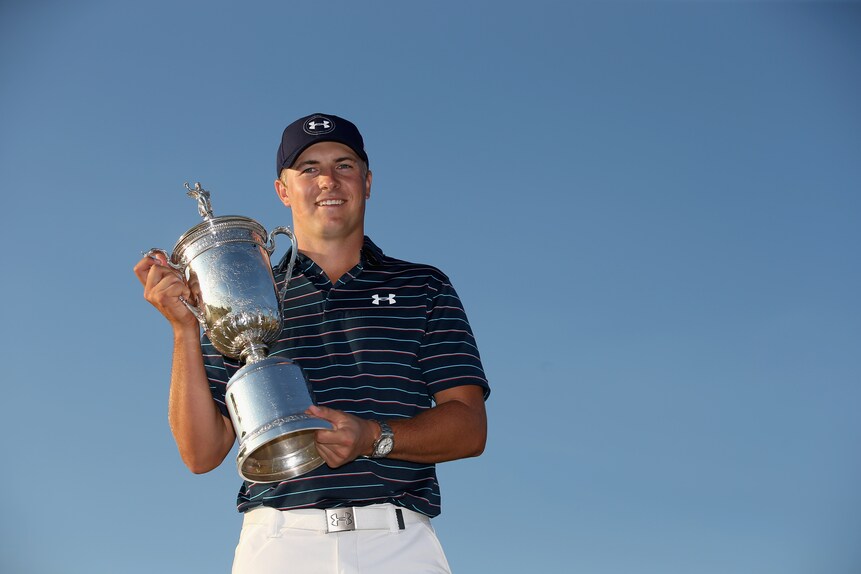 Getty Images
In Addition To Being One Of The Youngest Masters Champs, He's Also One Of The Youngest U.S. Open Winners
Spieth captured the U.S. Open title at Chambers Bay in 2015 at age 21. He was the youngest winner since Bobby Jones, also 21, won the championship in 1923. With his win in the Open, he became the youngest player since Jack Nicklaus to get to three legs of the career Grand Slam.
Photo By: Getty Images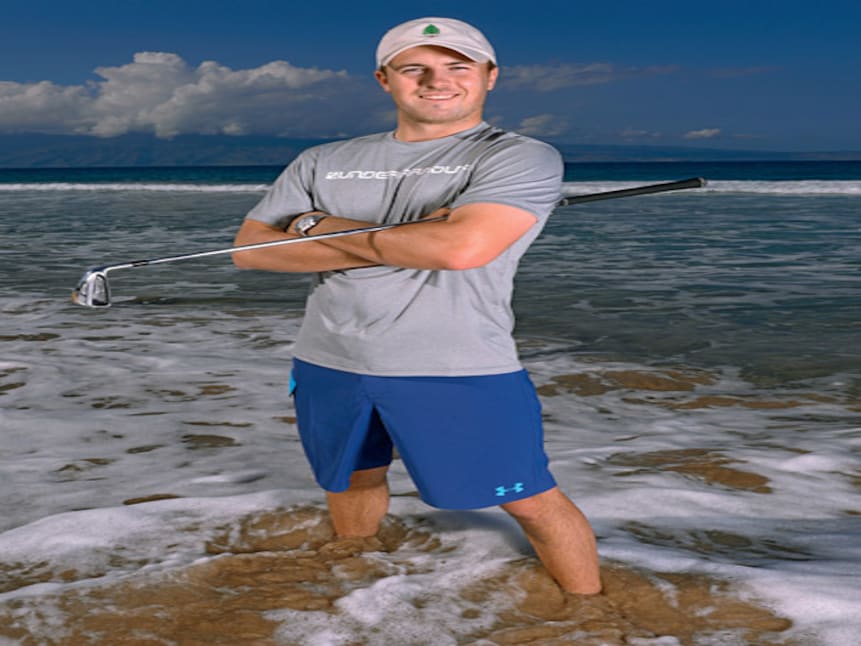 He Was Destined For Greatness
The Spieth family name can be translated to "successful" or "speedy" in Middle High German (an ancient form of the German language). Jordan has certainly risen to great heights in golf quickly.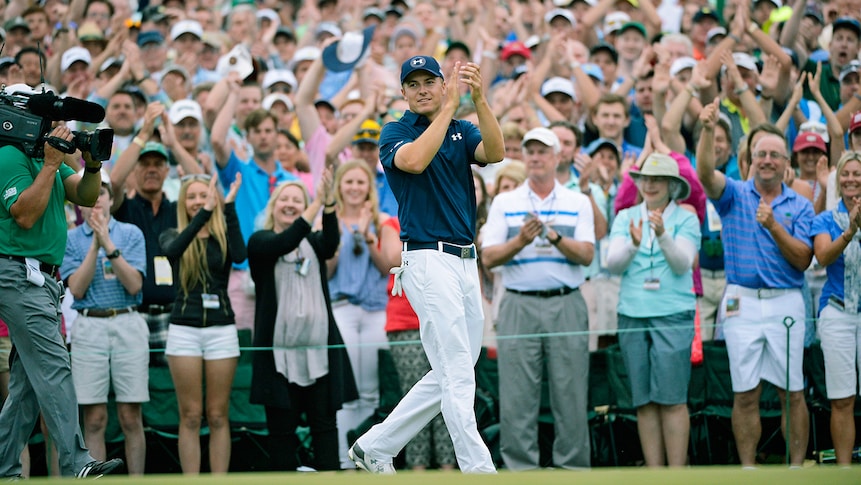 He's Co-Owner Of The Masters Scoring Record
Spieth shot an 18-under 270 to win the green jacket in 2015. The only other player to reach that mark is Tiger Woods, who set the record in 1997.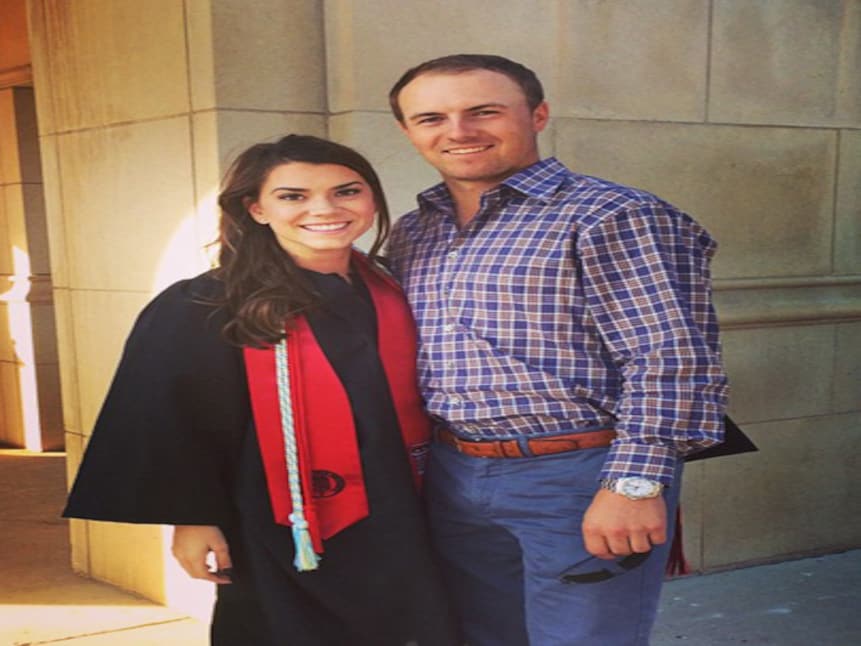 He's Dating His High-School Sweetheart
Spieth and girlfriend Annie Verret have been together since their high school days in Dallas. Annie, a graduate of Texas Tech, works with the First Tee of Greater Dallas. Annie got some airtime while Spieth has contended at Augusta National, and has been with Jordan at the Ryder Cup and Presidents Cup.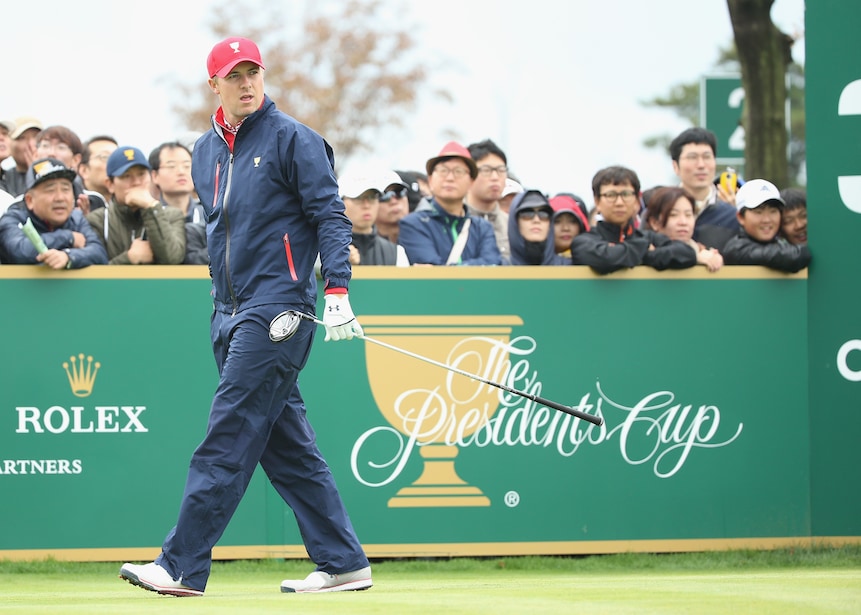 Getty Images
He's The New "Captain America"
Despite his age, Spieth has already represented the United States in two Presidents Cups and two Ryder Cups, with a cumulative 8-7-2 record. An an amateur, he was a part of the American 2011 Walker Cup team.
Photo By: Getty Images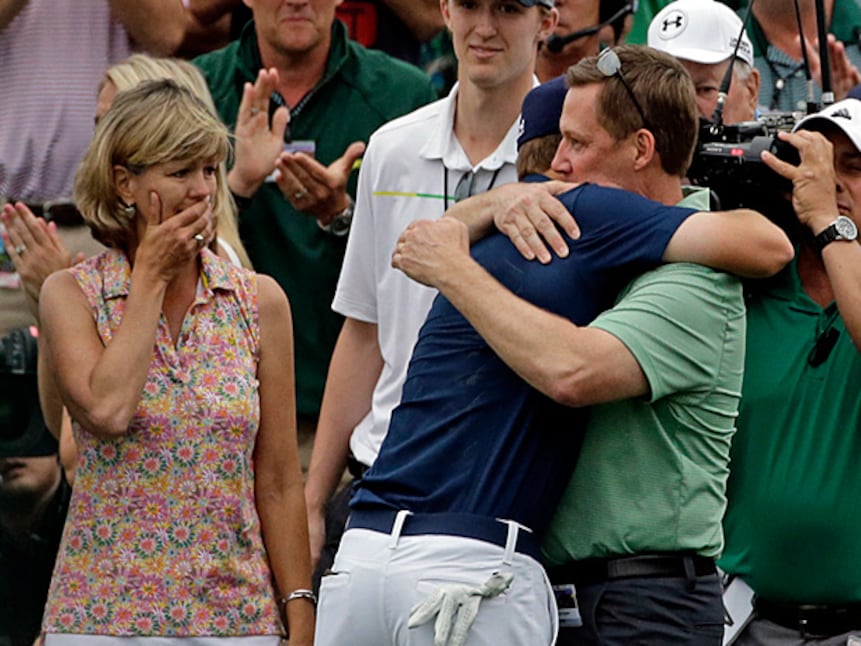 His Parents Were Both College Athletes
His father was a baseball player at Lehigh, and his mother was a basketball player at Moravian College.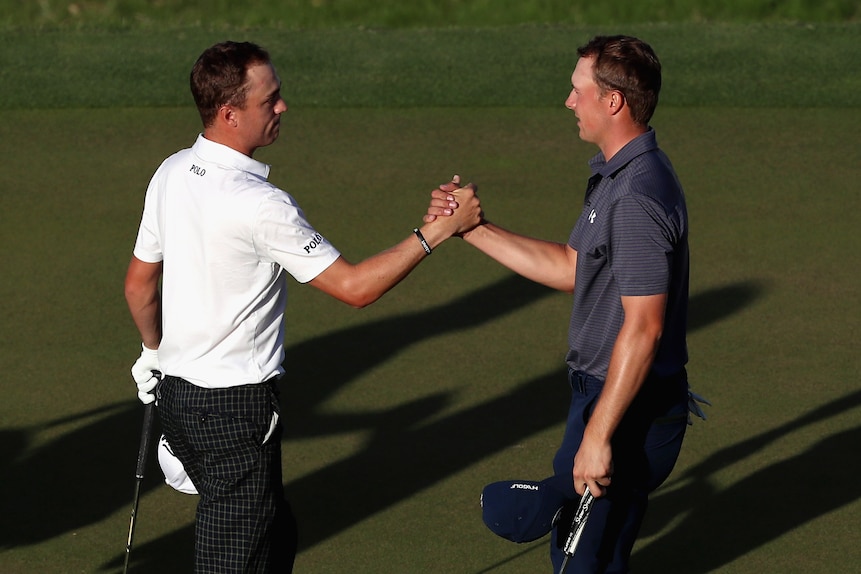 Getty Images
He's Buds With Justin Thomas
Jordan and JT met when they were 14 while representing the United States in a junior tournament in France. The two often crash with each other on the road, and host fake Twitter feuds against the other. Thomas was also on hand to party with Spieth after he captured the claret jug.
Photo By: Getty Images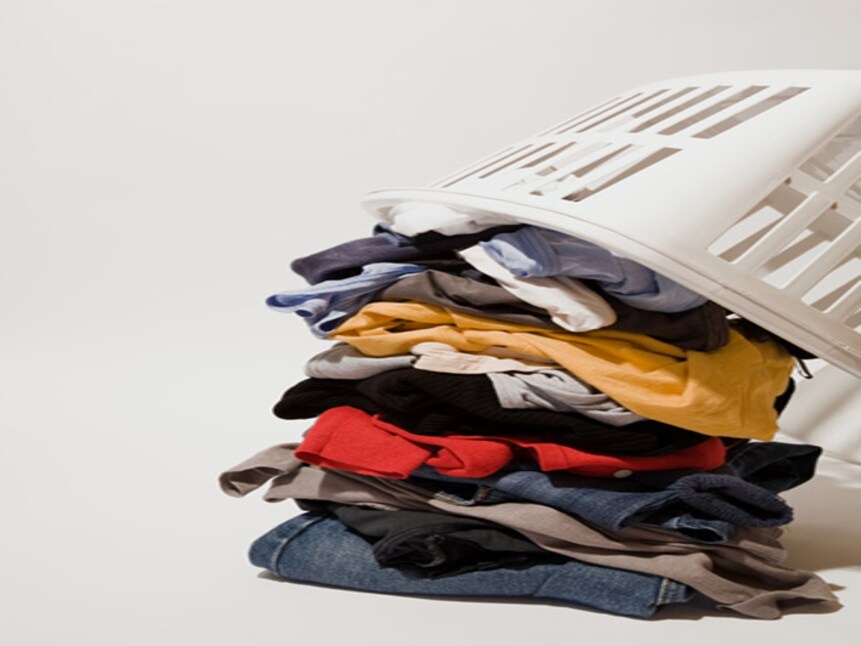 He Really Dislikes Doing Laundry
Like any teenager going off to school, the cold reality of not having your parents around to help with the small stuff hit Spieth hard when arriving at the University of Texas. "I definitely appreciate my mom a lot more, all the things she did that I'm having to do on my own," Spieth said during his freshman year.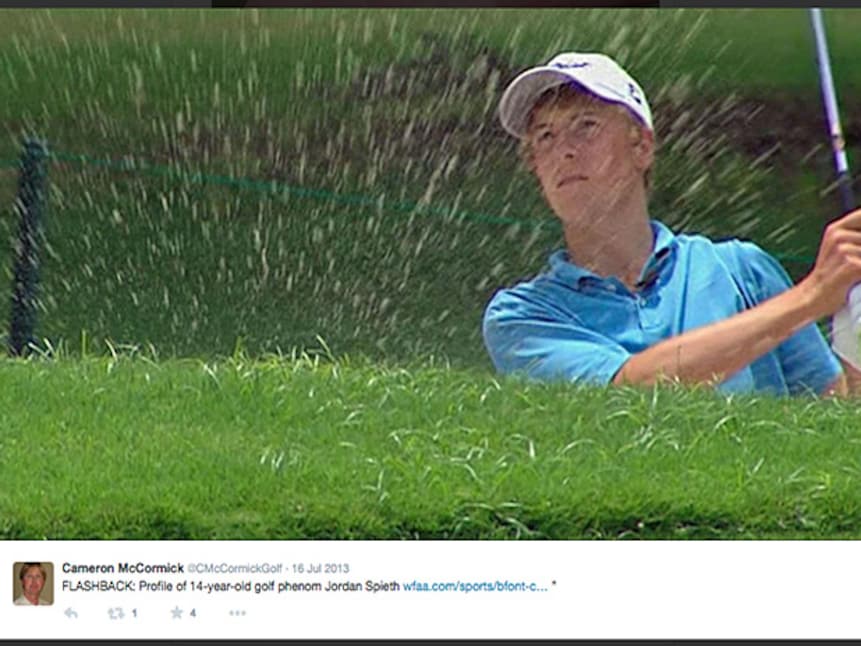 His First Love Was Baseball
Spieth says baseball was his sport of choice initially, but at age 13 he decided he needed to focus solely on his golf if he were to really reach his potential. "That was the hardest day of my life," he said.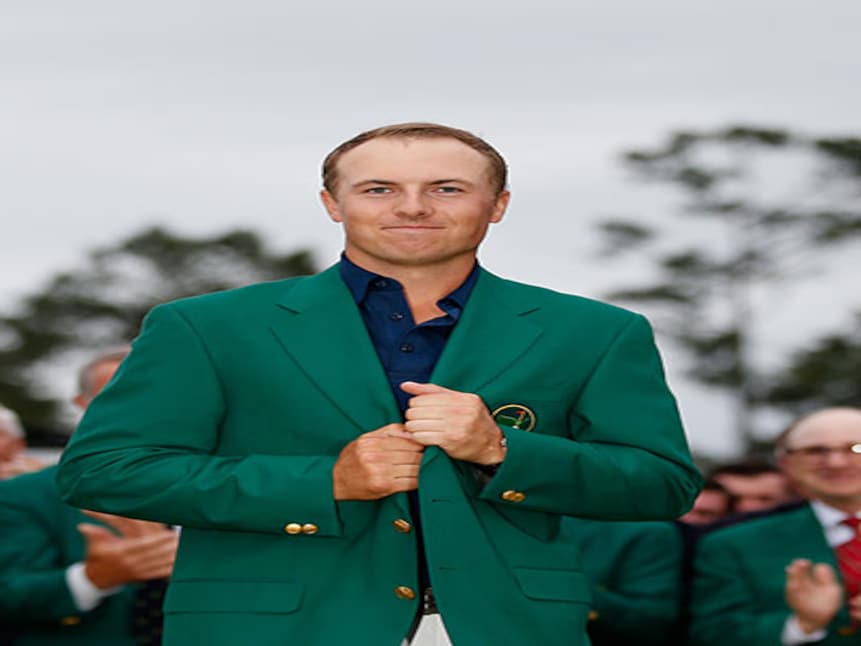 His One Weakness? He's Losing His Hair
Spieth could be seen fidgeting with his hair before having to take off his hat at the end of a round. He's clearly self-conscious about it. "There's a reason I have a hairline like this," he said about contending in tournaments. "It's stressful what we do."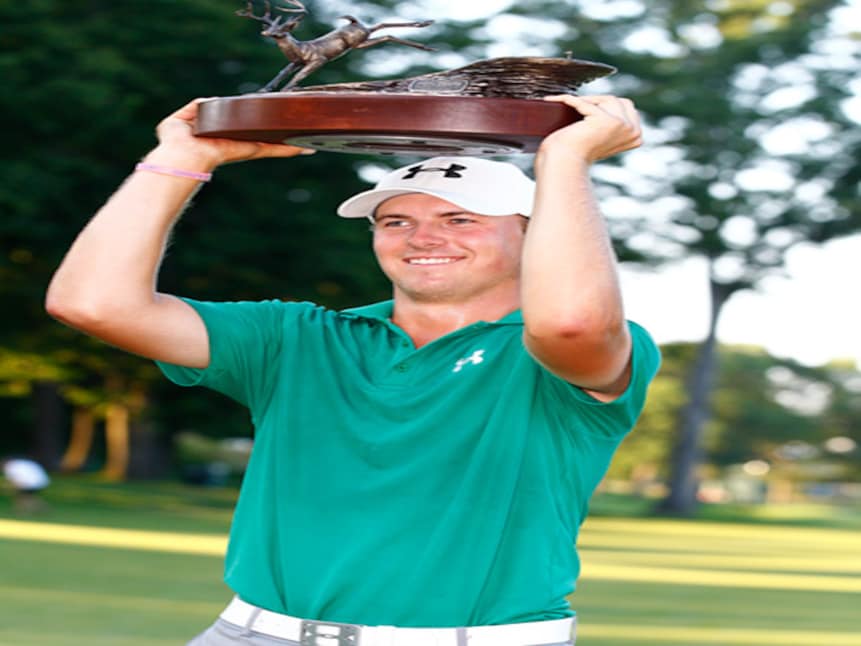 He Holed A Bunker Shot On The Final Hole Of Regulation At The 2013 John Deere Classic To Get Into A Playoff, Which He Won
That made him the first teenager to win on the PGA Tour in 82 years. He repeated the feat to win the 2017 Travelers Championship.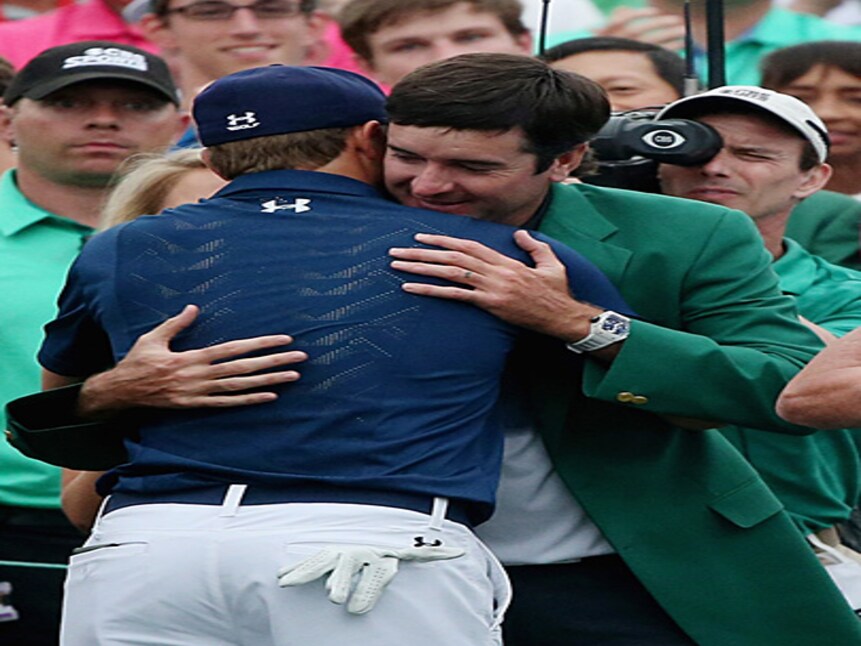 He's Popular Among His Peers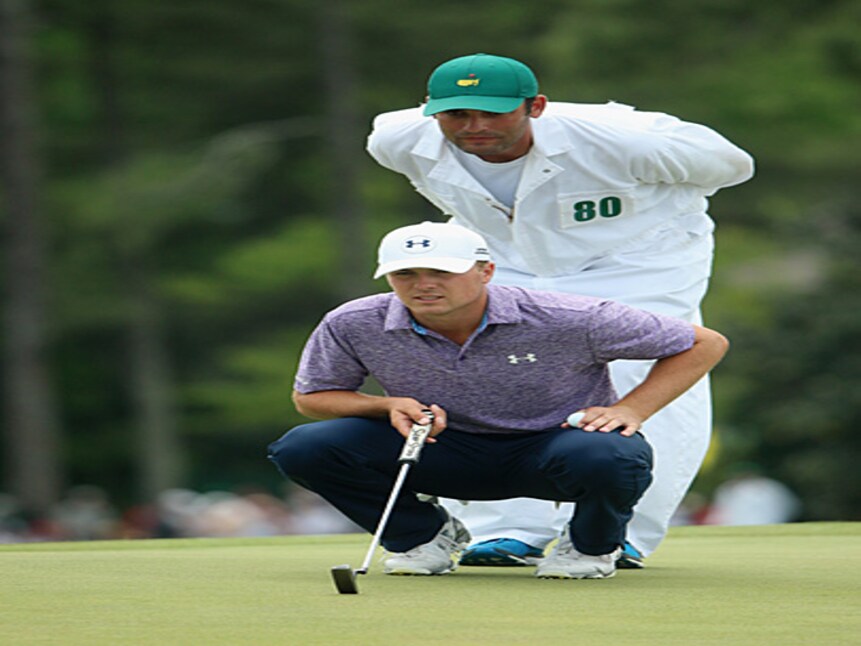 His Caddie, Michael Greller, Was A Math Teacher For 10 Years
The two hooked up at the 2011 U.S. Junior Amateur, where they won. The next year, Spieth finished as low amateur at the U.S. Open and they've been a pair ever since. Before working with Spieth, incidentally, Greller caddied at Chambers Bay, site of Spieth's U.S. Open victory in 2015.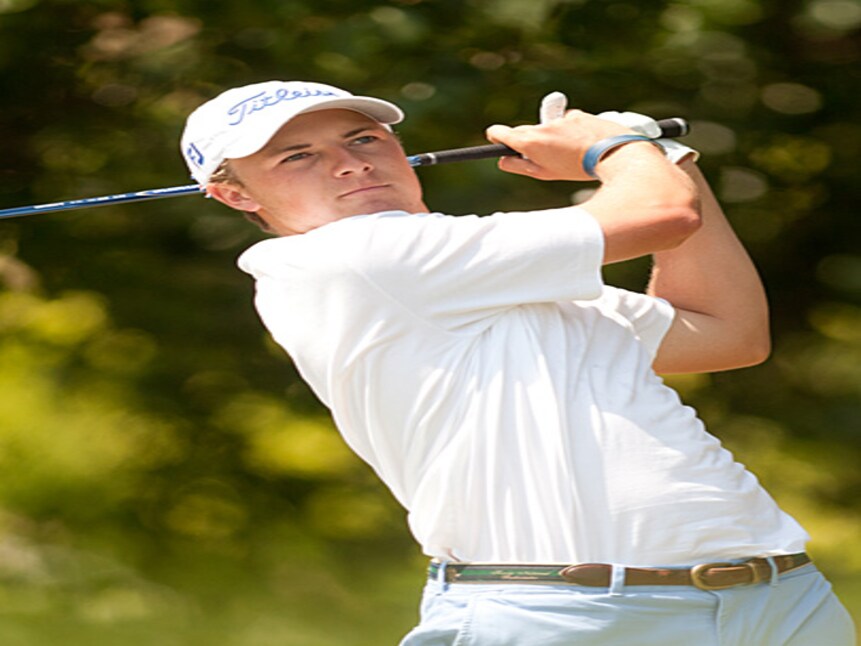 He Missed High-School Graduation Because He Was Playing In The 2011 Byron Nelson
He shot 69-68 the first two days, and ended up T-32.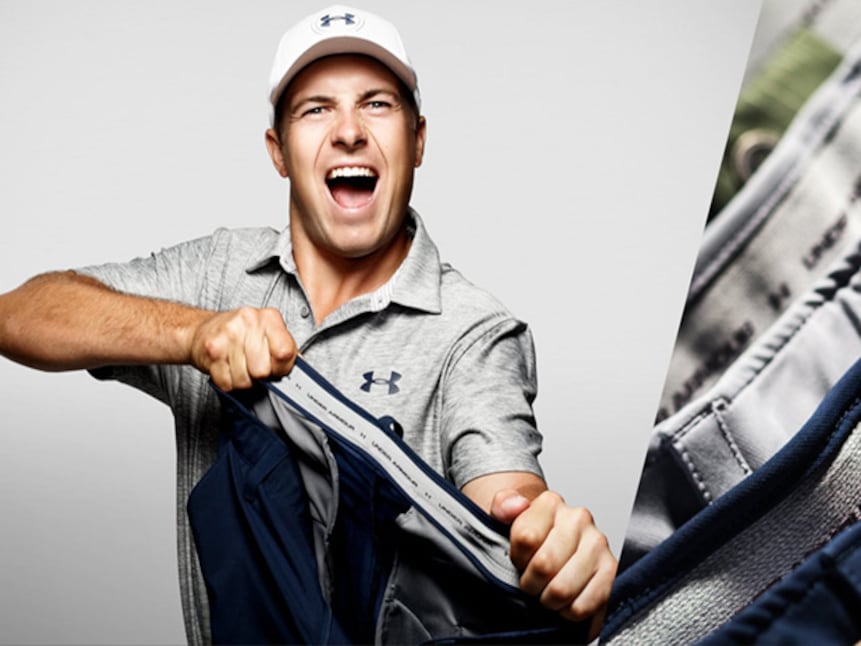 His Under Armour Contract Runs Through 2025
Just a guess, but that company is probably pretty happy about that.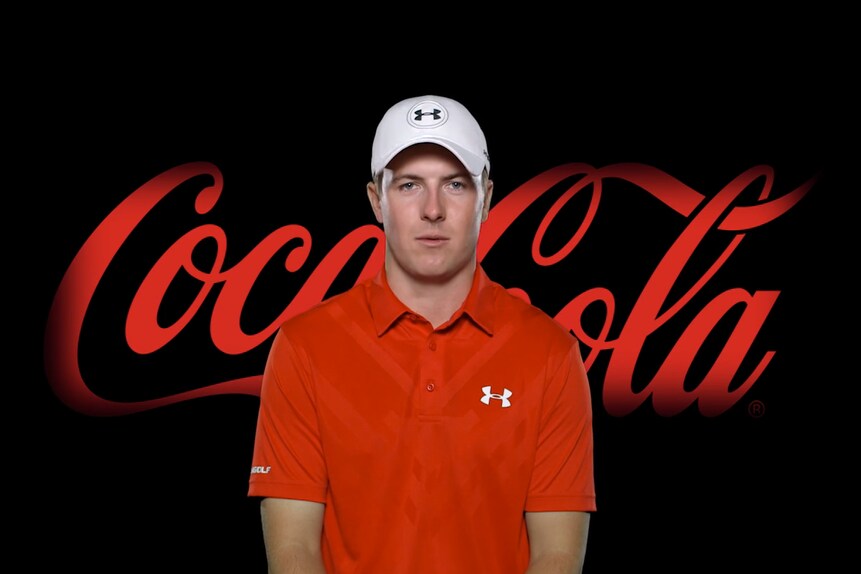 He Also Endorses Coca-Cola
The brand is no stranger to golf. Bobby Jones starred in an advertising campaign for Coca-Cola in 1947, and serves as the presenting sponsor of the Tour Championship.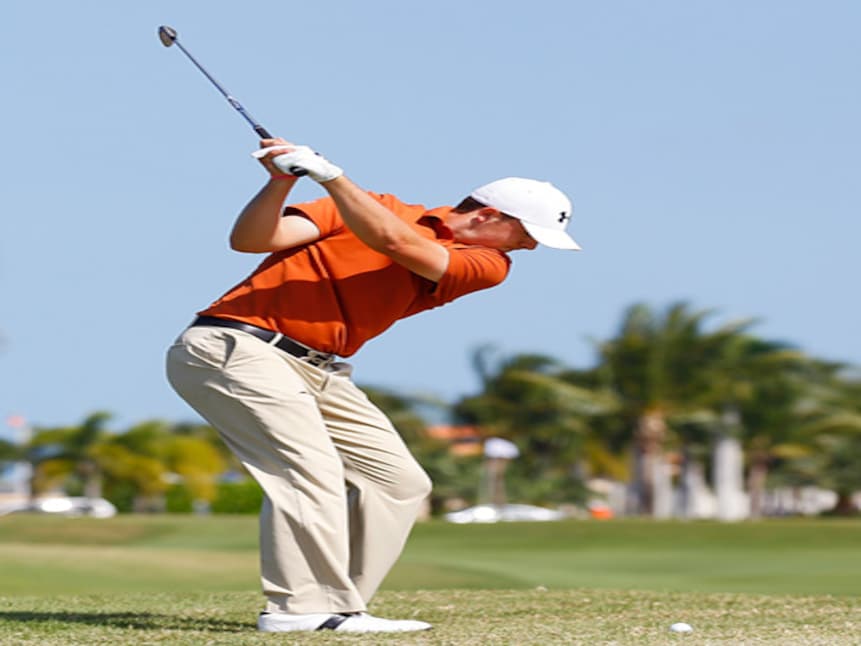 His Career Was Started By An Ace
He made a hole-in-one en route to a second place at the 2013 Puerto Rico Open, which got him into the field the next week at Tampa Bay, where another top 10 finish then earned his PGA Tour card.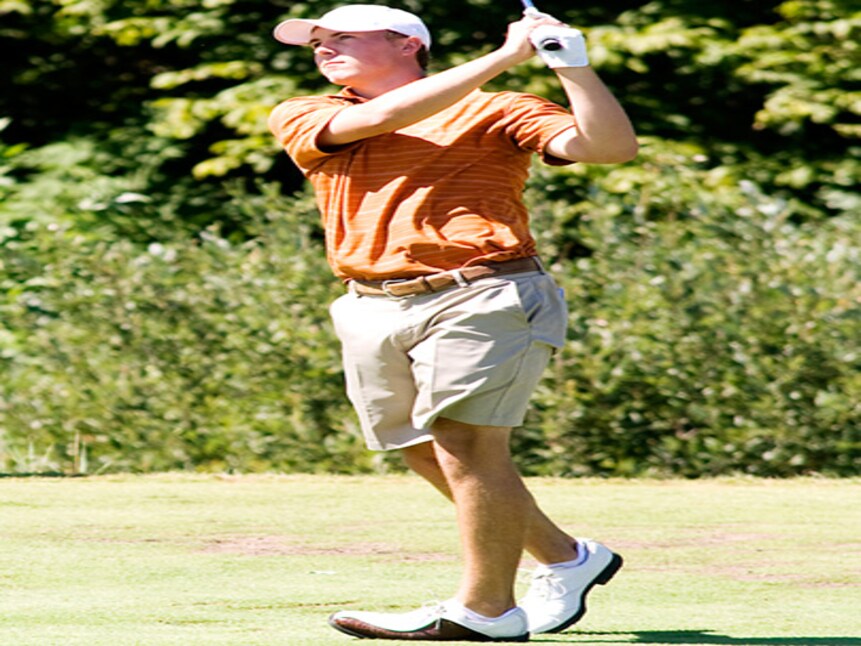 He's One Of Only Two People To Win US Junior Amateur More Than Once
The other is Tiger Woods, who won it three times.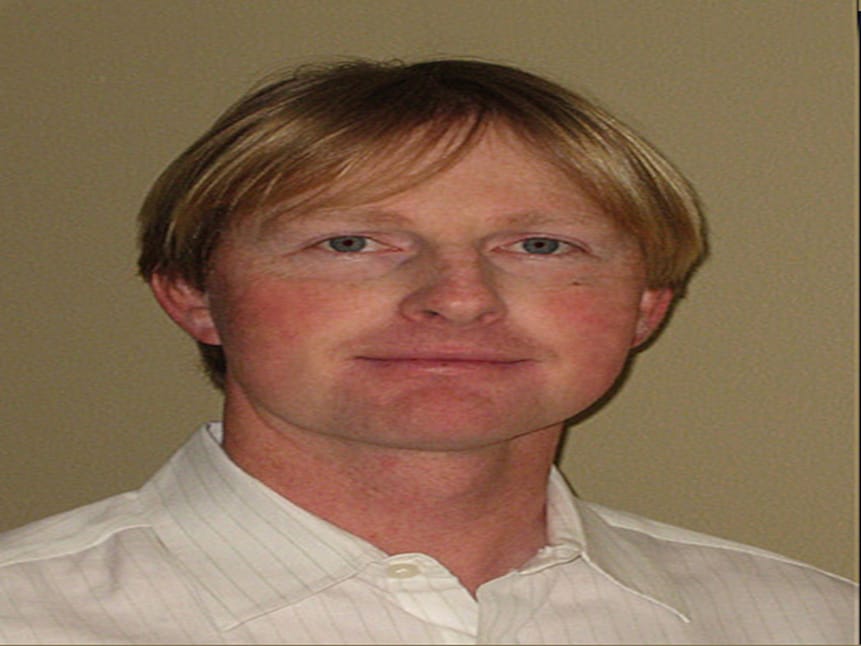 He's Been Coached By Golf Digest Best Young Teacher Cameron McCormick since he was 12 years old.
McCormick's other famous student of the past is President George Walker Bush.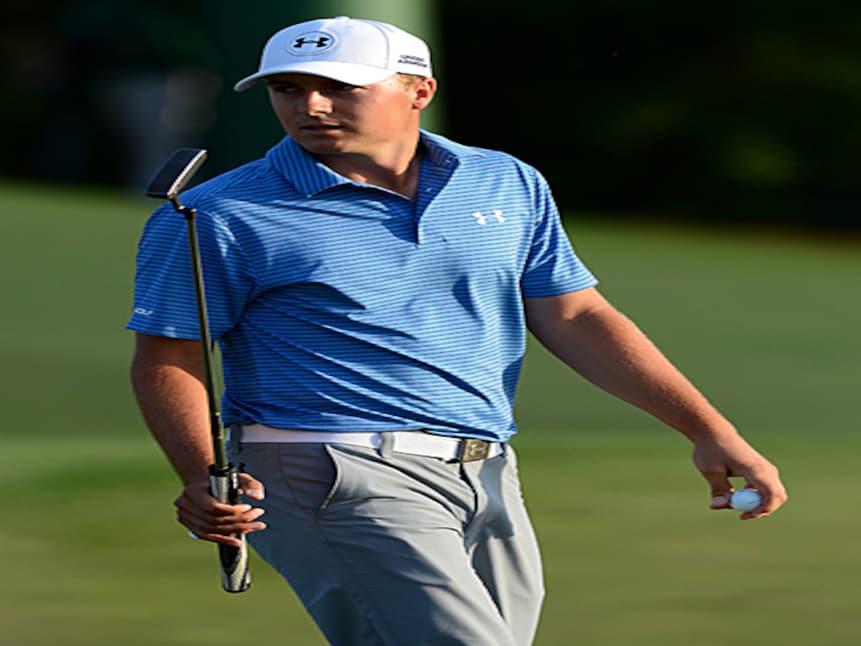 He's Had The Same Scotty Cameron By Titleist 009 Model Since He Was 15 Years Old
Spieth was drawn to the flat stick because two of his favorite golfers when he was growing up -- Adam Scott and Geoff Ogilvy -- used the same model. Although he flirted with a different model earlier in 2017, he went back to it soon after, and it was in the bag for Open his win at Royal Birkdale.