Social Media
Photos: The Week in Golf Instagrams
Shanghai shirts, putting practice and chilling in Bali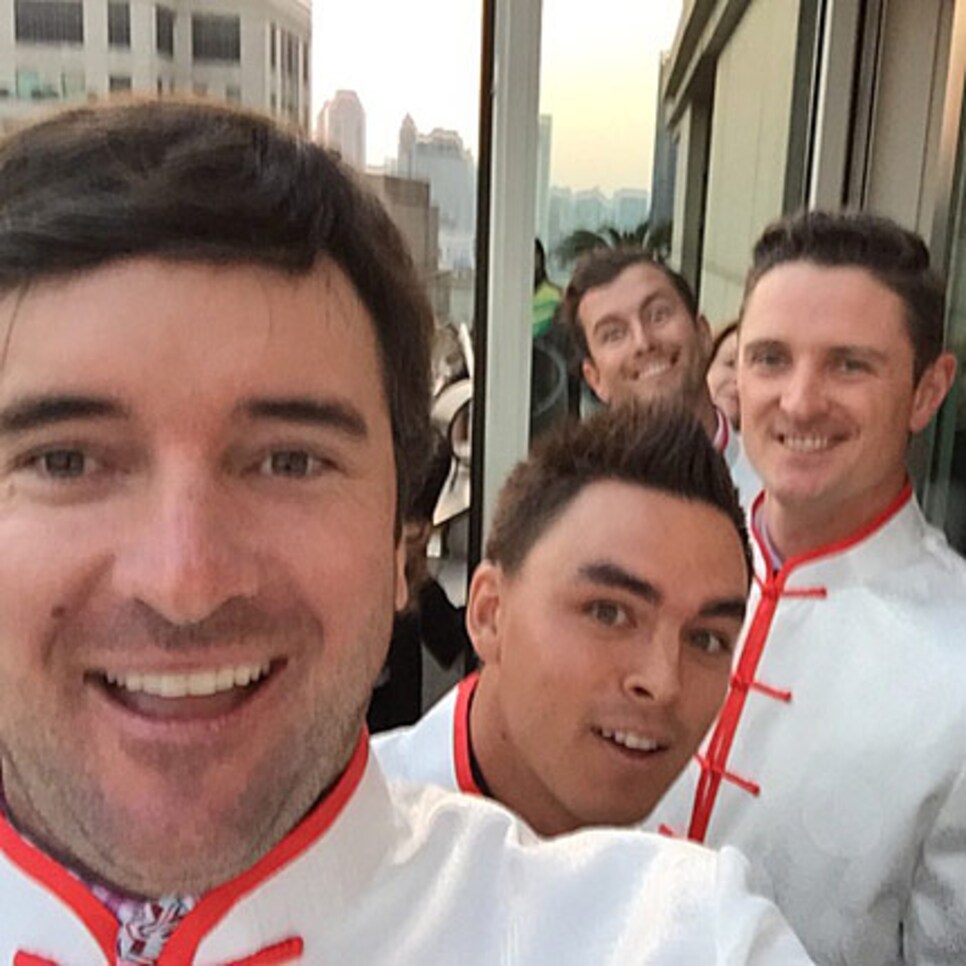 Bubba Watson @bubbawatson
Selfie with @therealrickiefowler @justinprose99 and Adam Scott
Natalie Gulbis @ngulbis
Putting practice. I like to use a line to start practice. I use a chalk line or sharpie line here.
Jerry Tarde @jerrytarde
Dan Jenkins in his home office surrounded by Hall of Fame and Lifetime Achievement Awards. Line of the night: "I like to say I'm offended that you're offended."
Marianna Massey @mmimages
Country Club of JacksonWalk On #winnerwinnerchickendinner #canada #nicktaylor #gettyimages #gettysport @gettysport @gettyimages #bnw #golflife #pgatour #sandersonfarmschampionships #nicktaylor #pga #golf #sportsphotography #sportinglife
LPGA Tour @lpga_tour
LPGAWinnerSelfie with Mi Hyang Lee at the Mizuno Classic
iamjameswalker @iamjameswalker
Nothing as exciting as Bubba Golf. #bubbawatson #bubbagolf 1
Paula Creamer @paulacreamer1
throwbackthursday 2009 ESPY Award show . . . Loved that Chanel dress!!! #sidepony #manydiamonds
Christian Iooss @christianiooss
Rye Golf ClubFall ball. @alexmyers3 on No. 9.
Morgan Pressel @mpressel
Love the #nailart I got today thanks to the über talented @maya_tempaku!! Definitely tame in the world of Japanese nail art, but perfect for me!! I think there are lots of birdies in this mani, don't you?? #nofilter #japan
James Stewart @therealjs7
Yep . . . that's my ball Where's yours @jeremymalott @gopro
Michelle Wie @themichellewie
@kim_borton knows exactly how to tug on my heart strings! Absolutely love these @nikesportswear mid high blazers. Thank you @nikegolf #nikeswag #teamnike
Jonathan Wall @jonathanrwall
I think Poults likes his new Odyssey Milled Collection 2 putter.
Beatriz Recari @beatrizrecari
Afternoon in Bali for the #LexusCup @lexus #nofilter