Social Media
Photos: The Week in Golf Instagrams
Ben Hogan's clubs, Timberlake's putter and Recari's pearls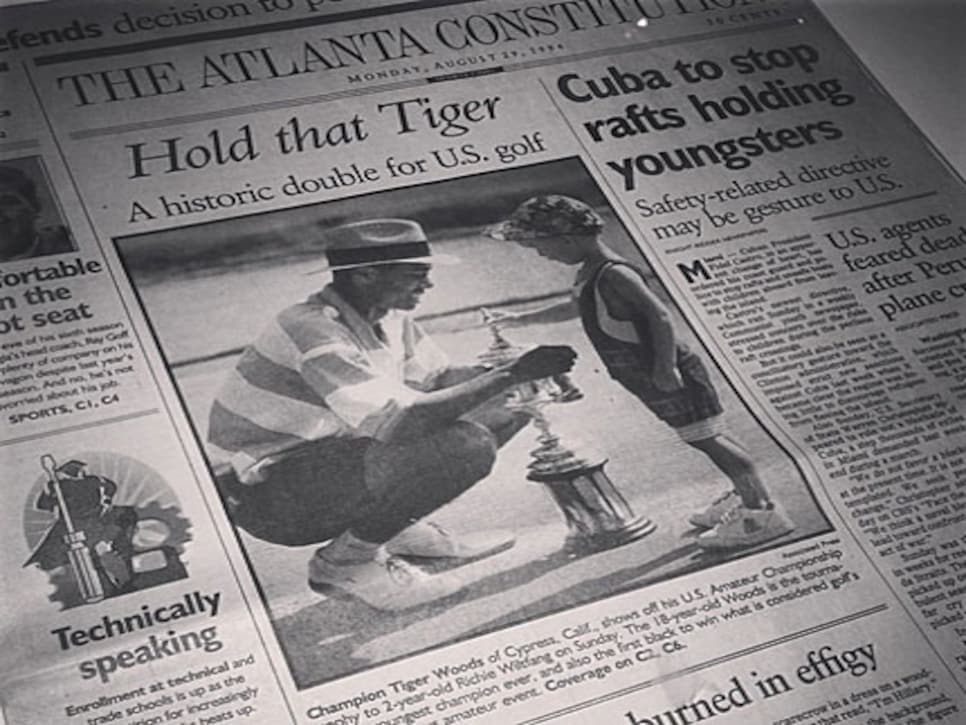 Tiger Woods Foundation @twfoundation
After the #QLannouncement last week in DC, we toured the Newseum and look who we found... Tiger at 18yrs old! #TWFvault
Belen Mozo @belenmozo
Because you and I are destined to be together! @Kia @LPGAKiaClassic #K900
Padraig Dooley @podged
12 year old Jack was along today doing a science experiment on @trackmangolf to see if it was worth for the average golfer to buy expensive golf balls. He tested @titleist DT Solo, NXT Tour and Pro V1. NXT Tour worked best for him. Conclusion is it all depends on the individual. #golf #golfisfun #trackman #titleist #teamtitleist #irishgolf
Golf Digest @golfdigestmag
The feeling you get when you win your first PGA Tour event.
Jonathan Wall @jonathanrwall
One of the two sets of MacGregor irons Ben Hogan used during the 1953 season are on the auction block.
Beatriz Recari @beatrizrecari
Ready to rip these pearls off!! #golfchannelphotoshoot #angermanagement
Ian Poulter @ianjamespoulter
Now that's what you call a cup of tea... Oh yeah.
Jordan Spieth @jordanspieth
What an incredible role model and mentor... Mr Crenshaw gave me some tips today in a #Masters preview that will air on @golfchannel
Natalie Gulbis @ngulbis
Fun pro am with Special guest Aaron Rodgers yesterday for the @lpga_tour event this week at Aviara in Carlsbad Ca
Chad Coleman @hashtagchad
Ridiculously cool/tricked out Metal-X Milled Versa putter just sent to @justintimberlake, complete with his signature etched on the sole.
Mike Seidl Photography @mikeseidlphotography
17th hole, Bandon Trails, Par 3, 180 yards #golf #golfing #golfporn #golfcourse #golfcoursephotos #whyilovethisgame #bandondunesgolf
Rob @robbping12
Anna Nordqvist winner on the LPGA Tour!! Congratulation! #lpga #winner #let #golf #annanordqvist #coach #tpi #tour #ping