Social Media
Photos: The Week in Golf Instagrams
Tiger gives Lindsey a lesson, the Dufners meet an NBA star, and Poulter shows off his lawn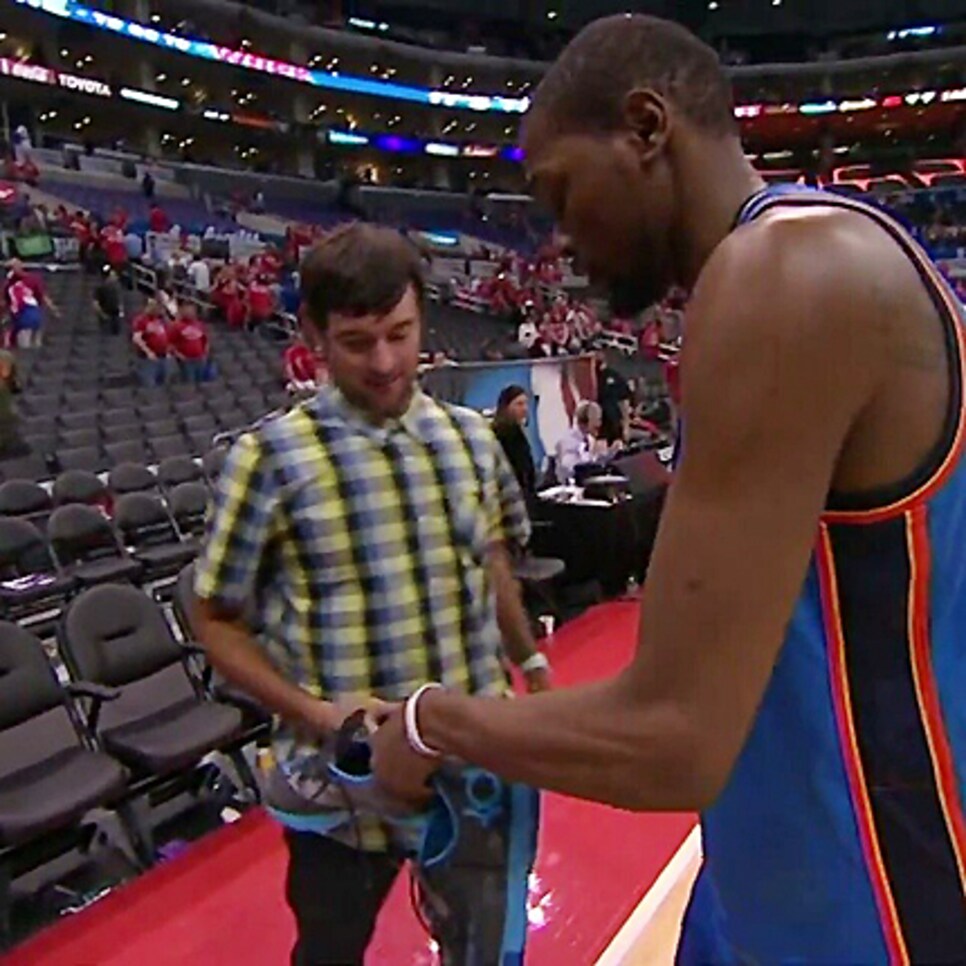 Highlight Hub Sports @highlighthub
Kevin Durant gives Bubba Watson his sneakers after Game 6 in LA
nba #basketball #nbaplayoffs #oklahomacity #thunder #okc #okcthunder #thunderup #kevin #durant #kevindurant #kd #kd35 #bubba #watson #bubbawatson #golf #shoes #sneakers
Lindsey Vonn @lindseyvonn
Little golf lesson from a great teacher at Tiger Jam :) @twfoundation #vegas #tigerjam
Richard R. Hagen @rottdawg66
Hitting a little white ball . . . can be a challenge.
Cheyenne Woods @cheyenne_woods
What a rush! I loved every minute! @TheGorgeZipline
Jack Nicklaus @jacknicklaus
Announced this week, the @webdotcomtour will head to the Nicklaus Design course at TPC Cartagena at #Karibana in #Colombia in 2015. The championship golf course opened for play in December 2012. This year, three Web.com Tour events are part of a company record 25 Tour-sanctioned events hosted on #Nicklaus Design layouts in 2014. #golfcourse #golfcoursedesign #nicklausdesign
Natalie Gulbis @ngulbis
Test for Google+ hangout today. Announcing the winners of the Myrtle Beach Trips Hangout
Golf Digest Magazine @golfdigestmag
Chad Coleman @hashtagchad
Went through some pics from our 2014 ad shoot today. @nicolascolsaerts' balancing game is better than most.
Amanda Dufner @aduf99
Fun night in San Antonio. #thunderup #playoffs @easymoneysniper
Golf World @golfworldus
The spoils of victory: a big trophy (not to mention an even bigger check) and a photo with Peggy Nelson, wife of the late Byron Nelson. Congrats to Brendon Todd on his first @pgatour win! #golf #pgatour #trophy #texas #byronnelson
Ian Poulter @ianjamespoulter
My front lawn is looking magnificent. Wembley eat your heart out . . .
Michelle Wie @themichellewie
recovery #electrostimulation
Golf Digest @golfdigestmag
Forget the "Most Interesting Golfer in the World" claims. Miguel Angel Jiménez is so much more intriguing than that.
Maide Golf @maidegolf
It's heating up and warm balls go farther! #golf
Keegan Bradley @keeganbradley1
A message from @GrahamDeLaet and @Jules_Trudeau left for me on the tee box. #letsgoboston #theylovepierre
Casey Nielsen @caseycascata
You are about to take a ride. Hold on. Aim at the 2 yucca branches making a V and carry 290. Let her fly #17tee #FavoriteShot #Teeshot #Titleist6 #490YdPar4 #2Handicap #100In #DriveTheGolfBall #LongBall #CantWaitToPlay