Urban Golf
France Wins European Urban Golf Cup -- Which Is Actually Kind Of A Big Deal
Dissension persists whether it ought to be called Street Golf, Urban Golf or Cross Golf, but this past weekend teams from 10 European nations agreed that ripping foam golf balls at various targets dotting Queen Elizabeth Olympic Park was a good time. Welcome to the third edition of the European Golf Cup.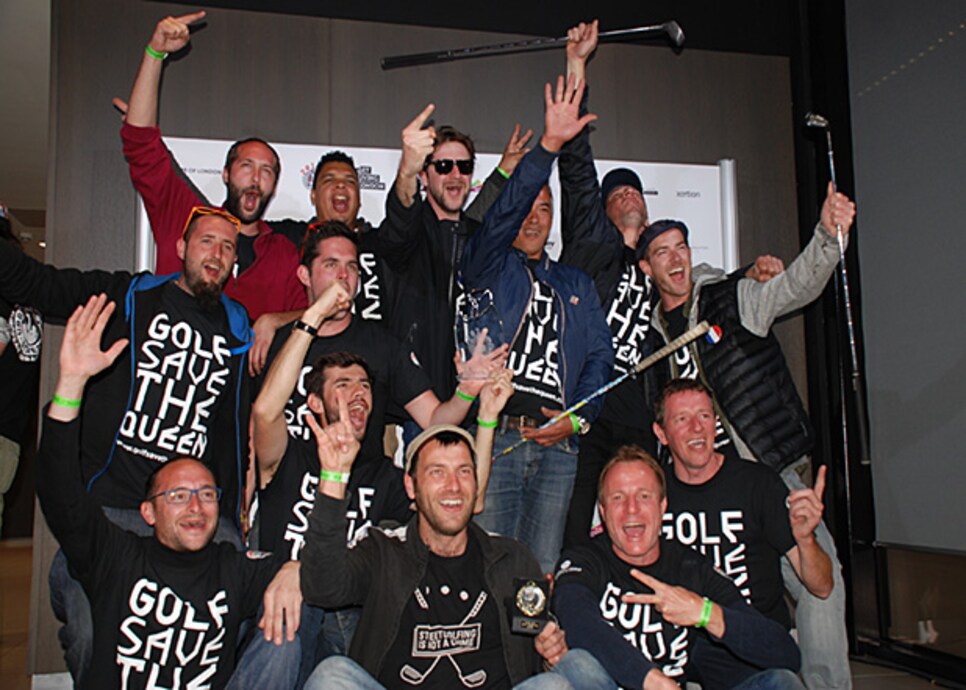 Individual champion Guillaume Le Mevel (front center) competes with four clubs: a putter, a sand wedge, a 9-iron and a 6-iron. "The 9-iron I have played for two years and the sole is now well flattened and good for pavement." In 2014, he failed to qualify for the European Championship.
The required ball is the Almost Golf Ball, which is made of the same substance as synthetic wine corks. It flies 30 percent of normal distance.
A standard group is 9 people, or three teams of three golfers simultaneously competing in scramble, alternate-shot and individual formats.
It's all about camaraderie. "Golf Save the Queen" was the title of this year's event in London and every contestant got a T-shirt.
You finish a hole in a variety of ways. Common "cups" include hitting the base of a lamp-post, settling a ball onto a drainage grate, or chipping into a bucket.
Creating the routing is the most fun part. The European Championship had 10 holes plus four "bonus" holes where it's possible to subtract strokes for hitting a target in one try.
Players take a free run at an extra-tricky 'bonus hole' to subtract strokes from their overall score.
Depending how much of the city you explore, some rounds can last as long as seven hours, so there's plenty of time for smoke breaks.
Rules officials ensure that all competitors negotiate hazards similarly.
William Hickey from England doesn't play traditional golf very often, maybe once a year. He likes urban golf because of the craziness of it.
Same as regular golfers, many street golfers like cracking a fresh beer every three or so holes. But contestants at the 2015 European Urban Golf Cup promised park officials they would not imbibe.
Gerald Zaza from the French team practicing before the start of the competition.
Roy van der Vorst from The Netherlands, who plays traditional golf in his own country but describes street golf as more fun and a lot less expensive.
Female players at the second hole.
At the fifth hole the players attempt to hit the ball across the water.
A contestant hits a shot in Queen Elizabeth Olympic Park.