A Different Kind Of Golf Course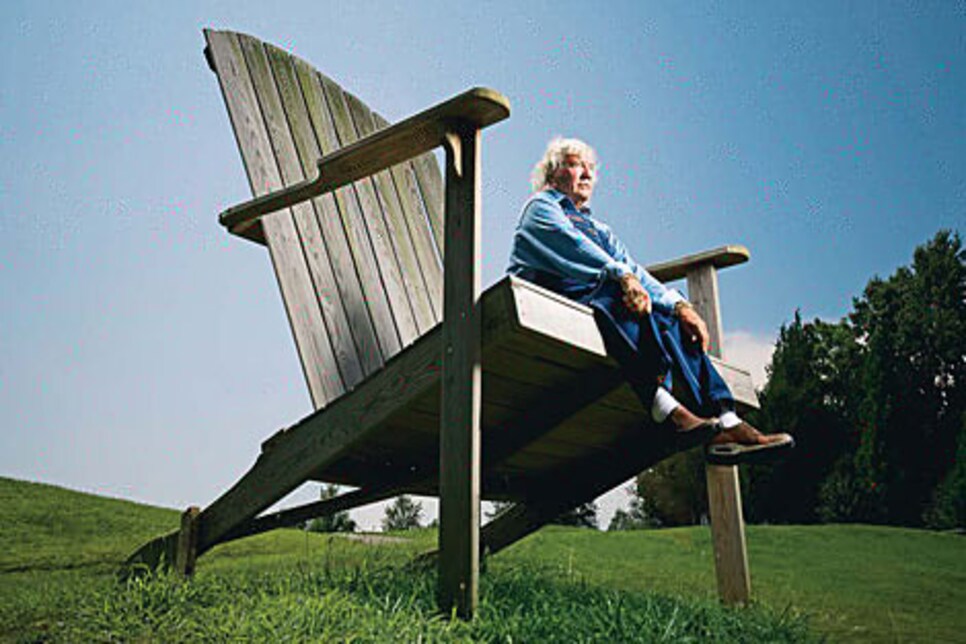 Bill Meadows takes in the view on his oversize Adirondack chair.
Eleven years ago, when I met Bill Meadows at the golf course of his unusual dreams, I called him Bill.
"Not Bill? You're Farmer?"
"Mother and Dad named me William. But I'm Farmer."
The conversion happened in the early 1960s when he wore a straw hat and bib overalls to sell tomatoes along a country road. He was a college graduate, a high school teacher, a football coach. But city slickers out for a ride saw the get-up and said, "Oh, you're the farmer?"
They bought his tomatoes by the baskets, perhaps unaware that before dawn he had driven to a real farmers market where he bought the tomatoes they bought from him. He says that in the summer he made five times his annual teaching money.
"Ever since," he says, "I've been proud to be Farmer."
On his Rolls-Royce convertible, spotted one night at the local 7-Eleven, the license plate reads: FARMER 1.
He's 73, robust and voluble with a snowy tangle of curly hair so eye-catching it suggests a man who wants you to remember his sales pitch. To celebrate his 50th wedding anniversary, the man who claims a net worth of $129 million invited 200 friends to The Greenbrier resort in West Virginia at a cost of $350,000, not to mention the $378,000 Betty spent on the Rolls delivered by a Marilyn Monroe look-alike.
Who knew tomatoes could do all that? Meadows, in fact, describes a life's arc from a West Virginia coal-camp shack with no plumbing to a seven-bathroom mansion bought from Joe Gibbs, the Hall of Fame football coach. After tomatoes came nurseries, landscaping and cattle. The man could sell stoves at a shipwreck. In 1993, on his farmland near Civil War battlefields in central Virginia, he built Meadows Farms Golf Course, a place as distinctive and eccentric as its creator.
He'd played golf as a young man and then put away the devil's sticks for almost 30 years. Once he fell into the habit again, Meadows decided golf was too expensive for the common man and too boring for the uncommon man. By building his own place, he reckoned to change that. "I'm a wealthy man," he says, "and I can get things done the way I want them done."
He wanted unique. He got it. In times of $150 public-course tickets, his green fees range from $37 to $49 with 20 percent off for members. (Membership: $10.)
Meadows believes golf architects work until they come up with a hole they really like and then repeat it 18 times. So he gave a contrarian's directions to his designer, Bill Ward, of Beckley, W.Va.
"I wanted the course to be so unusual that every hole would be like starting on a new course. We had to get away from 'traditional.' "
To that end, he put a tee in the shadow of the Widow Willis' 150-year-old clapboard house that served as a Civil War hospital. Push your drive, you get a free lift from a 22-tombstone graveyard, the earliest burial 1831.
All chances of being ordinary disappeared when Ward suggested a par 6, and Meadows improved on the idea. "Bill, that's good!" he said. "Let's make it the longest hole in the United States!"
It's 841 yards from the back, and it's not an airport-runway freak. It's hilltops, hillsides, valleys, ponds and a three-leaf-clover bunker. It calls for real thinking and real shots: a drive short of a pond, a second kept left on a fairway falling right, a third short of a second pond and an approach over the pond and that bunker to an elevated green sloping sharply back to front.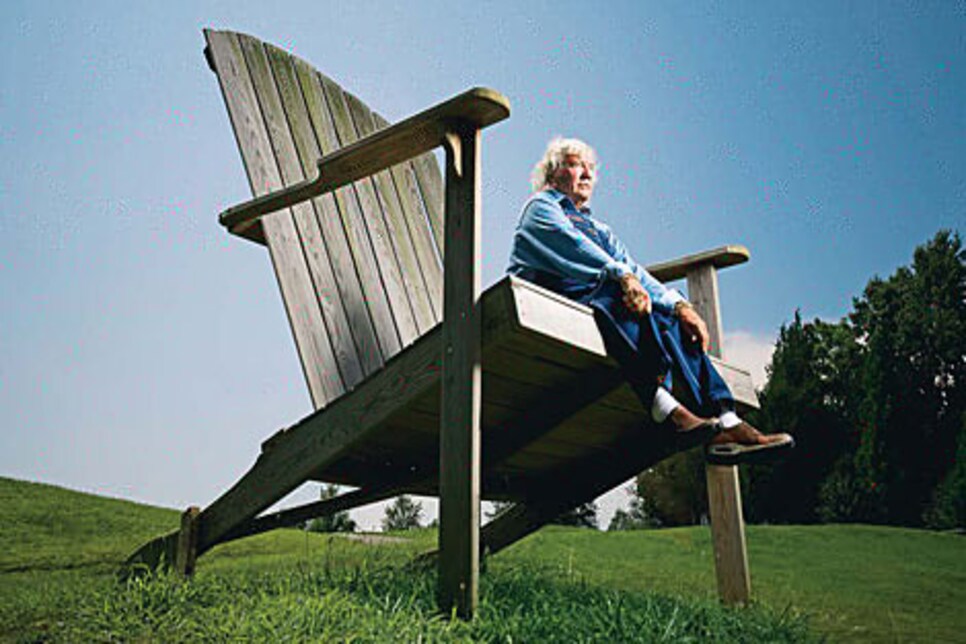 The place is a cornucopia of the unconventional. Oakmont's famous Church Pews bunker has 12 pews; on one par 5, Meadows Farms has 18 of the evildoers. There's an island par 3, a major contributor to the 100,000 balls collected from Meadows waters each year. And a micro-green is squeezed onto a narrow peninsula at the end of a short par 4's razor's-edge fairway.
You'd swear a giant had dropped his pickup sticks at one green. It's surrounded by a ragged, jumbled wall of a hundred railroad ties tilted and leaning on end in a trench. The club's vice president of golf operations, Bobby Lewis, calls it "our Pete Dye-at-a-train-wreck hole."
Meadows has 28 holes: three nines and a warm-up. My favorites: Waterfall and Baseball. Waterfall plays 149 yards from the middle tee. You're not so much hitting to a green as to a clifftop. It's 80 feet wide with water falling 45 feet. Meadows called in from Acapulco with the idea. He had swum to a bar behind a waterfall and now wanted his own waterfall, with a cartpath and concession stand behind the water. (Stand now closed. Snake swam in.)
Baseball is a little par 3 disguised as a baseball field.
"Hardest hole I ever did," Ward says.
Tried it first with small, square bunkers as the bases and a circle bunker as the pitcher's mound in the center of the green.
Finally moved the green into the outfield. The tee shot flies over home plate and the mound, and past second base. Behind the green, a board fence carries vintage signs such as "Red Rose Farm Feeds." The warning track is a bunker curving from foul line to foul line. There's a scoreboard in right, a flagpole at the center-field fence.
"As a kid, I was a pitcher who couldn't hit," Meadows says. "But one day on that hole, instead of a wedge, I took a 6-iron. Hit it over the fence! My first home run!"
Next time, right at the flagpole.