PGA Championship
The PGA Championship's Most Underrated Shots
Why does everyone forget about these moments?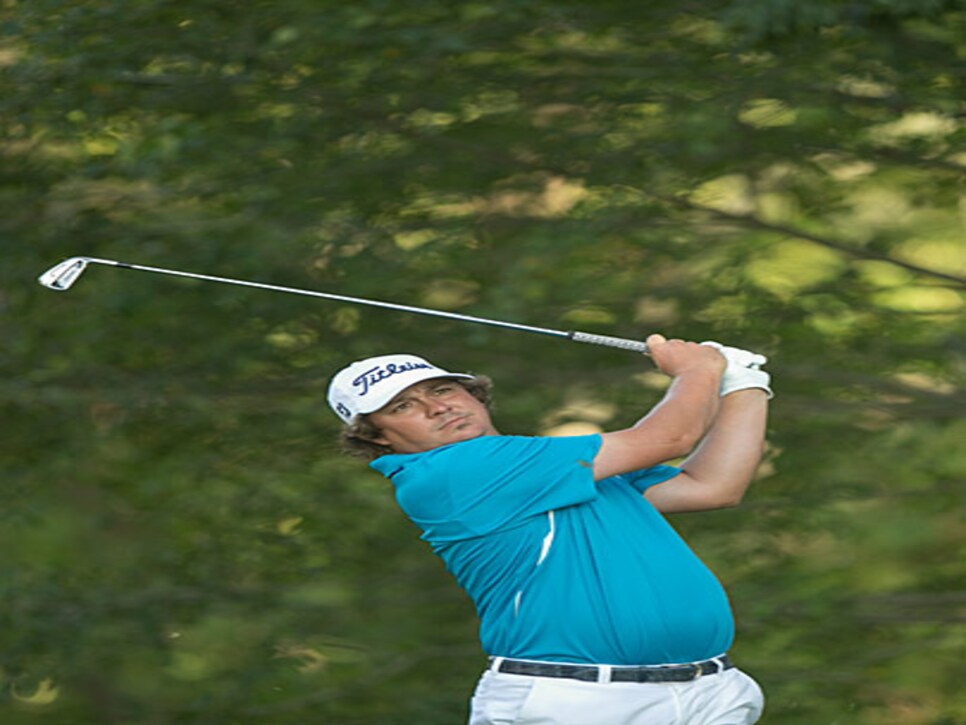 2013: Dufner's Friday Eagle
Jason Dufner
grabbing Amanda's derriere
in front of the whole world stole the show at the 2013 PGA Championship. But the infamous grab overshadowed some particularly good golf from Jason, especially from tee to green. Had Amanda not rushed onto the green on Sunday, Dufner's holed approach shot on Friday at Oak Hill's second hole would likely be the moment lodged in people's minds.
2011: Dufner's Playoff Three-Putt
Keegan Bradley and Jason Dufner provided lots of memorable shots in the 2011 PGA. Both made a mess of the 15th hole, and Bradley recovered with consecutive birdies to force a playoff. After falling a stroke behind Bradley on the first of the three-hole playoff, Dufner raced his birdie putt on the next hole more than six feet past, then missed the comebacker. That gave Bradley a two-stroke lead going into the final hole and, effectively, the tournament.
2010: Martin Kaymer's Par Putt
Dustin Johnson's waste area-saga remains the overriding memory from the 2010 PGA Championship. Bubba's arrival onto the major scene is a close second, but people often overlook that Martin Kaymer holed a clutch 15 foot par putt on his 72nd hole to get into the playoff that he eventually won.
2009: Y.E. Yang's third-straight birdie
It wasn't until the 2009 PGA Championship that Tiger Woods led going into the final round of a major and didn't win. It's still regarded as a pivotal moment in golf history, capped off by Y.E. Yang's fantastic hybrid approach shot into the final green. But how did Yang get into the final group with Tiger on Sunday? By making three-consecutive birdies between holes 14 and 16 on Saturday. That run included a wedge shot on 16 that spun into tap-in range after nearly flying into the hole.
2008: Sergio's Drop Zone Recovery
After Padraig Harrington put his second shot into a greenside bunker on the 16th hole on Sunday, Sergio Garcia was vilified for hitting his approach shot into the water a few moments later. But Garcia put his much-forgotten fourth shot from the drop zone to within a few feet, bouncing back to keep the pressure on Harrington and forcing him to make his putt (which he did), for a one-stroke lead.
2002: Beem's almost-disastrous approach shot
Holding off Tiger Woods required Rich Beem to hit a few memorable shots at the 2002 PGA -- his 7-wood into the par-5 12th hole that set up an eagle, for example, or his bomb of a birdie putt on the 16th hole. But while that putt of Beem's caught the headlines, it was his approach -- a pitching wedge that leaked right and barely cleared the water short -- that should have perhaps taken the plaudits.
2001: Toms' boring layup
David Toms' win at the 2001 PGA Championship was highlighted by Toms' screaming celebration after his hole-in-one on Saturday. It may have been a fantastic celebration, but Toms won the tournament with his second shot on the 18th hole on Sunday -- a boring layup to within 100 yards that left him in a perfect position to get up and down (which he did) for par and claim his first major.
2000: Bob May's Chip
People generally remember two shots from the 2000 PGA Championship: the tough, short, downhill putt Tiger Woods made to get into a playoff with Bob May, and then his long birdie putt on the first playoff hole. But why was Tiger so excited to hole that birdie putt? Because a few minutes earlier, the almost-unshakeable May piled on the pressure after knocking a downhill chip shot from heavy rough to within a foot of the hole.
1997: Leonard's early errant drive
Davis Love III ran away with his first and only major in 1997, and everyone remembers him holing that putt under the rainbow on Winged Foot's 18th hole. But for a while, it was actually a contest. Justin Leonard started the day tied with Love at seven under, and after they each parred the opening hole, Leonard flared his drive on the second right -- the worst spot to be on that hole -- and made a bogey. That started a downward spiral for Leonard that made victory for Love a mere formality.
1993: Faldo's missed opportunity
Greg Norman lipped-out two putts in the final moments of the 1993 PGA Championship -- the first for an outright victory on the final hole of regulation, the second from five feet to tie on the second playoff hole -- which are remembered as key moments from the tournament. But often glossed over is Nick Faldo's missed five foot putt for birdie on the 16th hole that would have brought him into a tie for the lead. Instead, he finished with six straight pars down the stretch on Sunday to lose by one.
1986: Norman's bum approach shot
Bob Tway's hole-out from the greenside bunker in 1986 wasn't just one of the best shots in PGA Championship history, but one of the best in any major. But history could have been far different had Greg Norman, tied for the lead at that point and facing a wide-open green with a wedge in his hands, fired a shot close to the pin. Instead of capitalizing on Tway's poor approach, Norman landed his ball on the front of the green and spun it back into the rough. That lead to a bogey and completed his fabled 'Saturday Slam.'
1923: Hagen's clutch bunker shot
According to reports at the time, Gene Sarazen won the 1923 PGA Championship after hitting an incredible shot from the trees on the second playoff hole to a few feet for birdie and the win. But if it wasn't for Hagen's tough up-and-down from a greenside bunker on the final hole of regulation, Sarazen wouldn't have had the chance to hit that shot at all.